A Special Christmas
A Chance Meeting...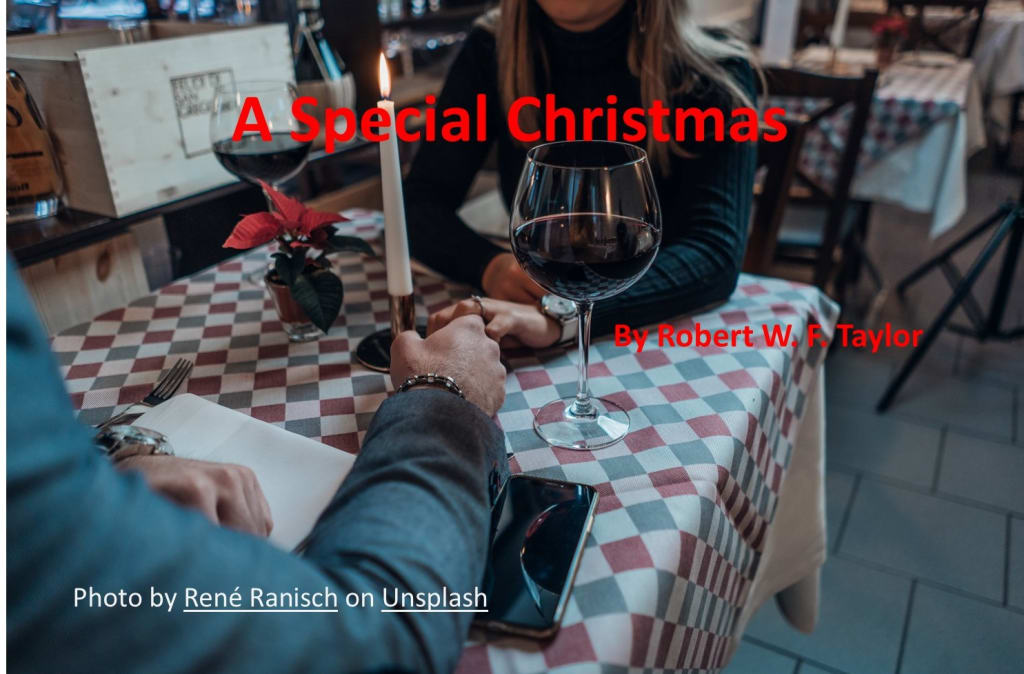 A Chance Meeting...
A Special Christmas
A Chance Meeting…
Jeremy, 22, was not inspired. Shopping was something he hated doing. Either salespeople coming up to him and saying, "Hi there. Can I show you something today? Hey, you're a good-looking young fellow, what about…"
"No, I'm just looking. Thanks."
Salespeople were always hovering around like a bad smell – unless you needed one in a hurry. Then, he would get the old line, "I'll be right with you." Which was, like, never!
Yeah, right. But Christmas was coming and he had to find something for his parents. He was in his last year of college and would be taking the train out to see them over the Christmas break. He had missed Thanksgiving because of a major lab project he had found particularly challenging. He was able to solve it and received an excellent score for it. Missing Thanksgiving had been a sacrifice but he would see his family at Christmas, so that would make up for it.
He was browsing around and bent down to peer through the glass at an item on display. His cellphone rang and he straightened up a bit too quickly and backed right into another shopper. She was about his age, lovely with long dark hair and big brown eyes.
"Oh, I'm sorry. I didn't mean to bump into you. Are you okay?"
She smiled. "Yes, I'm fine. I was probably walking and looking around at everything and not looking where I was going."
Jeremy was so taken with the sight of the girl that he had forgotten his ringing phone.
"Are you going to answer that?"
Jeremy looked at the screen, saw who it was and said, "It's okay. I'll call him back."
He couldn't help looking at the girl.
She asked, "Do I have mustard on my mouth or something?"
"Sorry," Replied Jeremy. "No. No mustard, catsup, or anything else out of place. It is just that you look sort of familiar. Did you go to Beechwood High?"
The girl looked closer at Jeremy. "Yes, I did. Did you?"
"I did. What year did you graduate?"
"2016. You?
"Same year. That's where I remember you from but somehow you look different now."
Again, she smiled. Then her face lit up. "You're Jeremy. I can't remember your last name. You were in some of my classes."
"Hill. Jeremy Hill. Yeah, those were the days, huh? Some of the other kids used to call me Zitface, or the Acne kid, or Pimpleguy."
"Uh-huh. Now I remember. That wasn't very nice of them, was it?"
"Nah. But as you can see, I have grown out of it. No more pimples."
"Yes, I was noticing. You have turned out to be quite a handsome fellow."
"Thank you." He was lovestruck.
"Melinda Ford."
"I knew that. I just couldn't remember."
Jeremy stopped and his mouth opened. He stared at Melinda from head to toes and back again.
"Me-lin-da Ford? Really?"
"Yes. In school I weighed a little more than I do now – like 50 pounds or so. Sort of pleasantly plump, you might say."
"My gosh. Really? I can't believe it. You look amazing, Melinda. Truly amazing. You are stunning. You could be a model!"
"Well, as a matter of fact, I am."
"Really! Well, that's great. Say, do you have time for coffee or tea or something?"
"Right now, you mean?"
"It is just that I would love to catch up."
"I wish I could, Jeremy, but a car is picking me up in ten minutes and whisking me off to catch a plane to do a show in Miami. But I will be back Wednesday. Maybe then?"
"I'm actually catching the train tomorrow to go back home to see my folks in Greenfield. Can I have your number, please, Melinda?"
They exchanged numbers and Melinda said, "I wasn't sure what I was going to be doing over Christmas because my schedule has been really hectic, but I must get back and see my family as well. If nothing else comes up between now and then, I'll give you a call if I can get to Greenfield. Maybe we can meet at the Hot Spot Café."
"I haven't been there in years. That would be fun. Listen, it was so nice to see you, Melinda. If I don't see you before, have a wonderful Christmas and I hope I can see you again soon. The Hot Spot café, wow!"
Jeremy went about his shopping, finally getting the inspiration to make what he hoped would be good choices for Christmas present for his family. He bought tissue and wrapping paper, bows, ribbons, tape and to/from stickers. Back in his dorm, he wrapped everything as neatly as a 22-year-old college kid could and got ready for his trip to Greenfield.
The train trip was quite pleasant. He had always loved trains and being able to sit and watch the countryside with its fields, forests, and small towns. It was a four-hour trip. When he was not looking out the window, his mind was on Melinda Ford. Boy, had she changed. She looked incredible now. And she was a fashion model. Well, he assumed 'fashion' model because she was at a show in Miami and that is where a lot of fashion shows took place. Jeremy was not one to be up on such things, but he did see TV clips from time to time on the news. Until now, though, he had never paid much attention.
Just for the heck of it, he took out his cellphone and searched for 'Melinda Ford'. There were multiple entries and photographs, including swimsuits. He thought to himself, 'That sure doesn't look like the Melinda Ford I knew in school.' The teen years can be incredibly stressful for kids; school assignments, peer pressure, dating and relationships, anxiety, depression and more.
'It just goes to show you that if you set your mind on a goal, there is a good chance of succeeding. I mean, look at me. I used to be a pimply-faced nerd, always being bugged by the other kids. That was just a phase, a learning to deal with life assignment. The pimples have cleared up; I am almost finished college and expect to get at least a decent grade. I don't know what want to do yet, though I am leaning towards being a doctor. That will sort itself out, too, I'm sure.'
There was a career show coming up at the college in January with representatives from all the major industries. Jeremy thought that should be interesting and might help him to make a choice.
His cellphone vibrated. On a train or plane, he always turned his ringer off and activated his vibration mode. He looked at the number.
"Hi Jeremy."
"Well, hello there, Melinda. Are you in Miami?"
"I am and just taking a break before the show starts. Wish me luck!
"Break a leg, as they say".
"Thanks. Hey, it was really great to bump into you yesterday. Did you get all your shopping done? It sounds as though you are on a train."
"I did and I am. After seeing you in the mall yesterday, I suddenly felt more inspired to get my shopping done, and yes, I am about an hour outside of Greenfield. Do you know what you are doing after the show?"
"I have a few days off before the next show so, yes, I am on a flight tomorrow morning to Greenfield and will be there over Christmas."
"Is anybody picking you up at the airport?"
"I think my dad will do that but listen, the day after Christmas, do you want to have lunch at the Hot Spot?"
"Absolutely. Twelve noon? Can I pick you up?"
"Sure. I would love that. It would give us more time to talk. My parents' house is 34 Suffolk Drive."
"Okay, I know where that is. How about I see you there at 11:40 am? I am sure I can borrow my mom's car.
Jeremy had, of course, spoken to his parents a few days before and let them know that he would be coming to Greenfield for Christmas. His father met him at the train station.
Christmas went well. He had somehow made great choices for gifts for the family. His older sister, Lindsay, and her family came over. She had married a doctoral student who was now an intern at the local hospital. Jeremy had had a chance to talk to him after dinner.
"So, Gerry, what is it like being a doctor? Is it what you expected?"
"Yeah, kind of. I did not know what to expect, really. It is hectic and hours can be long sometimes. If there is a major accident or fire, or a virus breakout for example, it is a case of 'All hands on deck' and you work until the emergency is over. So, it is tiring. At the same time, it is satisfying. I mean, I am basically helping to keep people well and if they have a medical problem, I help them to deal with it and get well. Most of them truly appreciate the dedication we have to our jobs. I really like it. It gets in your blood, too. I am glad I chose medicine as a career.
"Do you know what you want to do, Jeremy?"
"Well, I was thinking about medicine as well but have no idea if I want to specialize or be a general practitioner. I think I will start as a GP and see where it leads me."
"Smart choice. There are never enough doctors to go around."
The next day, Jeremy borrowed his mother's elderly car. She kept it regularly serviced and did not drive it very much, so it was in good shape. It still looked almost new.
Melinda was delighted to see him. She insisted he come in to say hello to her parents. He had not really known them while he was in school but had seen them a couple of times at school events.
Later, in the car, she leaned a bit closer to Jeremy and put her hand on his arm. "I feel like I am going on a date again."
"Me, too. I was not really expecting to meet your parents. I saw them give me a good look-over."
They both laughed.
The Hot Spot Café had not changed much since either of them had been there. The kids in the booths seemed to be younger than before. The music seemed louder and stranger. Jeremy's burger was just as good as he remembered. Melinda had a salad plate and a glass of Merlot. To celebrate the occasion of what he hoped would be the first of many dates, Jeremy ordered a glass as well.
As lunch was ending, he looked at Melinda's big brown eyes and said, "Melinda, I would like to see you again when we get back to the city and your schedule permits. It has really been wonderful seeing you again."
"I was thinking the same thing, Jeremy. Besides seeing all my family, getting to know you again has made this a really special Christmas for me."