A Breath of Fresh Magic
The Truth About Fantasy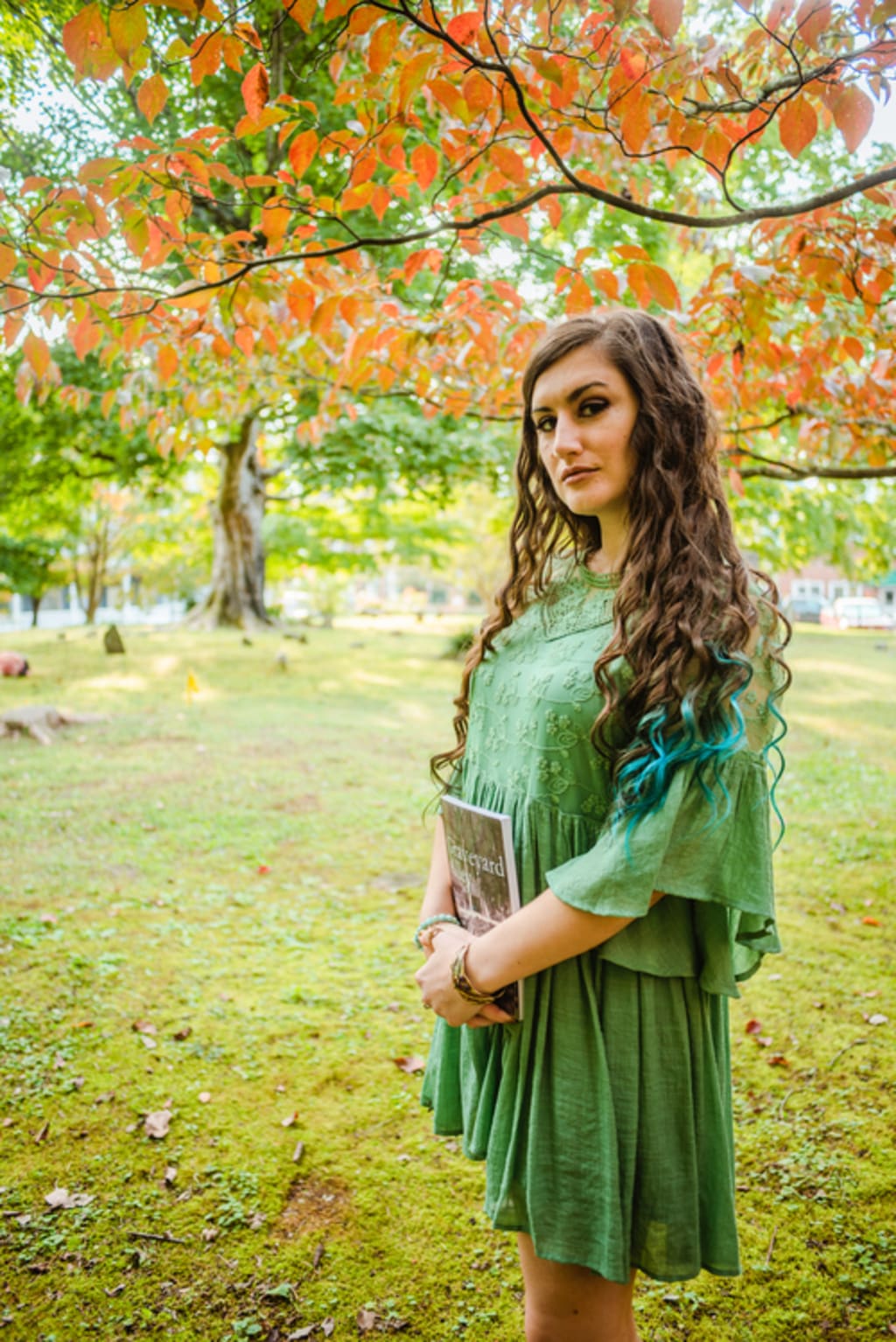 Revolutionary War Graveyard, Dandridge, TN October 2020
A Breath of Fresh Magic
It was either my mother, or her mother, who gave me an elaborate silver pen box for my 12th birthday. I was gifted the pen box because my family believed I would become a beloved author one day.
I can still see the words engraved on the silver box from my desk twenty years later:
"A writer must write what he has to say, not speak it."
-Earnest Hemmingway
I've always tried to live by that line, but ultimately, I could not— all because of one fundamental detail. It is the 21st century— we type, not write, says the practical part of me. Another old-fashioned part says, do not abandon a dying art; it is art for a reason.
I suppose there is something whimsical about holding a favorite writing utensil and steadily scripting across blank pages with purpose; spinning words into sentences and filling the empty space with paragraphs to be treasured, even if imperfect.
At times it is true that something inside me wants to spill ink or drag lead into beautiful letters and words— to flood page after page with lovely-looking language. I like watching my extra loopy cursive combine with the occasional printed letters, my own creative combination.
Days come when I am showered with inspiration to fill many pages, and my pen moves like a magic wand, trailing many heartfelt, inspiring words of both truth and fantasy worth repeating.
I often ponder why anyone would pick up a book with my name on it. I am no Hemmingway. Throughout most of the country, my name is easy to overlook. However, in my neck of the woods— Dandridge, TN— my name holds weight.
I grew up in Dandridge, finding it to be one of the most historical, yet fantastical towns in the country, even as a child. When the locals read my book Graveyard Alley, my most passionate work of art thus far, they smile and shake their heads, remembering too well the little girl with loose curls and bright eyes— the one with endless imagination and an untamed spirit.
If it were decreed that I may only pursue one passion forevermore, I would want my one allowance to be story telling— out loud or on paper (no offense to Hemmingway)— to children or adults, or anyone with a pulse and the desire to allow true magic to creep in, sink in and bring in the most wondrous and whimsical ideas, thoughts to dazzle even the most logical of minds.
I do know true magic. I recognize enchantment in children's eyes that burn with the ferocity of undamaged dreams. I see the invisible sparks between old lovers who still hold hands as they meander along. I feel magic in my bones when I must be brave by telling hard truths to people I love, or when I laugh with those dearest to me. Magic is a special sort of hope that breeds the will to persevere, even in a bland, all-to-ordinary world.
I am certain I exist for the purpose of spreading magic far and wide. Maybe that is the reason people are curious about what I'll say or write next. Perhaps people just want a their own small piece of magic to hold and cherish and save in hopes that it will bloom into a splendid adventure on a desperately gloomy day. It could be that, deep down, each of us simply wants to believe in a power more twinkly and playful than the mundane forces that govern our everyday lives.
I desire nothing less than to ignite passion in other curious humans, and then watch as their jolly discoveries lead to a deeper appreciation for magic hidden in plain sight. After all, who doesn't love a good magic story?
I am one such story. I think the words that leave my fingertips electrify the souls of others, nudging them down glinting paths of true fantasy that never have to end.
Why listen to me? I'd have to answer that question with another question.
Is it really me who deserves to be heard, or is it the message I was born to deliver that calls to people? I'd like to think the latter.
I am but a rag doll stuffed plum full of imagination, inspiration, creativity, endless wonder, and most importantly, purity of heart. My soul is a neon rainbow with a pot of diamonds at the end. I know I am blessed, and it is the destiny of the blessed to gift others with the magic stirring inside us.
I don't think people read my work or listen to my stories because I am the great one. I think they read and listen because, on some level, they recognize that my stories of magic are as real as I am. My purity of intention and depth of belief in the words I say and write crafts a landscape of language worth exploring.
When Hemmingway said a writer must write, he clearly didn't anticipate the breeziness of my MacBook Air on which I click-clack along until the song of my soul slips out through my fingers.
Everyone deserves a slice of magic. It is my life's enjoyment as well as my duty to procure the words to sprinkle us all in a thick layer of pixie dust.
- C.L. Giles