The Gatsby Complex
When you desire for something that doesn't live up to your perceived expectation of it.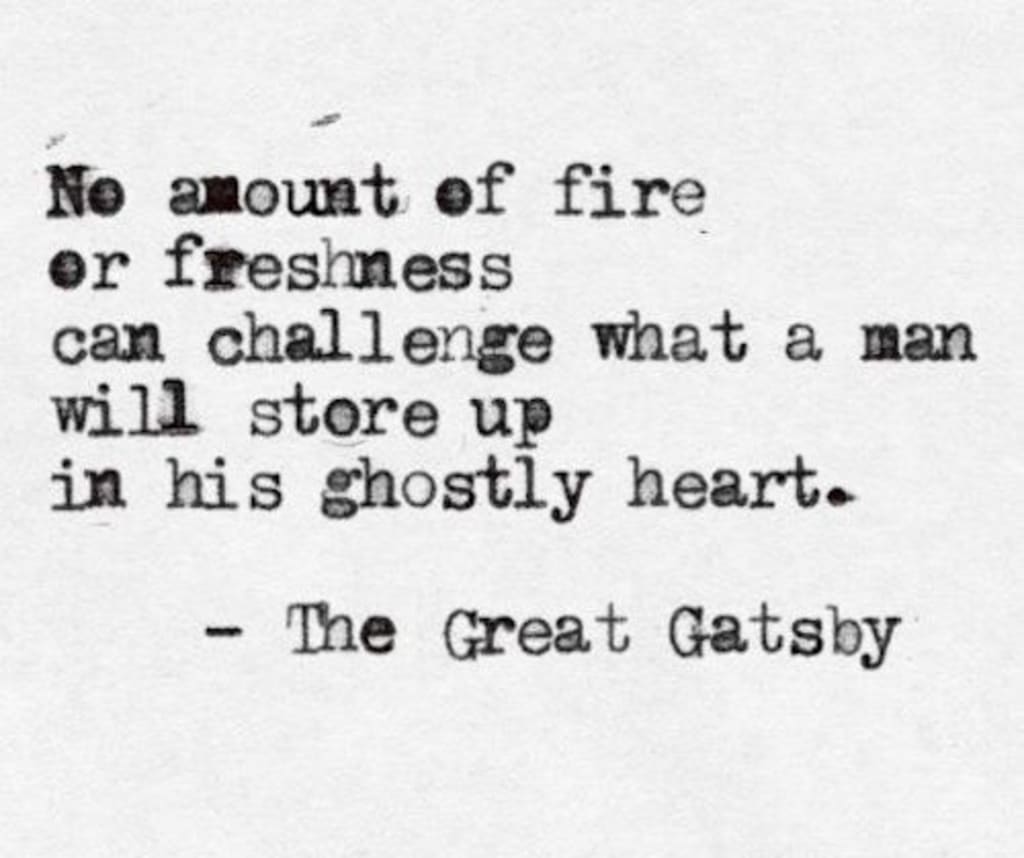 Until he faces reality.
The Great Gatsby by F. Scott Fitzgerald encompasses a variety of themes including the glorification of wealth, romanticization of unrequited love, and the pursuit of the American dream—to name a few among many. However, one theme that is often overshadowed by the ones listed above is the theme of idolizing something that simply doesn't live up to one's perceived expectations of it. For instance, Jay Gatsby internalized the notion that Daisy Buchanan, the girl he dreamt his whole life of being with, was nothing short of idealized perfection. However, for anyone that has read the book, this simply doesn't hold true—Gatsby idolized Daisy and wound up with a relationship that didn't live up to his expectations. This isn't something that only occurred in the roaring 20s, a period of wealth, abundance, and jazz, but is a recurring aspect that follows us even to this day and age.
For instance, we as humans glorify being busy. For many of us, being busy symbolizes a peace of mind in some sense—being out and about is a mechanism to forget about the dreary, darker aspects of life we face. However, we compare the extent of our "busy-ness" to one another for intrinsic fulfillment. If someone else puts in eight hours a day, nonstop with only one lunch break, we must too right? Somehow others' schedules indicate our own personal accomplishments, thus normalizing an unhealthy cycle of harboring unrealistic expectations and feeling like a failure when we don't live up to them.
This could potentially result in undue stress, weakened physical health, and a decline in mental health as well. Keeping busy and engaging in activities that deepen our understanding of the world, an academic major, a sport, etc. is nothing short of an accomplishment in itself; but when we romanticize it to a degree where we aren't living the life we had hoped to live, it is nowhere near worth it. This is similar to Gatsby idolizing Daisy— someone he thought would fulfill his romantic desires...but ended up disappointing him and hurting him in the end.
Many people nowadays complain about not owning the latest smartphone, whether it be the iPhone 10, Samsung Galaxy 9, etc. Now keep in mind, these are the same people who probably already own a smartphone of some kind. This explains why they are used to having a phone that allows them to communicate with their friends/family via the internet, send snaps, upload pictures to Instagram, etc. within seconds. But this isn't enough. They have to have that new phone that doesn't even have a headphone jack or the sleek rose gold device that looks "aesthetic". But what happens when they finally receive it? It gets old after a mere couple of months. They then desire whatever fits the latest trend. The cycle remains unbroken. What they finally attain no longer satisfies their expectations—it just isn't good enough anymore and isn't what they used to think of it.
The quote "No amount of fire or freshness can challenge what a man will store up in his ghostly heart" resonates due to its allusion of harboring a stubborn nature. We as humans tend to be hard headed until we achieve what we want, but when that finally comes to fruition, we also have a tendency of abandoning it and seeking a replacement. The Gatsby Complex especially applies to this age of modern technology, when the only thing that captures our attention span is a ten-second snap—anything longer and we lose interest. Even Instagram videos are limited to one minute. No one is going to watch a full-on Youtube tutorial of a cut-crease eye-makeup look when there are far shorter and engaging tutorials that span a minute or less. The positive aspect, however, is that once we master the cut crease, we move on the next makeup feat. The advance and progress we make as a result of that mentality is undoubtedly beneficial—but to what extent?
So the question is, will anything ever live up to its expectations perpetually? What happens when we finally obtain the object of desire and lose interest in it? Do we stay with or do we let it go when something better comes our way? No matter the answers to the questions above, one aspect will indefinitely exist until the end of time—the Gatsby Complex.