Hallmark Review: 'Wedding Every Weekend'
Hallmark's first big step towards LGBT representation also makes for a charming and heartfelt romance.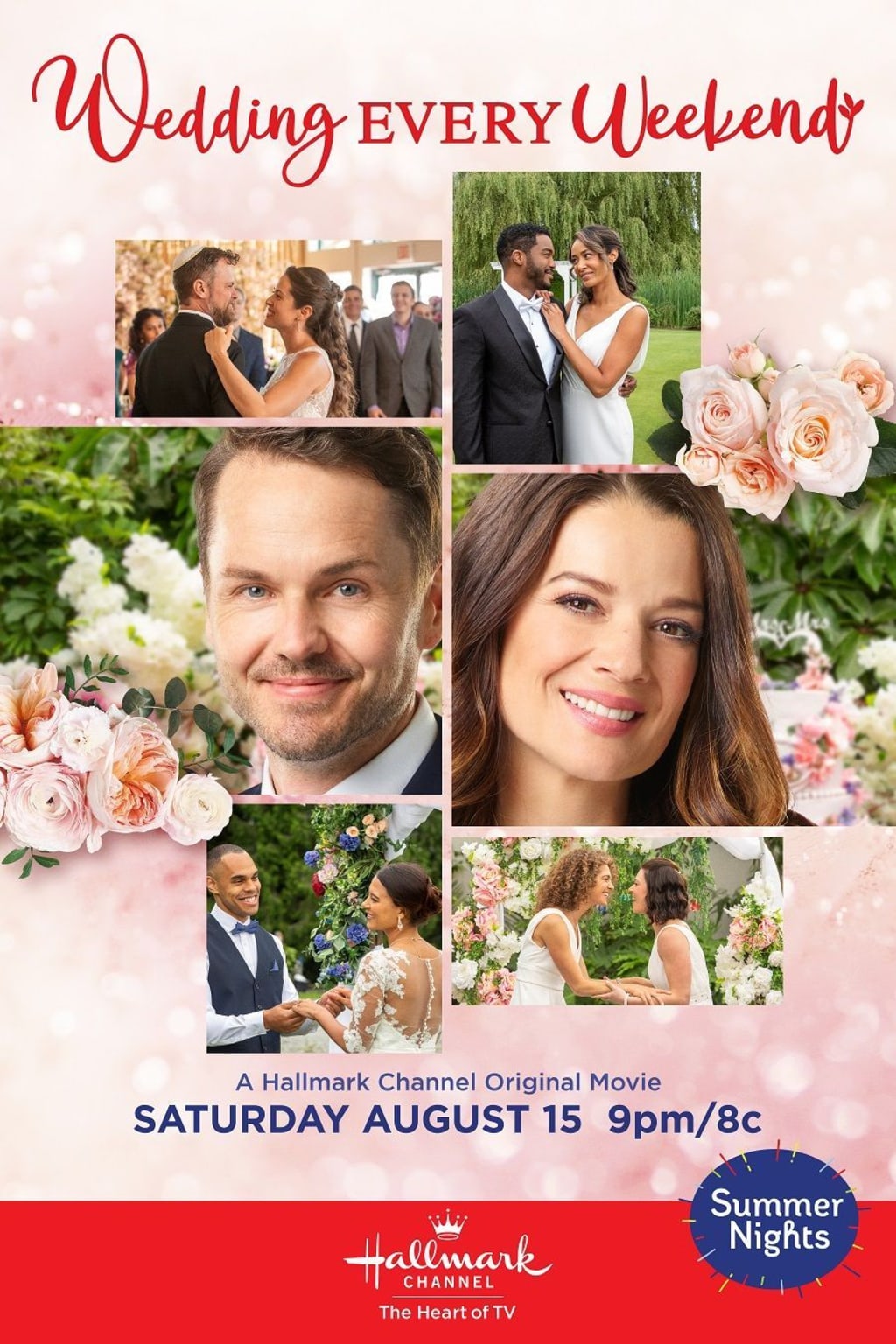 Following a recent breakup, physical therapist Brooke Ethridge (Kimberley Sustad) decides to take a break from dating and focus on herself. Car restoration mechanic Nate (Paul Campbell) shares in Brooke's intentions, still reeling from a past heartbreak. After a chance encounter, Brooke and Nate are shocked to learn both of them are set to attend the same set of four weddings. With both of them sick of their friends trying to set them up with dates, Brooke and Nate agree to become "wedding buddies" over the next four weekends.
As the weekend weddings come and go, Brooke and Nate find themselves bonding over their shared frustrations with love and their careers. When their friendship begins to show signs of growing into something more, Brooke and Nate each have a decision to make: take another chance at love, or keep their feelings at bay to avoid further heartache.
If you've been paying even a modicum of attention to the Hallmark community as of late, you would know that Wedding Every Weekend has caused quite the stir. After last year's Zola fiasco, Hallmark was in hot water for seemingly reneging on their professed intentions to introduce LGBT+ inclusion to their catalog of romance movies. So after learning that Wedding Every Weekend would be featuring a lesbian couple's wedding, it came as welcome reassurance to me that Hallmark was finally making good on their word. Unfortunately, the news was met with backlash from an upsetting amount of so-called "loyal Hallmark fans", with One Million Moms (who also made a fuss over the aforementioned Zola commercial) starting another petition calling for a boycott of all things Hallmark.
But despite all the bigoted vitriol, another side of the Hallmark community emerged: a side that wholeheartedly supports Hallmark branching out to explore all love in their films. Seeing Hallmark fans, actors, and the company itself stand by Wedding Every Weekend and its effort to usher in a new era for Hallmark more than warmed my heart. And in terms of representation, the movie couldn't have done better at handling its lesbian couple Amanda and Vicky (played with infectious energy by Makayla Moore and Carmel Amit). Like the representation found in Lifetime's My Mom's Darkest Secrets, Amanda and Vicky aren't treated any differently than the film's straight couples, with their sexuality not being unnecessarily dwelled upon. In terms of being the start of Hallmark's mission to bring LGBT+ diversity to their channel, Wedding Every Weekend is a rousing success.
Wedding Every Weekend also succeeds at being a charming and heartfelt romance, albeit with a few bumps along the way. Such bumps are most prominent in the film's opening act, which starts Wedding Every Weekend at a sluggish pace exacerbated by some notably awkward line deliveries. Thankfully, this slow spell doesn't last long enough to sink the movie, and Wedding Every Weekend's lead stars make up for the slow opening.
Previously starring together in 2018's A Godwink Christmas, Kimberley Sustad and Paul Campbell reunite in a movie that allows much more time for their characters' relationship to flourish. Sustad and Campbell play well off each other, especially as the film forges Brooke and Nate's friendship over their shared romantic cynicism. The pair's snarky banter and the chemistry that sparks between them comes alive thanks to Sustad and Campbell, and the wedding wackiness around them makes for a fun and lighthearted watch.
As the film goes on, however, these fluffy moments of fun lead into the heart that truly makes Wedding Every Weekend memorable. As Brooke and Nate spend more time together and bond over their shared life struggles, we're allowed to witness a heartwarming connection form between them. Sustad and Campbell tap into their characters' emotions beautifully, with both leads being at their best in the film's emotional final act. Being as strong characters apart as they are together, Brooke and Nate will both have you rooting for them to find happiness--as individuals and as a couple--and cringing as circumstances crop up to threaten that happiness.
WARNING: Spoilers Below
(The heart cultivated by Wedding Every Weekend and its lead actors is even enough to make the film's Third Act Misunderstanding--a trope that's usually infuriating and annoying--an easier pill to swallow. This is helped by the movie handling the trope better than other movies have. Once Brooke's mistake is revealed, she's called out for jumping to conclusions and pushing Nate away, with Brooke's palpable remorse and realization of how hurtful her actions were to Nate fully redeeming her)
Spoilers Over
In addition to having a well-constructed story and exceptional leads, Wedding Every Weekend has a supporting cast chock full of charming and fun supporting/side characters. Of the bunch, Brandi Alexander and Jaime M. Callica stand out the most as Brooke's best friend Ginny and her fiancé Greg. Alexander and Callica are bring the charm to their roles in buckets, while the story keeps their matchmaking attempts with Brooke sweet and well-intentioned without becoming annoying or pushy. Callica, in particular, lights up just about every scene he appears in as he transforms Greg into a goofy sweetheart.
SPOILER ALERT A dark spot on Ginny and Greg's otherwise strong characters is their subplot surrounding Ginny's worries that Greg doesn't take their upcoming wedding--or relationship in general--seriously. While Ginny's fears and some of Greg's actions indicate serious issues between them, the subplot is too brief and rushed to really delve into those problems. Instead, Ginny's concerns are solved with some simple "you guys love each other, now go talk things out" words of encouragement from Brooke and Nate. Other than providing a vehicle for the aforementioned Third Act Misunderstanding, this plot thread could've been easily scrapped. And given how haphazardly it's treated, it really should've been. Spoilers Over
Other memorable supporting players include Karen Kruper and Malcolm Stewart as Brooke's parents Lydia and Leo. The pair bring warmth to Lydia and Leo, while the script refreshingly has them both being supportive of Brooke's intentions of taking a break from dating (not a trace of the Overbearing/Romantically Meddling Mother trope to be found on Lydia). Other noteworthy members of the side cast include Geoff Gustafson as Nate's work colleague Dan, Kazumi Evans as a recurring wedding planner, and Sebastian Gacki as a hilariously smarmy wannabe Casanova Brooke and Nate band together against. Sadly, Hallmark frequent flyer Peter Benson gets the short end of the stick with Brooke's boyfriend-turned-ex Colin. Colin is as flat of an Expandable Love Interest as one can get, and thus leaves Benson with very little to work with for his performance. After his stellar performance in My Husband's Deadly Past, seeing Benson relegated to a stale caricature of a role is disheartening.
As you can see, Wedding Every Weekend has much more to offer alongside its status as Hallmark's first major step towards showing love in all its forms. While a rocky beginning proves to be the film's biggest weak point, the otherwise consistent story that has equal parts laughs and heart makes up for it. Excellent performances from Sustad and Campbell bring much of the latter to Wedding Every Weekend, and they're joined by supporting cast members that each bring something to the table. The film has just about everything to make for a heartwarming Hallmark feature, and here's hoping its success will lead to what many thought would never be a reality: a Hallmark romance with an LGBT+ couple as its main focus. #LoveWins
Score: 8 out of 10 "Frankencars".
movie
About the author
Aspiring writer and film blogger: Lifetime, Hallmark, indie, and anything else that strikes my interest. He/him.
Twitter: @TrevorWells98
Instagram: @trevorwells_16
Email: [email protected]
Reader insights
Be the first to share your insights about this piece.
Add your insights