Hallmark Review: 'A Godwink Christmas'
Earnest performances from a solid cast do their best to liven up a fairly by-the-book Christmas romance.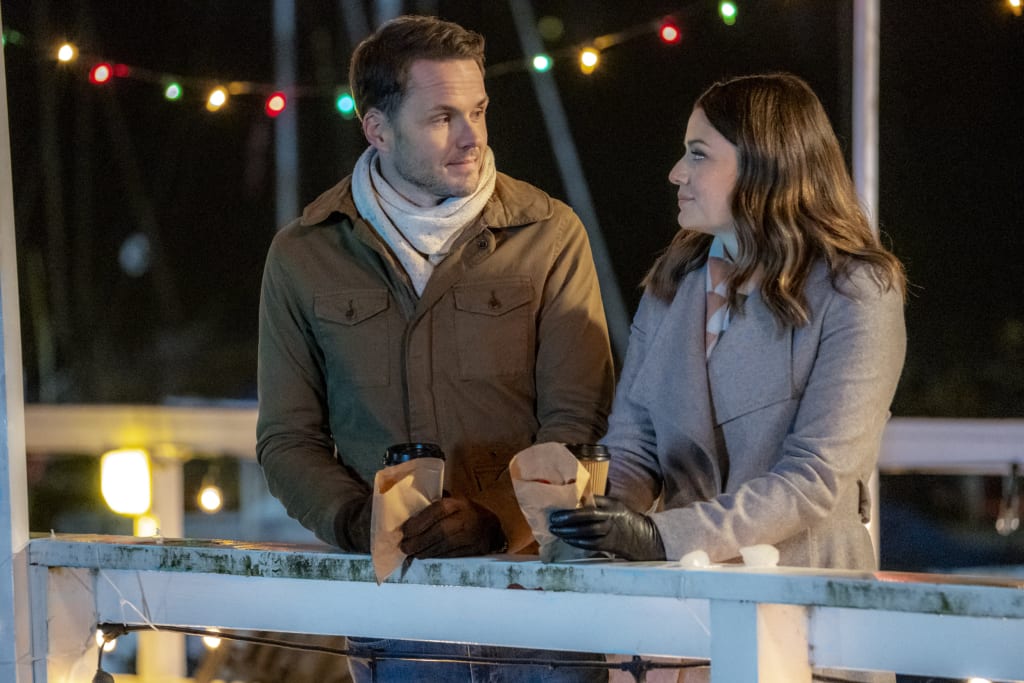 Kimberley Sustad and Paul Campbell in A Godwink Christmas
It would seem life should be good for antique appraiser Paula Mayer (Kimberley Sustad), who has recently been proposed to by her handsome and successful boyfriend Daniel (Giles Panton), who is a successful and driven lawyer. But as Daniel begins making plans for their new future together, Paula finds herself filled with uncertainty and fear. After a call with her novelist aunt Jane (Kathie Lee Gifford), Paula finds herself heading to Nantucket for a surprise Christmas visit on Martha's Vineyard.
Soon after arriving, Paula meets Gery Conover (Paul Campbell), the owner of a local inn in Edgartown, who she ultimately ends up staying with when bad weather prevents her from convening with her aunt. Over the course of her time with Gery, Paula finds herself drawn to his compassionate demeanor and her wariness regarding her engagement increases, even after she finally reaches her aunt's home. When Daniel surprises Paula by arriving at the island, Paula finally has to face the music: will she stay with Daniel, or will she take a chance with the man it appears fate has led into her life?
To start this review off on a positive note, A Godwink Christmas's cast is definitely the strongest point of the film. From her first scene of awkwardly accepting Daniel's proposal, Kimberley Sustad sells Paula strongly as a woman struggling with her quickly changing life and a relationship she doesn't feel secure about. This characterization is also strong in her relationship with her aunt, with Sustad and Kathie Lee Gifford sharing palpable chemistry together as Joan serves as Paula's moral support in her dilemma of the heart.
A particularly nuanced performance comes in the form of Giles Panton's Daniel, who (not surprisingly, to anyone familiar with the Hallmark formula for romance) serves as the Lon of this The Notebook-style love triangle between him, Paula, and Gery. But in a refreshing twist on the usual formula, A Godwink Christmas doesn't use Daniel's workaholic and control freak tendencies to villainize him. Daniel is shown to feel bad about work pulling him away from Paula so frequently, and the uninterrupted moments he has with her show that he truly does care for her. His controlling nature also comes from a good place, though his statements regarding his sister's career pursuits come off as uncharacteristically harsh for my taste. In the end, though, Daniel proves himself to have genuine love for Paula, and the conclusion on his story arc will have you hoping him the best.
Unfortunately, Daniel's character arc is about the only original thing about A Godwink Christmas, which is otherwise a pretty standard Hallmark Christmas romance about two people instantly connecting and falling in love after a chance encounter. While Hallmark usually has a gift for taking a story told millions of times and making it fun to watch again, A Godwink Christmas never reaches that level, namely due to the chemistry between Paula and Gery. While Paul Campbell obviously gives the role his all, Gery's personality doesn't give him much to work on. Who is Gery? He runs an inn and likes Christmas and small town life a lot, and that's about all the depth A Godwink Christmas has to offer its male lead. Gery's backstory similarly offers little personality to him, leaving him as little more than a plot device to enable Paula's epiphany.
Speaking of plot, A Godwink Christmas has the odd distinction of both dragging itself out too far and rushing itself simultaneously. You'd think the story would pick up once Paula and Gery met and begin bonding, and that would be where the story spends a great deal of time. But instead, Gery and Paula's relationship feels rushed and incomplete; they have a few conversations about their pasts and bond over Christmas festivities before parting ways. As a result of that, the scenes where Paula and Gery feel empty without the other feel peculiar and make it seem that Paula and Gery's relationship was entirely offscreen. And as much as Sustad and Campbell try, their characters don't have much in way of romantic chemistry, leaving the stakes of the film's love triangle to hold little weight.
The best of Hallmark's Christmas films have enough heart and charisma from their cast to make the often told stories they center around entertaining. Unfortunately, A Godwink Christmas falters in developing their characters, leaving the cast with little to work with. With no romance to root for and no heart to revel in, A Godwink Christmas finds itself with not much Christmas spirit to give.
Score: 5 out of 10 "Godwinks."
review
About the author
Aspiring writer and film blogger: Lifetime, Hallmark, indie, and anything else that strikes my interest. He/him.
Twitter: @TrevorWells98
Instagram: @trevorwells_16
Email: [email protected]
Reader insights
Be the first to share your insights about this piece.
Add your insights