Snakes and Dragons: Late 2021's Eclipse Season
How might we expect November's Lunar Eclipse in Taurus & December's Solar Eclipse in Sagittarius to affect us in the long term?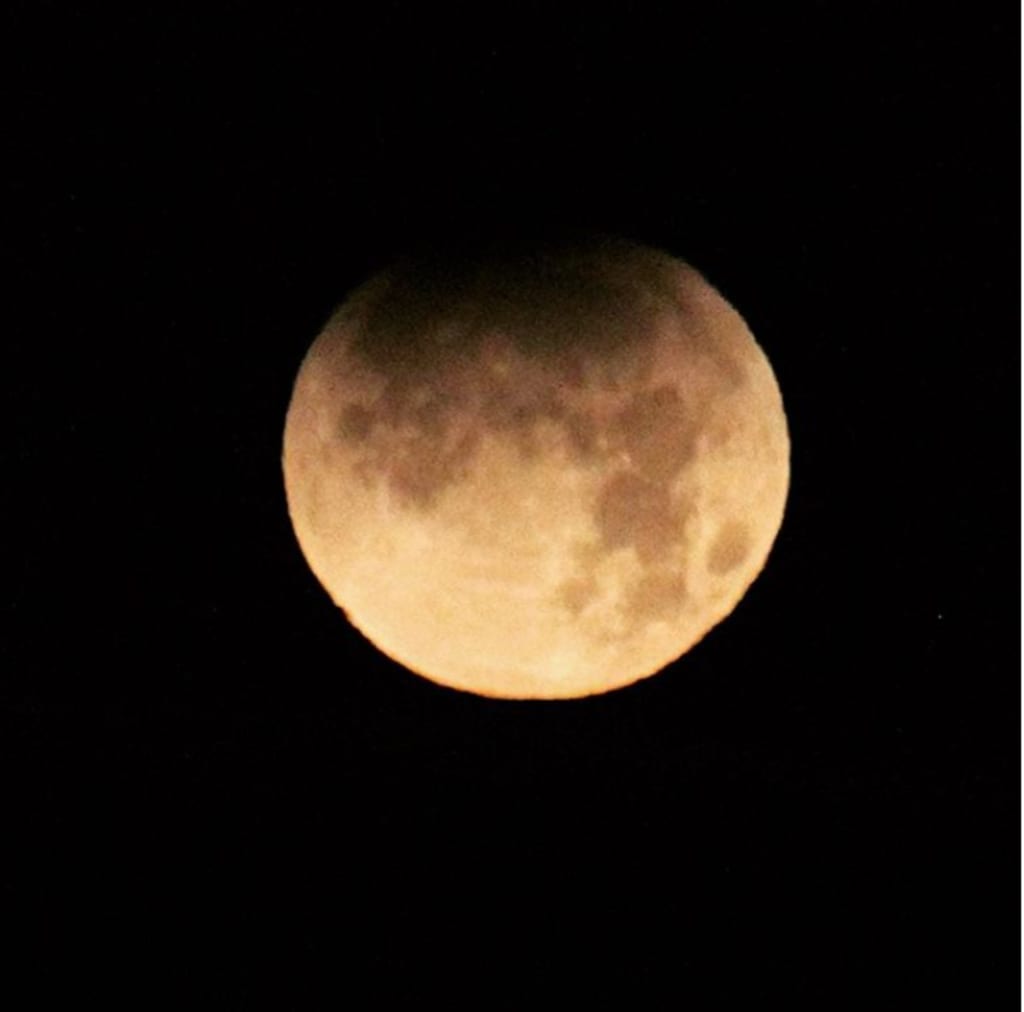 I know I am behind on this, as I am still healing from June's Solar Eclipse, which conjunct my Ascendant in Gemini, just so happened to coincide with some tragedies in my personal life. However, the effects of an eclipse are long-lasting. They happen in cycles of six months, and the cycle initiated by the two eclipses of November and December, 2021, is not quite over yet.
Eclipses are often 'fateful' in nature; they are believed to coincide with births, deaths and rebirths. Eclipses, especially Solar Eclipses, often coincide with more political events, as well, or events that happen on a large scale. In ancient times, they were believed to affect Kings (the Sun) and Queens (the Moon) especially in parts of the world where they are most visible. Similarly, they are more likely to have an effect on the lives of the common people if conjunct an angle, planet, or luminary in an individual's natal or Solar Return chart.
A Lunar Eclipse always occurs on a Full Moon and has the same climactic energy of a normal Full Moon, only stronger, while a Solar Eclipse only occurs a New Moon, containing the same themes of a regular New Moon except more intense.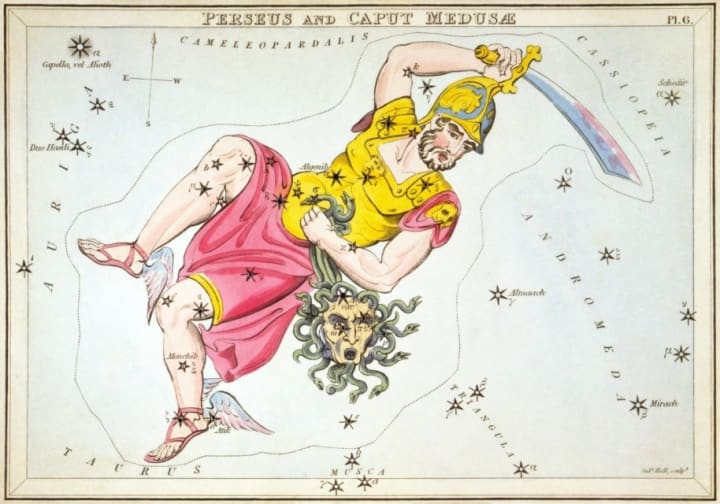 November 19th's Full Moon Lunar Eclipse in Taurus
November 19th's Lunar Eclipse took place at 27'14 degrees, Taurus, a fixed earth sign known for its stubborn persistence. The Moon in Taurus is ritualistic, finding comfort in repetition and routine. It clings to its attachments, preserving the memory of all it holds dear. This was the first Full Moon after Halloween, when the veil that separates the material world from the spiritual is believed to be at its thinnest. Furthermore, it took place at the end of Scorpio season, a sign that is itself associated with death and rebirth. For many people, this Lunar Eclipse was a time of mourning and celebration for those we have lost.
Additionally, this Lunar Eclipse was conjunct Algol, also known as the 'demon star.' This fixed star is located in the Perseus constellation and represents the head of Medusa, the mortal-born snake-headed gorgonslain by Perseus himself. Her story is actually a very tragic one, turning her into a symbol of feminine power and rage; raped by Poseidon in Athena's temple, Athena somehow blamed her for it and punished the once beautiful woman by transforming her long locks of hair into snakes, causing everybody who looked at her to turn to stone. I do not want to join in on any mythological victim-blaming by referring to Medusa as 'evil.' Nevertheless, this star is indeed associated with tragedy, violence, illness and even death. According to the website, Constellation of Words, Hebrew astrologers knew this star as Lilith, Adam's demonic first wife, another mythological figure revered by feminists, while Chinese astrologers referred to it as 'the piled-up corpses.' Whatever way you interpret it, this star indicates something powerful and dark.
For many people, this eclipse coincided with some very real and deeply felt tragedies in their lives. As of November 25th, just six days after the full moon, the U.K. became the fourth country to surpass 10,000 COVID-19 cases, and soon after, the U.S. became the first country to surpass 50,000. Meanwhile, a new variant of the virus called Omicron was discovered in South Africa, causing concern for the World Health Organization, due to its many mutations and extremely infectious nature. It is worth noting here that the Moon in Taurus and the Sun in Scorpio made a t-square to Jupiter, now direct, at 24 degrees Aquarius. Jupiter is known to 'expand' whatever it touches, and in this case, it seems to be expanding the infectiousness of the disease as well as the government's worry over it. While this eclipse was not visible from South Africa, it was visible from many other parts of the world including the Americas, Europe, Australia or Oceania, Northwest Africa and East Asia. Many of these places began to shut down their borders, at least to certain countries, around this time, while others announced new restrictions for their own citizens.
The eclipses always involve the nodes of the moon, two points often associated with karma or fate. They are widely used in Vedic astrology, where the South Node is known as 'Ketu' and the North Node as 'Rahu.' This is a North Node eclipse, since although out-of-sign, the Moon is conjunct the North Node at 1'47 degrees Gemini. The North Node is associated with 'growth' in modern western astrology or 'where we are going,' while in Vedic astrology, Rahu has some somewhat less positive connotations of dissatisfaction, passion, and greed. In other words, it is another indicator of unlimited expansion, although for Rahu, nothing it gets is ever quite enough.
It is also worth noting that the sign of Taurus is ruled by Venus, and this eclipse took place just a few days after Venus in Capricorn had entered the 'retrograde zone', and coincided with a trine to Uranus at 12 degrees of the bull. Essentially, we may have been given a preview of the themes we will experience during Venus Retrograde (which will take place from December 19th to January 29th) during this time. These may have involved themes of 'taboo' or unconventional relationships; perhaps involving age-gaps (since Capricorn is ruled by Saturn, a planet associate with old age) or free love type situations that break the boundaries that Venus in Capricorn usually has a reputation for upholding.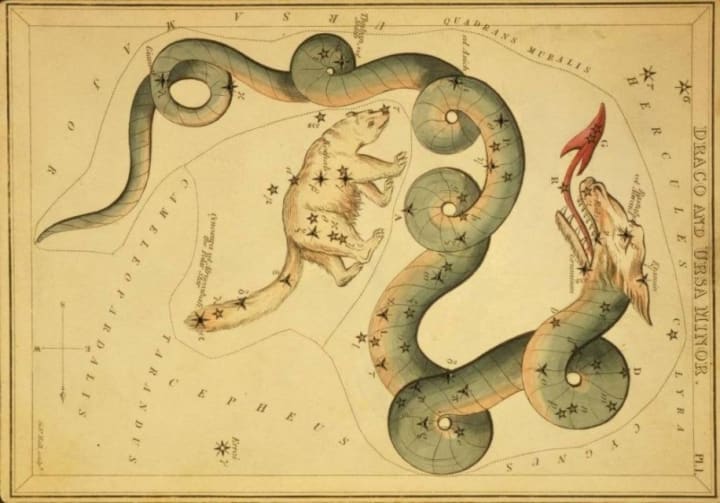 December 4th's New Moon Solar Eclipse in Sagittarius
December 4th's Solar Eclipse took place at 12'22 degrees Sagittarius, a mutable fire sign ruled by expansive Jupiter and known for its optimistic nature. You might think of this as a good sign for the holiday season, a joyful time of gift-giving and celebration.
However, it is worth noting that this eclipse was also conjunct some less benefic stars. These are Antares, the Heart of the Scorpion (Scorpius), and Alwaid, a yellow binary star located in the constellation of Draco, the Dragon. Both stars are Mars-like in Nature, with Alwaid containing some Saturnian influence and Antares influenced by Jupiter. Antares is associated with destruction, accidents, and war. Alwaid is associated with violence and danger, as well, but also criminal activities and loss of property.
There could be a risk of deception, as well. The New Moon was conjunct Mercury, planet of the mind and voice. However, Sagittarius is the sign of Mercury's detriment. It is ruled by Jupiter, a planet more concerned with beliefs than facts. In other words, people are speaking without getting their facts straight first, spreading misinformation or even outright lies, which may very well prove to be dangerous.
While the Lunar Eclipse was conjunct the North Node, the Solar Eclipse was conjunct the South Node (or Ketu) at 00'59 degrees Sagittarius. In modern western astrology, the South Node is associated with 'endings,' karma or what we are letting go of. In Vedic astrology, Ketu is associated with sorrow and loss but also has some more positive connotations of spirituality, psychic ability and liberation.
The totality of the Solar Eclipse in Sagittarius was only 'seen' from Antarctica. It would be very interesting if we see Antarctica in the news for whatever reason during these coming weeks. However, it was partially seen from Southern Africa, which is also interesting, considering Omicron was discovered by scientists in South Africa, reportedly spreading to some nearby countries as well.
Conclusion
All in all, these eclipses do foretell a challenging time. However, this does not mean we are without hope. Jupiter will be re-entering its home sign of Pisces on December 28th, which I initially predicted might bring an end to the coronacrisis in its current form. While the Solar Eclipse in Sagittarius's conjunction to a debilitated Mercury warns me not to get to ahead of myself here, it could be that what seems bad about this Omicron virus is actually good news. If it is indeed highly contagious but extremely mild, as some South African doctors say, it could mean that COVID-19 is becoming endemic like the common cold, effectively putting an end to the pandemic as we know it. In any case, we'll revisit these themes on December 18th, with the Full Moon at 27'28 degrees of Sagittarius opposite sign Gemini. However, the next eclipse will not be until April 30th, 2022, causing us to revisit the issues initiated by the Lunar Eclipse in Taurus.
About the Creator
My name's Kait. I would define myself mainly as a truth seeker. I write about a lot of things, primarily astrology, religion & spirituality, relationships and social issues.
Website: https://www.astrologybykait.com/
Reader insights
Be the first to share your insights about this piece.
Add your insights