When a One Night Stand Goes Better Than We Think
One of my personal stories.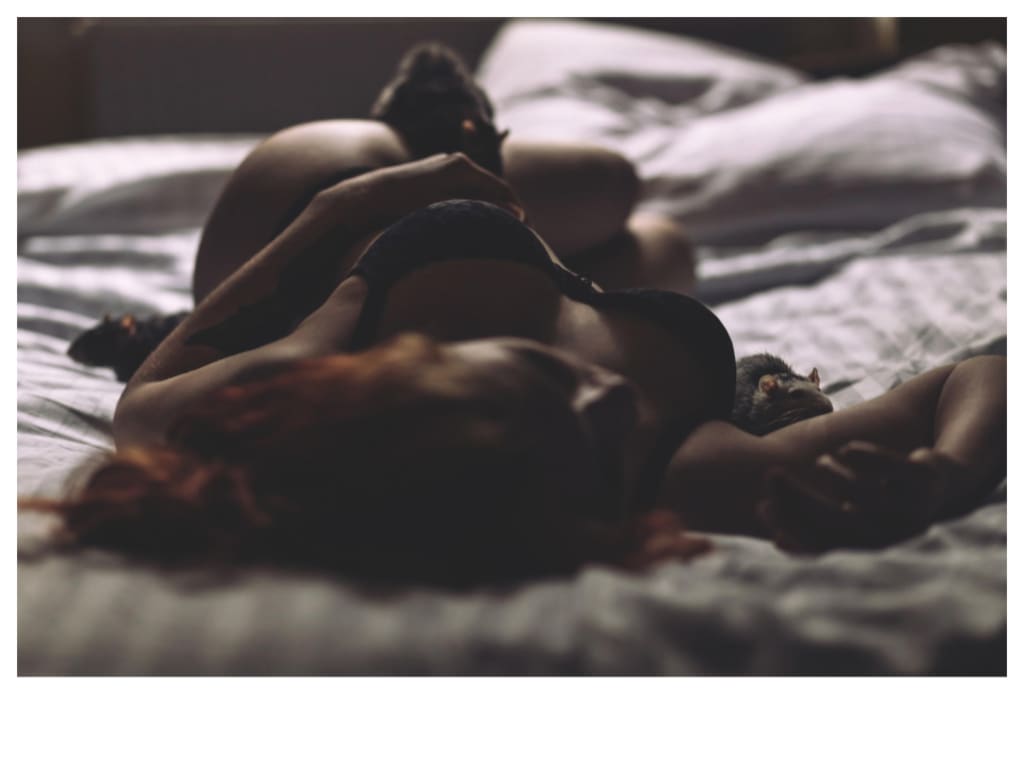 I was walking my dog when I noticed a car following me. I decided to stop at a corner and wait for what was about to come, would it be a kidnapping or a mugging? Both were very common in my neighborhood.
The car parked right in front of me and the guy who was driving gave my dog a compliment, and indeed my dog was really cute, but by the way, he was looking at me I knew the dog was only an excuse to talk. After noticing I wasn't in danger, at least not the type I was imagining, my fears disappeared. I interacted with the stranger for a few seconds, as he still pretended he was interested in knowing more about my dog.
Some minutes later, he reached for a piece of paper and hand wrote his name with his telephone number, and gave it to me. I liked that attitude, in a world where it is easier to meet people online he was there acting old school giving me his number on a paper instead of typing mine in his phone book.
He was not handsome, but had an incredible charm and a brave approach; women are not really as visual as man, so other things call our attention not only the appearance. I just loved the way he looked at me. He didn't get out of his car, he didn't shake my hand, and I did not even say my name, all I knew about him was the color of his car, how he looked sitting there, he had gray hair which made me think he was over the middle forties but if I wanted to know more it would be just a matter of calling. I didn't promise to call when we said goodbye to each other but I was tempted.
I got back home with my dog, feeling flattered with what had just happened. However, I was in doubt if I would call. "Is he married? Probably, men at his age usually are. Is he a creep who gives his number to every girl he sees on the street?" I added him to my contact list and nervously tried to answer those questions.
It had been a while since the last time I had sex with someone and on that day specifically, I would not mind a hookup.
Instead of calling I sent him a curious yet angry one via a phone app: "If you are married, forget about me, but if you are not, let's see how fast you can meet me for an afternoon of fun." It sounded sluttier than I wanted to but better to be direct than sorry. I don't know why I said the part about him being married though, I never cared about anybody's relationship status, all I knew was I was the single one and if the guys who were attracted to me weren't, it wasn't my business whatsoever.
He described himself as a married forty-six-year-old horny man. At least he was honest from the beginning and did not lie about his age or marital status.
I have had sex with married guys before and always thought it was much more fun than with single guys, they have pent up passion. Married guys were my best transgression.
We talked for many hours, a little bit of dirty talk sprinkled into our conversation. I was so fucking horny at the end of the day, that I popped the question: "Should we meet up and do it now?" But to my body's despair, it was a little too late for that type of guy to leave the house. We arranged to meet up the next day, in the early morning. He punctually picked me up at the place we agreed on and headed for a hotel which had a reputation of being a lovers' shelter.
I was nervous as usual; first times are not my thing. I had to order some Tequila to relax and in the first ten minutes, we were both rambling. Thank God he made the first move and kissed me, and for that moment on we lost ourselves in the needs of our flesh.
He could not wait long to go down on me and I confess I wanted that to happen so bad that my hands could barely leave his head while he licked me so sensually.
I have always been skeptical about having orgasms during sex, it happened to me only a few times; masturbation had been a default when I wanted to cum. However, he knew exactly what he was doing and it is so hard to find a guy who knows how to move his tongue properly. I felt free to tell him not to stop, to do this here or go a little bit further there. I love men that are not afraid of pussies and he was one of them. I had an intense orgasm and to my surprise, he almost came just by watching squirming and moaning out of pleasure.
"Will you do it?" he asked, of course, I gave him a blowy until he came, I never felt really comfortable swallowing but I received it in my mouth. "Sorry, I just could not control myself watching you having an orgasm."
We showered separately, and then we sat on the bed and talked for a while. He had been married for ten years and had a nine-year-old son, and as a justification for his cheating was the same as many married men:
Women change after children
They just don't give them the same attention anymore and sex is just not fun
We didn't go deep into that subject and I didn't express my opinions on the matter. I was not there to judge or to make any analysis of his relationship. I was there only for sex and that was what we had one last time.
The second time is always less fun for me, the excitement and novelty are used up by the first experience. Desire diminishes as the body receives what it asked for. I was still horny but not as much as I was before. Anyway, I rode on him in a frenzy which lasted less than I thought and he came one more time, no more orgasms for me, but I was happy with everything that happened in that hotel room though. We didn't see each other after that; it was a one-time hookup and I will never forget it.
erotic
relationships
taboo
Kelle is a part-time writer, a curious and an observer of general human behavior, including her own. She writes poems and likes singing in the shower. Follow her on https://www.instagram.com/kellec.rosa/?hl=en