Ultimate Guide to Vintage Penthouse Pets Pt. 2
The women that graced the pages of Penthouse Magazine in the 1970s, 1980s and early part of the 1990s were chosen by Bob Guccione himself.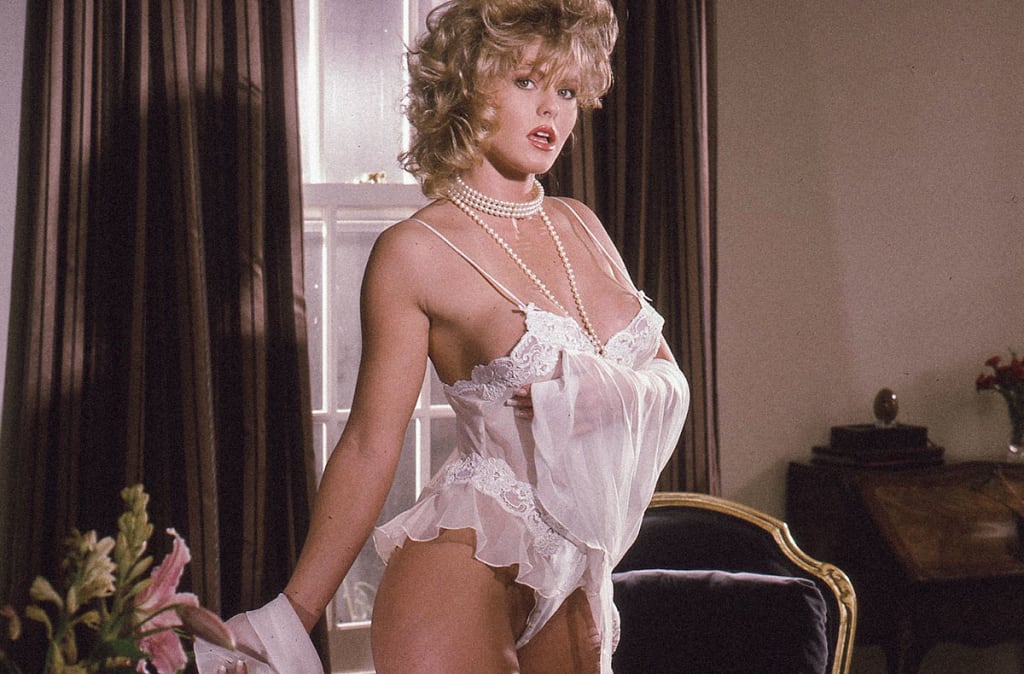 Monique Gabrielle - Penthouse Pet, December 1982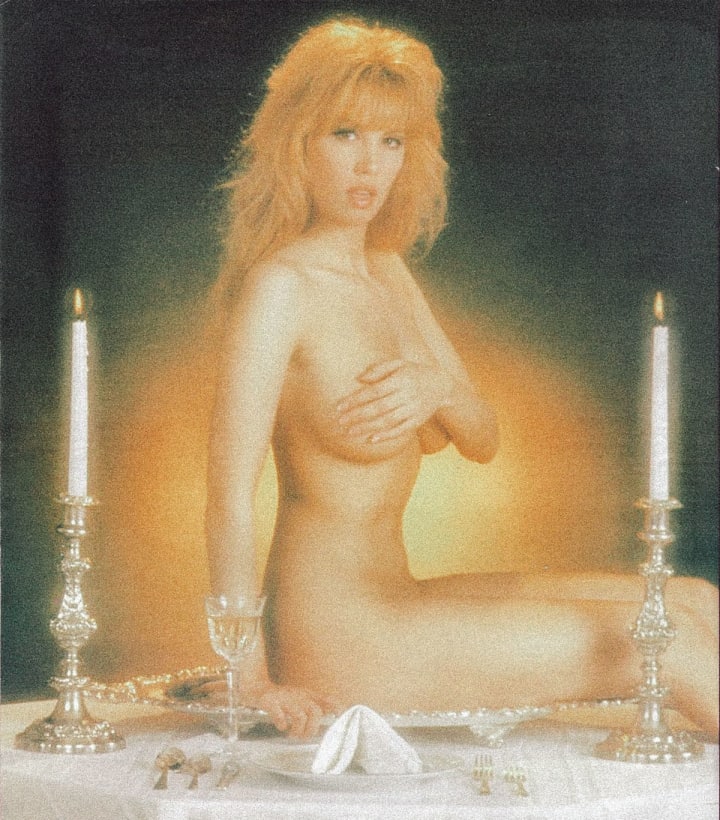 Monique Gabrielle, Pet of the Month for December 1982, is a classic example of an ugly duckling turning into a swan. However, in her version of the story, she is an American girl growing up in the 1960's without a flowery vocabulary. "The kids at school called me ugly dog," Monique reported to Jewel Shepard in the 1992 book, Invasion of the B-Girls. "I had a volatile temper so I would fly off the handle. They also called me 'witch' but I'm sure they meant 'bitch.' This was a private Christian school that I attended from the seventh to the eleventh grade. But they didn't have the best Christian attitude. They were spoiled rotten rich kids. So if you were a little different you didn't come from money, you were an outcast."
The vintage Penthouse Pet said, "I wanted to work instead of go to school. I took voice lessons. I wanted to act and sing. I even skipped school a lot so I could stay home and write songs or stories. I was not interested in school. But there was not much use for developing entertainment talents in Colorado. I went to modeling agency in Hollywood, and then to Japan. During the day you modeled, but at night, you did go-go dancing. It was the greatest learning experience of my life. I learned to deal with certain kinds of men, like our boss who wanted to sleep with all of us. You learn how to get out of the situation without insulting him. You need to know all that stuff when you get to California."
When Monique got back to California, she put that knowledge to use, but it still took her a while to find a manager. "My manager was under the impression that he could make a girl a star by making her a sex symbol first. So he got me into the whole T-and-A scene. But I didn't know anything and it sounded like a good plan to me." After Penthouse Petdom, she went on to star in other roles, including Bachelor Party, Amazon Women on the Moon, and in exploitation franchises such as, Bad Girls and Emmanuel.
"I feel like I've done really well, but I haven't really accomplished what I wanted," Gabrielle concluded in her interview with Shephard. But don't we all feel that way sometimes?" It seems not to have gone uphill for Monique since then, as her films subsequently lists her as a producer for some hardcore shorts featuring husband, Tony Angove, and after 2003, nothing.
Michelle Bauer - Penthouse Pet, August 1981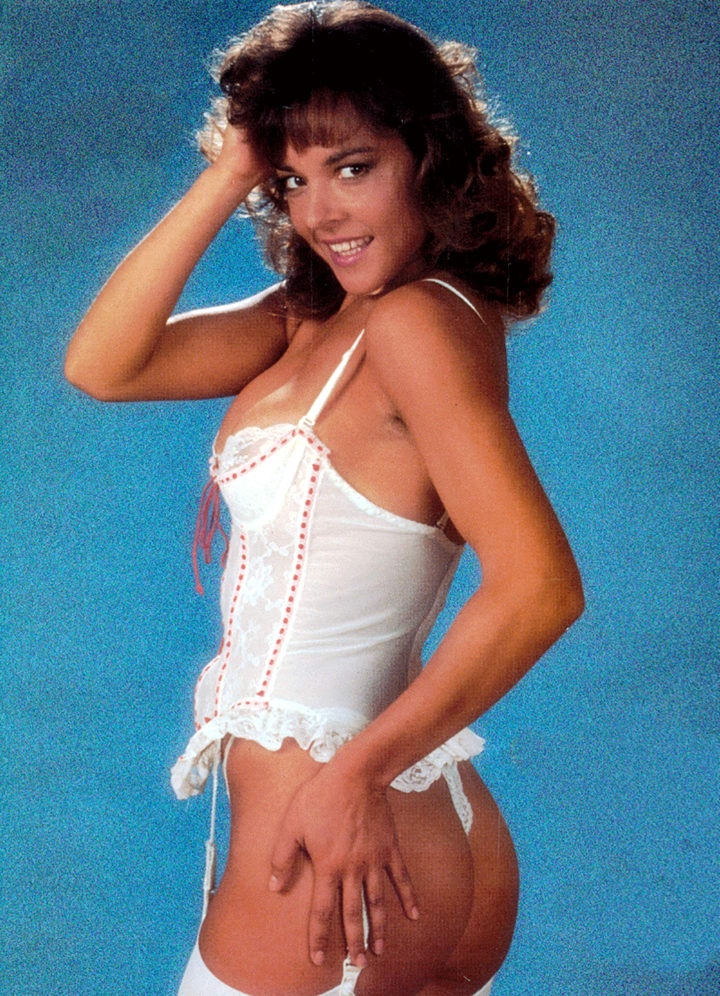 Michelle Bauer is not just a vintage Penthouse Pet, but a genuine cult figure. By the late '80s and early '90s Bauer was a certified "Scream Queen", well known for her dynamic screen presence. She had MILF or cougar appeal well before either of those designations had been coined.
She was one of the those Pets for whom nude modeling did not lead to hardcore porn. However, her debut appearance under the name "Pia Snow" in the notorious cult-art-porno Café Flesh to this day excites fans. There was a "did she or didn't she" speculation, but Bauer insists the hardcore stuff was body-doubled. The film had a theme similar to the exploitation genre with its kitsch appeal and a small potential path to mainstream success. Jewel Shepard wrote all about the scream queen in her book, Invasion of the B-Girls.
Michelle recounted how she got into the skin game: "I was looking for a part-time summer job but my ex-husband said I could only do part-time if I made full-time money. I'm thinking, How am I going to do that? Well, I saw an ad that said 'Figure models wanted for $75 a day.' I thought, Wow! So I checked into it and I found out it was nude figure modeling. I thought about it and thought about it… see, I never really felt that confident about myself physically, but I figured, 'If they want me, give it a try.' And I did and it was pretty successful."
Successful enough to make Pet of the Month in August of 1981, and then to go on to such sleaze cinema classics as Hollywood Chainsaw Hookers, which she described to Jewel: "The chainsaw comes in when I seduce a man at a bar and take him to my room, get him going by dancing around, get him all excited. Then I make him close his eyes and come out with a shower cap and a chainsaw and chew him up into bits. But it wasn't very gory, but funny. See, we're a cult. We're these hookers that go out and get victims so we can sacrifice them to the god Annubis, who we worship. Linnea [Quigley] does the dance of the chainsaw and kills our master, which breaks me out of my trance and we have this big battle where she kills me. My mother loves these movies. She gets big kicks out of them."
She wasn't the only one. To watch Michelle handle her claque of blood-and-boobs nuts at the likes of New Jersey's Chiller Theatre Expo was to see a genuine pro at work. Always friendly, outgoing and delightfully sassy when engaging even the most dire-looking of droolers, she made being a scream queen look like fun. How'd she do it? Sounds like she just kept a cool head on her. Speaking of ardent fans, she told Jewel, "There's this one guy in Canada who writes this stuff like 'Your body is a love temple!' I just write him back on a normal level. I don't feed the fire, I just write "Thank you very much' and send him nice, smiley pictures of myself." There you go.
Michelle's still in the exploitation movie game: her most recent credit has her sending herself up alongside B-girls' Brinke Stevens and Linnea Quigley in a inside-baseball serial killer spoof, The Trouble With Barry.
Tamara Kapitas - Penthouse Pet, January 1980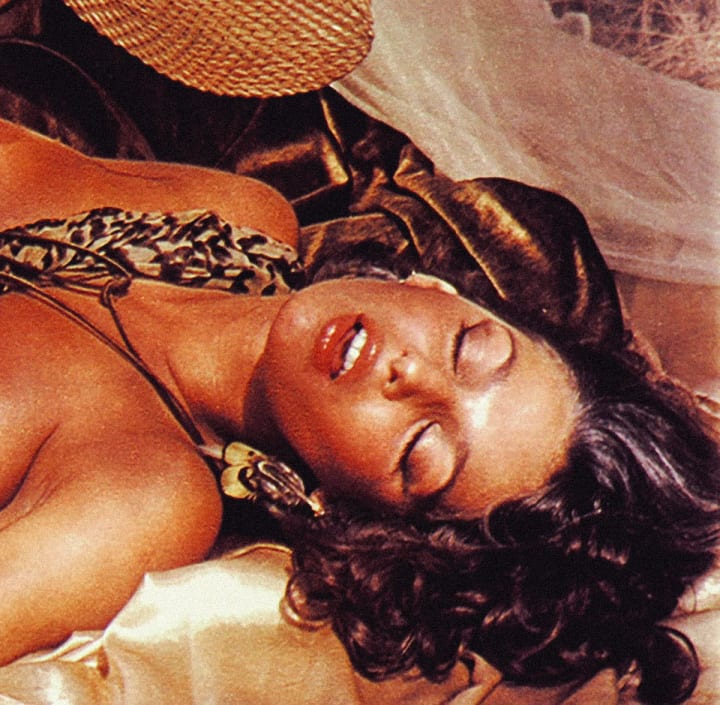 Tamara Kapitas is a very attractive vintage Penthouse Pet with an extremely peculiar post-Pet trail. The original information in her January 1980 pictorial, and cover model, has her hailing from New York. However, if you go to Wikipedia and look under "list of Penthouse Pets" and click on the link with her name in that grid, you are directed to the bio of an actress and musician of another name, one born in London but trained in New York. This actress and musician has collaborations with Nile Rodgers and Prince to her credit, and is practically an absolute double for the Penthouse model known as Tamara Kapitas.
But wait, it gets odder. There's a 2012 feature on the vintage erotica website Venus Observations devoted to the January 1980 spread, with lots of info on both the photographer, Pat Hill (a onetime protégé of "Great Day In Harlem" photographer, Art Kane) and the model. Or, rather, a certain amount of information on the model. The entry on the site stated: "originally this post was much longer but, at her request, we have deleted anything that refers to Tamara's current life. We loathe to delete all the pictures as she looks so splendid. She very kindly offered a few snippets on her experiences."
She is later quoted about her experience with Bob Guccione: "Guccione was another fussy man who was very involved in the details. He wanted more explicit pics than I was willing to give the mag. I didn't mind being nude, as I had grown up on the beaches of the Riviera and Italy, where everyone is half nude anyway. As long as the pictures felt natural, without being contrived. But I was uncomfortable, very uncomfortable. I refused to shoot with him. His directions for poses were out of the question for me. I wanted to walk around in the Everglades and have her photograph me the way I was, not the way he wanted to see me. The only way I agreed to do it was if the photographer was a woman. I insisted there was no one else on the shoot other than a female make-up artist. And of course, my name was never to be used, nor any information about me. Guccione always thought I was difficult to control. And he was right."
Joanne Latham - Penthouse 10th Anniversary Edition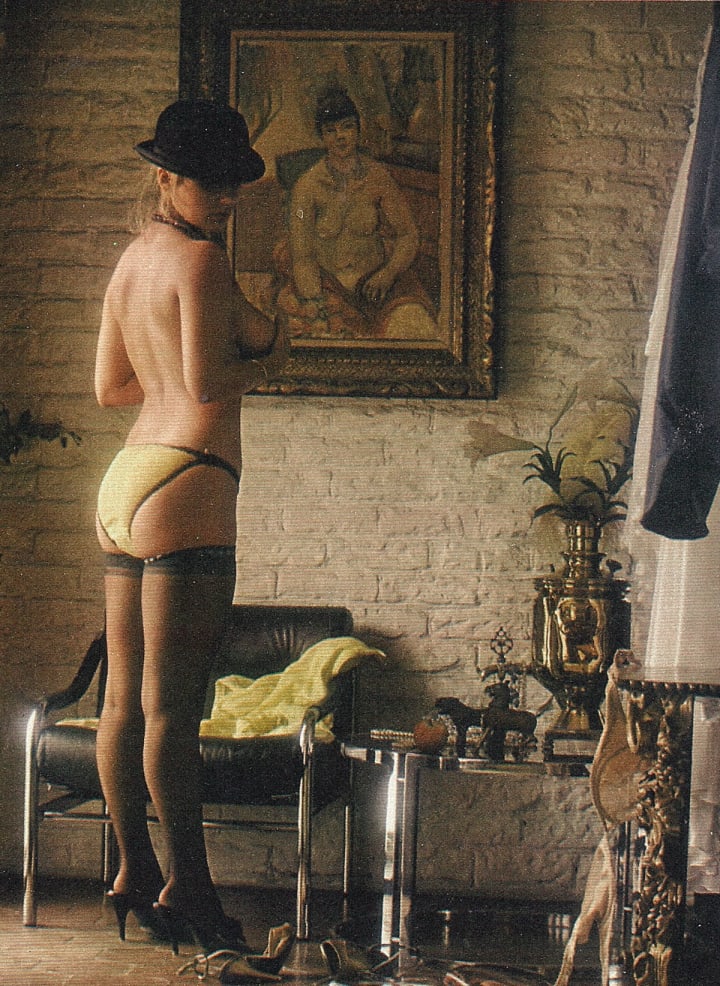 Joanne Latham, the Penthouse 10th Anniversary Pet, is a legend among vintage Penthouse Pets. She was the first Pet to set off a bidding war between the masters of erotica. She was barely legal when she first made a splash as a Page Three girl and the subject of a British TV documentary. Hugh Hefner of Playboy wanted her but so did Bob Guccione. In the end, Guccione succeeded in getting her and made her the 10th Anniversary Pet of the U.S. Penthouse magazine. It was reported that he paid a lot of money for the privilege, approximately 70,000 Pounds British Sterling. If various currency converters are to be believed, that equals almost 500,000 U.S. dollars.
However, the investment paid off. Until the infamous September 1984 issue of Penthouse, this edition was the best-selling one, and earned Bob Guccione a profit of $18 million. By Latham's account, though, she did not do it for the money. On her under-construction website, she has claimed that she was brought her around to posing for Guccione because she was promised certain promised perks, which she cites as being mostly in the education department. In addition to a desire for classical piano and French lessons, Latham wanted enrollment in the Actors Studio.
Latham never went on to attend the Actors Studio, she didn't file suit against Guccione. According to Wikipedia, her contract was "terminated" when she "fell in love with the boss's son." Wikipedia does not reveal which son it was and neither did Latham's site. After her account of being bummed out 'cause she didn't make the Actors Studio, she alludes to a life of sipping the finest champagne and eating the best caviar and says, "I was like Alice in Wonderland…I came down to Earth when I was fired for falling in love."
Corinne Alphen - Penthouse Pet of The Year 1982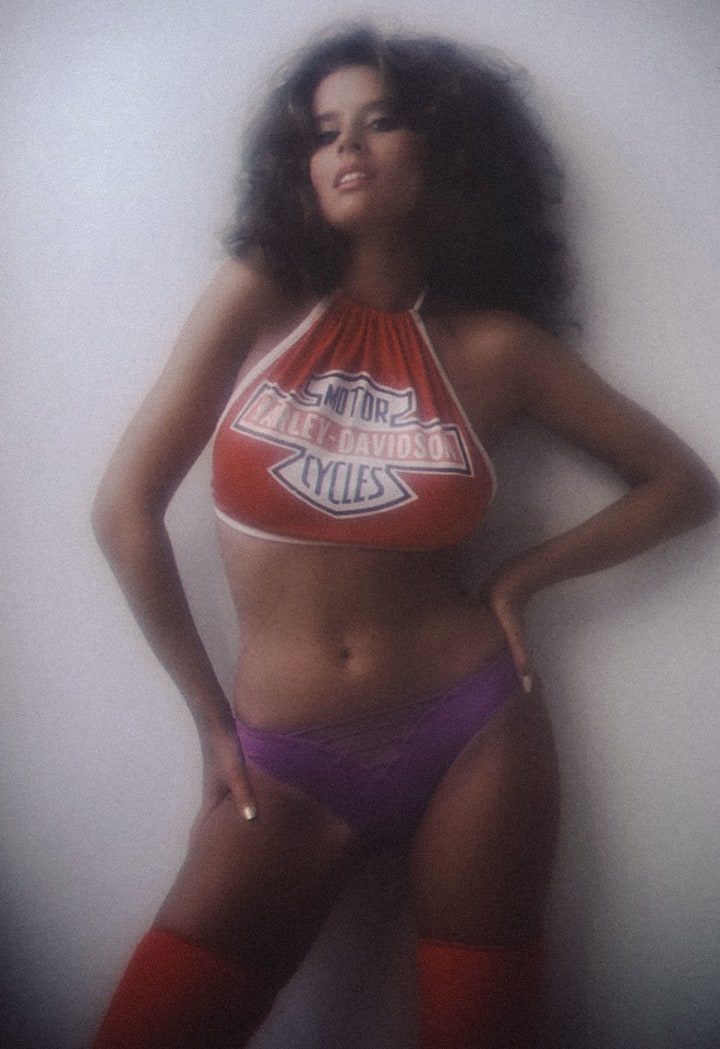 The late, great Roger Ebert was a critic of unstinting honesty, but also had enough of an open heart and mind that even when watching a movie that bored or irritated him, he remained open to any aspect of it that could provide redeeming value. And so, in the middle of a thoroughly-earned pan for the extremely mediocre 1983 teen sexploitation movie Spring Break, he writes about something in the picture he noticed, and liked:
"...a young woman named Corinne Alphen, who is described as Penthouse's 1982 Pet of the Year. Sad to say, most of the Pets and Playmates who win movie roles turn out to be sort of self-conscious and untalented as actresses. Not Corinne Alphen. She has a dazzling smile, a great personality and a relaxed naturalness on the screen that makes the horny teenage boys seem all the more gauche. A funny little movie might have been made about her adventures in Fort Lauderdale, 'where the boys are.' She would have had the personality to carry it."
Movie producers were apparently not visionary enough to take Ebert's implied advice and build a movie around Alphen. In 1983 she married the seemingly very accident-prone actor, Ken Wahl. We cannot say whether it was that, or her domestic life with Wahl, who also never made it to movie stardom despite turns in the acclaimed The Wanderers, that made the difference. What we do know is that this two-time vintage Penthouse Pet of the Month, June 1978 and August 1981 and then Pet of the Year of 1982 is single nowadays, and is a professional tarot card reader of no small reputation.
Jami Dion - Penthouse Pet, March 1992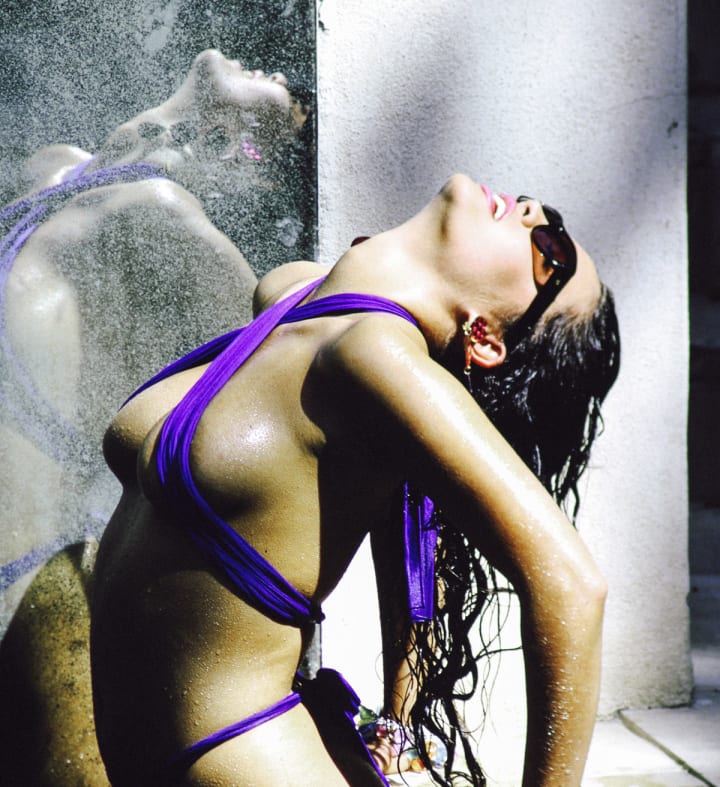 Dark haired, mysterious beauty Jami Dion has been known by several names: her birth name, Dahlia Grey, and her alter ego, Tami Dion. This busty and slender brunette knockout was born on February 14, 1972 in Seattle, Washington to parents of Latin descent. Grey started out in the adult entertainment industry as astripper when she was 19 years old. It was during that period of time in her life that an agent approached her to pose for various men's magazines. In 1992, she became the Pet of the Month in the March issue of Penthouse and graced the cover of Hustler for that same exact month. However, it was Grey's Penthouse pictorial that caught the eye of noted adult filmmaker Andrew Blake, who convinced her to act in his next hardcore movie. Grey went on to be featured in many Andrew Blake productions, where she is often credited as Jami Dion.
After she was named Penthouse Pet of the Month in March 1992, lovely Latina Dahlia Grey started showing off her 36C-24-35 frame doing girl-girl scenes in X-rated flicks like Hidden Obsessions(1992) and Aroused (1999). In the kinky bondage flick High Strung Women, Dahlia went completely nude with topless babe Adriana Sage. Although she went into the hardcore porn scene, Dahlia remained a brunette goddess whose sensual presence and lusty demeanor livened up any of the small handful of films that she graced in. She was, and still is, a gorgeous girl with a beautiful body. With deep, brown, pools for eyes and silky, black hair cascading down her smooth skin, she was one hot porn star for the ages.
Many of Jami Dion vintage Penthouse pictorials were shot by the famed Suze Randall, who was interested in her unique and exotic look. While many women in the porn industry are used to being in front of the camera, Suze worked behind the lens. Susan "Suze" Randall is known for being a pioneer for women in both the field of photography and pornography. As one of the first female staff photographers for both Playboy and Hustler, she broke into the male dominated world of erotic magazines. It was during the 1980′s that she became one of the earliest female porn producers, paving the way for other women to follow. From there, she went on to provide Penthouse with photos that exhibited her erotic style and labeled her as one of the world's leading erotic photographers for more than 35 years.
Jane Hargrave - Penthouse Pet, April 1978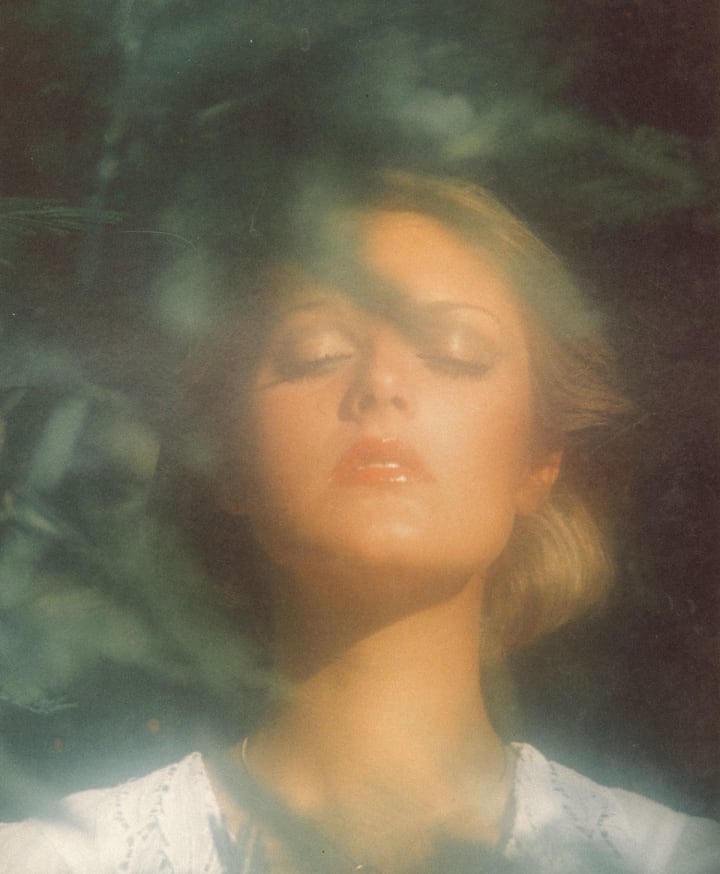 One of the qualities that distinguished a Penthouse Pet from a Playboy Playmate, or any of the other girlie-mag personae of the Golden Age of Newsstand Erotica, was a certain air of refinement and sophistication. Despite the fact that Bob Guccione's girls were baring much more than Hef's, there was often a kind of enigmatic aura about them. This had to do with the way the models were photographed, looking away from the camera, as if captured in a moment of private thought. Out of all the vintage Pets to come out of Penthouse, Jane Hargrave helped set the standard for what it takes to become an icon.
At age 18, Jane began applying for modeling jobs, and quickly came to the attention of Bob Guccione which ultimately launched her career. Beginning in July of 1975, she appeared on the cover of three different Penthouse editions and was the British Penthouse Pet of the Year in 1978. Jane's persona in front of the camera combined her natural beauty with a sense of mystery, was best captured on the cover of the April 1978 issue of Penthouse. This cover featured the young, tan, and fit, Jane, standing provocatively in an open spaghetti-strap top and a single seashell pendant necklace. Jane's relaxed but gorgeous demeanor on that cover is considered one of the most defining moments of the early Guccione era.
Jane's low profile followed her throughout her career, despite Bob Guccione's attempts at keeping her in the spotlight. She was one of the Pets that Guccione sent to Rome for the shooting of his Ancient Roman epic film, Caligula, which started shooting in September 1976. Unlike Anneka Di Lorenzo, she was not coaxed into performing anything explicit. Instead, she was cast as a Priestess of Isis in which she performed magnificently as a beautiful ornamental function for the film. In 1979, Jane left the Penthouse empire to commence upon a new career in mainstream fashion modeling and then in 1980, she turned to art.
When asked about her career change from model to artist, Jane stated, "I am undertaking a deeper meaningful journey, at times a difficult path, of curiosity and the questioner, a voyage of discovery, of seeking and becoming, developing my own artistic language and eclectic imagery with inspirations and insightful observations of the Universe."
Priscilla Barnes - Penthouse Pet, March 1976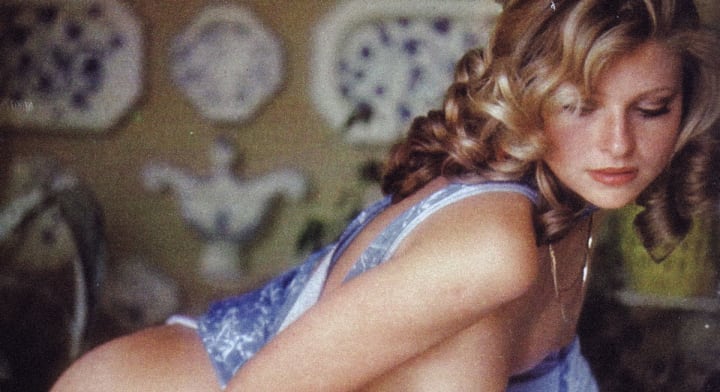 Does Joann Witty ring a bell? How about Priscilla Barnes? Priscilla Barnes is probably the more common name of the two. Barnes was best known as Terri Alden on Three's Company. When Barnes was 20 years old, she posed nude for the "Pet of the Month" in the March 1976 of Penthouse. Barnes still makes television appearances today.
Priscilla Barnes was born on December 7 but it uncertain what year she was born in Fort Dix, N.J. Some sources claim she was born in 1955 and other claim 1958. Her father was a Major in the United States Air Force and her mother a homemaker. Since she was a child of a Major, she moved across various military bases. Eventually, her family settled in Lancaster, California. She graduated from Antelope Valley High School at 17, moved to San Diego, and began working as a waitress and a dancer.
She eventually moved to Los Angeles to attempt a career in show business. She first appeared as an Amazon in The New Original Wonder Woman with Lynda Carter. When she was 19, she met Peter Falk at Pips, and eventually gave her a line in an episodes of Columbo. After that, she made an appearance in Seniors and Delta Fox, where she had a topless scene. While she was still working as a waitress at a Hollywood nightclub, she posed nude for Penthouse in March 1976. That same year, she began studying acting with Sal Dano. Sal Dano also taught actors Tom Selleck, Robert Hays, and Catherine Bach.
Her photoshoot for Penthouse includes her lounging around in a black jacket with a fur-lined hood and knee-high brown boots. A gold necklace hangs delicately between her breasts. There's a great shot of her sitting on a mirrored table and you can see her vagina from two angles. There's another great one where she is sitting at a table, sipping tea with a silky blue bathrobe that hangs open around her.
Dano also trained Tom Selleck and Catherine Bach. Then in 1978, she starred in The American Girls, a show about two young reporters, but sadly was cancelled after seven weeks. From there, she had parts in Tintorera, Starsky and Hutch, Kojak, The Rockford Files, The Love Boat, The Time Machine, A Vacation In Hell, and Sunday Lovers.
Although she didn't have a large role in The Rockford Files, the show itself was a huge success. In 2002, TV Guide ranked the show #39 on the "TV Guide's 50 Greatest TV Shows of All Time." The show follows a private investigator. The show ran from 1974 until 1980 with six seasons, 122 episodes, and eight television movies. In 2010, an idea for a remake of the series came about. NBC didn't like David Shore's direction with the show and gave Peter Berg a shot at making the show. It is still in development at NBC. Since Priscilla Barnes is still acting, maybe she will play a role as well in the show.
Her largest and most famous role was playing Terri Alden in 1981 in Three's Company. She replaced Suzanne Somers who had contractual issues with the producers. Somers was demanding a pay raise from $35,000 to $150,000 weekly. Three's Company's story revolved around three roommates: Janet Wood (Joyce DeWitt), Chrissy Snow (Barnes), and Jack Ripper (John Ritter). The show follows their hijinks, their misunderstandings, social lives, and financial struggles. It had 172 episodes and aired on ABC. During an interview with People magazine, she was excited to play the role because they didn't want her to be a "dumb blonde."
She was one the show for three years and during E! True Hollywood Story, she claimed they were the worst three years of her life. After shooting a few episodes of the show, she claimed she felt "uncomfortable" and wanted to be released from her contract. Unfortunately, she wasn't able to.
In 1982, she also starred in The Wild Women of Chastity Gulch, which followed Barnes' character, Dr. Maggie McCullough, who traveled to help her aunt during a time of war. After the horrors of Three's Company, Barnes moved onto to appear in License to Kill, Lords of the Deep, Traxx, Perry Mason and the Case of the Reckless Romeo. Then in the 90's, she appeared in Stepfather III, Mallrats, The Crossing Guard, and Mumford.
In the 2000s, her work included The Devil's Rejects, Thr3e, The Visitation, and American Cowslip. Her most recent work was the recurring role of Magda on the CW series Jane the Virgin in 2014.
Vintage Penthouse Pet Priscilla Barnes has been in the industry since the mid-70s. She has been on a variety of television shows and films. She is in her 60s currently and isn't slowing down anytime soon. She has been married to actor Ted Monte since 2003. Hopefully, we will continue to see her in more television and films in the future.
Sasha Vinni - Penthouse Pet of The Year 1994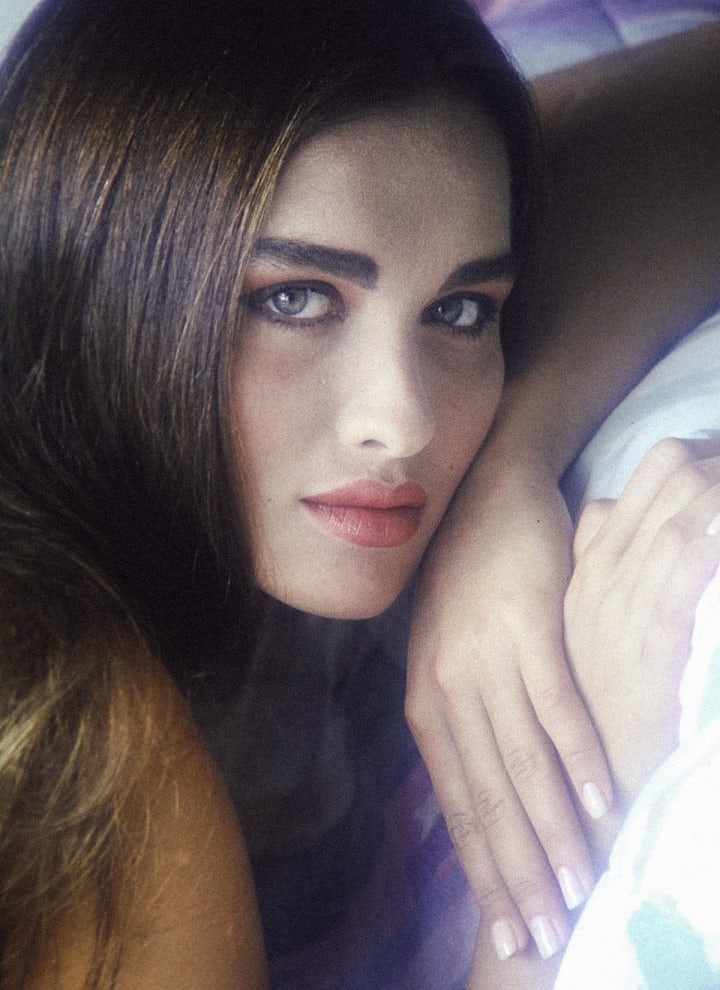 To celebrate Russia's democracy, Penthouse Magazine presented the stunning Sasha Vinni as 1994 Penthouse Pet of the Year. When she first posed for Penthouse, she was independent, adventurous, outspoken, and young. She embraced the newfound spirit and hope of her motherland. "Hopefully, Boris Yeltsin's victory as president of the Russian Republic will make a whole new period of growth and prosperity."
Sasha, 35-22-34, has become one of the most popular vintage Penthouse Pets. She has had many friends and legions of admirers, but with her natural shyness, she preferred studying music at the local conservatory. Her musical expertise helped her to heat up her rare relationships. "It makes you go in the special mood of seduction," she said, "and as you lie in front of the fire, put a little Prokofiev or Rachmaninoff on the machine." Who could resist?
Along with her multiple appearances in gentlemen's magazines, Vinni also starred in adult films. One of her most famous performances was in the film, Zazel: The Scent of Love. In this 1996 film, Vinni performed with the 1995 Pet of the Year Gina LaMarca, and 1999 Pet of the Year Nikie St. Gilles. The film included visually elaborate set pieces, extravagant costuming, make-up and body painting, and expensive filming techniques such as underwater photography not normally seen in pornographic films.
After retiring from her life as a porn star, she went on to become an escort in the New England area. Unfortunately we don't have her number.
Seana Ryan - Penthouse Pet, September 1992
In the world of gentlemen's magazines, young women are the most featured models. However, the lovely Seana Ryan was almost 30 years old when she posed for Penthouse. Seana Ryan, a vintage Penthouse Pet, has done her Irish forebears proud. What nationality wouldn't be thrilled to claim the beautiful and intelligent September 1992 Pet of the Month as one of their own?
"I love being in front of the camera," said the leggy brunette, "and posing for Penthouse gave me the chance to really strut my stuff!" 36-25-36 wild Irish rose has been known to engage in some racy activities apart from modeling: "I love fast motorcycles and fast horses. But the most daring thing I've ever done is go skydiving. You have to do it with someone you feel secure with, because it's really scary. I was so nervous about my first jump, I thought I was going to die! But once I left the plane, it was great… a total rush!"
Not only was Seana Ryan a daredevil and a model, she also enjoyed reading astrology. "I believe in horoscopes and astrology," once confided the sultry Leo. "I like reading the predictions for my sign and then waiting to see if everything comes true. My future in modeling is looked good – I started by doing beer and hair-care commercials, then posters and catalog work, and then onto modeling in Penthouse! I'm very lucky to have had a career that I enjoy."
While astrology might not have been able to predict her love life or where her career would take her, in Seana's opinion, location wasn't as important if the company's good. "I like a man who's aggressive in his manner but gentle in his touch," she says. "A guy who lacks self-confidence will lose out on being with me. I could be faithful to one man, if he's the right man. I don't go for casual dating. I have to feel an initial magnetism with someone before I pursue anything else."
Teresa Ann Savoy - Penthouse Magazine's 'Caligula' Star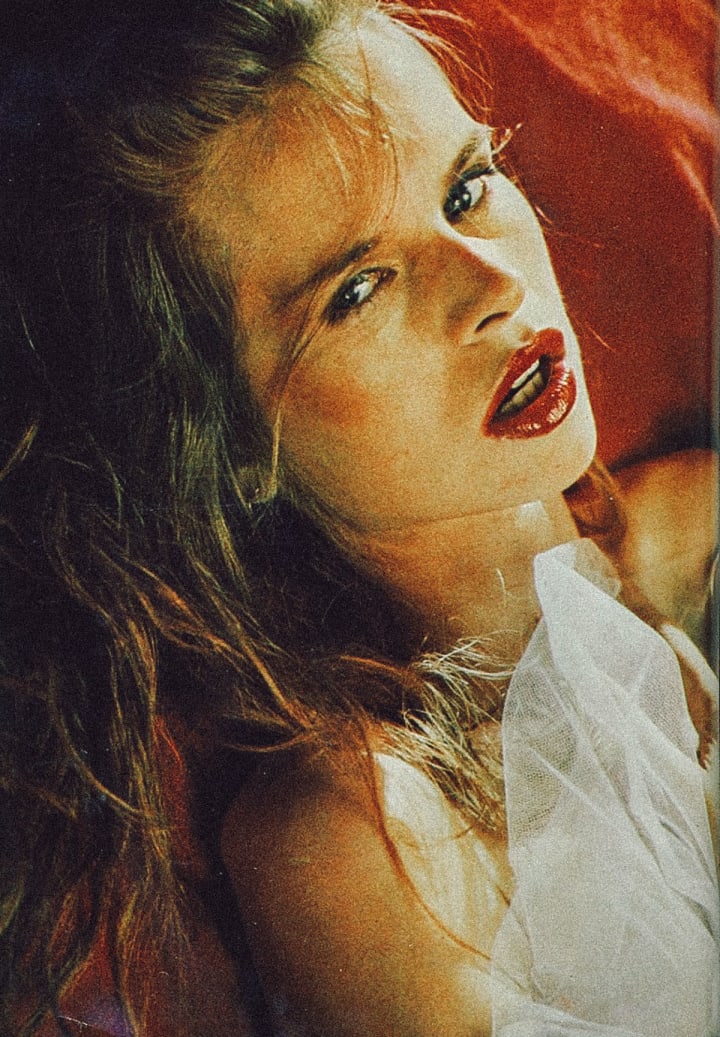 Before Cersei Lannister was even a thought, Teresa Ann Savoy was the original incestuous sister. Cast as Julia Drusilla, the sister and lover of Caligula in Bob Guccione's Caligula, Savoy helped Guccione turn this movie into one of the most iconic films of the late 1970's. In fact, Caligula grossed $23 million at the box office, making it the highest-grossing pornographic film ever produced independently. Despite the fact that she was never a Penthouse Pet, Guccione still made her a star. From her starring role in a gritty and erotic depiction of the Roman Empire to multiple roles in Italian romance movies, Savoy became an iconic actress in both Europe and America.
Savoy was only 18 when she first got her start. Published in the Italian gentleman's magazine, Playmen, in October 1973, Savoy went by the alias "Terry" because of her age. This "Terry" had run away from home when she was 16 and was living in a hippie community in Sicily when her pictorial was published.
Her story quickly grabbed the attention of the press and it helped launch her acting career. In 1974, film director, Alberto Lattuada, gave Savoy her first role in the film, Le farò da padre, or La bambina. In this Italian movie, Savoy played an intellectually disabled girl named Clotilde which allowed her to show off her impressive acting range. Then in 1975, Savoy met Tinto Brass and they worked together in the highly successful film, Salon Kitty, in which she played a young girl, Margherita, who poses as a prostitute for the SS Nazi paramilitary organization. Despite these two amazing roles, it wasn't until 1976, that Savoy got the role of the lifetime in Bob Guccione's Caligula.
Guccione was originally set on having Maria Schneider play the role of Drusilla, Caligula's beloved sister and lover, but Scheider backed out of the project when she realized that her character would be involved in nude sex scenes. Although Savoy was a last minute replacement for Schneider, she proved herself as a true actress and had no shame in fulfilling the role of Drusilla. As Drusilla, Savoy engaged in many erotic scenes, but the one scene in which she really shined was her threesome with Helen Mirren. In this part of the movie, both Savoy and Mirren have come in from the rain and are engaging in a threesome with a man. During this intimate moment, a number of girls in see-through dresses also join in to share in the fun. When the other girls leave the threesome, the audience catches a glimpse of Savoy's lift nipple as the entwined lovers continue to fondle each other. The scene finally ends as the girls lean in to kiss one another, rewarding the audience with a few more glimpses of Savoy's bare butt.
After Caligula was released in the United States in the 1980's, Savoy's career seemed to dwindle. In fact, many fans of Savoy believed that she abandoned her acting career in 1986, after her performance in La Donna del Traghetto. However, according to her IMDb, she also had a part in the 1989 movie Rose. This goes to show that even the life and career of a beautiful and enigmatic actress like Savoy can be plagued by mysterious facts and speculations. Although she might have appeared in many films during this time, she was not credited for her parts; however, this doesn't mean that she had faded into mediocrity. In fact, she made an another appearance in the 2000 film, La Fabbrica del Vapore, the first Italian digital movie. From there, she went on to receive the title of Fellow of the Royal Society of Arts in 1989 and now resides in Milan with her husband and children.
Tracy Wolfe - Penthouse Pet June 1992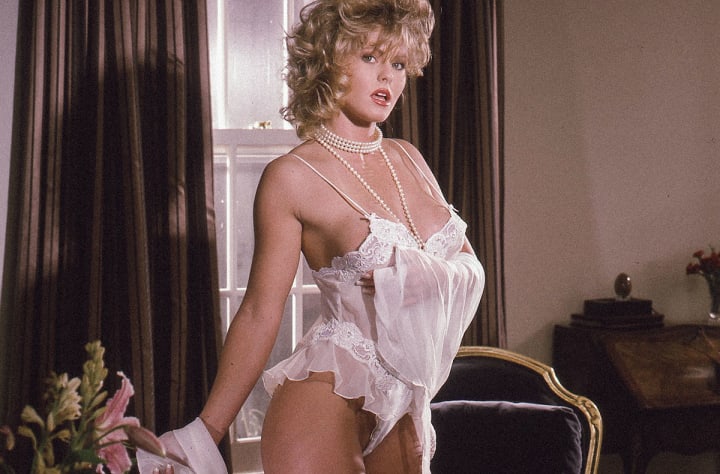 Californian native, Tracy Wolfe, also known as K.C. Williams, was not only the Penthouse Pet of the month in June 1992, but she also appeared in over 100 adult movies over the span of her career, and appeared in several different magazines including Easy Riders. Despite her fame, this busty blonde Pet never let it go to her head, and she always appreciated her fans. During one interview, Wolfe said, "I get cards and letters from people all the time. Believe it or not, there are a lot of guys who travel around the country just to see my shows." With a 34C-25-35 figure, it's not hard to imagine why she had such a loyal fan base during the height of her popularity.
Not only was Wolfe incredibly attractive when she appeared on the cover of Penthouse, but she was also smart and had a good judge of character. She was once quoted saying, "I majored in psychology in college, I can always tell if someone's being a phony. It's best for a guy to be honest with me, because if I catch him in a lie, he's history."
Wolf held herself to the same high standards to which she held potential partners. She held to a diet plan and kept her body remarkably toned by dancing. This California blonde was easily able to explain her affinity for why she enjoys dancing in clubs and how it was more than just exercise for her. "I've appeared in a number of films, but I really prefer performing onstage. I love to tease and excite the audience… especially when I can see the impression I'm making!" We are sufficiently teased.
Ultimate Guide to Vintage Penthouse Pets Pt. 1
For more vintage Penthouse pets, check out the first 13 ladies on the list.
About the Creator
New Yorker in his forties. His counsel is sought by many, offered to few. Traveled the world in search of answers, but found more questions.
Reader insights
Be the first to share your insights about this piece.
Add your insights