Part III: Hot Summer Bods in Womens Sports & Fitness
Beauty and strength during a time of concern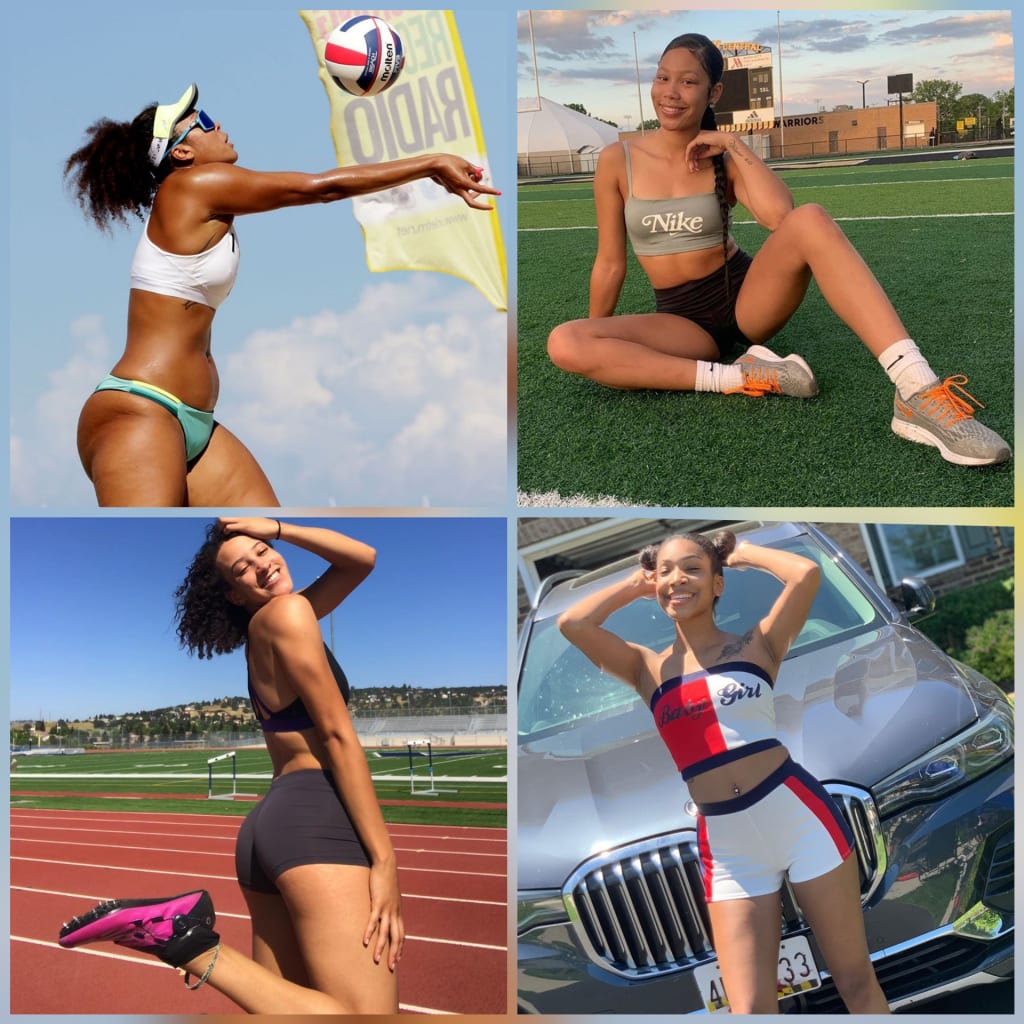 Falyn Fonoimoana, Prommyse Hoosier, Ceonna Pipion, Cierra Pyles
There's a lot going on around the world and particularly in the United States. From protests to pandemic, we respectfully soldier on and continue to uplift great people, so here goes.
In our first two installments we've celebrated 10 women, here we honor more outstanding young ladies who have stayed fit and are inspiring others to become healthier mentally and physically. This the third submission of "Hot Summer Bods in Womens Sports & Fitness." We will run this series throughout the summer.
Falyn Fonoimoana
There is only one, Falyn Fonoimoana. The 6-4 wonder of a woman became a national sensation at USC when as a freshman, she led her squad to the volleyball Final Four in 2010.
After one year of college, many counted her out but she has competed as a pro on the international level. She's also become a star on the profssional beach volleyball circuit.
Falyn's body makes people turn heads. It's not conventional and it's motivating for larger women that they can make proper dietary decisions, while training an remain as beautiful as anyone on earth.
Prommyse Hoosier
During her first season at Tennessee, Prommyse Hoosier placed fifth in the long jump at the SEC Indoor Championships, with a jump of 6.26. That mark was the fifth best jump in the history of the Lady Vols program. She also had top three finishes in the four other meets that she competed.
In high school she was an Indiana state champion in the long jump in 2019 and 2018. She placed fifth in that event at the 2019 New Balance National Indoor meet. She also competed in volleyball.
Ceonna Pipion
On her way to Fresno State, Ceonna Pipion has had a strong high school track and field career. In 2019, as a junior, she recorded the sixth fastest 400-meters time in the state of California at 54.46. That was also a top 50 time in the nation. She also had the 11th best time in California in the 200-meters.
At the 2019 state championships she placed third in the 400-meters, improving upon her ninth place finish the year before.
Cierra Pyles
Cierra Pyles is a multi-talented competitor who is making her mark in the Big Ten. Competing for Ohio State she had a top five finish in the triple jump at the 2019 Big Ten Championships.
When she was a high school athlete she was one of the top hurdlers and jumpers in the state of Maryland. She also shined among some of the best in the country at the New Balance National meet.
Ayoleka Sodade
After a four-year college basketball career with the Buffalo Bulls, Ayoleka has become an even more interesting follow on social media with her new page @fitwithleks. She's been doing workout videos on Instagram Live as well as posts on her feed that show you how to develope certain parts of the body.
I've never even heard of a "single leg eccentric glute bridge," but if you follow Ayoleka you can become aware of various ways to tone up and get in shape.
Some of her top workout series are "Glute Activation," "Full Body Gym," and "Hiit Workout." She also posts inspirational quotes encouraging others to "Reminisce wisely." The quote reads, "Every time you look back on a moment and wish it could be different. You're wasting the current one you have now."
If you missed the first two, "Hot Summer Bods in Womens Sports & Fitness" releases, click the links to check out part one and two!
Part One
https://vocal.media/filthy/part-i-hot-summer-bods-in-womens-sports-and-fitness
Part Two
https://vocal.media/filthy/part-ii-hot-summer-bods-in-womens-sports-and-fitness
This list is brought to you by the Track Stars App.
Click the links below to download the world's first women's track and field video streaming app for iPhone and Android users.
Track Stars App, available for iPhone and iPad users https://apps.apple.com/us/app/track-stars/id1489617224
Track Stars app is also available for Android users at: https://play.google.com/store/apps/details?id=com.app.trackstars