Ghana Media Claims American Teachers Help 'Turn' Your Children Gay
In a video posted to Graphic media they claim teachers in the school or other school people help your child turn gay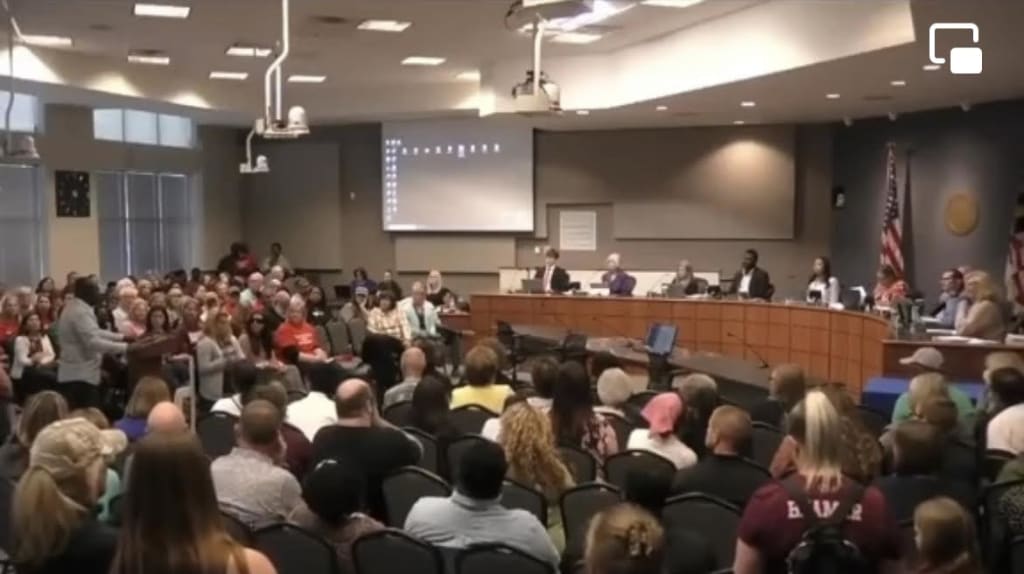 Screenshot from Ghana Graphic News Video
Saturday, 6 May 2023
By: TB Obwoge
Many Ghanians are homophobic, there have been incidents of women accused of being lesbians that are raped by several men in Ghana. They call this corrective rape, they don't have any proof nor do they care for any, they will rape girls or women that they accuse of being lesbians.
Rape in Ghana is rarely prosecuted, because there are costly rape medical fees charged to women and girls. Ghana claims to have outlawed this but there are women still being asked for money for the rape examinations.
Without this rape examination and paperwork the police won't take your report. Women have reported to recently being charged these fees by some in the medical field. When there is no money, the women have no choice and end up not filing the charges.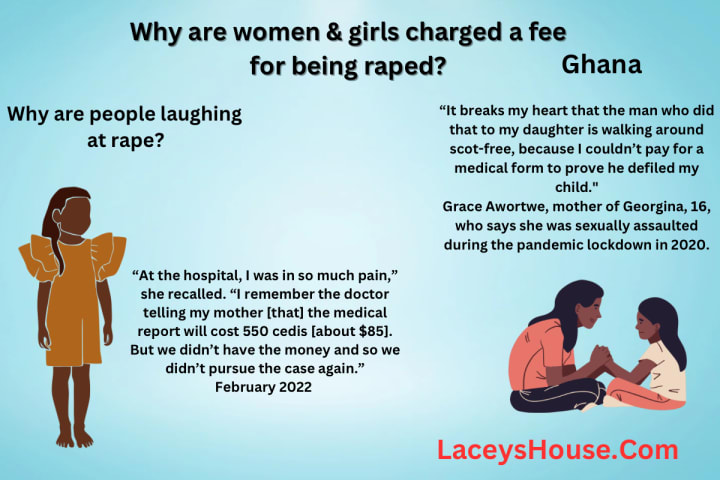 This news outlet used a misleading and false headline to promote hatred for homosexuality and the United States of America. This false rhetoric as if American teachers are turning children into homosexuals is not only harmful this can get teachers into legal trouble.
This video posted the Graphic Ghana's Facebook page was viewed by more than 200 thousand people. According to the comments a lot of Ghanians actually believe that children are taught to be homosexuals, not that they are born that way.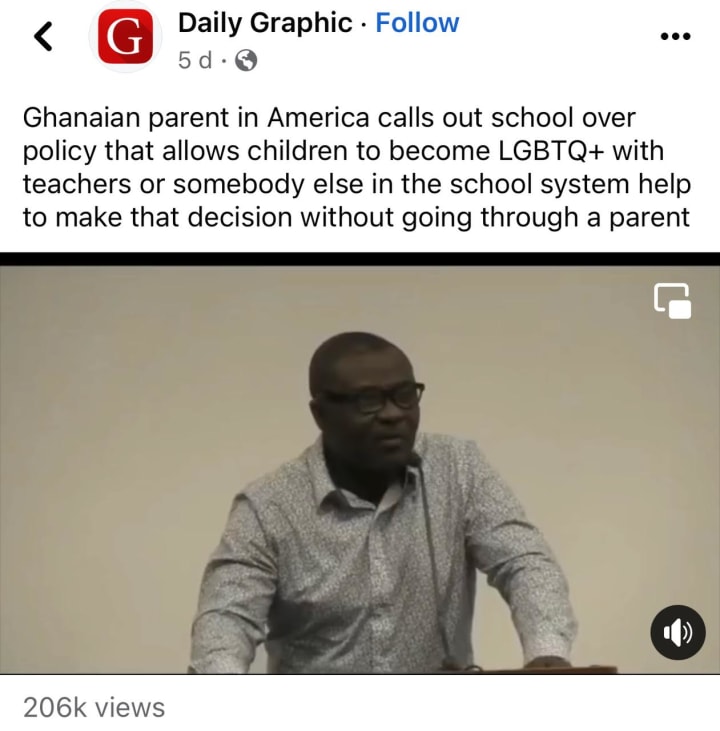 Njama Njama Cow

This is the second time I am hearing about this so-called policy in the American School system. There was another video where someone called out the board of a certain school over this same policy. If you want to go to America, abeg go there and hustle. Don't go and born there.
Njama Njama Cow It's becoming a state law now. In fact, your child doesn't have to tell you that they are changing their gender. They just need to tell their teacher and that's it.
A Ghanaian parent in the United States of America (USA) has drawn public attention to a new school policy that allows children to become LGBTQ+ with teachers or somebody else in the school system help to make that decision without going through a parent.

He said the policy was going to open a door for "predators who are gradually creeping into the school system to destroy".
In a video shared on social media, the Ghanaian, who introducehimself as Neil Acheampong at a meeting made a strong case against the introduction of the new policy that disregards the consent of parents in the transitioning of schoolchildren into various transgender groups.

LGBTQ+ Addressing a local town meeting in Maryland, the founder and head pastor of Family Life Chapel described the policy known as Policy 443 as disturbing.
"There is an issue that actually bothers me about it, and I want to just make that clear if there will be a review of the policy in regards to the fact that asking if my child could be able to be a transgender, and then a school teacher or somebody else in the [school] system could help the child to make that decision without going through the parent is actually disturbing," he said.

He said a few weeks ago when his daughter was sick and she needed to be given some pain medication, he was called and made to show up in person to administer the medication himself.

"Sometimes I sign paper work for sun screen, parental consent. Every simple little thing there is parental consent except this. So I am asking myself what is going on here. I see a door that is being opened for predators who are gradually creeping into the school system to destroy. Your good work will be destroyed, so I ask you to go back and look at policy 443."
"I will always pray for you and trust that you do a good work. But for this one thing, please reconsider and let's change it. Because we are building a society that ought to thrive tomorrow and not to create kids who are confused," Pastor Acheampong said.

His statement earned him an applause at the meeting.
What it sounds like is that this Ghanian parent is mad because his school refuses to 'out' gay students. This is his issue, which informing parents that their child dresses or behaves a certain way in school would require a teacher to call the parents. This would send children home to hateful, homophobic parents who might abuse them, much like gays are abused in Ghana.
Thank you for reading 🙏🏽 Please consider buying a coffee for Lacey's House efforts in Gender Equality & Children's Rights.
©️TB Obwoge 2023 All Rights Reserved
About the Creator
I'm the president of a nonprofit. I've lived in 3 countries, I love to travel, take photos and help children and women around the world! One day I pray an end to Child Marriages, Rape and a start to equal Education for ALL children 🙏🏽
Reader insights
Be the first to share your insights about this piece.
Add your insights