Facebook account of Kenya's First Daughter Charlene Ruto peddling porn & pushing insults
The account has over 42 thousand followers & growing daily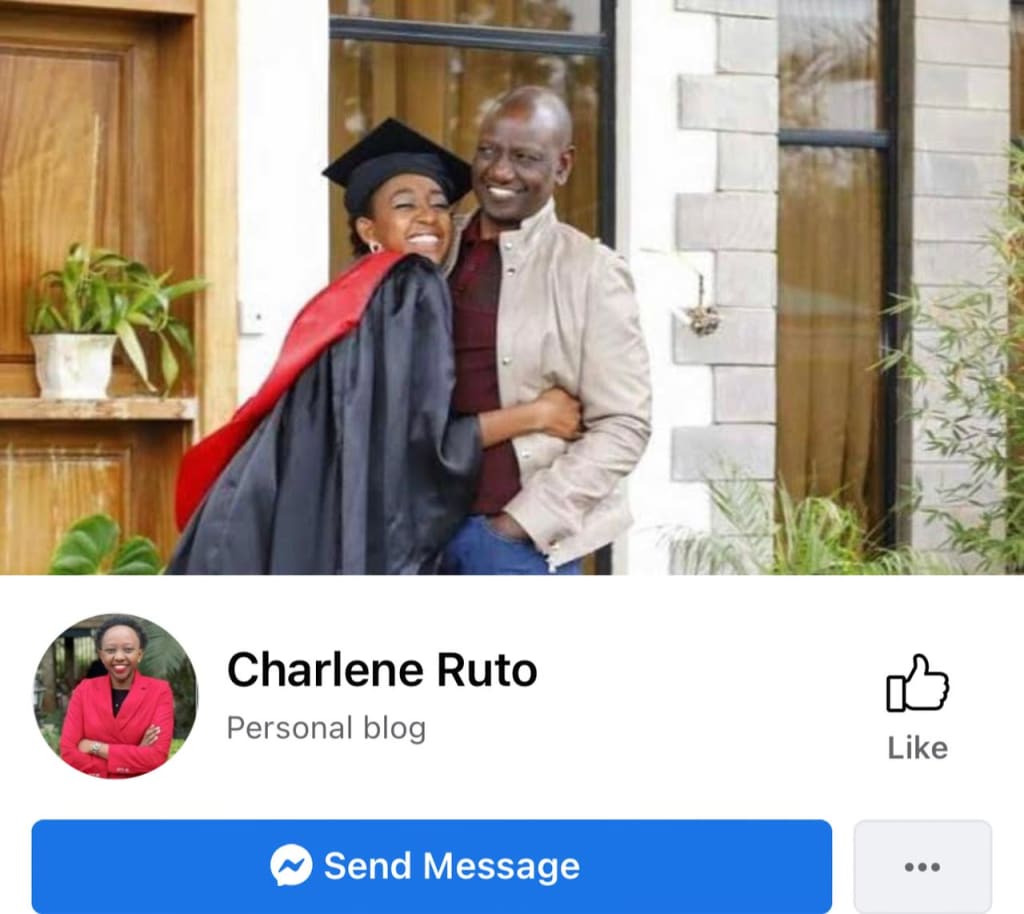 Screenshot from Facebook Account claiming to be Charlene Ruto daughter of Kenyan President William Ruto
Tuesday, 25 April 2023
By: TB Obwoge
Charlene Ruto is the soon to be 33-year-old, unemployed daughter of Kenya's President William Ruto. Since Ruto took office after his disputed win in the Kenya August 2022 elections, Charlene per usual has been riding on daddy's coattails.
According to her CV (resume) she's never held employment outside of working for her father, in one of his hotels. Charlene who graduated a tiny university named Daystar has a degree in communications.
During her father's 10 years as Kenya's deputy president, she was virtually nonexistent. These were the years for her from 22-32 years of age.
Starting in late October 2022, she cleaned up her Twitter account, tried to remove the nonsense she once tweeted on her social media pages. Only to create an account that would appear to be that of a political leader.
Charlene has gone from one nonsensical story to another to try to appear as if she's just a 'regular Kenyan youth', though her father is one of the richest men in the country.
She stated a claim that she sold smokies while at university to make money. Apparently her father's millions of shillings weren't enough to provide for her overtly religious unknown school. This turne her into an overnight meme, she became the laughing stock of the country.
@Philosopher254 "This speech sounds like mocking the real hustlers. She's not a hustler."
@desperately: "If you did not taste the Charlene Ruto desperately-kachumbari then you were clearly not at Daystar."
She went on a single day photo shoot, without any news stories, just photos of the 32-year-old doing again nonsensical activities for the cameras. She pretended to support a local smoothie shop, while her security refused to allow 'real' customers in. She sat at a table, while news media snapped photos of her pretending to drink a smoothie.
Charlene than left there to do a tour and more photos, unfortunately she only realized towards the end that she was wearing the same outfit. She quickly threw on a plain white tee, as to pretend some of the faked engagements were not all rushed into one day.
They clearly were, though.
Another fail was having the media take photos of her 'pretending to be a typical hard working Kenyan', while she shopped for nothing and stood in a long line to wait to purchase her one item.
This once again turned her into a laughing stock, as Kenyans were angry and getting annoyed with her presence in the media spotlight. Charlene then earned the name " Quickmart Ivanka."
Charlene then stepped in it big time with Kenyans, she started claiming that there was an "Office of the First Daughter", this is when most Kenyans lost their minds. Wondering where in the Kenyan constitution was there any office created for the first daughter. Then where was the funding coming from for this office, were their tax dollars paying for this office?
Prior to this Charlene Ruto who is poorly spoken in English had visited Morocco, meeting with leaders in the country. Then onto Spain for unknown reasons. This was another source of confusion and anger. Kenyans paid for Charlene Ruto an unemployed, communications student to travel on their funds.
Now there is a Facebook Account With her Name peddling pornography -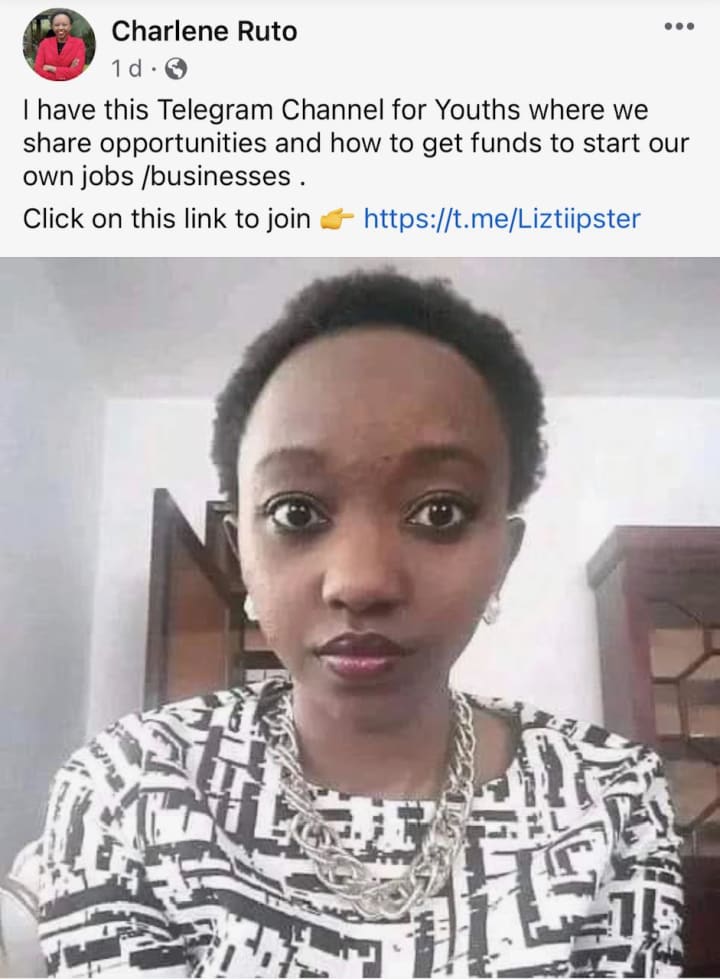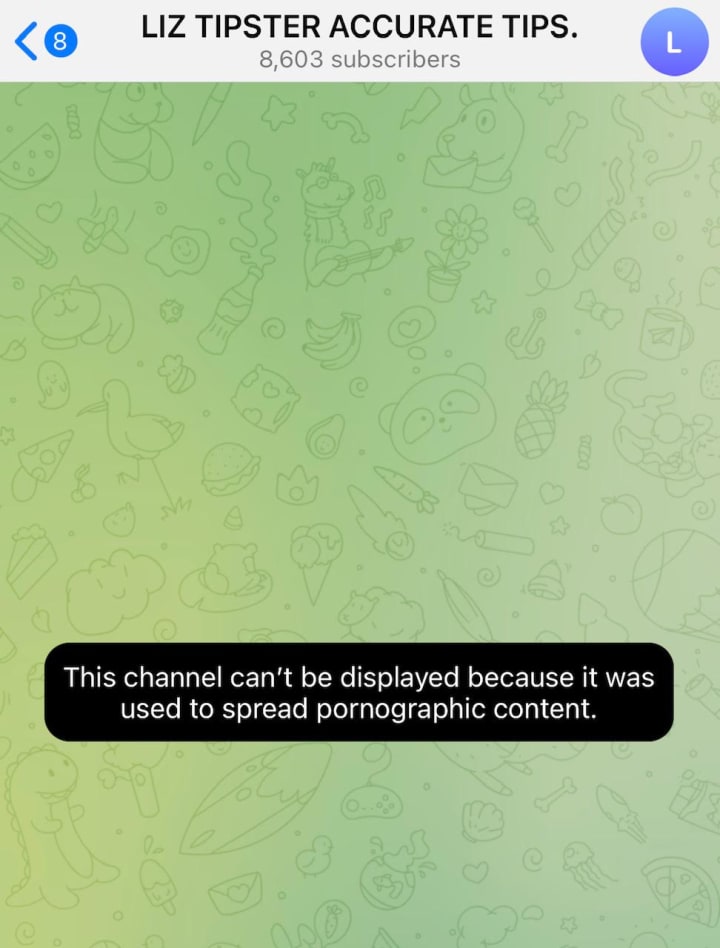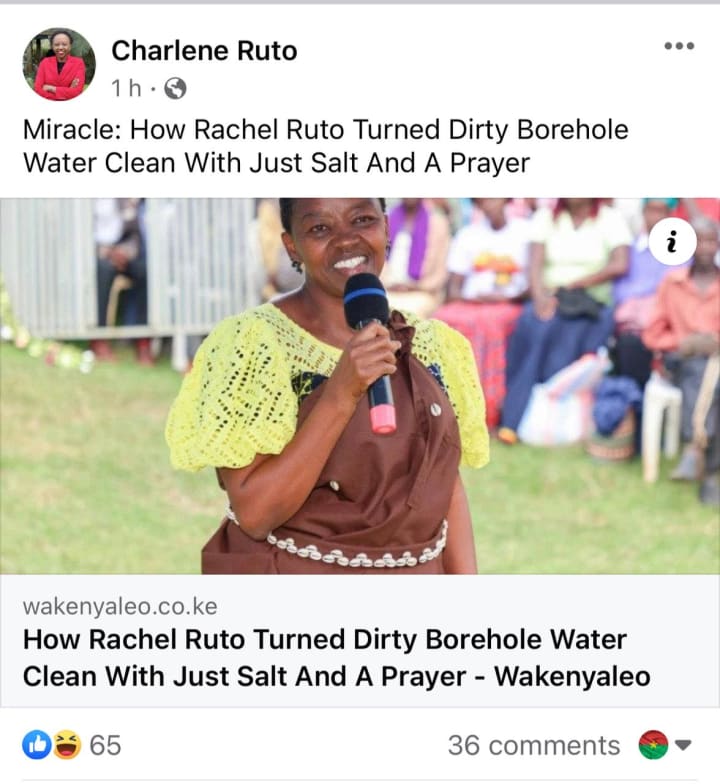 Charlene Ruto and the Ruto government are so busy fighting political leaders, pushing Christianity on the entire country. No ones noticed this page? What sort of intelligence is working on the Charlene Ruto branding? Doesn't she have a degree in communitcations, shouldn't she spot check for accounts like these?
Thank you for reading 🙏🏽 Please consider buying a coffee for Lacey's House efforts in Gender Equality & Children's Rights. A NGO that is close to my heart and helping women all over the world.
©️TB Obwoge 2023 All Rights Reserved
About the Creator
I'm the president of a nonprofit. I've lived in 3 countries, I love to travel, take photos and help children and women around the world! One day I pray an end to Child Marriages, Rape and a start to equal Education for ALL children 🙏🏽
Reader insights
Be the first to share your insights about this piece.
Add your insights