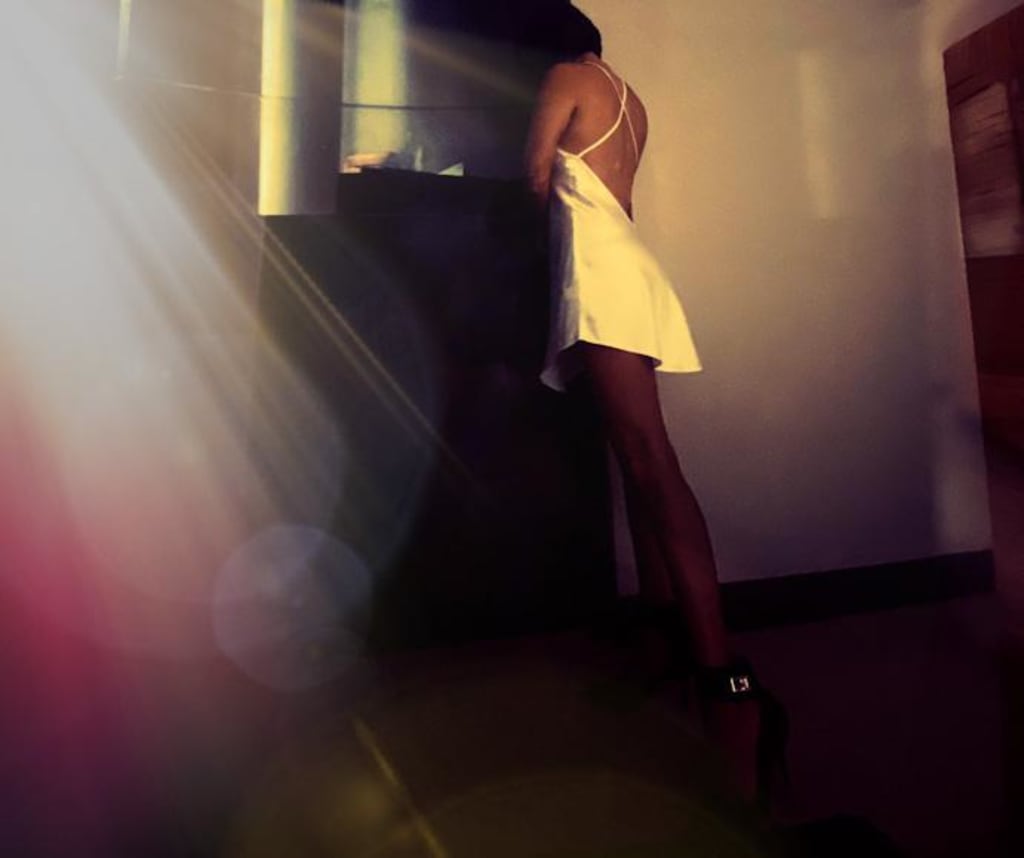 Following our sex in the dark, Craig and I resumed our emails full of sexual fantasies. Our emails and chats became bolder as time passed. We met a couple of times at nature parks, hiking, talking, fucking in the woods, then making love at the lodge. We cradled each other and fell asleep to the sound of the waterfall and hooting owls. As one would cherish a setting sun, we relished every moment spent together in each other's company. We fucked like we needed each other to breathe. We made love like we were nurturing our souls. Slowly, tenderly, and reverently.
We had made plans to meet at our favourite nature park again, but when I found out it was his birthday around that time, I changed my mind. Nature could wait regardless of global warming, but a threesome with two women could not. But how do I go about finding the unicorn? My first stop was online. I searched swinger sites to see if any single woman was seeking a couple. There were a couple of profiles of single women looking for a threesome near the area we were meeting. I messaged them and decided we were not a great fit.
Next, I looked online to see if there were unicorn nights at sex clubs, but finding one near our meeting place would mean leaving it until the last minute, and I wasn't comfortable with that. I looked into a sex club near where I live but realized I would need to locate one near my home and fly her with me. Flying the unicorn with me would mean more logistical complications, not to mention the difficulty of finding a stranger willing to take time off and go through the trouble. Sex with Craig and I might be good, but I couldn't guarantee it would be that good. At this time, I saw "escort service" in flashing letters but decided I didn't want to do that. So, I called my friends.
My swinging friends are the hot tub on a snowy night, a massage at the end of a long day, and a delicious meal after a fast. As the only couple I know that swing, I worship them. They're very active in their lifestyle, going to swinger resorts and cruises. They have made friends all over the world as a result. If anybody could find me a unicorn, it would be them. And they did.
They gave me two choices of women, both living near where Craig and I were meeting. But within a few minutes of video chatting with Stephanie, I knew I didn't have to look further. She was unapologetically beautiful, but the deciding factor was her personality. You can have great sex without beauty, but you cannot have great sex without a good personality. Stephanie had both.
She wore her afro proudly, and no wonder because her high cheekbones could support anything on her head. She was beautiful with caramel-coloured skin that glowed as if she had put bronzer on. Her lips were full and moist. I could fall forever into the depth of her dark eyes.
When I asked her if she was nervous about having sex with strangers, she said, "It's sex. It's either we have a good time or a fuckin' good time. As long as you don't murder me, it'll be fun." I told her I couldn't guarantee anything, but I'll try to minimize the pain. She laughed at that, and I knew she would bring the perfect combination of easygoing attitude and playfulness to our first experience.
Steph and I met at a bar near the hotel. We wanted to get to know each other and make sure we had chemistry in person. I waited in my tiny red dress with a pair of fuck-me heels at the bar. She showed up in all of her 5'8" glory with another couple of inches added by her afro. She was slim and all muscles, which I liked. The cream-coloured low-cut dress she had on looked fabulous against her dark complexion. I have healthy self-esteem but felt like a donkey next to a racehorse. We hugged like old friends and fell into an easy conversation. We broke the ice by sliding our hands up each other's dresses, limiting ourselves to thighs. Of course, it helped that she was a single malt kind of girl, and I was a straight vodka girl. Fortunately, I remembered that it was Craig's birthday, and it would be uncool to have fun without him. He had elicited the most powerful orgasm I'd had, so I owed him.
We walked to the hotel, confident that Craig's obsessive punctuality would guarantee his presence unless he was having the most amazing sex of his life elsewhere. I got the room key he left for me, a relatively mundane task if it weren't for the young front desk clerk who stared at us for a moment too long. He had an "I'm so excited by my proximity to a threesome right now" look. Steph volunteered, "You know the room number if you wanna join us." To which I said, "No, he can't. We only have a limit of six people." Then Steph said, "He can watch." For the clerk's entertainment, we walked away, continuing this conversation in a serious tone until we got on the elevator.
"That's my good deed for the day," I said.
"I'd be superbly disappointed if that were the case," she said.
"Don't worry. I banked my good deeds for tonight," I grinned.
We tried not to giggle from glee and drunkenness as we looked for our room number. I quietly opened the door and walked in. Craig was on the king-size bed, reading.
"That better be the Kama Sutra. Otherwise, you're being a major nerd right now," I said. He laughed and shrouded me in his embrace. It had been a while since we had seen each other. Honestly, we would have been happy just with each other, but it wouldn't be the night to remember. And since I was the most excellent lover and a greedy one, I wanted him to look back on this day every year and grin like a fool.
Craig kissed me so deeply that I almost forgot about Steph.
"I got you a birthday present," I told him.
"You did? You didn't have to do that."
"I know, but I can send it back if you don't like it."
I opened the door, and Steph walked in. I can't be sure, but I think Craig's erection twitched. His mouth fell open, and he looked at me, then her, then me, like he was watching a tennis match. So, I did the only thing that would make everything clear. I kissed Steph like I'd been fantasizing about for days. Unfortunately, the height difference made my neck hurt, so I nudged her gently to the bed. Craig and his dick were the model specimen of homo sapiens, standing as erect as humanly possible. I chuckled and pulled him by his hand. Steph lay back on the bed and held her arms out for Craig. He obeyed and got on one elbow next to her but looked at me like a naughty kid, scared of the consequence of his impending action. I said, "Come on. Really?" As in, "Don't you know me by now?" He grinned and kissed Steph.
I had wondered if any part of me would be jealous of the other woman. But I wasn't. Maybe because of my pure love for Craig. Nah. It was the excitement of fucking and being fucked by two of my favourite people. Watching them kiss was hot. I appreciated that he kissed her like he was about to fuck and not make love. I watched him slide one of her straps down and reveal braless tits. She had small breasts with perky nipples. He gently caressed her breasts and drew circles around her nipples. It turned me on incredibly. I felt my juice pool in my crotch. I pushed Steph's dress up and sucked in my breath. The girl wasn't wearing any panties but had on a lacy garter. She was as sexy as hell. I groaned and lowered my lips to her thighs. I was showering her hips and thighs with kisses when Craig came around and began to rub my ass. I noticed that he was naked with a huge erection. I was impressed he hadn't cum already. Maybe he did, and I missed it.
He covered my backside with his large 6' frame and pulled down my dress. He unbuckled my strapless bra with expertise and fondled my breasts. He kissed my back while pulling my dress all the way down. He kissed me on my ass, then in the crack of my ass. Then he spread my butt cheeks and ran his tongue around my asshole. I was surprised by the unexpected sensation that sent a shiver down my body. Soon my self-consciousness disappeared, and I enjoyed his tongue on my ass while I tried to focus on Steph's beautiful pussy.
I ran my tongue along her labia, sometimes flicking, sometimes caressing, and occasionally nipping. She told me what she liked with her moans. Her moans became more enthusiastic when I gently licked her clit and sucked on it. It was hard, and I alternated between licking the clit and licking her hole.
Because I'm fair-minded, I got up and positioned myself over Steph's face, facing Craig. While Steph ate my pussy, I bent over and sucked his cock. I changed my tactic and didn't approach it gently like I usually do. The build-up was over, and I wanted to get down to fucking. I rammed his cock deep into my throat and ran my tongue over his shaft. I pulled him out, then repeated this a few times, giddy that he seemed to be enjoying it. Then I pumped the bottom of his shaft with one hand while my mouth pumped the rest of his cock. My tongue slid up and down his tip furiously.
I was feeling pressure build up in my cunt from Steph's expert tongue. It was as enjoyable as sucking Craig's cock. But I didn't want any of us to cum too soon. That would be like having the birthday cake before dinner. So I lay down, and Steph got on her hands and knees over me in "69". I began to eat her out, and Craig started fucking her face. Then he fucked my pussy, eventually alternating between her face and my cunt. We never discussed our movements or came up with choreography, but we seemed to be in sync. I suppose there are no wrong moves in this scenario.
As much as we were superheroes for holding onto our orgasms this long, I knew we couldn't hold off forever. Plus, there's always the second and third time. I knelt on the bed so Craig could eat my cunt while Steph sucked his dick. It didn't take me long to squeeze his finger and gush all over his mouth. It was one of the best orgasms of my life, understandable given the build-up and the sexiness of the whole thing. Then I ate Steph's pussy with her on her back while Craig fucked me from behind. When Steph screamed and arched her back, I was so turned on that I came again.
Watching two women cum couldn't have been easy for the man. I positioned myself over Steph and started kissing her so Craig could have his buffet. He fucked us both in our cunts, adjusting his position expertly and alternating between us. I could hear his breathing become heavier and his thrusts more frantic. I wondered which of us he would come inside. I thought he might come inside me to show his loyalty or cum inside her for the novelty because he may not get to again.
He rammed into both of us, getting us excited every time he switched. He was grunting and cursing under his breath the whole time. Then, finally, he cried out, stiffened and shuddered as he filled me with his cum. I'd never witnessed a person cum that hard in all my years of slutting (yes, I made this one up, and I'm keeping it). It was like witnessing a birth. He came so hard and for so long that I was able to groom my cuticles. Then he kissed me most tenderly and thanked me for the best birthday ever. And he did the cutest and the most gentlemanly thing witnessed by any woman. He shook her hand and introduced himself.
Read about two-guy-one-girl threesome. It's hotter than you think.
https://vocal.media/filthy/tropical-island-threesome
Want to read about the first time I ate pussy?
https://vocal.media/filthy/my-first-time-eating-pussy
Don't forget to subscribe for more sexy stories :)
About the Creator
Writer of erotic romance novels (Rogues Worth Saving Series). I lived in 4 countries, moved over 40 times, travelled to over 20 countries, owned successful businesses, & had hot sex on 5 continents. I have shit to say.
www.mihwawrites.com
Reader insights
Be the first to share your insights about this piece.
Add your insights