You'll Never Guess the Ingredients for this Easy Chicken Recipe
Food triggering memories: Chicken with Peaches
Cooking Chicken with Peaches
Taste and smell has the ability to bring you right back to a specific moment in time. It triggers your memory and lights up your senses to bring you comfort. Or it can trigger bad memories like too much Jose Cuervo in college...still can't drink it to this day. On a positive note, nothing reminds me of Switzerland like rosti and eggs, croissants with nutella and hot chocolate. Nothing reminds me more of Barcelona than a ham and cheese on a croissant and wine cheaper than water. Nothing reminds me of Turkey like simit with honey and butter and the vast tables of mezze with raki. Food had the ability to teleport your mind to different places. For instance Balthazar's bakery in New Jersey has an amazing ham and cheese croissant. If you warm it up, close your eyes and take a bite, it tastes sitting outside a cafe in Spain. This is a feeling everyone is familiar with and if you're not sure you know it watch the movie Ratatouille.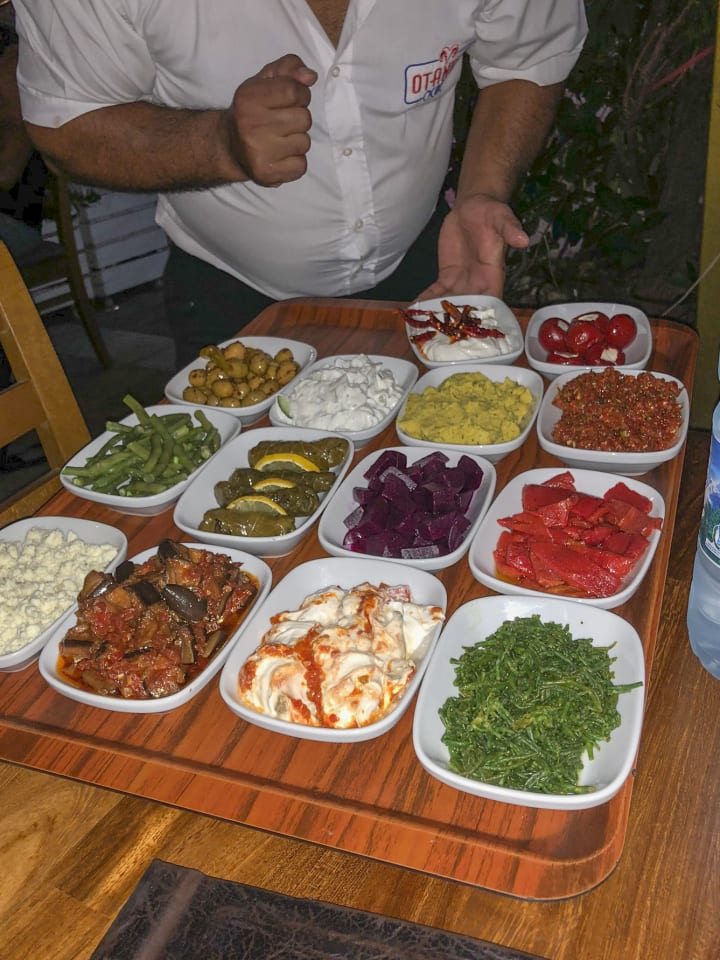 I've moved about 16 times in my life. I lived in the UK for 8 years with my family, then moved back to the States when I was 13 and grew up in the suburbs of New Jersey right outside New York City. I moved to Colorado for college and back east to Brooklyn. But regardless of where home is, there is nothing like a home cooked meal with my family. I feel lucky to have parents who enjoyed cooking and value the dinner table. And while family changes as you grow older, my mom and her husband as well as my dad and his wife are incredible cooks, all with culinary magic specific to them. Not to mention I have a live-in chef, my partner who cooks professionally. Whether it's an age-old recipe or one specific dinner that strikes a chord, nothing compares to the comfort brought by a loved one's cooking.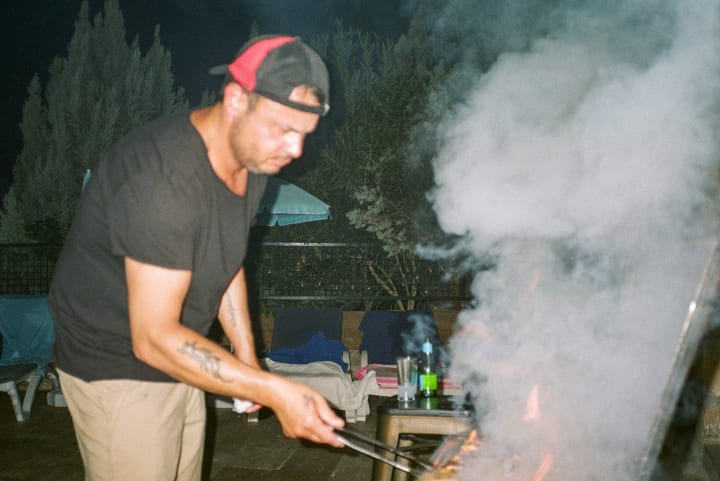 I began to realize how much I missed my parents cooking in college. I was out on my own, trying to piece together my own recipes and struggling to do so. I bonded with my parents in a new way on the phone; my dad walked me through his southwest chicken recipe that made me dinner for days and my mom guided me on my first grocery shops. And whenever I returned for a short trip home would always request the same things: my dad's steak grilled steak with a spicy Korean dipping sauce and my mom's famous chicken with peaches.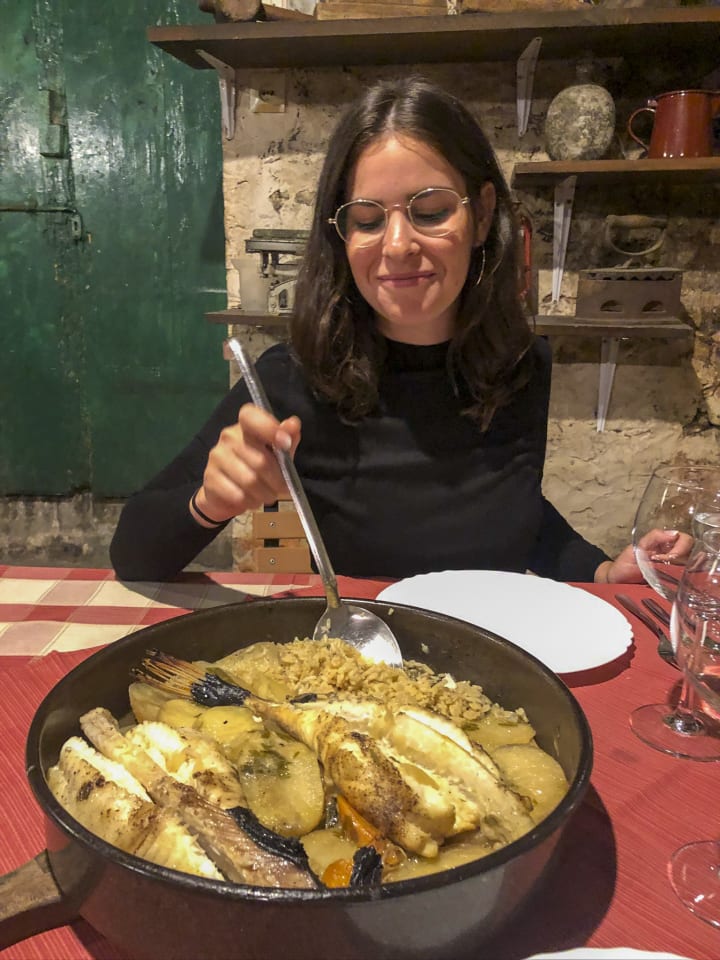 This chicken with peaches recipe has been in my family for the past 15 years, when a family friend passed it on to my mom. It's as easy as a "set-it-and-forget-it" dinner can be and needs to be served with a simple box of rice pilaf to cover in sauce. What a strange combination of ingredients, though. When I tell you the sauce is made up of Italian dressing, french onion soup apricot jam and canned peaches, you're probably not thinking "wow, I need to have that" but you should be. And the leftovers...OH the leftovers! I swear it only gets better with age but it never lasts long.
Through all of the moves and changes in my life, chicken with peaches has been there at the end of the day on a table surrounded by the people I love. For some reason I never made this recipe myself until quarantine, and I've made it twice in one month. Proud to say it tasted just like my mom's, and the smell of it cooking brings memories rushing. This meal will always remind me of home and of my family. Hopefully in all its simplicity, oddity and ease, it brings you the same joy.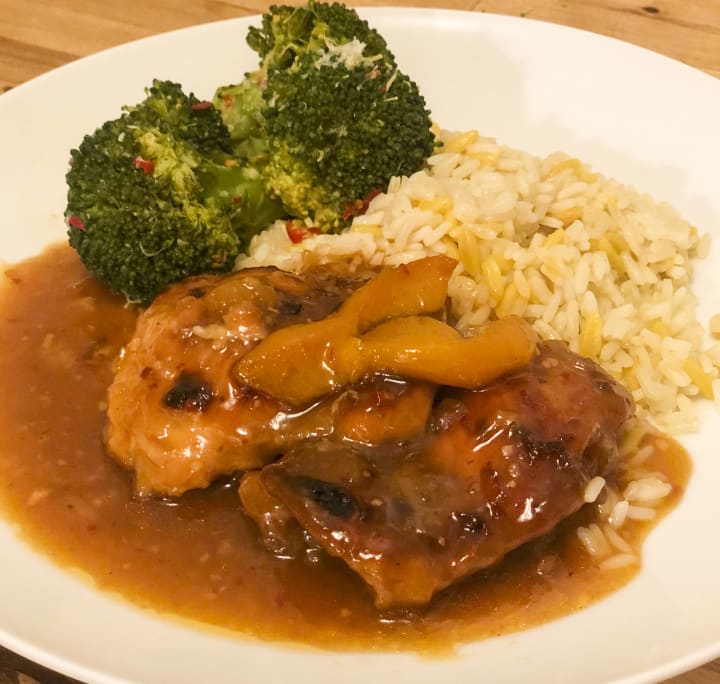 Ingredients:
2lbs boneless skinless chicken thighs
Wondra flour (all purpose flour will work as well)
1 8oz bottle Italian salad dressing
1 packet of onion soup mix
1 can of sliced peaches in juice
1/2 jar of apricot jam (also love it with red pepper jam, mango habanero jam or peach jam)
[highly suggested: 1 box of Near East original rice pilaf mix]
Preheat oven to 325 degrees.
Pour flour on a plate and season with salt and pepper (enough to lightly coat the chicken). Preheat the skillet on medium heat and add a pad of butter along with a nice drizzle of olive oil. Pat chicken dry, coat it in flour and sear until golden brown, about 2-3 minutes on each side. Transfer chicken to a Pyrex dish.
For the sauce, combine Italian salad dressing, juice from canned peaches, jam, and onion soup mix in a large bowl. Pour the sauce over chicken and put the peaches on top. Cover with foil and place in the oven to cook for 2 hours.
After two hours remove foil and set the oven to broil for 5-10 minutes, until golden and bubbling. Skim the surface of the sauce to remove any excess oils and serve.
If you decide to try this recipe please dm me @cjohnson.jpg with any questions, photos and however you made chicken and peaches your own.
Enjoy :)
About the Creator
My name is Christian Johnson and I am Brooklyn-based freelance photographer, cinematographer and camera collector intrigued by film.
Reader insights
Be the first to share your insights about this piece.
Add your insights