What Do Cocoa Percentages Tell Us?
Chocolate by the numbers.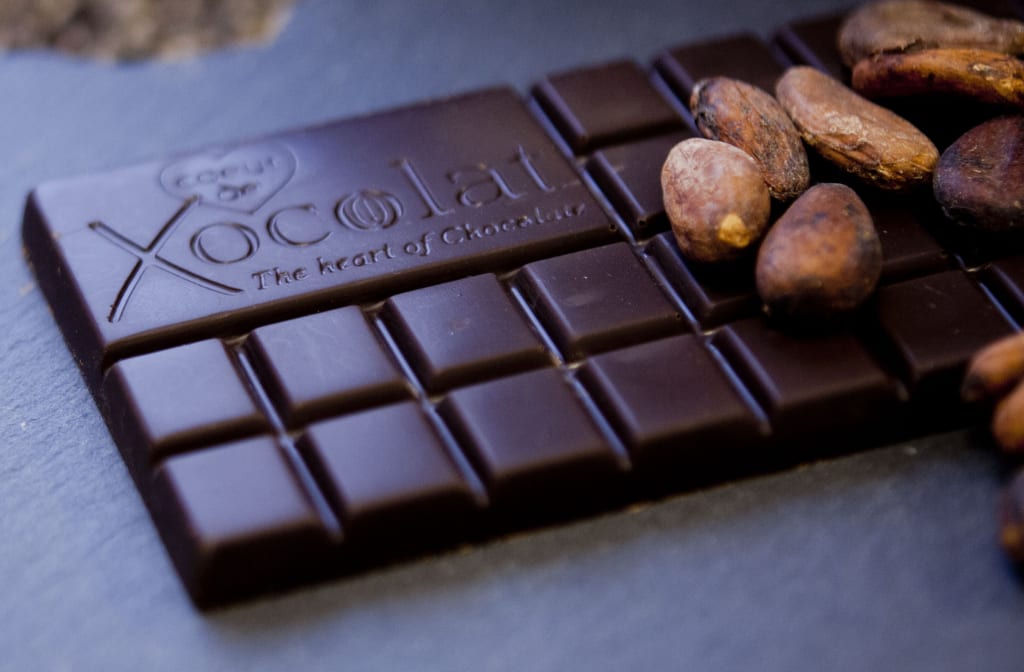 Coeur de Xocolat Haitian 75% Chocolate Bar
As a chocolatier and chocolate expert I get asked a lot about working with chocolate, especially chocolate with a high cocoa percentage. Once upon a time chocolate bars didn't mention the percentage, but now most chocolate bar labels, recipes and even many restaurant menus proudly declare the amount of cocoa present, be it 55% milk chocolate, 70%, 85%, or more. What does all of this mean, and how does the amount of cocoa used vary between white milk, dark chocolate, and all of those other types?
Cocoa percentage can be a guide to flavour intensity. The numbers give us an indication of milder or deeper chocolate flavour. Finding this % on the label can help you choose a chocolate that matches your personal taste preferences or one that pairs well with the ingredients in your recipes.
We all have different preferences when it comes to chocolate. Some of us like milk chocolate, some like darker chocolates, others love creamy white chocolate. The fact there are so many chocolates to choose from is great news.
What do cacao percentages and cocoa content mean?
When we see "% cacao" printed on a label, it tells us the percentage of the total ingredients by weight in that product that come from the cocoa bean itself.
This consists of three elements:
1. Chocolate liquor, also known as cocoa mass or paste.
2. Cocoa butter, which is the natural fat present in the cacao bean.
3. Cacao powder (press cake) which refer to the bits of the cocoa bean that are ground to a powder. After you account for the cacao percentage, the remaining components of the chocolate are sugar, a bit (1%) of lecithin and, often, vanilla.
The total cocoa percentage is determined slightly differently by different chocolate companies, which is one of the reasons why various chocolates with the same cocoa percentage often taste different from one another. There are, of course, other factors that go into making chocolate such as the type of cocoa beans, where the beans come from, how they are fermented, roasted or conched, and if they've been blended with other beans, to name a few.
Dark Chocolate

The percentage of cocoa content that is most commonly found in most shops ranges between 50% and 70%. But because of the growing trend of artisan chocolate (which usually contain higher cocoa percentages) it's not hard to find chocolates with percentages as high as 60%, 62%, 64%, 66%, 75% and even 100% cocoa. Remember that the higher the cocoa percentage, the less the amount of sugar. This, of course, means that the higher percentages should have a more intense chocolate flavour.
Milk Chocolate
Milk chocolate product labels have only relatively recently started displaying cocoa percentages; this shift has introduced subcategories of milk chocolate like Dark Milk or Super Milk Chocolate, the latter describing milk chocolate with a higher-than-usual cocoa percentage. These chocolates usually range between 38% and 55% cocoa. Normal milk chocolate can have as little as 10% cocoa percentage. The other ingredients in milk chocolate are milk solids or powder, sugar, lecithin, and vanilla.
White Chocolate
White chocolate is made using cocoa butter, sugar, milk powder and, often vanilla. It is much lighter in colour than milk or dark chocolate because it contains no cocoa powder or chocolate liquor (the brown stuff). Most cocoa butter has been deodorised so that it can be used for other applications outside the realm of chocolate. Personally, I prefer to use non-deodorised chocolate for the extra character it adds to my dishes.
The important thing here is that white chocolate should be made using real cocoa butter, not palm oil or other imitation fats, which taste nothing like chocolate. True white chocolate has a cocoa percentage of about 38% to 41%, derived from the cocoa butter. It is worth noting, though, that the cocoa butter is often more expensive than cocoa liquor because it is so versatile.
This Quick Guide to Chocolate provides a useful summary of the EU Cocoa and Chocolate Products Regulations 2003 (CCPR). It is for small and medium sized businesses that produce chocolate products covered by the CCPR.
About the Creator
Multi award-winning chocolatier with over forty years experience.fellow of the institute of hospitality, MasterChef member Craft Guild of Chefs Judges International chocolate awards, Academy of chocolate awards & Great taste awards
Reader insights
Be the first to share your insights about this piece.
Add your insights