What Anthony Bourdain Left Behind
The inspiring author, chef, and world traveler understood our connection to food and each other like no one else.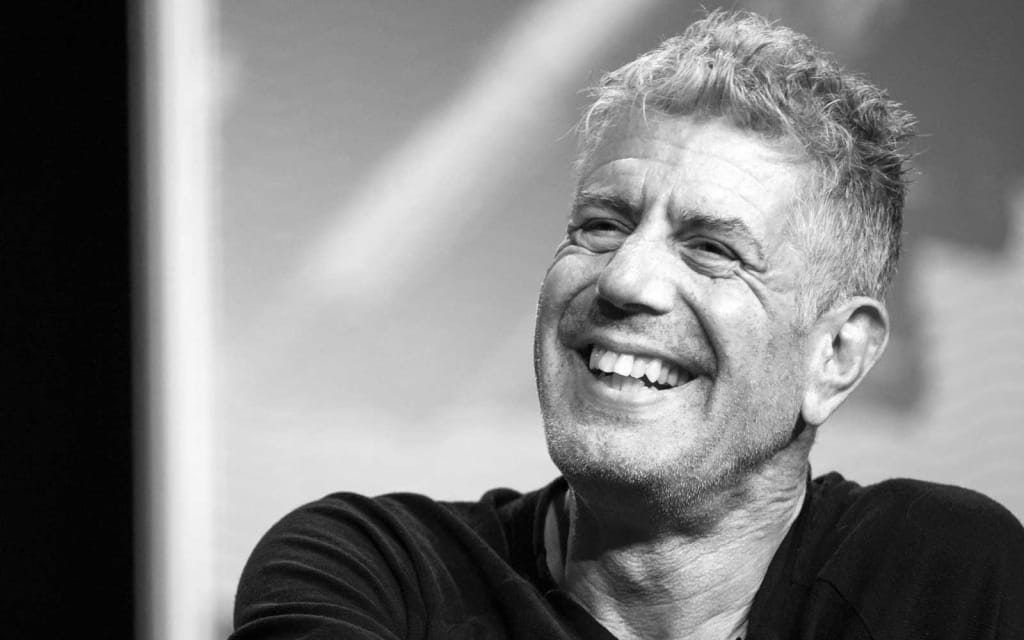 Anthony Bourdain lived many lives in his too-brief 61 years on this planet.
He was once a brave boy in France, kicking back a raw oyster for the first time and falling in love with the briny taste and thrill of new experiences.
"Everything was different now. Everything. I'd not only survived—I'd enjoyed," he wrote of that lucid memory in Kitchen Confidential:Adventures in the Culinary Underbelly (2000), the book that would put him on the map.
When Bourdain wrote his best-seller he was still living the pirate's life of a Manhattan chef—with all the drugs, drink, and salty choices that go along with it.
Bourdain's writing would turn him into a celebrity—more of a food commentator than everyday cook, but even in those early years, his admiration for others stood out from the rest of the Food Network set.
In his first television series, A Cook's Tour, he once compared his sushi chef tour guide in Tokyo to "Lou Gehrig or Joe DiMaggio showing you around Yankee Stadium."
Later, as Bourdain matured into a beloved TV host on hit shows No Reservations and Parts Unknown, he always left his ego at the door and developed a true rapport with his guests, from the Michelin-star restaurant chef to the guy slinging street corn from a Tijuana taco stand.
"You learn a lot about someone when you share a meal together." — Anthony Bourdain.
"I write, I travel, I eat, and I'm hungry for more."
The intro to No Reservations stated clearly what Bourdain was about and he managed to thrive in this lane with relaxed ease during much of his career.
Though he sometimes got creative with music choices or editing styles for specific episodes, the formula of the show was basically the same: Bourdain in some part of the world, seeking out delicious meals, in comfortable settings, with real people who actually wanted to talk to him.
As viewers, we knew we could plop down on the couch, take a vacation with Bourdain, and have an authentic experience—and for that, we were all grateful.
He Didn't Try To Hide His Flaws Or His Failures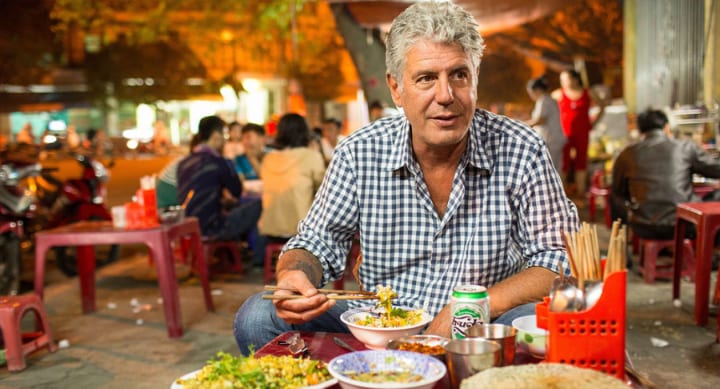 Bourdain wrote great confessionals about his past abuses, and he wasn't afraid to make a fool out of himself.
In one of the final episodes of Season 11 of Parts Unknown, Bourdainjoins the thundering horses and popping beer cans at the raucous spectacle known as "cajun mardi gras."
A different person would have shunned the juvenile and (at times) dangerous antics of a bunch of drunk and rowdy Cajuns, but maybe Bourdain always saw his own demons mirrored in the over-the-top revelry of others. He looked beyond the costumes and shrill yells of Mardiiiii Gras! To find the humanityand cultural bond that ties the whole masquerade together.
Of that experience, he wrote, "There are parts of America that are special, unique, unlike anywhere else. Cultures all their own, kept close, much loved, but largely misunderstood."
That's the America Bourdain often championed. The one on the fringes, beyond politics and price shopping, the places Bourdain would refer to as being "vibrantly alive."
Bourdain Understood The Importance of Travel to Help a Person Grow in Humility and Acceptance of Others
"Travel changes you," he said, "As you move through this life and this world, you change things slightly, you leave marks behind, however small. And in return, life—and travel—leaves marks on you."
Maybe people who can't change the patterns holding them back, are just people who haven't been enough places?
For Bourdain, the world was a very large and interesting place. Travel was his teacher. "The extent to which you can walk in someone else's shoes or at least eat their food, it's a plus for everybody," he said.
President Obama, who famously dined on pork and noodles with Bourdain in Hanoi, gave this touching tribute to his friend shortly after his death, "He taught us about food—but more importantly, about its ability to bring us together."
The ability to take new travels with Tony may no longer be available, but the lessons he left at the table should never be forgotten.
celebrities
About the author
Brendan is a former writer for Haute Living and current contributing editor to atHome magazine. He also manages communications for a Southeast-leading architecture and design firm.
Reader insights
Be the first to share your insights about this piece.
Add your insights