Vegetarian Wrap Base Pizza
All the satisfaction of pizza, without the guilt.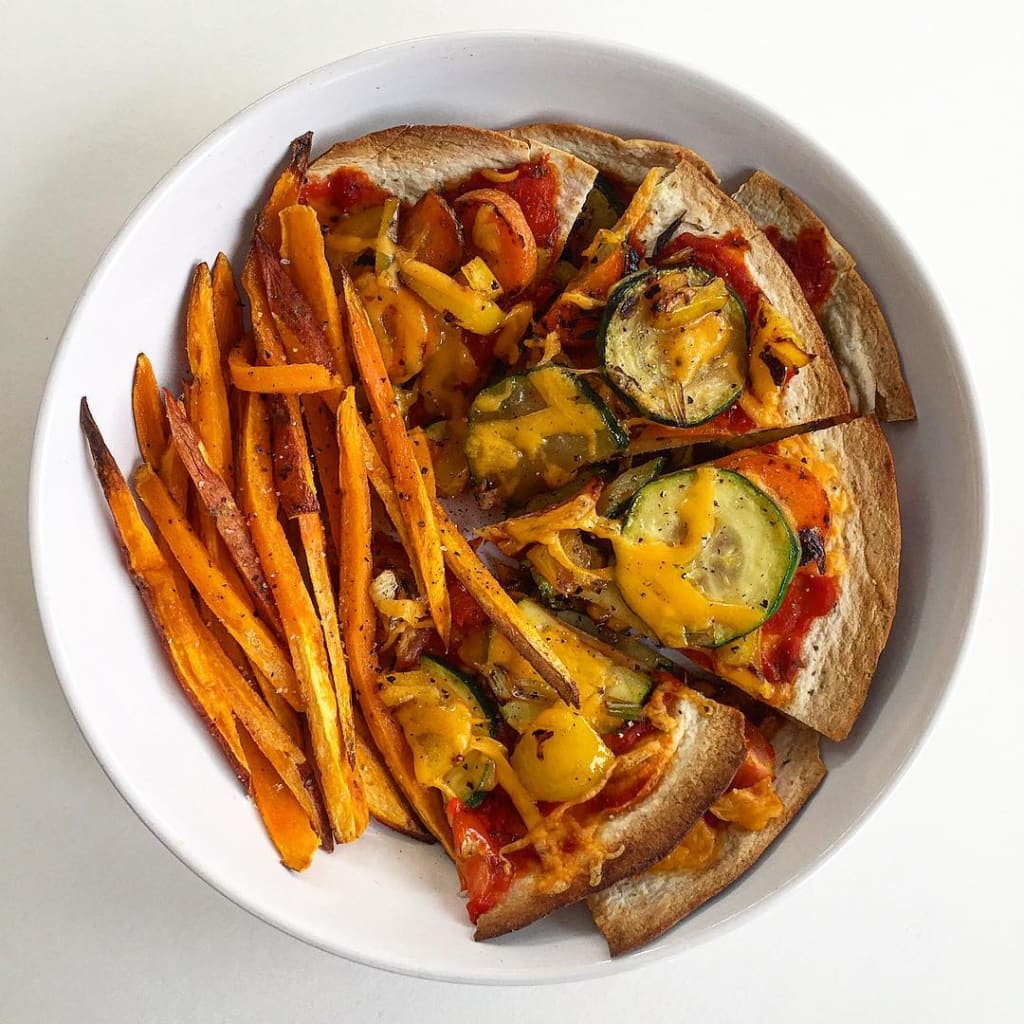 Vegetarian Wrap Base Pizza
Pizza has got to be up there with being one of my all-time favourite foods, but the kcal it has…not so much. Wrap base pizzas have quickly become a superstar for all pizza lovers who are trying to watch their weight or lose weight and it's not hard to see why. The super thin base removes a TONNE of calories and makes extra room for the toppings!
Big weight loss companies like Slimming World and Weight Watchers have included these in their recommendations to their customers to eat so they can eat the things the love and still lose weight and hit their goals.
As with every food, it's all good in moderation, but the switch to a thin wrap base rather than a thick doughy base means you can eat it more often, and removes the guilt! It also means you don't feel as bloated
Let's get into it…
Ingredients:
1 wholemeal tortilla wrap
¼ Courgette
½ Carrot
½ Onion
½ Bell pepper
Tomato Puree
Tomato and Chilli Sauce
Low fat cheese
1 medium sweet potato
Method:
Preheat the oven to 200˚.
Chop the sweet potato into thin fries and toss them in olive oil, salt and pepper, and any other seasonings you want.
Place them onto a baking tray and roast them until they are tender and have browned slightly.
Meanwhile, chop up the carrot and the courgette into rounds, and dice the onion and pepper, then place them onto an oven tray with a little olive oil, salt and pepper.
Roast the vegetables in the preheated oven until they are tender and have some crispy brown bits, the carrots should still have a bit of bite to them.
In a dry frying pan, toast the tortilla on one side until it is brown and crisp. When you remove it from the pan and it cools, it will stiffen.
Spread on a thin layer of tomato puree (around a tablespoon), and a thin layer of tomato and chilli sauce, making sure to leave 1cm from the edge all the way around for a crust.
Then add the roasted vegetables, making sure they are evenly spread out across the pizza base.
Now add a thin layer of low fat cheese.
Place the pizza onto a tray or pizza mesh and bake it in the oven for around 2-3minutes until the cheese is melted and the edges are slightly browned.
Then remove it from the oven and slice it up, also remove the sweet potato fries.
Then assemble them all together and enjoy!
And there you have it! A super light, quick and easy way to enjoy pizza without the guilt afterwards. I personally have these things at least once a week and feel no guilt what so ever! They can be customised and topped with any toppings you like but if you're trying to watch your calories, always go for the lighter option.
Please let me know what other recipes you'd like to see! I'm always looking for ways to challenge myself and to healthify everyone's favourite cheat foods, so we can enjoy them more often. I have lots more recipes coming from my Instagram @jtrfitfood which is where all of my photos are posted to. Go give me a follow if you haven't already for some serious food inspo! Both healthy and indulgent!
I hope you enjoy this recipe and if you try it yourself, please let me know and let me know what toppings and creations you make! And if the kids have a go, let me see what they come up with!
HAVE A GREAT DAY!
recipe
I spent 5 years working as an engineer before following my passion for food, nutrition and fitness. I now work as a fitness class instructor, personal trainer and study food science and nutrition at university.