Chocolate Chip Protein Pancakes
My Top Secret Recipe for the Best Protein Pancakes Ever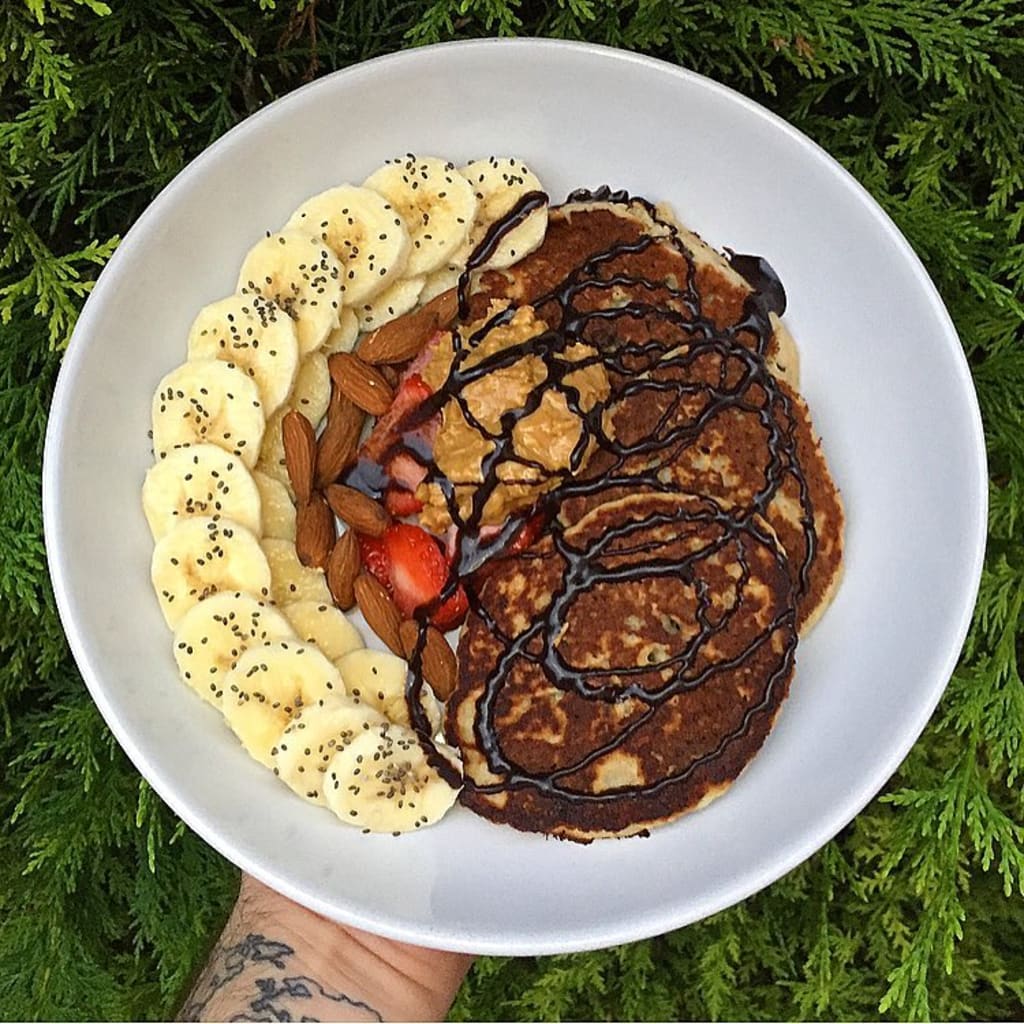 Chocolate Chip Protein Pancakes
Chocolate Chip Protein Pancakes
This is my top-secret protein pancake recipe. It gives you the best, thick, fluffy protein pancakes, and with the extra addition of chocolate chips…you really can't go wrong.
For years I put up with the combo of mashed banana and eggs for my protein pancakes before realising they aren't all that nice to eat. This version has more steps than just blending banana and eggs, but the end result is ten times better!
I always make these pancakes in batches and keep them portioned up in tupperware boxes in the fridge, and they are good for around two to three days! They are perfect to add to a breakfast, for a snack, or even a dessert if you dress them up the right way!
Lets get into it…
Ingredients:
3 cups oats or 2 cups oat flour
1 cup vanilla or chocolate protein powder
1 tablespoon baking powder
1 packet dark chocolate chips
1 egg
1 cup almond milk
3 tablespoons olive oil
Optional:
Banana
Strawberries
Almonds
Peanut butter
Dark chocolate sauce
Method:
If you are using oat flour, please skip this step. If you are using oats, add them to a blender and blend until you are left with a fine mixture at a flour-like consistency. You may need to shake the blender around a little and make sure it's completely dry too!
Add the oat flour or blended oat flour to a bowl and add in the protein powder, baking powder, and dark chocolate chips and mix well.
Add the egg, almond milk and oil, and mix everything well so the chocolate chips are evenly dispersed, and everything is well combined.
In a large frying pan or hot top, heat a tablespoon of olive oil to a medium heat.
Add the mixture to the pan or hot top in around 10cm circles and cook for around 30-60 seconds on each side.
When all of the mix is cooked into pancakes, you can begin to assemble them.
For me, I added fresh banana, fresh strawberries, crunchy almonds, crunchy peanut butter, and some extra dark chocolate sauce, because no amount of chocolate is ever enough for me!
ENJOY!
This recipe takes longer and has more ingredients than the egg and banana one, but the extra effort is so worth it when the end result is done. These things last between two to three days in the fridge and can be frozen to last even longer, but I wouldn't keep them longer than a week…not that they'll last that long anyway because they are SO GOOD!
The egg and banana recipe will soon be a thing of the past for you if you try this recipe, and it can be customised to have lots of different variations, too, such as carrot cake protein pancakes, red velvet protein pancakes, blueberry protein pancakes, white chocolate and raspberry protein pancakes, maple and bacon protein pancakes, and even mojito protein pancakes!
This recipe really is such an upgrade, so, if and when you try it, please let me know what you think and what flavour combinations you have gone for and created!
I hope this gives some of you some inspiration for your next protein pancake feast. Protein pancakes have become such a huge craze across the world in recent years, and it's not hard to see why! They are perfect as a breakfast, a snack, pre-workout meal, post workout meal, and dessert! They are such a healthier way of enjoying the American classic and I absolutely love them!
Please let me know anything else you would like me to make and I'll get on it right away!
Have a great day!