Variety in the Woods
Great Food Options in the Poconos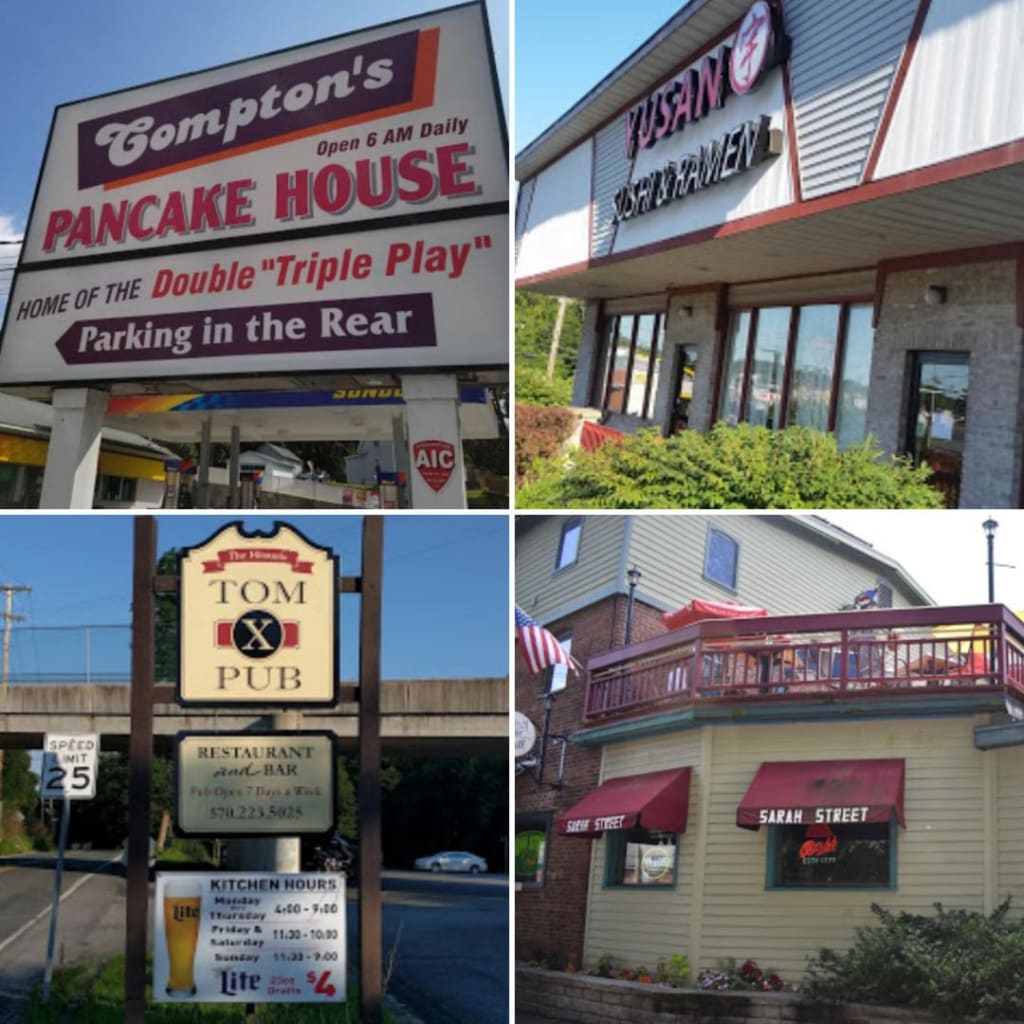 I must start with a disclaimer: I grew up in the Poconos and moved back twice more over the years. I watched it evolve from a wooded wilderness safe from tourists five days of the week to a destination full of city folk who chop down every tree on their increasingly tiny lots. I remember few chain restaurants, local roads that were safe from the tourists, and frequent winter power outages. Now, most chains have taken over Route 611 and beyond, GPS means no backroad is safe, and, well, depending on where you live, the power still sucks…
There are still gems though, places that you won't find on a quick Google (okay, some you will). I still love the area and, if you know where to go, it's still a great place to travel to. Today will be food, next will be hiking. A disclaimer about distance: the Poconos are big and growing up there, especially in the 90s, meant that it took fifteen minutes to get to the beginning of town. I've found that it gave me a larger tolerance than most for driving and distance. I feel these places are close together, but others may not.
Compton's Pancake House
This Stroudsburg icon is one of my favorite spots for breakfast. They have a full breakfast and lunch menu. Screw lunch, though. If I go to Compton's, it's for breakfast, no matter what time it is. Keep in mind that it is usually busy, and while we rarely need to wait, it isn't unknown.
I love their omelets. I usually order the Compton's Famous Stuffed or the Colorado Stuffed, depending on my mood. Both contain three eggs and come stuffed with hash browns. You also get a choice of pancakes or hash browns. Now, I usually go for the pancakes (which can be upgraded to speciality ones), but if you really want that double dose of potoato-y goodness, the option is available.
Pancakes… Light, fluffy, and full of options. Of course, the standard is available, butter and syrup, but they have tons of other options, as well. My sweet tooth calls for their caramel and cheesecake, but my childhood urges me to get banana nut. Both are solid choices, in my book.
I would be remiss if I did not mention the Double Triple Play. It's their best deal. Weekdays before 11am, get two pancakes, two eggs, two breakfast sausage links, two strips of bacon, homefries and toast for only $5.25. You have to buy a drink, but you were probably going to get something anyway. It's a great deal and tasty! They also have a thick house hot sauce that I love on the homefries.
The only thing I've ever tried and been dissatisfied with were their grits. I know, a northerner who knows something about grits? Unlikely. Here's the secret: date a southern boy. He spoiled me with his homemade ones and all restaurant grits that I've tried pale in comparison to his. #spoiled
But that's my only caution. Other than that, order to your heart's content. Packed omelets, fluffy pancakes, crisp bacon, mmmmmmmmmm.
Yusan Sushi and Ramen
Right on 611, acrossish from the Stroud Mall is a sushi and ramen stop. When I worked at the mall, this was my favorite lunch destination. If you're looking for something Asian that won't break the bank, this is it. I couldn't get enough of the Sunset Roll: fresh salmon and creamy avocado inside, topped with seared tuna and spicy mayo.
Their Yaki Udon is also yummy. The texture of their noodles is superb with good portions of meat and vegetables. I'm also partial to their Pineapple Fried Rice, but, truth be told, I'm a sucker for pineapple. Chicken, shrimp, and pork sung fill out the meat portion of the dish, with onion, egg, raisin, and cashews balancing it out. I love dishes that have a lot of ingredients and this one does not disappoint. I'll try each of the ingredients with the others, experimenting to see what my favorite flavor combinations are. The complementary nature of the raisins took me by surprise.
Tom X Pub
Tom X is in Marshall's Creek, and despite the fact that there are signs and it's a staple of the area, I've never found it overwhelmingly busy. It's a small establishment that truly is historic. Their menu is comprehensive, but I go for the wings.
Their wings are delicious: juicy and crisp. They have sixteen different sauces/dry rubs. Their hot is just at the top of my personal comfort zone and is flavorful. I really like their hot garlic parmesan, particularly because they use actual shredded parmesan and not just a shaker, but even without that, the garlic deliciousness is hard to ignore. The black dragon, a spicy Asian sauce, is also a solid choice.
I should also add that they have Hawg Wings: two pork shanks, baked soft, and then fried crispy, tossed in any wings sauce you desire. I went with the black dragon and was pleased with my decision. They were a fun novelty for me, definitely good, but I'll stick with my bird wings.
Schmidty's Old Mill Pub
This is on the opposite side of the Poconos in Sciota. We originally discovered this place because of its open mic night. When my boyfriend was just starting out, it was a nice easy place to get your feet wet. The open mic, which starts at nine on Tuesdays, has grown into a lively crowd pleaser with local bands and solo acts. I highly recommend.
The food is scrumptious too. They have sandwiches, pizza, and more, but I usually partake in two sections in particular. The first is wings. You may have noticed that I enjoy wings. These are not the world's best wings, but they're pretty good and affordable. They have some weird sauces too. I usually go for standard medium, but I've heard fabulous things about the Vermont Breakfast and McHale's. I'm not overly partial to sweetmeats, so the maple syrup, bacon, butter, and hot sauce combination isn't for me, but my boyfriend was a fan. McHale's is a mixture of BBQ and hot sauce, but not a BBQ that I'm particularly partial to. There is also everything, which, as unbelievable as it is, really is just all ten of their sauces mixed together. I never did try it, but it sounds...interesting.
My favorite waistline splurge are the loaded fries. Available in straight and waffle, they have a bunch of flavors. My two favorite are the garlic parmesan and the chicken bacon ranch. You may be tempted to go with the straight fries, but waffle is the way to go. They're little edible spoons to shovel the delicious toppings into your mouth. Unfortunately, they do use powdered parmesan, but their garlic sauce makes up for it. I add a little hot sauce to the chicken bacon ranch to get some kick in there, but it would be pretty scrumptious without it. The chicken is juicy and the bacon is crisp. Mmm mmmm.
Sarah Street Bar & Grill
Back in Stroudsburg, this joint should definitely be added to your list of stops. A local favorite for years, Sarah Street has it all.
Food: One of the first (if not the first) restaurants to have quality sushi in the Poconos, they have maintained their sushi supremacy, especially if you don't just want sushi. I will happily enjoy an alcoholic beverage, have sushi as an appetizer, and then move onto my main course. I recommend the Crabby Tuna Roll: lump crab with caviar, japanese mayo, topped with seared pepper tuna, sriracha and jalapenos. Sometimes, it gets a little spicy for me because they use potent fresh jalapenos, but they're easily removable and the roll is perfection with or without them. For my main meal, I'll usually get a burger. My favorite is the Tex Mex (partially because I have a hard time saying no to guacamole), but they have many delicious options available, including vegetarian ones. Not surprisingly, I rarely have room for dessert...
Drinks: You may have noticed from the name, but this is a bar. The option for alcoholic beverages makes me even more excited because there are so many to try. Plus, they feature a seasonal drink menu. Springtime brings crisp cucumber options, summer, fruit concoctions, autumn, apple and pumpkin specialties, and winter hosts a wide range of cinnamon-y and warm creations. The options are numerous and I try to try something new each time I order.
Entertainment: This is a great spot in the Poconos for live music. They host open mic nights and have professional performers multiple nights a week. Nervous you won't get a good spot? Don't be. There are TV's to show you what's on the stage and you can hear the music throughout the restaurant. On days where there isn't music, those TV's show the different sporting events on for the evening.
I've been going to Sarah Street since I was in the single digits and its quality has not waned. Their variety has increased, but the staff is as friendly and helpful and they've always been. I'm just glad that I graduated from the kids menu.
Ham and Eggs in the Pan/ Hickory Valley Farm Restaurant
Located on 611 in Scotrun, this place serves a fantastic breakfast that's a great value. Spacious and rarely over crowded, if you find yourself on this side of the Poconos, I highly recommend it.
Their specialty combos are the way to go. I order the Two Little Piggies: two eggs, two pancakes or french toast, and choice of meat served with homefries and toast. True to its name, it really is served in a pan. I go with scrambled, french toast, and smoked sausage, with fried onions and peppers. Their eggs are light and fluffy needing just a little bit of pepper. I sliced my sausage up and mixed it in with the homefries, eggs, onions, and peppers. Then I throw in a little hot sauce for good measure. The sausage is a solid link. They have regular breakfast sausage available, but I prefer the smokiness of its thicker, meatier brethren, especially when paired with the peppers and onions. The french toast was my deliciously sweet dessert. I'm not entirely sure how I fit it all, but I did with zero regrets. It is a solid meal, but they have One and 3 Little Piggy options available, as well.
The real terror on the menu is the Big Bad Wolf. Sharing is encouraged. It's four eggs, four strips of bacon, four sausages, homefries, toast, and choice of four pancakes or french toast. I saw someone eat it all by themselves (minus the toast). Astounding.
I hope that you find these delicious options on your travels through the Poconos and enjoy them as much as I have.