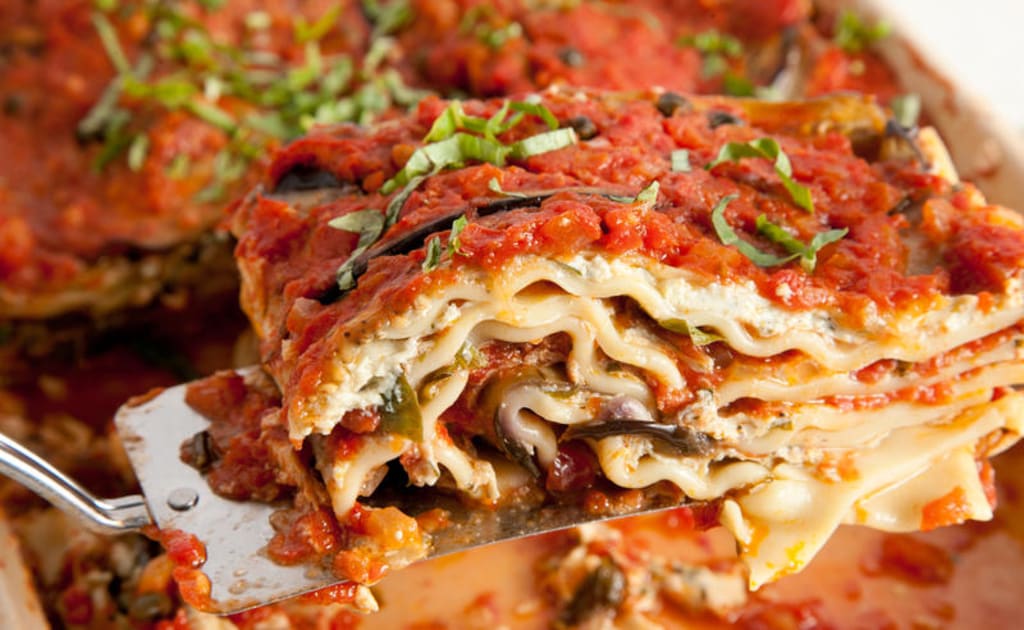 My passion for cooking is strong! I strive to come up with new ways to create classic recipes that I used to love as a meat eater.
Here are my top 3 Recipes!
Homemade Lasagna
What you will need:
1 ½ Tomato sauce (homemade or store-bought)
½ cup of grated carrot
1 cup of fresh mushrooms
2 onions
3 cloves of garlic
1 cup of spinach
1-2 cups of your favorite protein (I use gluten free veggie ground)
1 cup of raw soaked cashews
1 large zucchini, thinly sliced
Fresh basil and oregano
1 pack of lasagna noodles
Directions:
1. Precook veggies and protein while getting the noodles precooked. If you get ready to cook noodles that will cut your cooking time in half.
2. Spread ½ cup of sauce in the bottom of your baking dish
3. Layer 3-4 lasagna noodles, ½ remaining sauce and veggie and protein mix
4. Repeat layers with remaining ingredients
5. Bake (covered in tin foil) in a 350-degree oven for about 45 minutes
6. While lasagna is cooking, it's time to make a *creamy ricotta cashew sauce* for the time of the lasagna.
7. In a blender blend 1 cup of soaked cashew, ¼ cup of unsweetened soy or almond milk, ½ cup nutritional yeast, 1 garlic clove and 3 basil leaves. Add Salt to taste.
8. When the lasagna is almost ready (10 mins) remaining, take out lasagna and spread cashew ricotta on the top. Place back in the oven uncovered.
*Note: Let lasagna rest for about 10-15 mins after out of the oven.
Slices and serve 😊
Eggplant Parmesan
What you will need:
1 medium or large eggplant
¼ cup of gluten-free or unbleached all-purpose flour
1 cup of panko breadcrumbs (Gluten-Free or Regular)
Nutritional yeast
Fresh Basil and oregano
¼ salt
½ unsweetened plain almond milk
1 tsp cornstarch
Pasta sauce of your choice
Directions:
1. Slice eggplant into thin rounds slightly less than 1/2-inch-thick, and sprinkle each side liberally with sea salt. Arrange in a circular pattern in a colander and place in the sink to draw out the bitter taste of the eggplant.
2. Let rest for 15 minutes, then rinse and arrange on a clean absorbent kitchen towel. Top with another clean dish towel and lay a baking sheet on top. Place something heavy on top, such as a cast iron skillet, to thoroughly dry for at least 10 minutes.
3. In the meantime, preheat oven to 400 degrees F (204 C) and line a baking sheet with foil and spritz with nonstick spray. Also, if making pasta, bring water to a boil in a large saucepan.
4. Prepare your dipping stations by placing almond milk + cornstarch in one bowl; flour in another bowl; and breadcrumbs + sea salt + oregano + Nutritional yeast in another bowl.
5. Once thoroughly dry, dip eggplant slices in flour, then almond milk mixture, then breadcrumbs. Arrange on the baking sheet and pop in the oven to bake for a total of 20-30 minutes.
6. IMPORTANT STEP: While the eggplant is in the oven, bring a large skillet to medium heat. Once hot, add 2 Tbsp. olive oil (or sub canola or grapeseed) and pull 3-4 eggplant rounds out of the oven at a time and sauté to give them extra crisp and texture. Cook for ~2 minutes on each side (or browned) and then return to oven to continue crisping. Do this in batches until all rounds are browned.
7. While eggplant is browning in the oven, prepare the marinara sauce. Heat on the stove, then Set aside.
8. Once done cooking, drain pasta and cover with a towel to keep warm. Set aside.
9. Plate pasta and eggplant slices and marinara in a dish as a dipping sauce.
Spinach and Cashew Ricotta Ravioli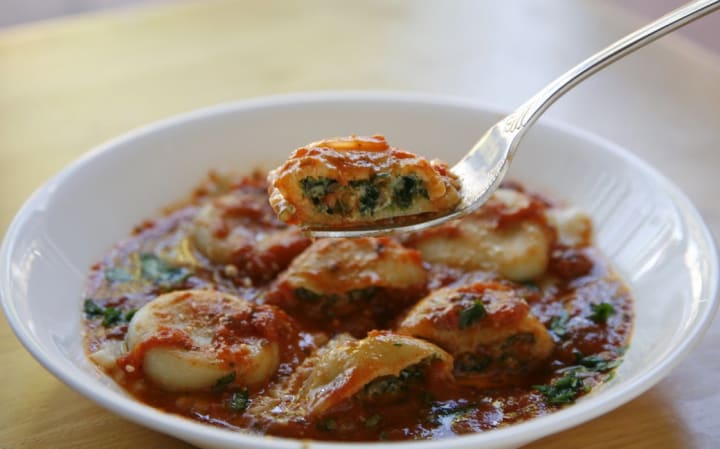 What you will need:
Sauce- (Follow Recipe for my classic tomato sauce, or store-bought of your choice)
Cashew Ricotta- (Follow my recipe for ricotta cheese)
1-2 cups of cooked spinach, chopped finely
1 large onion
1-2 cloves of garlic
Fresh basil
1 tbsp. of lemon juice
300g of all-purpose flour or (GF)
½ cup of aquafaba
Instructions:
1. In a mixing bowl, combine flour and seasonings. Add aquafaba (water bean) and mix it into the flour. The dough will need a bit of water to come together (Suggested 2bsp), but be careful not to add too much. Knead the dough for at least 5 mins and then set aside for 60 minutes under a damp kitchen towel so that the dough doesn't dry up.
2. Heat up 2 tbsp. olive oil in a pan. Sauté chopped garlic until soft and fragrant. Add spinach and cook down on low heat
3. Once the dough has had a chance to rest, take a portion of the dough (1/3 for example) and roll it out with a rolling pin on a lightly floured surface. Roll it out as thin as you can (2-3 mm), the thinner the dough the tastier the ravioli. You can obviously use a pasta machine to roll out your dough if you have one.
4. Use a 5 cm / 2″ cookie cutter or an upside-down glass to cut out circles of the dough. Place about a teaspoon of filling (I use ½ tsp of cashew ricotta and spinach) on half of the cut-out circles.
Place another circle on top and drape it around the filling, taking care not to trap any air pockets inside. Seal the two circles of dough with your fingers. If you want them to look like mine, go around each ravioli and crimp the sealed edges with the end of a fork. Put the finished dumplings on a lightly floured surface and cover them with a kitchen towel while making the rest so that they don't dry out. Continue in the same way until you have used up all the dough and/or all the filling.
5. Bring a medium pot of water to boil. Once the water boils, place 5-6 ravioli (it's important not to overcrowd the pot) in the boiling water and cook, on a rolling boil, for about 5 minutes. After the time is up, fish cooked ravioli out with a slotted spoon, shaking excess water off gently, and place them on a plate. Cook all the remaining ravioli in this way.
6. To serve, use homemade tomato sauce of canned of your choice!
Follow me on Instagram for more recipe ideas!
https://www.instagram.com/vegano.diaries/?hl=en