The Crock Pot was getting jealous.
So of course I had to give her some attention tonight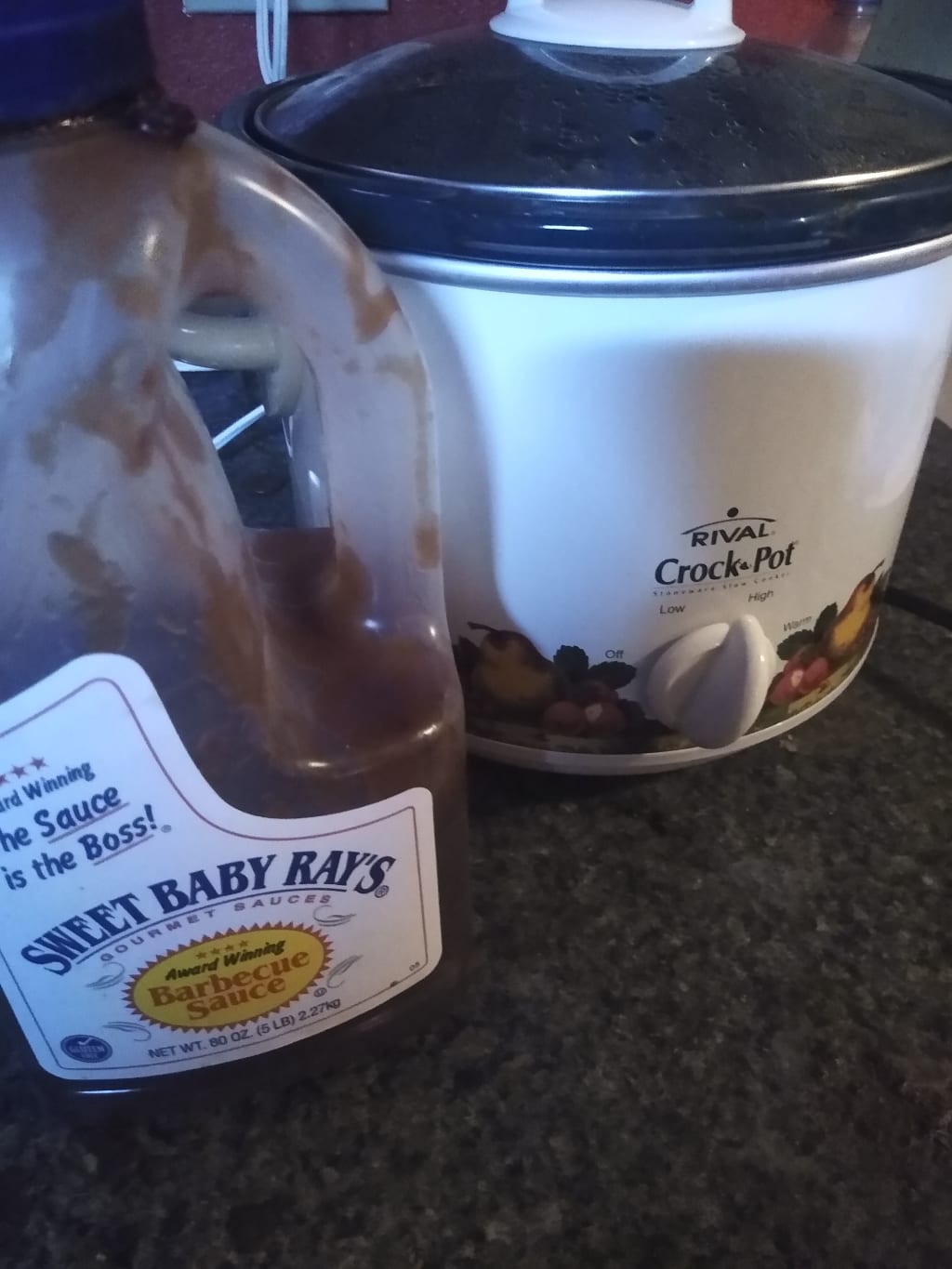 Ever since I got my Instant Pot at around Christmas time as a gift from my amazing other half, I have used it for most things that would usually require the crock pot. I mean why wouldn't I? It does all the work in way less time.
Alas, when I set out to get dinner going for tonight, I remembered that the Instant Pot insert is currently in the fridge with last weeks Italian Chicken in it. At least I hope it was last weeks. The days/weeks/meals/months are all kind of blending together currently.
That meant that I needed to pull out the old neglected girl. The crock pot that my mother in law gave me after I shattered ours. I had to wash it, and dust it, and search for the lid. Because it hadn't been used, touched or fondled since I got my Instant Pot, except for maybe to be moved to make room for the Instant Pot when it wasn't in use.
After successfully locating all parts/lids and cords for the crock pot, I promised her I wasn't mad at her and started filling her with goodies. Okay, that might be a slight exaggeration, I put half a cup of broth, three chicken breasts, some seasoning salt and bbq sauce and set it on high.
It's been cooking for about an hour and a half, and I just went in and broke up the chicken breasts into more bite size pieces. It's still not quite what we are looking for. When I make chicken of any kind. Unless it's for orange chicken or homemade chicken nuggets/tenders, it's shredded. I have two recipes that I use pretty often that involve shredded chicken and BBQ is one of them. Which is if you haven't deduced yet, what's for dinner tonight.
We are pretty simple when it comes to our BBQ. I know a lot of you are going to read this entry/post/story and say stuff like "You missed this", or "Why didn't you add that". The reasoning my dear Watson is quite simple. I am not cooking for you. I am cooking for me, and the other half (and usually our kids, but not tonight. They are at grandma's.)
Now that we have that unpleasantness behind us, I'm sure you are all dying to know what exactly goes into my BBQ pulled chicken. Well, don't die. I am about to tell you. It depends on what I have on hand usually. But Sweet Baby Rays BBQ sauce and chicken are usually something that we always have on hand.
I toss in two to three chicken breasts if it's just the other half and I. Three to four, if the kiddos are here. I had about half a cup of chicken broth to "boil/cook" the chicken in, some dashes of seasoning salt and then a squirt or two of Sweet Baby Rays to let it soak in, even before its shredded. The other half thinks this is what makes mine so good. So if he likes it, I'll keep doing it.
In the Instant Pot it takes about 45 minutes, in the crock pot about 3 hours on high. Its easy, its filling, it keeps the fam bam happy. And on nights like tonight, it soaks up the alcohol we have been drinking. So I tally that up as a win all the way around.
I know there are a million and a half BBQ recipes out there, and you are probably going to think that yours is better than mine. And if you do, more power to you. But I cater to what my family likes, not to what the rest of the world likes, or thinks is cool, or the "it" food right now. Sometimes it really is about the basics and good old comfort food.
About the Creator
A lot of ramblings about kids, art, food, pets, life and work and trying to make it all make sense.
Feel free to laugh at me and the dogs on Insta @dirtfloorfamilyliving
Reader insights
Be the first to share your insights about this piece.
Add your insights