From my Kitchen to Yours: Taco Bake
A family recipe, that I've altered a little for our crew.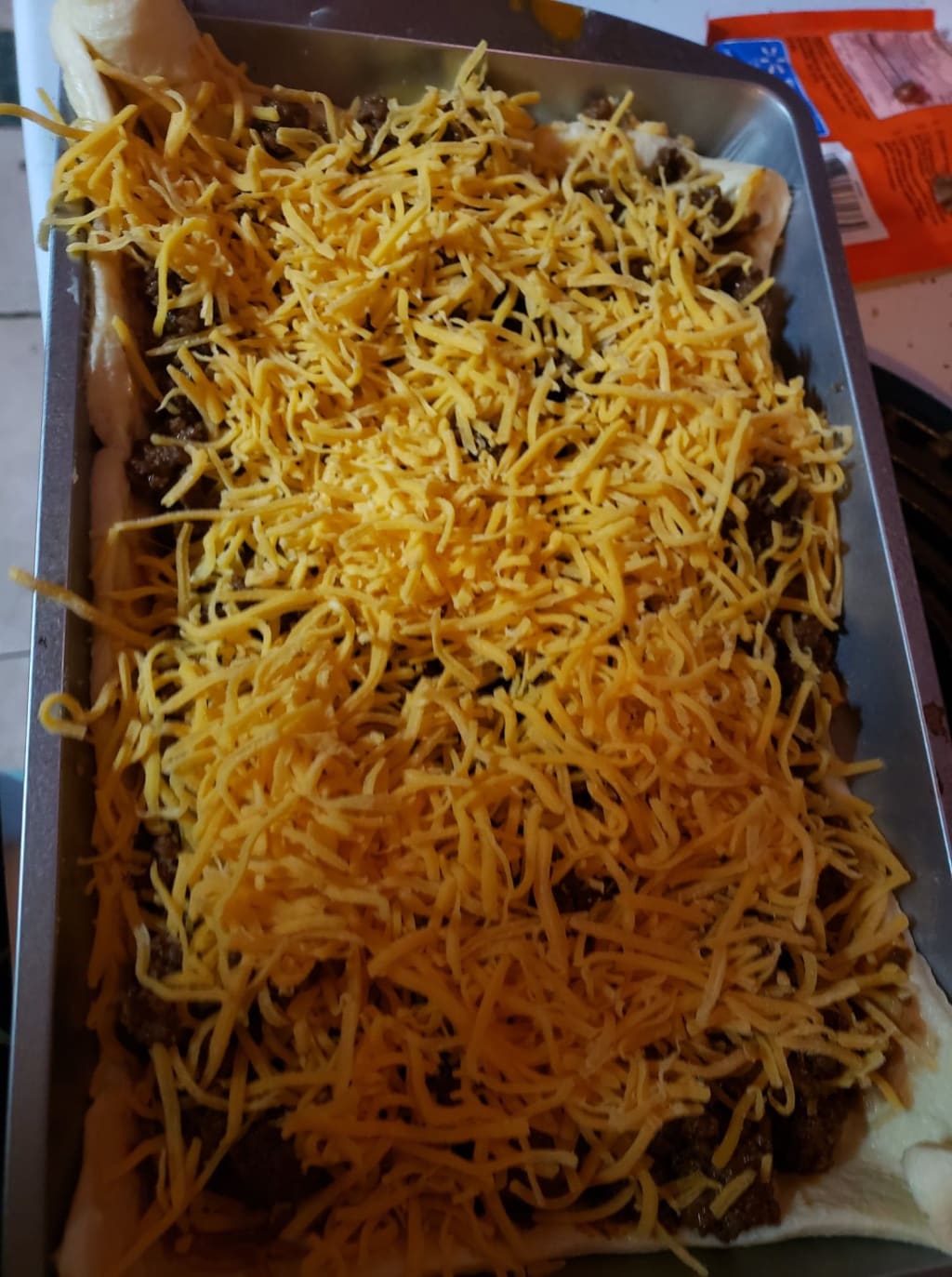 One of the recipes that is requested often around here is "taco bake". I have seen variations of this on the internet, but the version that I make for our family is based of my other half's grandma's recipe. There is a version that floats around Facebook every so often that is made with tomatoes and lettuce and some other vegetables I am sure, crafted into a circle or ring shape. That is far too fancy for this mama, and her crew.
I really go back to basics when I make our taco bake. Partially because it's simpler that way, and partially because I cook for a few fairly picky eaters.
The recipe is actually really easy, and only involves a couple of ingredients. It's actually stuff that most everybody has on hand at home already. I use 2 tubes of crescent rolls, a pound of ground beef (although I am sure that ground turkey or ground chicken or even shredded chicken would work as well), a packet of taco seasoning, shredded cheddar cheese (although if you don't have a little one who thinks a lot of things are too spicy, pepper jack would be a nice sub in too), re-fried beans and to garnish it sour cream and shredded lettuce.
I 99.9 percent of the time use a rectangle or square cake/brownie pan to make this in, although to be honest I have done it in a round one a couple of times when I didn't feel like washing the other pans that were dirty. But whatever you cook it in, is completely up to you. Make it shaped like a polar bear if you have enough time and patience to do so. It's gonna be delicious whatever it i si shaped like.
I ALWAYS use Pam's cheaper Great Value cousin to spray down whatever pan I am using before I go to assemble anything, and then get to it. The first layer is crescent roll dough. Don't detach them, just unroll it all so you have one solid sheet of dough. On top of that you want to spread some re-fried beans. The thickness is up to you, if you love beans pile them on, if you don't well the answer is obvious. On top of that goes the ground beef. I cook mine on the stove, usually in the cast iron skillet. Once its cooked all the way through, I add the water and taco seasoning and let it simmer for a bit. Once its cooked I add it to the pan, on top of the re-fried beans. On top of that goes plenty of cheese. We LOVE cheese. So we use a lot. To finish it all off before you stick it in the oven, goes another sheet of crescent roll dough. (Side note, the picture that I have attached to this is without the top of the layer of crescent rolls. OOPS. I forgot to snap one once it was all assembled the last time I made it for dinner.
I cook it at 375 for about 15 minutes. Although that changes depending on what type of pan/dish you are using and how crispy you like your crescent rolls.
Two of the four of our crew like sour cream, so we keep it in the house for taco bake and chili nights. Sometimes I remember the shredded lettuce to sprinkle on top, although most of the time I forget to get it when I go to the store. Even though we don't eat them, you could use chopped tomatoes or Rotel or whatever your little Mexcian food lovin' hearts desire.
This recipe is one of my go to ones. Both kids love it. It's filling, and delicious. For sure a comfort meal around here. It isn't too spicy, so even the little's like it. And there are enough add on's that it is something that just about anyone can tweak it and make it a meal they can add into their own dinner rotation.
recipe
About the author
A lot of ramblings about kids, art, food, pets, life and work and trying to make it all make sense.
Feel free to laugh at me and the dogs on Insta @dirtfloorfamilyliving
Reader insights
Be the first to share your insights about this piece.
Add your insights