The Black Forest Inn
A German Restaurant With a Rich History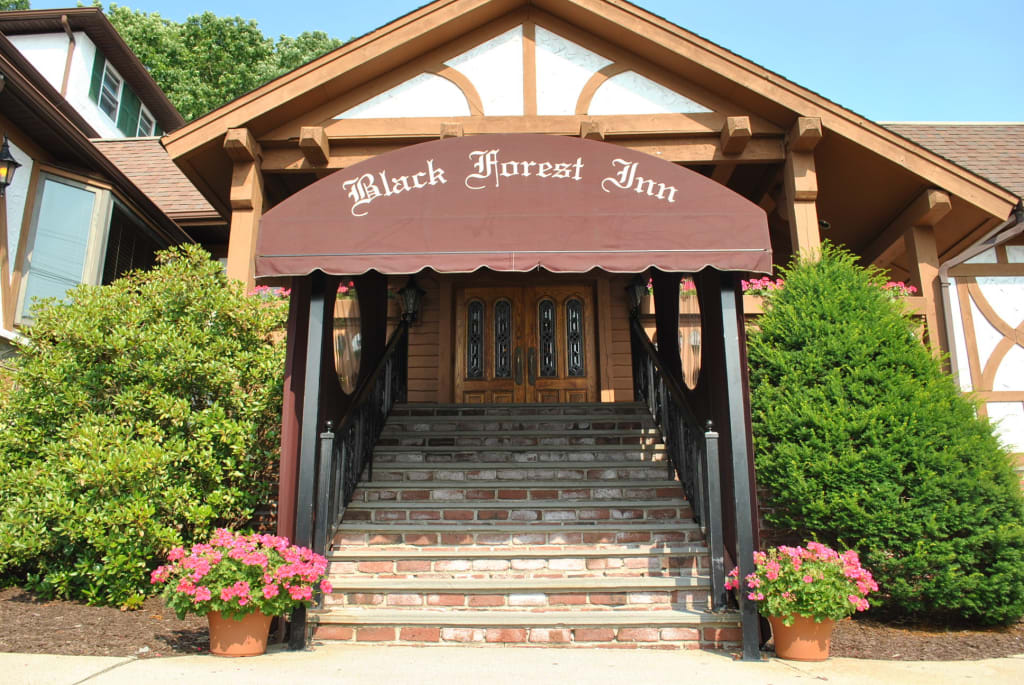 For those of you who have worked in the restaurant business you know it isn't an easy career. You work nights, holidays, and weekends. You miss recitals, games, and events that you look back on through pictures or videos. The same can be said for any family-run business. Seeing your family 24 hours a day seven days a week make you closer than most families, but can also cause you to grate on each others nerves more than most. The family at the Black Forest Inn in Stanhope, New Jersey manages to combine these two kinds of business and has been successful at it for 40 years. Their history is something remarkable and has survived in a town that has lost most of its business's during the years, but they have managed to survive.
It all started in August of 1978. Heinrich Aichem (whom now goes by Heinz) purchased the Black Forest Inn and created a legacy and a lifestyle for his family to inherit and cultivate over the years. The recipes here are family recipes, passed down from father to son for three generations. Heinz is the owner, who stills works in the kitchen every day despite two shoulders that he's had rotator cuff surgery on, and his age of 82 years old. He has never slowed down or backed down from the hard days at the job. Heinz Aichem has faced the long hours, hard work, and stressful nights with the same steadfast personality as the day he opened the doors of the restaurant. His son Heiner is the head chef in the restaurant, contributing a tireless work ethic, a kind yet strong demeanor, and a deep love for his work that can only come from true passion for cooking. Heiner runs the kitchen with patience, wisdom, and unfailing devotion to his craft. Heiner's oldest son, Heiner Jr., has the most passion for aesthetics in regards to his dishes in the kitchen, putting in time and effort to create beautiful seafood dishes, desserts, and cakes (as these areas are his primary stations to work). Then there is Heiner's second son Hans, whose determination and commanding presence keep the kitchen working like a well oiled machine even during the most hectic of nights as he is the kitchen's expediter, but who also cooks beside his father on the main sauté station. Both of the younger Aichem men inherited their family's desire to work hard, and do things right, the way their grandfather and father have taught them since they were fourteen years old. Most men their age (in their 20s) cannot imagine working the hours that these two have worked for so many years, but the two younger men both say the same thing when asked about why they are so dedicated to what they do: they do it for their family, and because it is what their father did and what his father did. Working together isn't always easy, there are days when the kitchen is over one hundred degrees and tempers run just as hot as the stoves, but their love for their work and their love for working beside each other makes the job worth it.
The family connection doesn't stop in the kitchen however, running the front of the house is Heinz's daughter Barbara Aichem-Koster. Barbara learned a lot about running things on the front end from her mother Elke Aichem, and the two women have been hard at work keeping customers happy and coming back for the forty years they have been open. Barbara leads the floor through the busiest nights with her ability to do whatever needs to be done such as bussing tables, running drinks, refilling water pitchers, and anything else the staff may need to make it through a crazy night of service. Barbara is a mother of three children of her own, Patrick is the oldest and is already helping out on buffet night running food from the kitchen and learning the ropes from his grandfather, uncle, and cousins. Then there are the twins Daniel (Danny) and Erika, they love to socialize with the customers and are constantly eager to learn new things such as bussing tables, seating customers, and greeting guests as they arrive. Barbara's husband Scott also helps out on occasion, assisting with off site catering jobs, game dinners, and just generally helping out when needed. Heiner's wife Holly designs the menus, the website, and the Facebook for the restaurant. Holly's attention to detail, ingenuity, and hard work have demonstrated to the public how the restaurant has retained its authentic German roots while still moving forward into the twenty first century. Heiner and Holly's daughter Hailey works alongside her mother helping to make specialty cakes for the restaurant when something extraordinarily special needs to be done and one day hopes to be a baker herself. At just nineteen years old she has already mastered wine service, cake decorating, and almost all areas of baking. This family is not short on talent and each member of it brings something unique to the table.
One thing that is common across every culture all around the world is the desire to be remembered, to create a legacy for others to remember you by after you are gone. This family has done just that. They have established a place for themselves in the small town of Stanhope, New Jersey. They have had customers that have continued to walk through their doors since they opened in 1978. The Aichem's have been on television and in newspapers for their restaurant's phenomenal food, superb service, and their ability to connect with their customers, but the thing that they are best at is how they cater to each individual that enters their building. The Aichem's take the time to talk to their customers, and that is what keeps them coming back. There are customers that have gotten married at the Black Forest, then held baby showers, birthdays, anniversaries, and all of their other events at this same restaurant. During my time working at this establishment, and being a part of this incredible family, I have had the opportunity to observe why so many customers come back year after year. The patrons come back because they are treated like family—because the Aichem's have ingrained their connection as a family into how they treat others. They treat every child's birthday party as if it were their sons or their daughters, every wedding as if it was their sister or brother getting married, and every anniversary as if it were their parents who were celebrating their lives together. The Black Forest Inn has sensational food, and wonderful service, but the thing that this family will leave for their legacy for the world to remember is the feeling of home you get when you walk through the door.