The 10 things you have to try when you're in Ottawa: Food edition.
There will be a few obvious items here but I'll have some of my own suggestions as well.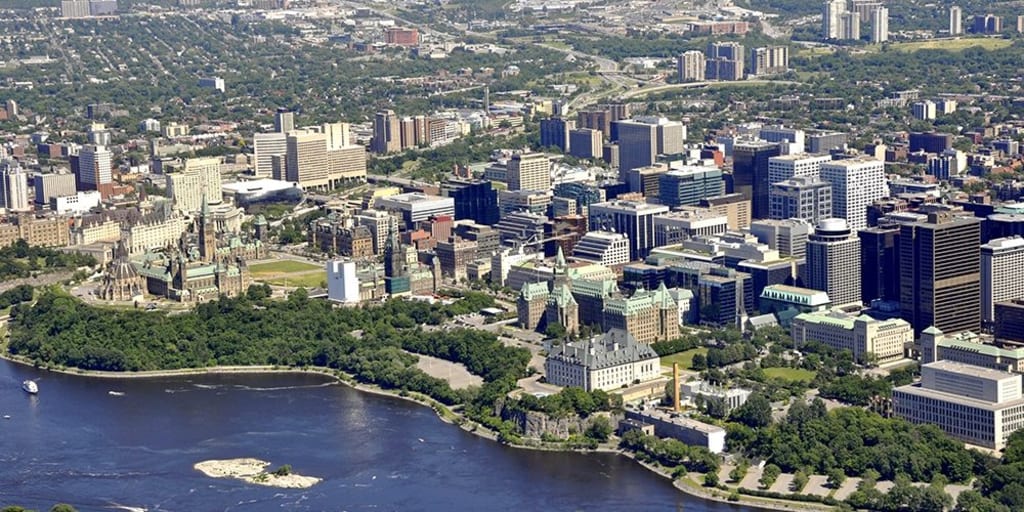 Ottawa as many of you already know is Canada's nation's capital. It's got a large multicultural community that continues to grow. I've lived in the city for quite some time so there's been a ton of restaurants that have come and gone.
I'm sorry to say but you may have missed out in some of the best BBQ duck in Canada back in the 80's - 2000's. Yang Sheng is still a restaurant today but the man that used to cook their duck has passed away so you won't be able to get that duck anymore.
I used to think that was Ottawa's claim to fame but the city continues to grow and the variety of food continues to get better. So here are my top 10 food items that you have to try when you come to Ottawa (in no particular order):
1. Beavertail:
This used to be an Ottawa exclusive but it's starting to branch out here and there. Ottawa is still the place to have one. Everyone says to get it during Winterlude but with global warming you never know if there's going to be ice on the canal. Just go to the Beavertail stand in the Byward Market. You'll be fine.
2. Shawarma:
Ottawa's Lebanese community is a thriving community that have gifted the good citizens of Ottawa the best chicken Shawarma's in Canada. I've traveled across Canada and I may be biased but I don't think anyone can do it better than Ottawa. You can pick any shawarma place in Ottawa and it's going to be great but go to Shawarma Palace in the South Keys area and you won't be sorry. Generally, they're all good though. Make sure you add the garlic sauce though. That's what really makes it great.
3. Pho:
Ottawa also has a huge Vietnamese community. They have gifted our lovely citizens with Banh Mi and Pho. If you go to Somerset (Chinatown) you'll notice that the street is littered with Pho restaurants. You can't go wrong with Pho Bo Ga La. Wait, which one? They all have the same name. If you're from Ottawa, you'll notice we don't call them by their names we call them by description like the red one, or the blue one, or the Buddha one. They're all great. You can't go wrong with Pho in Ottawa.
4. Poutine:
We're starting to reach the poutine heights of Montreal but we're not quite there yet. However, if you're in Ottawa you'll notice there are a ton of places that sell poutine. We don't have the variety that Montreal has but we do have some good poutine. If you're out late at night sometimes it just hits the spot like nothing else. They one that I usually go to when I rarely stay out late at night is Sasha's Poutine. It's a little shack right beside club 27 and Barefax on York Street. That's a good guilty midnight snack.
5. Somalian food:
There is also a large Somalian community in Ottawa. Oddly enough there aren't a ton of Somalian restaurants but they did have one that I surprisingly stumbled upon. It's called the Alhuda restaurant and it isn't the easiest place to find. You see it's inside a Canada Care Medical facility close to the intersection of Bank and Heron Road. Finding the place is half the adventure but the food will be all worth it. I recommend the goat and rice dish combo. You'll thank me when you try it!
6. Salt and Pepper Shrimp:
Okay, the Royal Treasure is a great restaurant. They have tons of great items but salt and pepper shrimp is an item on their menu that you won't find in many places. It's one of the must have food items that I say you should try. It's may not be strictly Ottawa but they do such a damn good job of making it you have to try it. Don't complain to me later when you find out that it's addictive.
7. Egg Rolls:
The debate about which egg rolls in Ottawa are the best has been answered. It's obviously Ruby Inn's egg rolls. I know a ton of people will tell you that it's Golden Palace's egg rolls but they are mistaken. I honestly miss Lucky Key's egg rolls. That restaurant has since closed down but today it's Ruby Inn. Some people have asked me to bring these egg rolls to Toronto because they liked it so much.
8. Indian food:
If you're looking for good Indian food in Ottawa look no further than Brampton Restaurant. This restaurant is a hidden treasure in Ottawa that not too many people know about. It's located close to Algonquin college, by College Square on Meadowland. You have to try this place out because I haven't found an item on their menu that I haven't liked. The only problem is that people with peanut or nut allergies might not be able to handle some of the food here. If you don't have allergies your mouth will melt when you try their food!
9. Caribbean food:
Caribbean food has been growing in Ottawa. They're all really good but some can take quite a while to get your food. The food is worth the wait though. A friend had his birthday catered by Do Good Food restaurant close to theater by Bayshore. Back then it was called Bay Jam but I guess they changed their name. I hope it's the same people. All I can remember was how good their curry chicken was. You had to be there.
10. Donuts:
We have a ton of different donut places if you consider all the Tim Horton's franchises. Some Ottawa entrepreneurs decided that they wanted to make their own high end donuts instead. We have a place called Mavericks and Suzy Q's. These are two Ottawa born franchises that specialize in donuts and they have some pretty snazzy stuff. You have to check out their options. Your sweet tooth will definitely be satisfied.
As an added bonus, if you want to get the best BBQ duck in Ottawa it's now at Kowloon Market on Somerset. It's a grocery store and they sell out quick so make sure you buy it before 3 pm or else you won't get any. It doesn't compare to the old Yang Sheng BBQ duck but it's still really good.
So there you have it. My 10 food items that you have to try in Ottawa. Not a food item but you should also try Beau's and other Ottawa based beers. They're delicious. I don't really have a super expensive taste in food so don't expect to break the bank going to these places. So if you're new to Ottawa, I really hope you enjoy any of the selections in my top 10. Maybe you're from Ottawa and wanted to try something different. I'm sure I probably have at least one item here that you haven't tried yet. Enjoy!