Single-Serving Plantain Pancakes
A grain-free solution to traditional pancakes.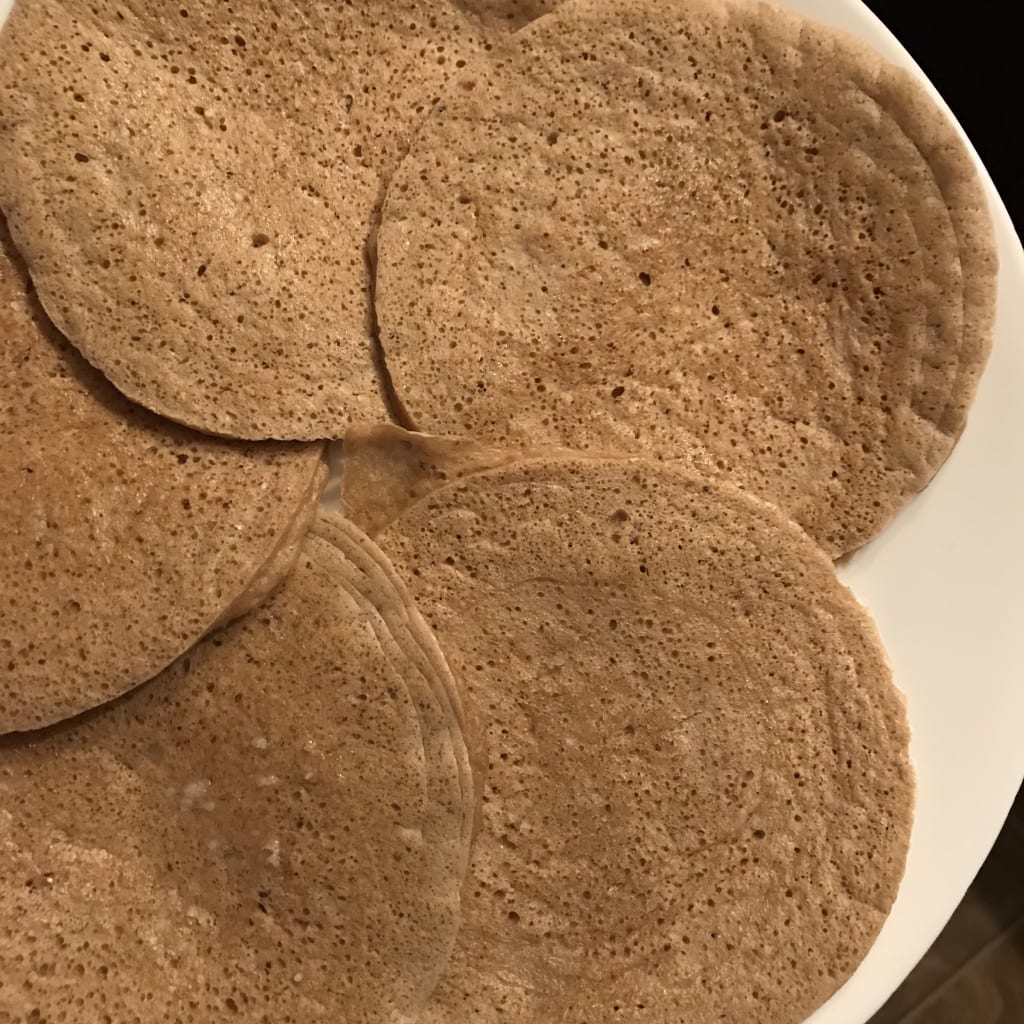 Good morning, everyone (for me, at least)! I hope that you've all been doing well, practicing self-care and self-love, and working towards your goals! We're nearly halfway through February already, and that means that 2019 is an eighth done; can you believe it? I know that I can't!
A few weeks ago, after months and months (I'm talking over eight months now) of all-consuming, life-altering health issues, I stopped being a vegan. After nearly two years of living a vegan, cruelty-free lifestyle, dropping the title was a huge deal for me. Admittedly, it's still a bit of a struggle accepting the life change. That said, my body is finally restoring itself, and that has been my main goal for what feels like ages. And so, I'll take the bad with the good and be content with the title of vegetarian (for now, anyway).
I'm not overly comfortable with any particular label, at the moment. However, for your sake, I would call myself a vegetarian. Basically, I've reverted to the diet I follow between July 2014 (when I went vegetarian) and March 2017 (when I went vegan). That means no meat whatsoever—poultry, beef, pork—you name it. I also haven't touched any sort of seafood since dropping the vegan title; that said, I've been doing a lot of research on fish health benefits, and I'm seriously considering incorporating things like tuna and salmon into my diet. Really, the only change that I've made so far is the reintroduction of eggs and a small amount of dairy product (namely, milk protein and whey protein).
While incorporating some "new" old foods like eggs and dairy, I've also made the decision to eliminate and/or limit some foods. In particular, I've been staying away from all grains except for gluten-free oats. That means no quinoa, wheat, buckwheat, couscous, or anything of the like. Instead, I've swapped these high-carb foods for sweet potatoes, squash, beans, lentils, and extra veggies. Too, I'm trying my best to cut out any all soy—be it tofu, soy milk, soy yogurt, soy mock meats, or mere soy oil in processed foods. I hope that by doing so, my health issues continue to reverse and leave me healthy, happy, and vibrant.
That brings me to this recipe for plantain pancakes. Though they aren't vegan, they are grain-free, gluten-free, and refined sugar-free. This makes them perfect for my current dietary requirements. One serving (meaning the whole batch, cooking oil included) contains about 310 calories, including 15g of healthy fat and 13g of protein. This makes them a great option for breakfast (or any meal, really)! They're super easy to make, and they're so good. You can hardly even tell the difference between them and a normal white flour pancake.
To make them, all you need to do is blend: one medium plantain (mine was 100g w/o the peel), two eggs, 1/2 tsp baking powder, 1/2 tsp baking stevia, and a pinch of pink Himalayan sea salt. I personally make my batter at night and leave it in the fridge while I sleep, but doing so isn't necessary. To cook them, simply heat a little bit of extra virgin coconut oil (I only needed 1tsp for five pancakes) in a pan, over low-medium heat. Then, pour the batter, wait until the edges of the pancake form and lift up from the pan, flip the pancake, and cook another 30 seconds or so. Repeat until all of the batter is gone. Aaand voila! Your work is done!
I simply topped mine with more extra virgin coconut oil, but they would be delicious with maple syrup, agave nectar, or nut butter, too. As well, fresh berries or banana would pair really well. And—hey—if you wanted to go crazy, you could go all out with chocolate chips, nuts, seeds, granola, or whatever you want! They are super versatile, and that's half the beauty of them.
If you try the recipe out, I really hope that you enjoy it!