Series on Santa Maria Style BBQ, the Filthy Filly Way. The Pin Bone Sirloin
This series visits the the traditional and flavorful BBQ style of the west, bringing with it new flavors, dishes, and traditions from the central coast of California.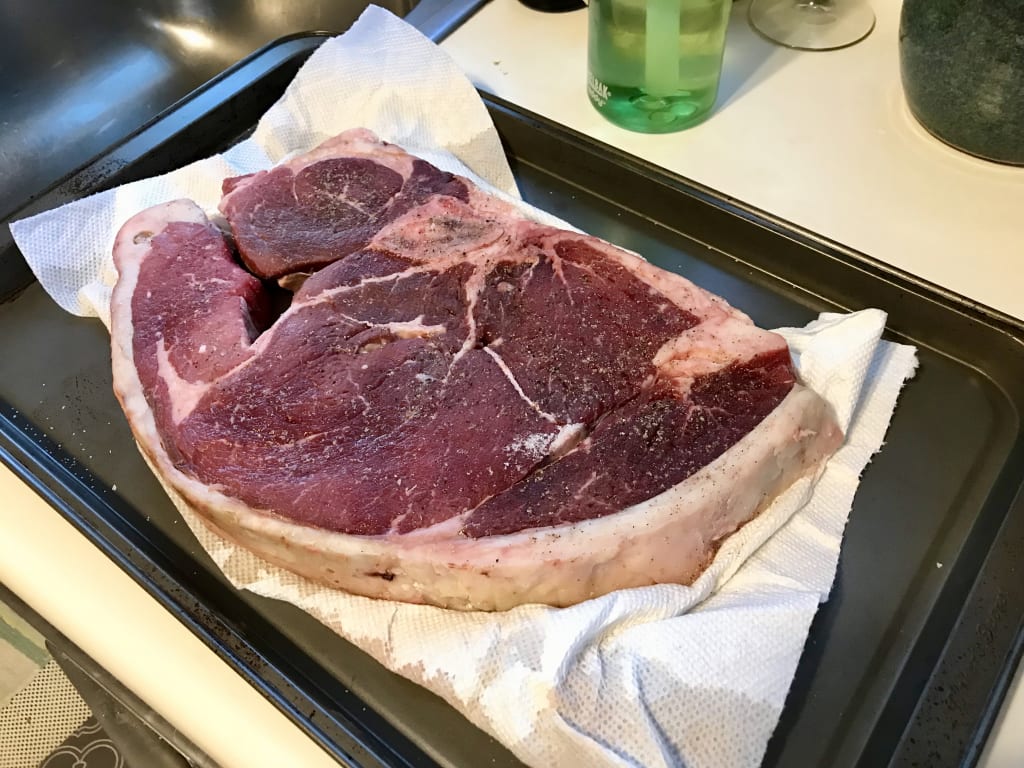 In my last article, I introduced you to the West's answer to BBQ (Santa Maria Style BBQ) and the long-loved tradition of cooking our meat over a red oak open pit. The traditional cut of meat used is a sirloin or top block; however, we became even more solidified in our own brand of BBQ when in the 1950s a local butcher took a usual throw away piece of meat, he called the Tri-tip (for it's triangular shape) and threw it on the open pit with the usual simple Santa Maria style of seasoning we've always used, and still use today. This series will visit these cuts of meat and how to prepare them, as well as introduce you to different cuts of meats, dishes, and flavors families all over the central coast have brought to the pit, which have become a tradition in their own right.
The Pin Bone;
To know this cut, is to love it... unfortunately, it's not a cut many know or anyone even asks for anymore. It's a long lost tradition in our family and one Filthy Filly's BBQ Bar & Grill will be bringing back to the pit and the table.
First, the cut... The Pin Bone Sirloin Steak is a large cut of meat. There is only one per butcher cut, which is probably why not many use the whole pin bone anymore all at once. The Pin bone contains meat from the muscle of the Tenderloin, Top Sirloin, Top Loin, and Flap. The steaks cut in the Sirloin are, in order from more tender to less tender: Pin Bone, Flat Bone, Round Bone and Wedge Bone. With the full Pin Bone in tact, you get meat from all of these muscles and steaks... enough to feed a family, and that's how Filthy Filly's will be serving it up... on a family platter.
The Pin bone obviously is a very flavorful cut given the types of cuts included in it. But how you prepare it for the pit, as well as the indulgent dipping sauce our family always prepared with it, makes this a must have when you come to visit us. As far as my research has taken me... there is only one other restaurant in the country serving a pin bone, so FF aims to become a destination for this scrumptious plate.
Traditionally, once the fire is started... usually around noon... you could count on that the fire, que'ing, music, and eating would last well into the night. So even if you started out with a Pin Bone (like my dad often did) as an appetizer, you could be sure there would be plenty of time and space in your belly for the sausages, main course, and sides throughout the night. While sipping your favorite libation, laughing, and listening to great tunes, you'd often find yourself coming back to the table for a bite of one thing or another, throughout the evening.
So how did we (and will do) the Pin Bone?
The seasoning;
Our's we call Filthy Dust; and although you might be able to dissect it, I'll only give you the basics. First, we brush a little layer of avocado oil on the meat and let that sit for a few. Although Santa Maria Style doesn't usually include marinating red meat... with the Pin bone, while the fire is getting ready, we pour a butter sauce over top, to die for... and then the dry rub is applied. This is a dry rub that consists of salt, garlic, parsley, basil, and oregano (and one or two other spices we keep for ourselves). We let it sit a few more minutes, making sure we have an even, medium heat in the pit. Then the pin bone goes on. In a pan next the the pin bone sits our fabulous garlic butter sauce, warming up for your dipping pleasure, along with grilled half onions, asparagus, and bell peppers brushed with the same butter sauce and avocado oil we used on the meat.
Any cut of red meat I queue starts out with five minutes on each side, and then a length of time on each, until finished (the cooking time depends on the cut and size of meat). With the pin bone, I will flip each side to get a sear at five minutes, and then leave on for about 15 minutes each side... then, done (make sure the fire is even and adjust your grate as needed). Come and get it!
Slicing the pin bone into cuts from each of the steaks, the Pin bone is laid out on a platter. Added to the plate, the grilled onions (now also brushed with a homemade pesto), asparagus with the perfect smokey char, and the bell peppers tender and waiting, the platter is ready. Buttery garlic flavor dripping from the tender meat with a side of the same buttery dipping sauce ready for consumption, you actually have a full course meal in front of you. Filthy Filly's will be serving this as a main course (unlike the appetizer my dad used it for) with our famous Blackberry and Lavender Honey Corn bread, pinquito beans, and salad... a table full of Santa Maria Style BBQ goodness. Main course or appetizer, you can't lose with this dish.
So, there you have it... my long lost family tradition, hopefully brought back to the limelight. If you get a chance to track this cut down, you should try it... If you're local, follow Filthy Filly updates and when the restaurant is open, come on in and we'll make it for you. At any rate, I hope you enjoyed the read and keep coming back for more. Do you like Ceviche? Have I got a Filthy Filly twist on that dish coming up! Stay tuned.