Summer Palate
Series on Santa Maria Style BBQ
Ceviche with a Filthy Filly twist!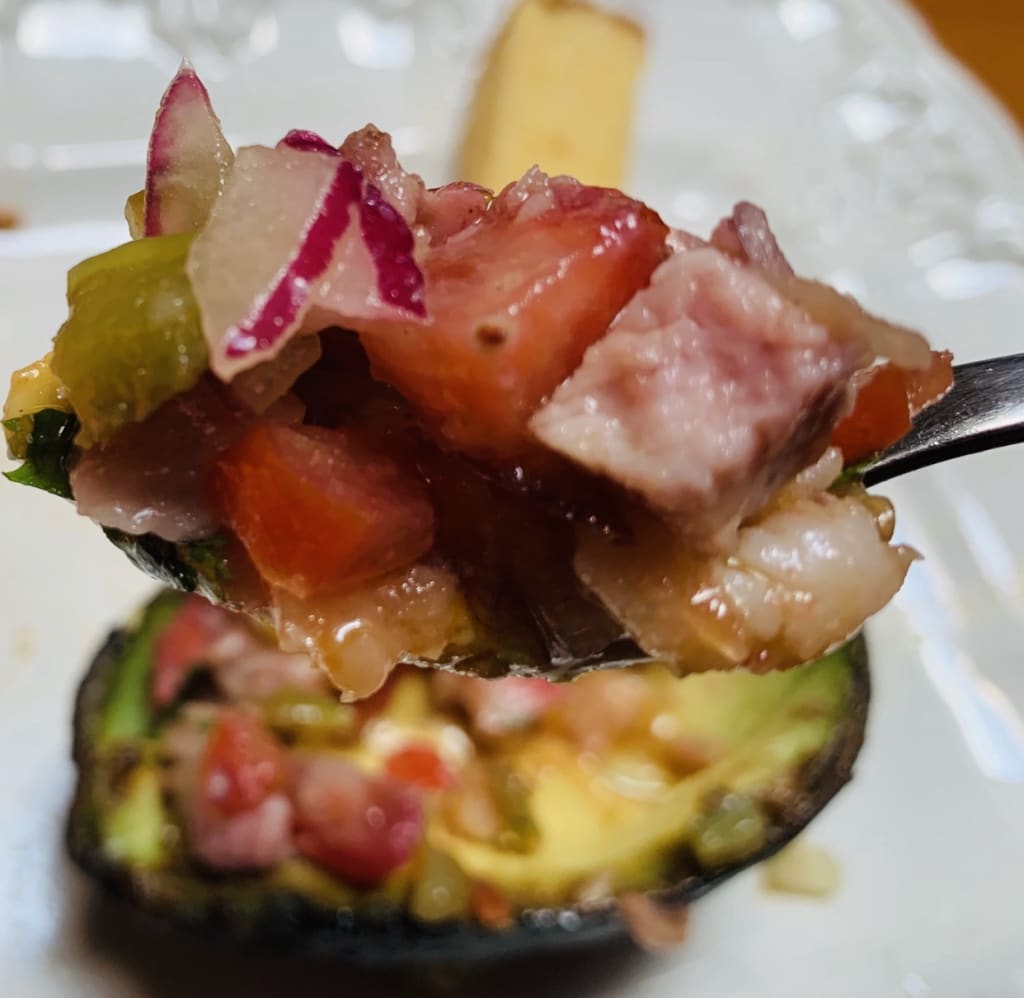 Que'd Avocado halve stuffed with Tri-tip & Shrimp Ceviche (Food & photo by Filthy Filly's)
So far in this series we've talked about the history of Santa Maria Style BBQ and some of our traditional cuts of meat, and how they're cooked on our open pit... now it's time to talk about some of the sides, which Filthy Filly's has put they're own SMSB spin on.
Geographically residing on the on the beautiful coast of California you can be sure we have some of the best seafood around. We are an agricultural community as well and with a very moderate climate, so great produce is available all year round. But it's our Mexican heritage that brought us this refreshing and delicious dish, Ceviche (also a Portuguese dish, so which came first to our area?). I'm siding with our Mexican heritage on this dish as that's how it was first introduced to me. These three ingredients make for the best Ceviche around... but we've added our own Filthy Filly twist.
Who ever said Ceviche had to be just seafood and vegetables?
Every September the small seaside town of Morro Bay, here on the central coast, holds the annual Avocado Margarita Festival. All food vendors participating are asked to create an avocado-centric dish... not just merely add avocado to the the top of a dish they already make. We brained stormed and came up with this beauty... truly an adventure for your taste buds marrying all that is good here on the central coast, adding a bit of BBQ to the dish and something we have now added to our menu in the upcoming restaurant; Grilled Avacado stuffed with tri-tip and shrimp Ceviche with a strawberry avocado drizzle over the stop. Yes... yum.
It's a simple enough dish. Ceviche isn't traditionally "cooked." The seafood is added to the vegetables raw and citrus juices cause denaturation, cooking the meat as if with heat. Voilla! Many restaurants serve this with a guacamole, but we decided to take that idea to the next level.
The Santa Maria Style BBQ Ceviche
Choosing any ceviche recipe you like (our original recipe is hush-hush), throw your ingredients together and chill (our seafood of choice is shrimp). Get the fire in your pit ready and when you have a steady medium heat and that red oak smoke going, cut the avo's in half. Next brush with olive oil, add a dash of salt, garlic and chipotle powder, a little drizzle of honey and put the avo on the grill, meat side down over the open pit (about 10 minutes). You will be amazed with the flavor. At this point your tri-tip should already be que'ing (see my article on Pin Bone for suggested cooking times). You want this to come off the pit a little on the rare side. Let the meat stand for about 15 minutes to absorb all that juicy flavor, and then chop into small pieces. Next, add to the Ceviche... whip together your strawberry avocado drizzle (sorry, our recipe is a secret) stuff the avo halves... and top with the drizzle... there you have it!
The 2019 Avo Marg Fest will be held the weekend of September 7th. Filthy Filly's BBQ will be there serving up our best of this dish along with vendors from all over the coast... if you're local, be there or be square. We look forward to seeing you.
Avomargfest.com