Rococo Ramen
Spicier than It Looks 🌶!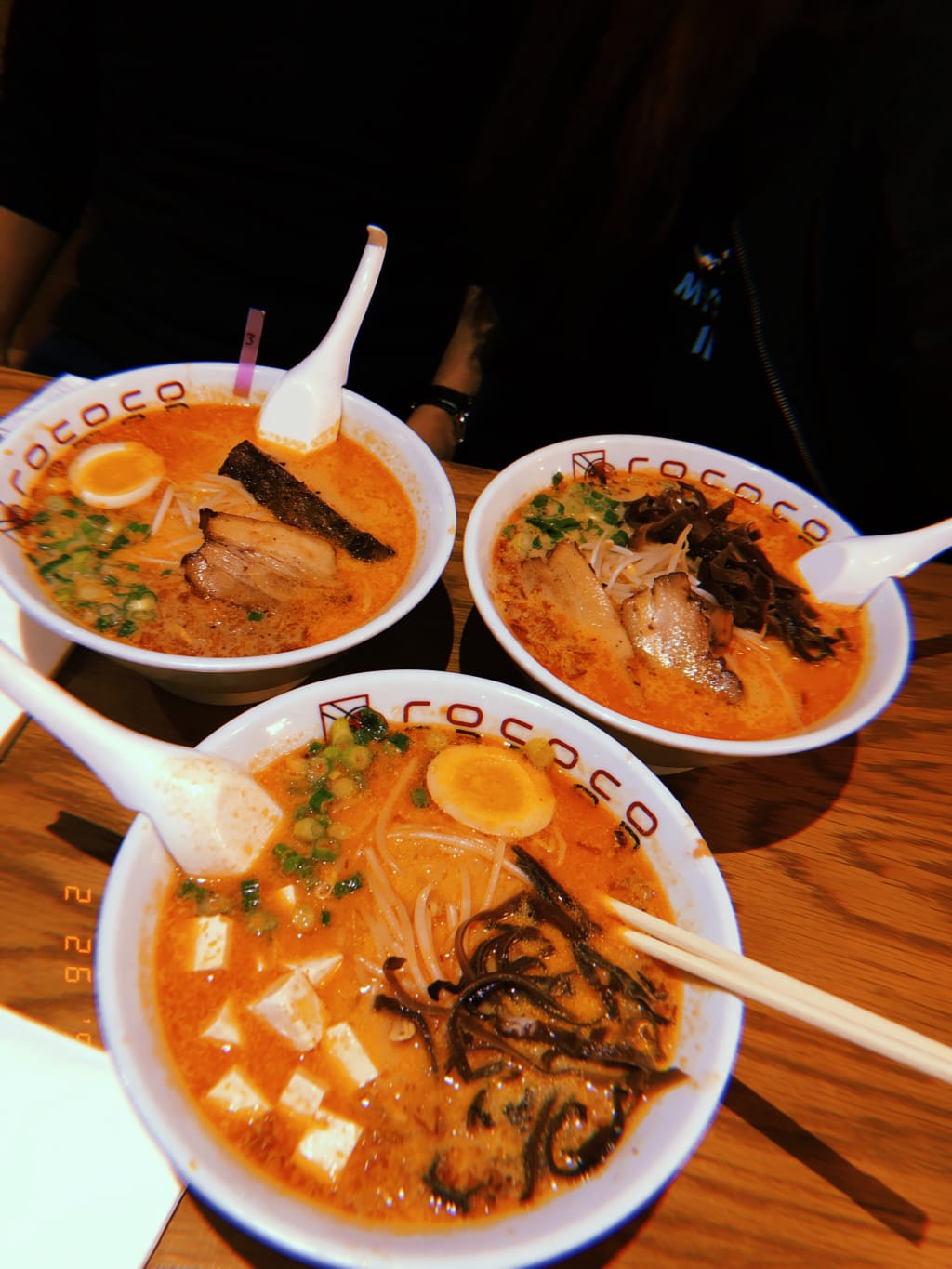 Tonkotsu ramen level 3/5 spicy. Two of the bowls are with pork and one is with tofu.
Every first step into a ramen shop is always thrilling, especially when it's a new experience. At the beginning of 2019, I had made a sort of resolution to document all of my ramen experiences, not only to help keep track of what I try, but also so I can share my experiences with others.
In January, I started @slorpppp, an Instagram account dedicated to posts about ramen with some tarot sprinkled in (tarot is only in my stories though, not my posts). Check it out next time you're bored on the 🚽 :)
Although I have already reviewed four other ramen spots on Instagram, I figured I'd try expanding my reviews into a more thorough review system. I want to try my hand at documenting ramen experiences here in addition to writing quick reviews on Instagram. I will judge experiences on two main factors: 1. Flavor and Ingredients; 2. Service and Environment. The average 🍜 score will then be the overall score for the restaurant. Let's dive into this bowl!
Rococo Ramen
16931 Devonshire St, Granada Hills, CA 91344 (Next to IHop)
*Free parking up to 90 minutes in front. Additional free parking behind the restaurant.
1. Flavor and Ingredients 🍜 7.5/10
I ordered the spicy tonkotsu ramen at spicy level 3/5, substituted tofu for pork and added wood-ear mushrooms.
One of the first things I notice when I taste new ramen is it's level of spiciness. Often I find that what some places consider "spicy" is really not all that spicy. This is not usually a big deal because you can always add more. At Rococo, their level 3 spicy is actually pretty spicy. I generally consider myself to have a slightly higher than average tolerance for spicy foods (or maybe I'm just hanging out with a bunch of wimps), but this level 3/5 spicy ramen had my eye (yes, only my left eye) watering. In a good way of course! For reference, I can usually eat jalapeños with no problem—I don't generally consider them spicy.
Aside from spiciness, the flavor of the broth had a mouthwatering umami flavor and a nice creamy base. As mentioned before, I subbed tofu for pork and also added wood-ear mushrooms (one of my favorites). I think something I was missing, however, was bamboo shoots. I think that would have been a great addition. Their seasoned egg was seasoned perfectly, but I would have liked to have a whole egg instead of just half.
*A side note for my plant-based friends: They do have veggie broth!
2. Service and Environment 🍜8/10
First of all, any restaurant that has free and ample parking already wins points in my book.
Now, I do have to mention that I did not stray far from my table and also was sitting facing the wall, so the only reason this isn't a full 10/10 is because I don't know what the kitchen looks like and I didn't visit the restroom. From what I did see, the restaurant is actually very clean and when one party got up and left, the staff were quick to bus and wipe down the tables and chairs. The environment has a very modern industrial decor theme with lots of wood and steel accents, which is very trendy and cool. It's definitely a place where I could bring my friends and I could say "I know this cool ramen shop in Granada Hills..." and they'd believe me when we walked in. It's a warm environment and it's not so jam packed that each table doesn't have any privacy.
Our server was great! I didn't catch her name, but she was attentive and personable, making recommendations and double checking that we were okay with our spiciness levels (which clearly I was not, but that was my fault). They weren't terribly busy when we visited around 8 PM on a Tuesday night, which probably lent a hand in our great service. We probably waited about 10 minutes for our ramen to come out after ordering (which is perfect if you're HONGRY).
Prices are also fair. My ramen with tax & tip cost about $15.
The only thing I would say is a bit of a bummer is they don't serve alcohol. I'm not sure if they're in the process of trying to obtain their liquor license (as it can be a long process), but as of Feb 2019, they don't serve alcohol unfortunately.
**BONUS: We ordered dessert! We ordered their churros with ice cream! We split one order between three of us which was kind of weird because the dessert comes with two halves of a churro (good for sharing on a date, but not when there's a third wheel lol). But super tasty & would get again!
Overall, Rococo Ramen scores a 🍜7.75/10
...and I would definitely go again since it is reasonably priced and close to where I live. They do have take-out, but since they're relatively new (having opened in Oct. 2018 according to Yelp) I'm not sure if they're on Postmates or GrubHub yet.
Let me know if you like these ramen reviews and if you have any suggestions for other ramen shops in the Los Angeles/Orange County area that I should try! Also, leave a tip if you like so I can eat more ramen!