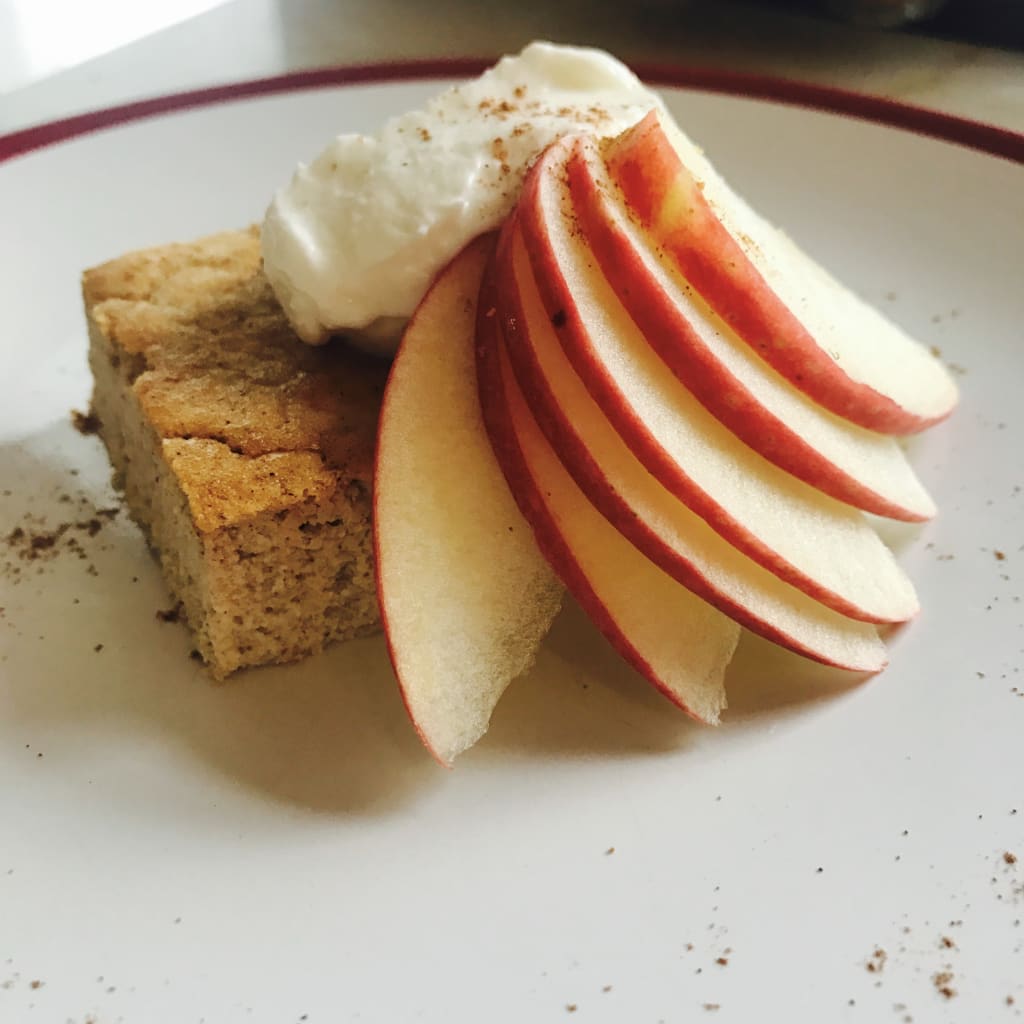 On this 2018 health journey, much has been said about the value of protein. There have been a few recipes thrown around, like my protein granola bars, and these delicious protein pancakes.
But what has been an absolute discovery has been this protein apple flan. Made with 2 ingredients (4, if you add protein powder and spices like I did) it is the easiest, most delicious dessert-for-breakfast thing I have ever made that I don't have to feel guilty about. Each serving has 9 grams of protein.
Now for a little context: my father came to visit, and gifted me with 120923 Pink Lady Apples. Don't get me wrong, Pink Lady apples are delicious. They are sweet and crunchy and so versatile. We actually made these granola bars with them too. However, as much as an apple a day keeps the doctor away, there are only so many apples a girl can eat before she is sick of apples.
Unlike bananas, apples don't freeze well. So, what is a girl to do with all her apples other than bake them?
Which is how we come to this recipe, because the internet is a great place. Our recipe is a variation on this recipe found while browsing the internet.
Ingredients:
4 Pink Lady Apples, skin on (about 480 grams or 4 cups)
4 whole eggs
2 egg whites (or 2 scoops of protein powder)
1 tablespoon of pumpkin pie spice (or mixed ground cinnamon, ginger, and nutmeg)
We chopped up our apples into chunks, and blended them up with the eggs. It was so easy! Try it to believe it.
We added whey vanilla protein powder to our flan instead of egg whites, so the ones in my fridge at the moment aren't strictly dairy-free, but it's a modification that is simple and effective. Maybe add a little vanilla extract to yours.
That's it. No added sugar, no flour of any kind, no butter or milk or anything else that you would expect in a flan recipe.
Make sure you use sweet apples for this recipe. If you don't have Pink Ladys, use any red or yellow apple. This is not the time to bring out your Granny Smiths. Because there is no added sugar in this recipe, you really want all the fructose you can get. We keep the skin on, for added fiber, but if you don't like the texture, go ahead and peel them.
There's two ways you can bake this:
Individual super-cute portions (makes 6)
Cake-style
If you are going to bake it as one cake, like we did, make sure you grease your pan, or line it with parchment. We baked it in a rectangular pan that was 25cmx15cm which is my go-to pan for everything. We made sure to let it cool completely before taking it out of the pan. While it cooled, it shrunk a little, which made it easier to flip. It made 6 generous pieces. It could make 9 modest pieces, but if each one is 122 calories why would you want to make it smaller?
You just pop the tin(s) in an oven at 175°C (350°F) and bake until a knife inserted into the middle comes out clean. It took our oven 25 minutes but don't trust our oven; it's a lying piece of work. The original recipe called for 40 minutes of baking. Like any cake, start with 20, and go from there.
What you want to look for is a slightly puffy middle, browning around the edges, and like I said, a knife should come out clean. Like any cake.
This particular cake is best enjoyed cold. Trust me on this one; when it is warm it just smells like eggs. Which is fine, if you're a savoury-breakfast kind of person. Not so good when you want dessert for breakfast!
Seen served here with a dollop of Skyr yogurt for extra protein, a few slices of apple for crunch, and a sprinkle of cinnamon.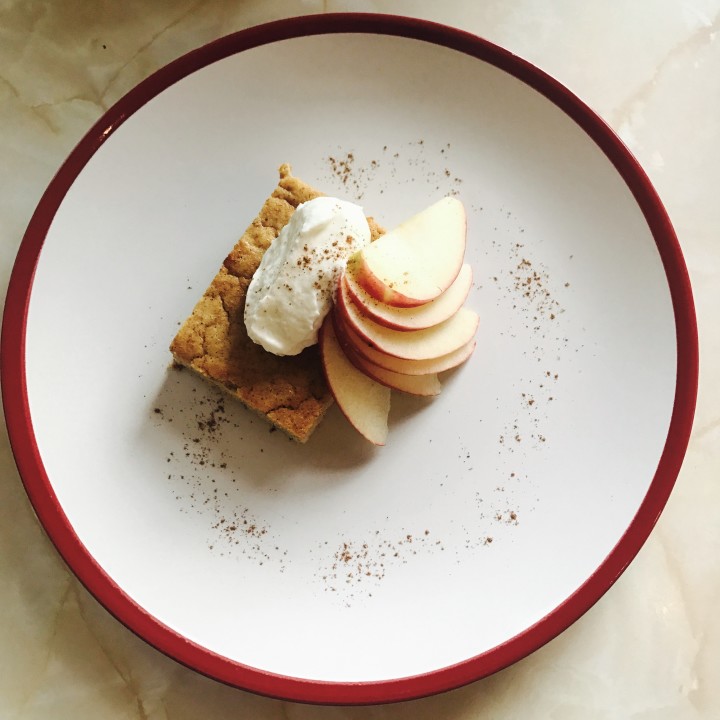 recipe