peppered mango orange juice
this is the best juice I've ever made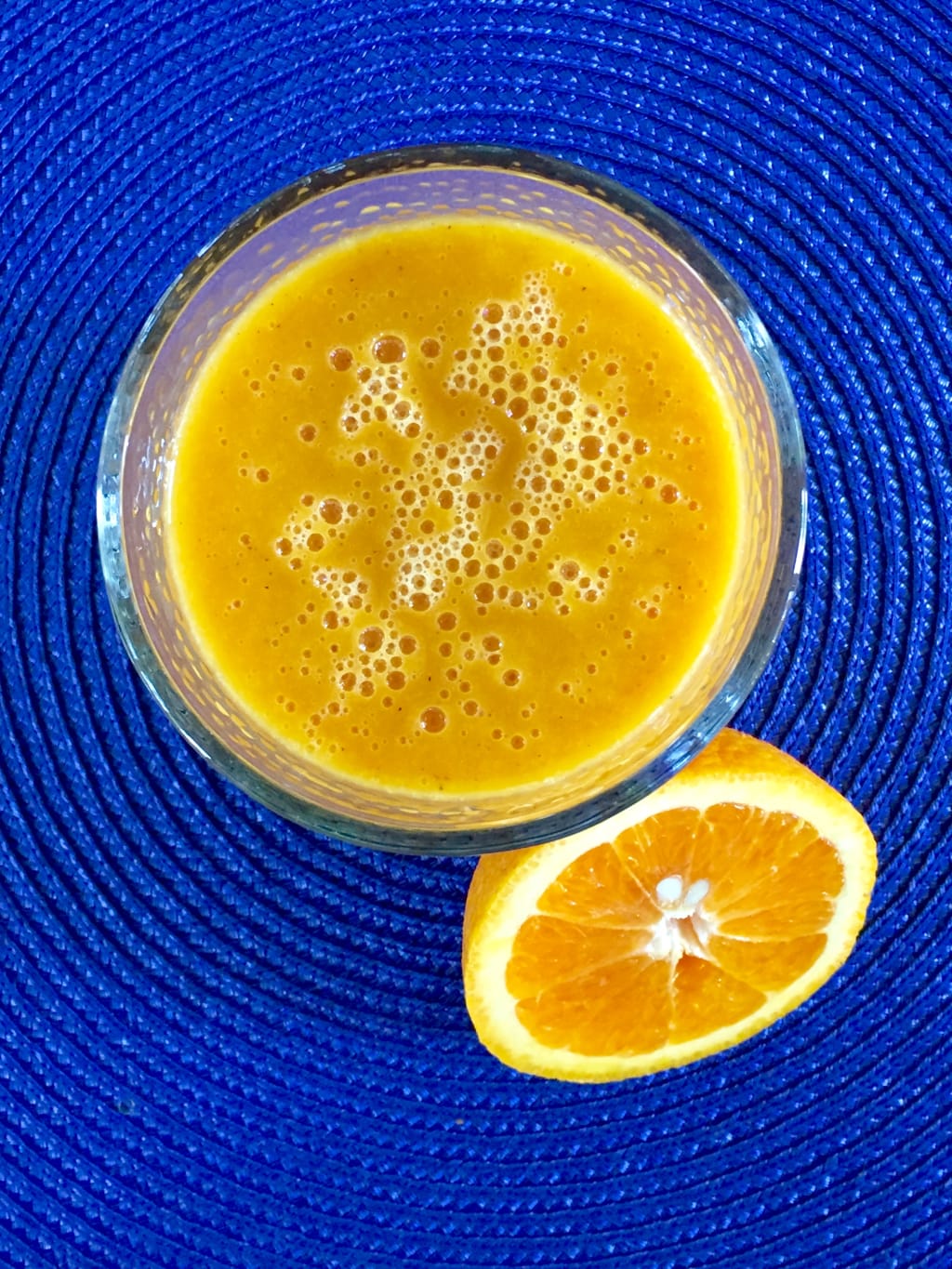 I post roughly one recipe on this blog every month, depending on how I'm feeling, but I felt like posting a little more this month because obviously, I have time to do it. As everyone's focusing more heavily on cooking at home, I'll probably keep posting these a little more frequently over the next month or so. We'll see what happens.
As a side note, I create recipes every month on my patreon (as well as posting writing that I don't publish anywhere else). I put out a lot of content for free, and people frequently ask how they can support me. This is an option. Otherwise, you are able to tip me through this blog, which is free to read and will remain free to read. I hate doing self-promotion too often, but it's necessary sometimes, so this is a friendly reminder of ways to support as I continue putting content out. I don't do self-promotion in this way very frequently, but more people are reading this blog now and DMing me to ask, so I'm answering! Anyway, let's get into the recipe.
This recipe has a lot of intricate, moving parts that come together to make a perfect whole. This is not, by any means, the most extensive recipe I've ever posted, but I like to switch it up between recipes that are much simpler and others that require a little more effort. This time, however, I'm bringing you a recipe that requires more preparation in advance, but it is completely worth it. This is my peppered mango orange juice--definitely the best drink I've ever made. I fear that I will spend the rest of my creative life chasing the high I got coming up with this drink.
I try to come up with other uses for ingredients when I'm required to make a large batch of something. Rosewater has many uses outside of food and beverage, and I'm sure you can do the legwork of that research on your own if you haven't already. As far as drinks go though, rosewater is great for adding a subtle floral hint as a component to a drink that is most of the way there, but needs a little something extra to make it pop. I've used rosewater in lemonade, it makes a great addition to smoothies of any kind, at it doesn't hurt to add some to tea (hot or iced). None of this is new, I didn't invent the idea, but incorporating it into this drink was masterful, and I'm not just saying that because I came up with it myself. This juice is nothing to sneeze at. This recipe serves one.
You will need:
1 green mango (peeled, sliced, peppered and frozen)*
½ cup of valencia orange juice
¼ cup of carrot juice
¼ cup of water
2 T rose water**
½ teaspoon turmeric
*peppered mango: peel and slice one fresh mango and generously sprinkle with fresh ground pepper. I chose to freeze it after peppering, but that isn't necessary if you plan to refrigerate the juice after making and before drinking it
**take 1/4 cup food grade rosebuds and 1 1/2 cups water and bring to a boil. then, reduce to a simmer until color drains from the rosebuds and into the water. remove pot from heat, allow it to cool. refrigerate remaining rose water.
When prepped ingredients are ready (peppered mango and 2T rose water), combine all in a blender and pulse until evenly blended. If you don't like pulp or texture of any kind, strain through a fine mesh strainer to ensure completely smooth consistency. Pour into glass and enjoy.
recipe
beautiful woman doing beverage reviews and recipes