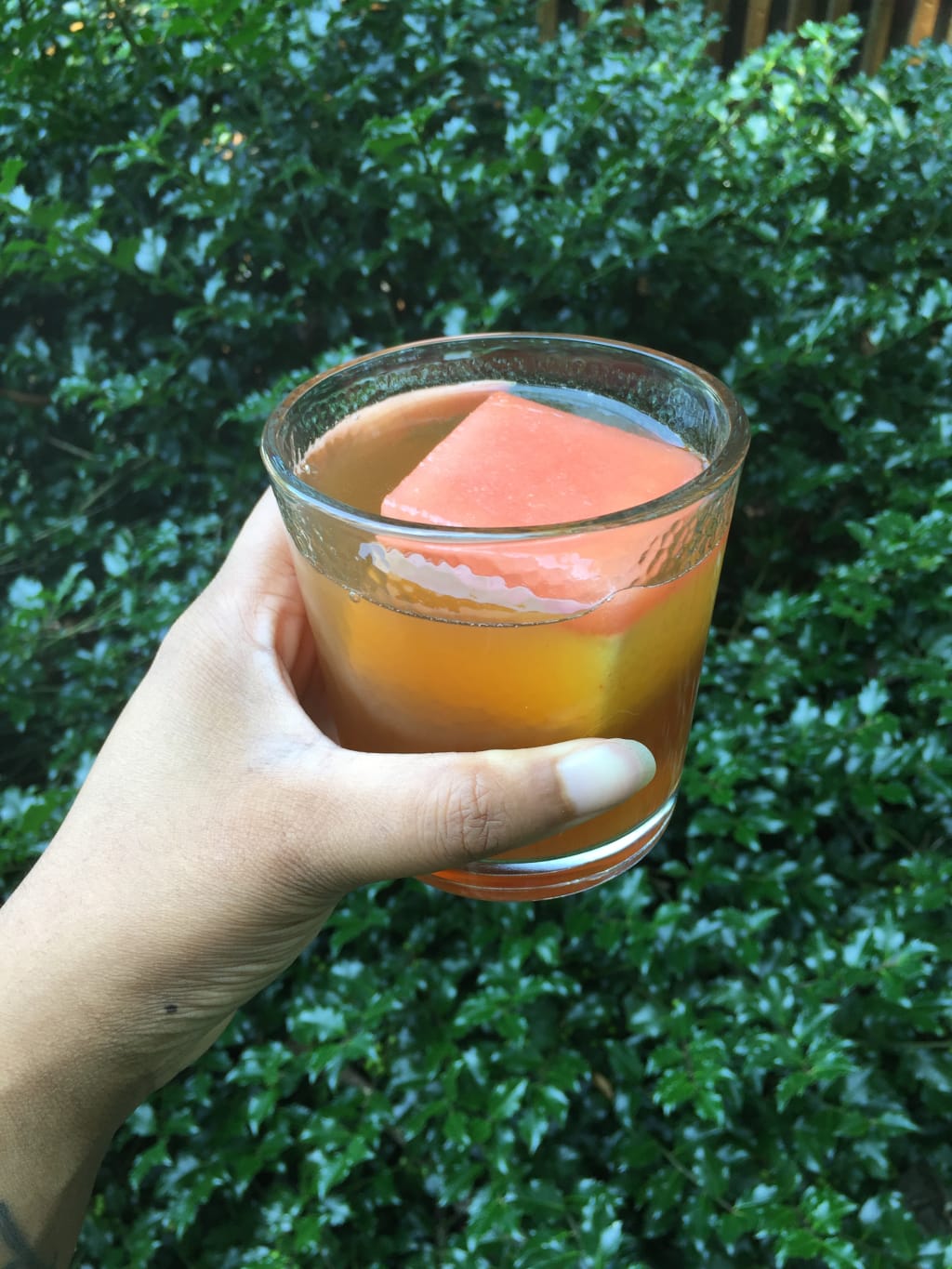 love on ice
I've been listening to the Key! album 777 a lot and came up with this drink. This recipe takes a little time and patience. It's not difficult, but it is not a "quick" recipe. Don't rush it. This makes one pitcher.
I used:
A blender
An ice cube tray (any size will do, but I chose one that makes large block cubes)
One green mango (room temperature)
Handful of frozen pineapple
Handful of frozen watermelon
Cayenne pepper
Black tea
Water
I started with making the watermelon, pineapple, cayenne cubes. This part allows for some personal freedom. I made different cubes with varying amounts of pineapple and watermelon in each. I did choose for the pineapple to be the bottom layer though, because frozen pineapple freezes firmer than frozen watermelon, and I wanted the cubes to retain shape when I popped them out of the silicone tray. I always have frozen watermelon and frozen pineapple on hand, so I took about a handful of each, and blended them separately with a splash of water.
I sprinkled the bottom of the trays with cayenne pepper, filled the trays with varying levels of the frozen pineapple slush, sprinkled with cayenne again and froze them. When they were frozen firm (firm enough to press in the tray with my finger without damaging the surface, I poured the frozen pureed watermelon on top and froze them again.
(If you don't like cayenne/spice, that's okay, and you can skip that part, but it does throw off the flavor balance of the drink).
Separately, I sliced the green mango, and placed the slices into the bottom of a pitcher. It's important that the mango is room temperature, because fruit flavors blend better when there is either:
Less water to dilute the flavor
Less of a temperature difference between what is being combined.
I brewed enough black tea for a pitcher full of tea. (The number of tea bags used is entirely up to you/depending on your preference. I'm not going to boss you around here).
After removing the tea bags, I let the tea sit until it was room temperature, or at least not scalding hot, and poured it into the pitcher of sliced mango. From here, I gently muddled the mango with a spoon at the bottom of the pitcher. (I always save my tea-soaked mango and freeze it after this process is done, so I did this gently. Also, I will use tea-soaked frozen mango in the next recipe I post. Once the tea became a cloudy brown rather than a dark, pure brown, I removed the mango, put in a plastic bag and put it in the freezer). I've made this multiple times, and tasted it as I went. I did not add any additional sweetener or sugar to the tea. It isn't needed and I don't recommend adding any.
Refrigerate the pitcher of tea.
Once the pitcher of tea is cold enough and the cubes were done, I placed a cube in a glass and poured the tea over it.
That's it. Play "Love on Ice" and sip.
This recipe is perfect as is. The heat of the cayenne, the sweetness of the mango tea, the sharp citrus of the pineapple and the melon all mingling together create a balanced, perfect beverage. I know that with this recipe, and others, people may want to add alcohol to it. You're obviously free to do so, but I don't drink, so I won't suggest alcohol to add to my beverage recipes. That part is up to you. If you choose to follow this recipe and make the drink, PLEASE send me a picture. I'd love to see it!
recipe
beautiful woman doing beverage reviews and recipes