New Food Ideas
How to innovate in the kitchen and beyond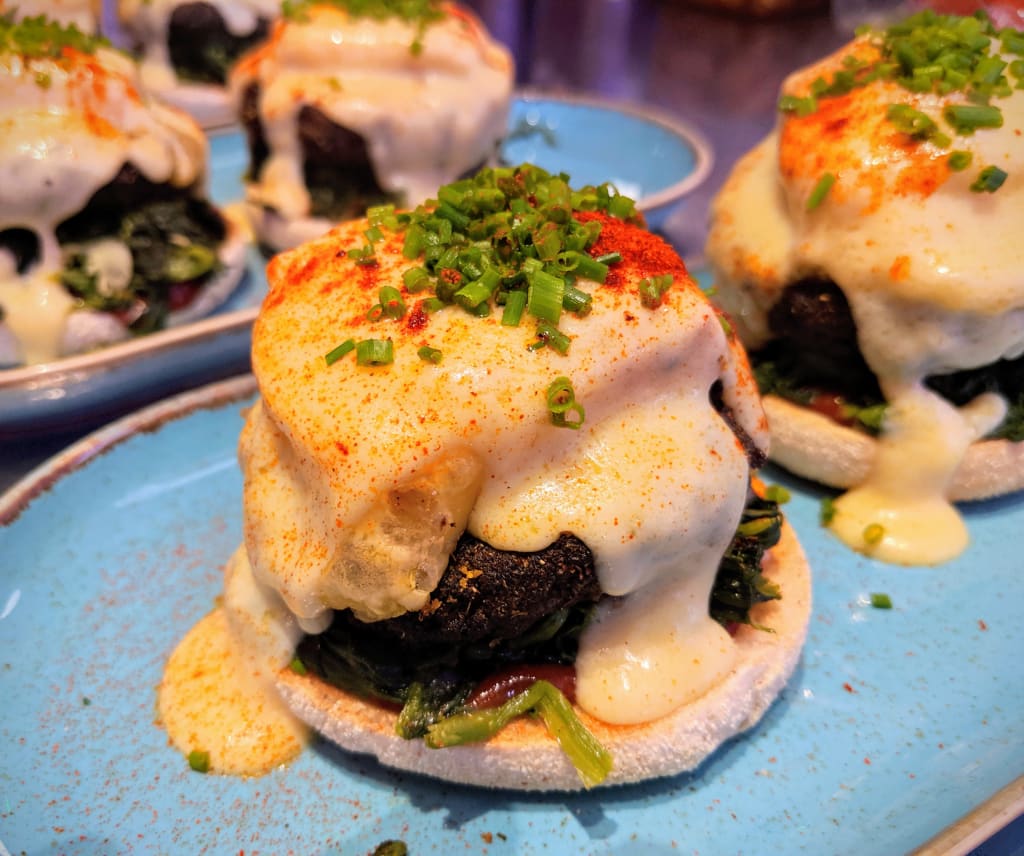 A vegan brunch event at DoppleGanger, Cambridge
Everyone has ideas, it's what you do with them that matters.
1. Ideas are everywhere.
Most of the food ideas are coming from something that was done before. Many successful restaurants focus on authentic cuisine and original flavours. This means that every new recipe is a long-forgotten traditional one.
Other times meals are made in a way that matters. Italian, French and Asian cuisine are very popular across the world for two reasons. First, the wide spread of European and Asian cultures with a strong focus on the high quality, deep flavour approach to each ingredient. French and Italian food cultures are known for mastering practising cooking techniques, experimenting with each ingredient, extracting the core flavours and re-inventing the food culture. As we all know today they are the masters of high-end cooking with restaurants around the globe which pioneered precision, graciousness, deliberate design in and out of the kitchen, and multi-dimensional culinary experience.
One approach is to use traditional inspiration with dishes and ingredients well-known across the board. Another way is to make products using authentic ingredients that are less known but have a significant impact on the regional food culture.
Today's new products can have simple base ingredients refined with modern cooking techniques.
2. Combination is a way for creation.
Another valuable innovation tool is the combination of ingredients, techniques and flavours of various cultures to make new flavours. BBQ tofu for example is a combination of classic products of Asian and American origins. The benefit of such collaboration is the simple enhancement of flavour with BBQ sauce using a versatile soya base. Together those products complement each other, the simple flavour of tofu benefits from the distinct American summer vibes. Smoky sweet BBQ sauce enjoyed on the grilled meats gives new life to the Asian bean curd cheese. The invention works well for both cultures mixing staples with cultural counterparts. In addition to that, tofu can be enjoyed as a healthier meat substitute in the familiar application.
3. Add the twist.
Creation can be difficult. Home cooks, cooking hobbyists and food enthusiasts are always ready to try something new but they don't want to fail. However, it's almost impossible for something to go wrong if the recipe is re-invented with a new flavour added or other ingredients replaced. It requires some degree of functional knowledge - baking soda lifts the cakes up and requires activation with acid in any recipe. Once you know what acidic component it is you can swap it. Lemon juice can be swapped for vinegar, lime juice or another citrus, as well as coffee or berries.
The Internet is full of gluten-free versions of tarts, cakes, breads, cookies and desserts and other flour-based dishes. The replacement ingredients are gluten-free flour (a blend of various starches with similar properties to wheat flour) and extra functional ingredients to meet the desired result. The same thing happens in vegan cooking, where similar meat products are replaced with meatless substitutes or outright plants cooked in the same way. The result is the experience of the same flavours with none of the guilt of eating animal-derived ingredients.
Replacing one or more ingredients in a dish might not sound as exciting because, at the base of it, it's still the same dish that opens up the door for customers with special needs.
Creative chefs do this all the time. For example, adding beetroot to the dumpling might not be too much in terms of changing the dumpling but it creates a new experience. Purple-red dumpling is visually more exciting and can be paired with colours that would not work before. In terms of flavour, every new note can be either hidden away by more flavoursome sides or elevated by adding a suitable pairing. Professional chefs can use the same ingredient to make a variety of dishes from drinks, to the main course, to dessert to highlight the spectre of possibilities.
For the food manufacturing professional, this way of new product making can be an important step in removing the presence of allergens, introducing eye-catching colours and creating a unique selling point.
Subtle changes can go a long way towards making a long-term significant impact.
4. Excellence, for everyone (Innovation for manufacturers).
The final type of innovation, the unlikely winner of the race, is making high-quality foods cheaper, more available for everyone or significantly improving the well-established product. This technique is less of an innovation on the product and instead is an overall improvement of the market. It is innovative for the group of people who might not have had the product before but are interested to try it when it's more common.
In the food industry products are divided into the categories:
Value - products that are basic in quality and cheap. Highlights - efficiency, speed and high-yield manufacturing.
Standard - average quality product for people of low-medium income. More focus on flavour and texture than on the value categories. Still cheap and unimpressive.
Premium standard - a step up from the standard category. The main selling point - is the availability for the middle class that's willing to spend money from time to time for indulgences. Products in this category are made using a small number of special ingredients or techniques. Innovation happens by improving the quality of the commonly known flavour or making a well-known premium product into a cheaper, more available product. The main focus is the selling point. Usually average/high price combined with good eating experience, widely available for all incomes.
Premium - in this category food made with respect to the taste, speciality ingredients and techniques. The main focus is the unique, traditional or excellent flavours. These products are expensive and rarer. For this range of products manufacturers go the extra step to ensure the highest quality of the ingredients, authentic experience and no compromises. People who are buying those are upper class or adventurous middle class who can spare some money once in a while.
Ultra premium range - a range of products that do not exist in every supermarket. A class of products with unique heritage, often long and complicated process, very regional with the proof of authenticity and claims for excellence. In this category, you can find truly unique breeds and types of ingredients. More specifically, these are craft products. People who make those are taking pride in what they are doing. Ultra-premium products are rare because of the high price, and low interest from the majority of the population. They are celebrated and promoted by the chefs to create a truly one-of-a-kind eating experience.
Move of products from one category into another happens naturally, however, most often it is the value range that gets cheaper and standard ranges that go down in quality to reduce the price further. Other times a good product gets an upgrade without a price increase and the ultra-premium champion gets more recognised and pushed forward to the masses on promotions.
This type of innovation can be seen in the catering and restaurant industries. For example, fast foods like tacos, burritos, pizzas and others are standard foods made into value-based ready-meals for people. Making it available cheap and convenient. At the same time, pizza is a great example of premiumisation. Today, food that has been "bread with a topping" for decades, eaten by the working class is an obsession for folks in the western world. Pizza restaurants vary significantly with some putting salmon, caviar and truffles on the flatbread just to indulge their wealthy customers.
Choose a type of innovation that suits your needs and the needs of your people. Or experiment with techniques, replacements, forgotten and new flavours to unleash your creative side.
This piece was written in June 2020 and re-edited and published for Vocal by yours truly - The Food Guy. If you savoured this and are still hungry, check my profile and tip to support food knowledge.
About the Creator
I read about food politics like it's a Harry Potter.
Eating my way through culture and cooking up the future.
Reader insights
Be the first to share your insights about this piece.
Add your insights