My Ultimate Green Bean Casserole
Recipe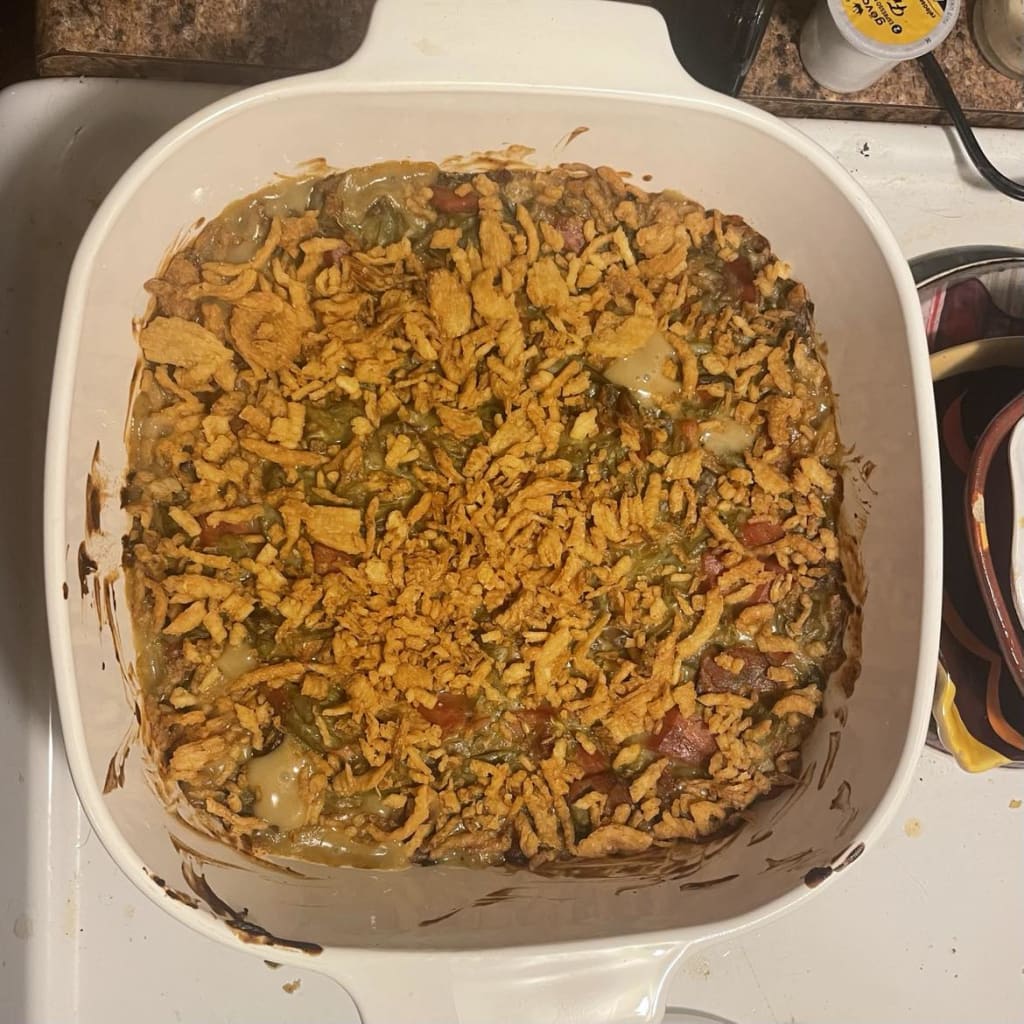 This is what mine looked like after taking it out of the oven.
I love green bean casserole, it's a recipe that most people know by heart a lot of the time. It's one of my favorite side dishes at Thanksgiving. But having to wait until Thanksgiving was so hard, and to have it only have a side dish? I wanted to make a meal in itself. So here's my Recipe.
Ingredients
3-4 cans of French cut Green beans (Drained)
2 cans (10.5 ounces each) condensed cream of mushroom soup
¼ cup whole milk
1 teaspoon garlic powder
1 lbs of bacon
1 lbs of cubed ham
2 containers (2.8 ounces each) French-fried onions
2 TBSP of kelly's irish butter salted
2 TBSP of brown sugar
Instructions
Heat oven to 375°F.
Chop bacon into about ½ inch pieces. Cook bacon to your liking, drain excess grease with a paper towel. Leave a little bit of grease in the pan, then add a tablespoon of butter to the pan. Then add a tablespoon of brown sugar. Stir to combine with bacon. Once the brown sugar is melted, and the bacon is coated. Put the bacon aside in a bowl.
Then take the cubed ham, and put it in the same pan and give it a good sear. About five-ish minutes. Then add the rest of your butter, and brown sugar. Then add back the bacon, and combine them together. Then put it all back into a bowl to rest while you make the main casserole mixture.
In 1 1/2-quart casserole or glass baking dish, mix green beans, soup, garlic powder, one container of the fried onions, bacon, ham, and milk. salt and pepper to taste. (I usually use a huge bowl to mix everything together, then dump it into the casserole dish.)
Bake for 30-40 minutes, topping with the other container of onions during the last 5 minutes of baking, until bubbly.
NOTE: If you don't want to candy the ham and bacon. you don't have too. Just get good deli ham, as thick cut as you can get it. enough to get to a pound. Same with the bacon. If you wanted to you could just candy the ham, and get a pound of black peppered bacon. Either way, it'll be fantastic. I've done it all of these ways. I prefer to candy both, but its up to you. Also If you can, get a can of normal cream of mushroom soup, and a can of roasted garlic cream of mushroom soup. I find that using this combination is really nice, and flavorful.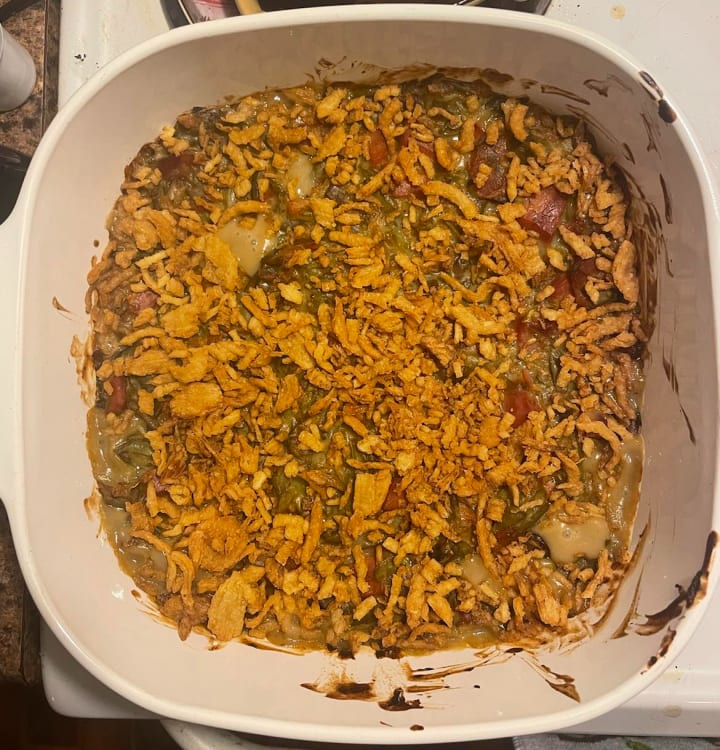 It took me a while to get this recipe perfect for my family. My partner loves this recipe, and has requested it every year for his birthday since I first made it for him in 2020 for Thanksgiving. I hope y'all like it too, please let me know if you've tried it. Also let me know what you think! This is my second time publishing a recipe, so I hope it's written well enough to follow easily.
When I make this, there are hardly any leftovers. My MIL and FIL Love this recipe well, they get so excited when I make this. It's warm, comforting, and filling. I made this for Thanksgiving in 2021, to take over to my partners' grandmothers house. Where a lot of his extended family was as well. I also made Jello Fluff. But everyone there loved my green bean casserole, and asking how I made it. To be honest, I didn't want to share my recipe at first. This is honestly a recipe that I knew by heart, that I tweaked around with to get it the way I liked. A lot of experimenting, figuring out what I wanted, how I wanted it to taste. But now, I want to share my favorite recipes that I make for my family. I also have this recipe up on allrecipes: RedPanda13.
About the Creator
I've been writing off and on for a few years. I have a lot of topics to write about now. I'm 24, nonbianary, and love listening to music. I've been working on a oringinal story for some time now, and I'm excited to share it with y'all.
Reader insights
Be the first to share your insights about this piece.
Add your insights