Mason Jar Cakes
So Easy and so Delectable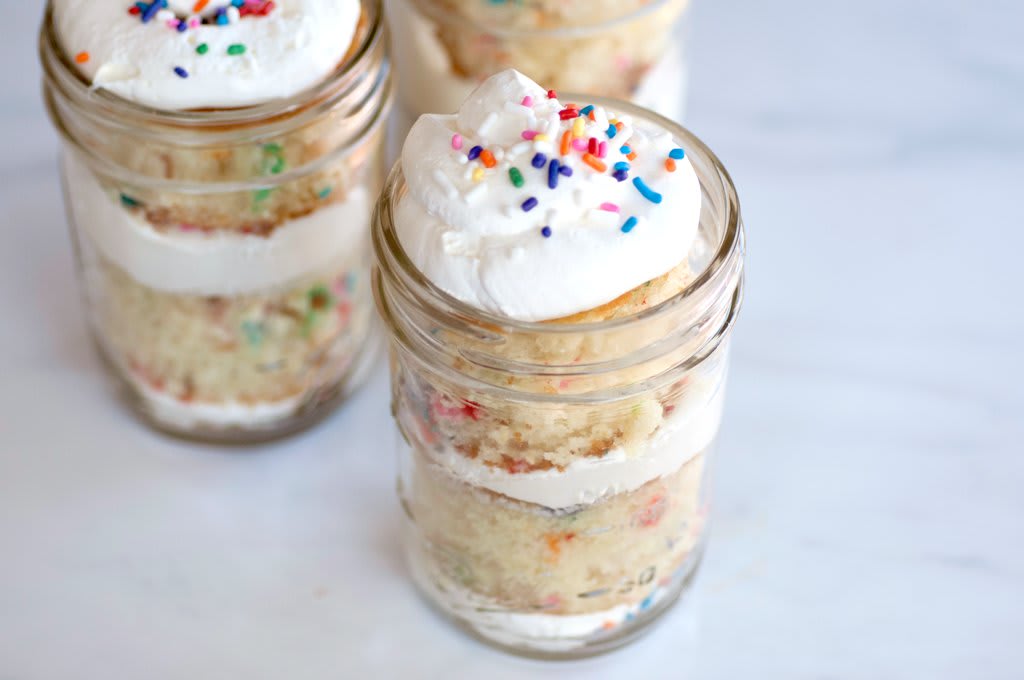 This recipe is one of my favorites because it is so easy, and yet so versatile. When I moved into my new house I found a ton of brand new mason jars in the basement. My first thought was to use these cute little jars for crafting ideas. But, in all reality, I am a really unmotivated crafter. It's one of those situations where I see a cute craft idea and try to copy it, but my end result never quite lives up to the real thing. Basically, my granddaughter, who is in kindergarten does a much better job.
Here I was with a ton of mason jars that I really wanted to use in a creative endeavor. I did a little research and to my delight I found some examples of mason jar cakes. What a wonderful idea!
The thing is, you can use any recipe you like to fill up these jars. The recipe works with cake and cheesecake recipes, layer cakes, muffins, quick breads, and other recipes. Or, if you are a hopeless baker as I seem to be, you can use a packaged cake mix.
I have a friend who was looking for an alternative to a wedding cake. She only had about 25 people coming so she really didn't want to invest in a regular wedding cake. I told her about mason jar cakes and she loved the idea of using them in lieu of a wedding cake. We used white cake mix and found an awesome recipe for wedding cake frosting. She decorated the mason jars with the tops wrapped in pretty paper with silver ribbons around the bottom of the lid. They were beautiful and the guests loved the idea of having their own cake, especially since they could take them home for a treat at a later time if they were too stuffed with wedding food to enjoy them right away. These little cakes also make awesome holiday gifts!
So, time to grab your wide mouth mason jars, and let's get started!
Determine what size of mason jars you want to use. Different size jars hold different amounts of batter. A packaged cake mix makes about 24 cupcakes. An 8 oz mason jar will hold two cupcakes, so you would need 12 of these small size mason jars. If you choose to use the 16 oz pint size jar, you would need six.
Always sterilize your mason jars before you use them, even if they are brand new. Just as in canning, sterilized jars avoid bacterial growth. It's a really simple process. Place the jars in boiling water for a few seconds. Remove them with tongs and allow to dry completely before using them.
The next step is to lightly oil and flour the inside of the mason jars.
Preheat your oven to 325 degrees F. Prepare your batter and pour into the jars about until they are 2/3 full. Wipe any excess batter than may have splashed above that 2/3 line of batter.
This step is very important. Mason jars require a water bath in which to bake. Fill a tall roasting pan or baking dish with hot water. The water should come to about halfway up the jar. Pint size Mason jars will take 25 to 30 minutes. If you ever choose to use quart size Mason jars, it will take close to an hour. A good rule of thumb is to use the baking time on your recipe or box and then add 15 minutes more. I use a thin bamboo skewer to test the Mason jars. It should come out clean when pushed into the center of one of the jars.
When the cakes are done, carefully remove them from the pan. For cupcakes, cakes, and quick breads, you can immediately place the lids on and screw on the rings. Cheesecakes should be cooled before adding the lids and screw rings.
Baked goods can be stored in sealed mason jars at room temperature for a few days. Cheesecakes should be refrigerated and eaten within three days. There is a bit of a conflict on how long these treats should be stored in the mason jars. I opt for eating them within a week or so.
It's amazing how many different combinations you can come up with.
Enjoy!