Make Tasty Swaps for Your Health with Seafood
Transform Traditional Dishes with Seafood in These 4 Recipe Swaps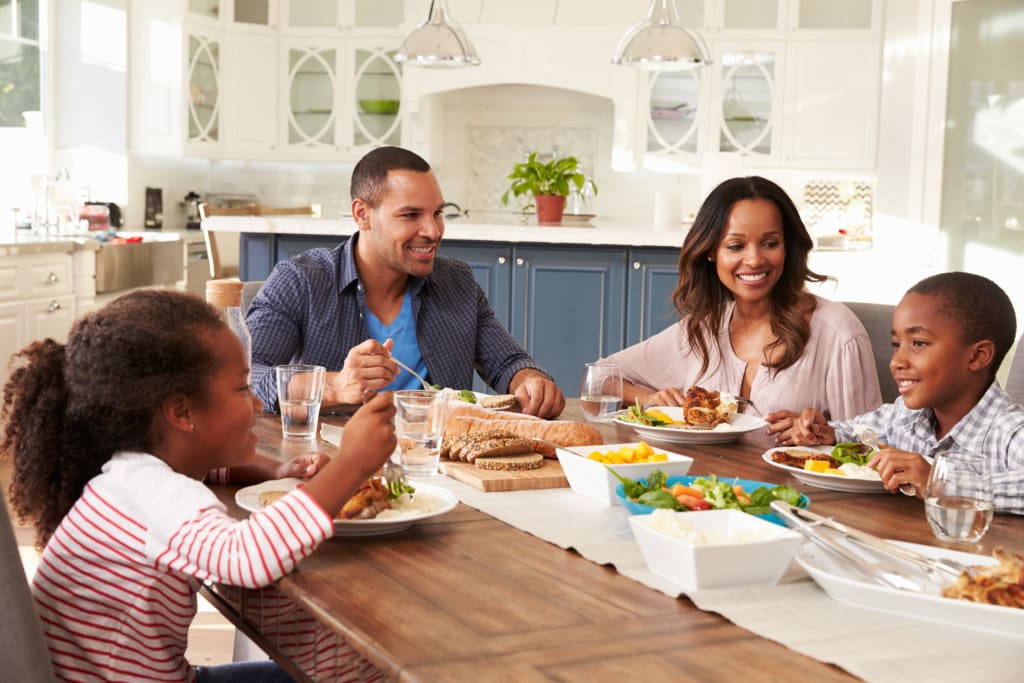 Now more than ever, food choices matter. People want healthy, environmentally friendly foods without sacrificing flavor. Substituting the traditional protein in your favorite dishes with seafood is one deliciously smart way to satisfy these demands.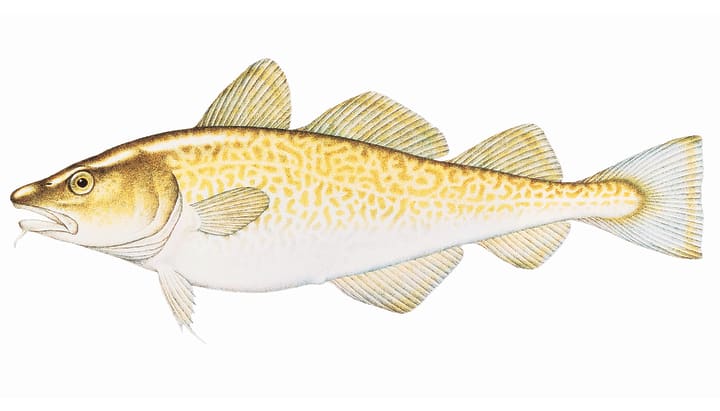 What's in a Name?
For many ingredients, substitutions are no problem. For example, pollock, which is a member of the cod family and shares many of its attributes, including a firm texture, mild flavor and snow-white fillets loaded with lean protein, works in any recipe calling for cod.
However, at the fish counter it pays to pay attention to names because the Food & Drug Administration (FDA) regulates what foods sold in the United States are called. This allows consumers to know more about their origin and be confident in the safety and environmental standards used to raise or harvest the product.
Recently, the FDA made a change regarding pollock. Alaska pollock was previously a species name, which meant pollock from Russia or China could be sold as Alaska pollock. To clear up the confusion and help ensure consumers know the source of their food, now only pollock from Alaska can be called Alaska pollock.
Why Seafood Swaps?
Seafood offers numerous health benefits. In fact, because seafood is high in protein, omega-3 fatty acids and essential vitamins and minerals, but low in saturated fat and calories, several health organizations recommend two servings per week.
When it comes to the environment, seafood offers an advantage as well – it's the most environmentally friendly of all the animal proteins. In a comparison of environmental costs, wild-capture fisheries have a miniscule cost compared to foods such as beef, chicken, pork and dairy.
Changing up traditional meals to incorporate the goodness of seafood is easier than you may think. Just pick a non-seafood protein dish that you regularly enjoy, and replace the protein with one of Alaska's many species of seafood. For example, replace veal in veal parmesan with delicious Alaska cod or the chicken in chicken Marsala with flavorful Alaska salmon.
Find more easy, meatless recipes and inspiration at wildalaskaseafood.com.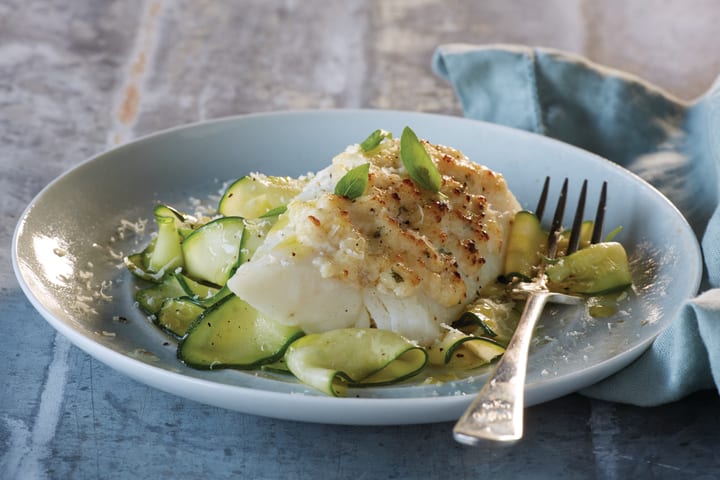 Recipe for Cod Parmesan with Zucchini Noodles
Serves: 4
Prep time: 15 minutes
Cook time: 20 minutes
Ingredients
2 medium zucchini (5-6 ounces each), thinly sliced
1 tablespoon unsalted butter
1 teaspoon olive oil
salt and pepper, to taste
1/4 cup freshly grated Parmesan cheese
1 1/2 tablespoons mayonnaise
1 teaspoon lemon juice
1/8 teaspoon dried basil
1/8 teaspoon dried oregano
1/8 teaspoon onion powder
4 Alaska cod fillets (4-6 ounces each)
2 tablespoons shredded Parmesan cheese, divided
Directions
In nonstick skillet, saute zucchini slices in butter and oil just until soft. Add salt and pepper, to taste. Keep warm.
Heat oven to broil setting. Mix grated Parmesan cheese, mayonnaise, lemon juice, basil, oregano and onion powder together. Add salt and pepper, to taste. Divide and spread topping onto the top of each fillet.
Place fillets on foil-lined broiler pan. Broil 5-7 inches from broiler element for 3 minutes, or until top is browned and bubbly. Reduce heat to 300 F and cook 3-5 more minutes. Cook until fish is opaque throughout.
To serve, place 1/4 of zucchini on each plate. Top with cod fillet and garnish with 1/2 tablespoon shredded cheese.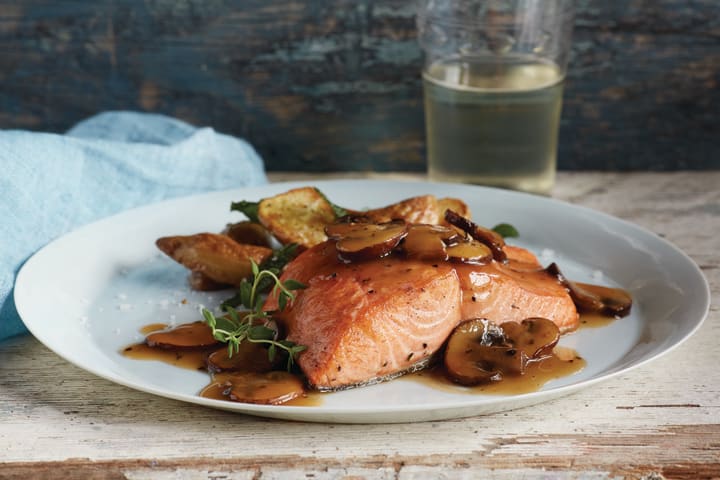 Recipe for Smothered Cod or Pollock
Serves: 4
Prep time: 15 minutes
Cook time: 20 minutes
Ingredients
1/4 cup olive oil
1/2 cup red onion
2 teaspoons garlic, chopped
1/2 cup red bell pepper, diced
1/2 cup green bell pepper, diced
salt and pepper, to taste
4 tablespoons flour
2 cups chicken stock
1/2 cup tomato, seeded and chopped
2 teaspoons fresh thyme
4 wild Alaska cod or pollock fillets (4-6 ounces each)
2 cups mashed potatoes, warmed
4 fresh thyme sprigs, for garnish
Directions
In hot saute pan, cook olive oil, onion and garlic for 1 minute. Add both peppers and salt and pepper, and saute 2 minutes. Add flour and stir until flour turns light brown. Add chicken stock and stir until liquid smooths and starts to thicken. Add tomato and thyme.
Season fish with salt and pepper, to taste, and place into simmering sauce and cover. Cook 3-4 minutes, carefully turn, cover and continue to cook until done, 3-4 minutes.
To serve, place 1/2 cup of mashed potatoes on 4 serving plates. Carefully remove each piece of fish and place on top of mashed potatoes. Evenly divide sauce over each piece of fish. Garnish each plate with 1 sprig of fresh thyme, if desired.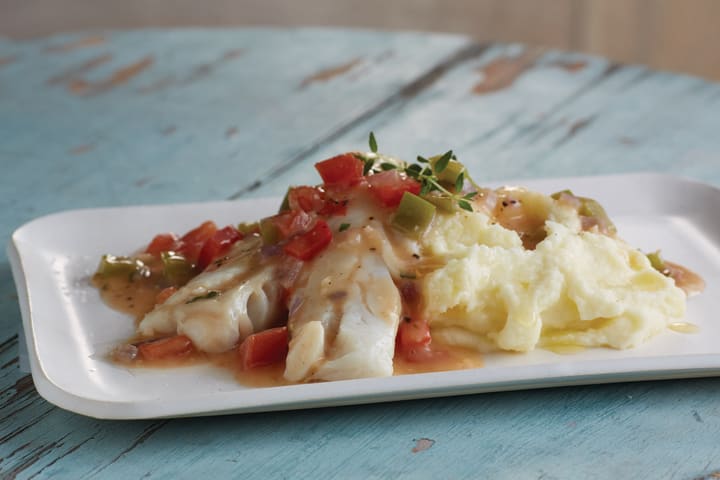 Recipe for Salmon Marsala
Serves: 4
Prep time: 10 minutes
Cook time: 20 minutes
Ingredients
4 Alaska salmon fillets (4-6 ounces each)
salt and pepper, to taste
2 cups flour
1/2 cup olive oil
1 cup Marsala wine
2 cups mushrooms, sliced
2 cups chicken stock
2 teaspoons fresh thyme
2 tablespoons cold butter
4 fresh thyme sprigs, for garnish
Directions
Season salmon fillets with salt and pepper, to taste. On plate, season flour with salt and pepper, to taste. Dredge both sides of each salmon fillet in seasoned flour, shaking off excess.
Heat large saute pan and add olive oil then place each piece of salmon in pan. Cook for 2-4 minutes, turn fillets over and cook until almost done. Remove fillets from pan; set aside.
Off heat, add wine to pan, scraping bits off the bottom. Return pan to heat and add mushrooms. Season with salt and pepper, to taste, and cook for 1 minute. Add stock and thyme, and let liquid reduce by half.
Return salmon fillets to pan. Cook, while basting fish, until fillets are heated through. Remove fillets to 4 serving plates.
Return pan to heat, add cold butter and swirl until incorporated and sauce slightly thickens. Remove from heat and divide sauce evenly over salmon fillets. Garnish each plate with 1 thyme sprig, if desired.
MORE ARTICLES FROM FEAST
3 Sorghum Recipes That Are Sure to Please!
4 Fast and Easy Flatbread Recipes
DISCOVER MORE GOOD ADVICE ON A WHOLE RANGE OF SUBJECTS!

Learn more at: https://medium.com/good-advice-publishing
recipe
About the author
Professor, Consultant, Doer. Founder/Publisher of The IDEA Publishing (http://www.theideapublishing.com/) & Modern Business Press (http://www.modernbusinesspress.com)
Reader insights
Be the first to share your insights about this piece.
Add your insights