3 Sorghum Recipes That Are Sure to Please!
See How Sorghum Can Be a Versatile Ingredient in Your Cooking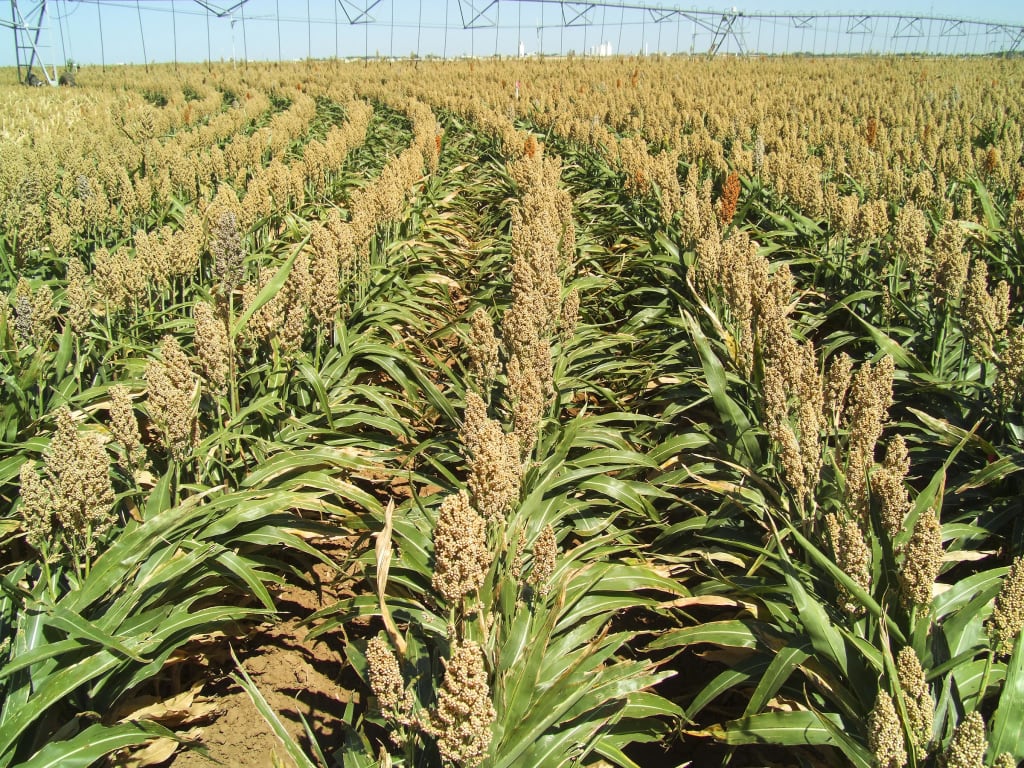 When you're looking for smart snacks and dishes to complement the main course, non-traditional ingredients can provide a flavor combination sure to please the palate.
Sorghum, which is naturally high in fiber, iron and protein, is a highly versatile ingredient that can be used in a wide range of preparations. This cereal grain grown in America can lend a delicious flavor to a host of flour-based foods such as pizza dough, pastas and cereals. It can also be consumed in place of whole grains in countless recipes and as syrup.
These winning recipes from the Sorghum Checkoff's Sorghum Recipe Showdown will help keep your taste buds tingling. Find more satisfying recipes using sorghum at Simply Sorghum. To find whole-grain sorghum for these recipes and other great-tasting sorghum products, visit Nu Life Market or Wondergrain.
Recipe for Sorghum Pecan Praline Cheesecake
Recipe developed by Brenda Watts of Gaffney, South Carolina
Ingredients
Cheesecake:
6 tablespoons unsalted butter, melted
1 1/8 cups sorghum syrup, divided
1 3/4 cups graham cracker crumbs
4 packages (8 ounces each) cream cheese, softened
1/2 cup sour cream
1/3 cup packed light brown sugar
2 tablespoons all-purpose flour
1 cup sorghum syrup
1 1/2 teaspoons vanilla extract
4 large eggs
Topping:
1 package (6 ounces) pecan halves
2 tablespoons packed light brown sugar
4 tablespoons sorghum syrup, divided
6 tablespoons unsalted butter
1/2 cup packed light brown sugar
3 tablespoons heavy cream
1 teaspoon vanilla extract
1/8 teaspoon kosher salt
Directions
Heat oven to 325 F. Lightly spray bottom and sides of 9-inch non-stick springform pan with removable rim. Place pan over center of 3 18-inch sheets heavy-duty foil and securely wrap foil around outside bottom and sides of pan.
For cheesecake, in small bowl, combine butter and 2 tablespoons sorghum syrup. In medium bowl, toss graham cracker crumbs and sorghum butter mixture together until crumbs are moistened. Press crumb mixture evenly into bottom of prepared pan. Bake 8 minutes to form crust; remove from oven and cool 10 minutes over wire rack.
In large bowl use electric mixer on medium speed to beat cream cheese, sour cream, brown sugar and flour, 3 minutes, or until well blended and smooth. Gradually add 1 cup sorghum syrup, vanilla and eggs (one egg at a time) and continue beating 3 minutes longer from low speed increasing to medium speed, or until mixture is well blended and creamy. Pour filling evenly over crust in pan. Place pan in center of large baking pan (e.g., roasting pan) and pour 1-inch of hot water in large baking pan, around filled prepared pan.
Bake 1 hour and 15 minutes or until center is almost set but slightly jiggles. Remove from oven, remove cheesecake from baking pan and gently remove wrapped foil from cheesecake. Place cheesecake onto wire rack to cool 15 minutes. Run thin, sharp knife around edge of pan to loosen edges; cool in pan 2-3 hours in refrigerator.
Meanwhile, prepare pecans. Increase oven temperature to 350 F. Line baking sheet with large sheet of parchment paper. In bowl, sprinkle brown sugar and drizzle 1 tablespoon sorghum syrup over pecans. Using large spoon, toss to evenly coat and spread pecans flat over parchment paper-lined pan. Bake pecans 8 minutes or until lightly browned and glazed. Place pan over wire cooling rack, use large spoon to separate and evenly coat pecans; let cool 10 minutes.
In heavy duty 1-quart non-stick saucepan, melt butter over medium heat. Add brown sugar and 3 tablespoons sorghum syrup into melted butter and cook 2-3 minutes or until blended and heated through, stirring constantly. Stir heavy cream, vanilla and salt into mixture; continue stirring constantly until praline mixture comes to a boil. Simmer until slightly thickened, about 3 minutes. Stir occasionally. Remove from heat and let cool.
To serve, remove rim of pan from cheesecake. Place cheesecake on large round serving plate. Place glazed pecans flat on top of cheesecake, starting at outer edges and ending in center. Spoon or pour praline topping evenly over top of cheesecake.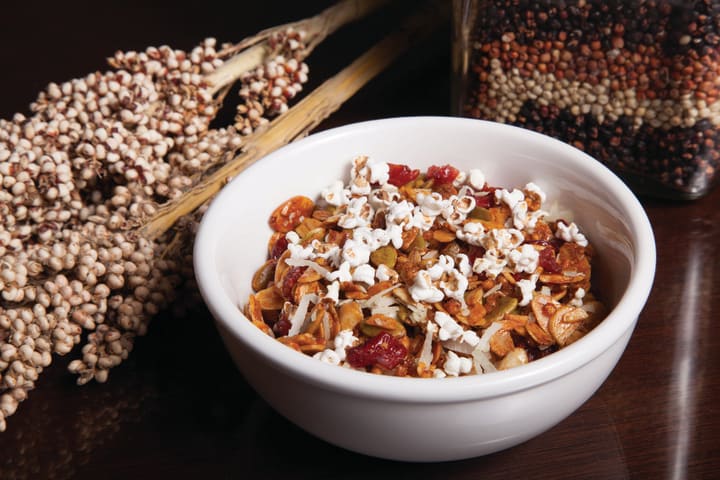 Recipe for Triple Sorghum Granola
Recipe developed by Pam Correll of Brockport, Pennsylvania
Ingredients
1 cup cooked sorghum (cooked according to package directions)
1/2 cup dry whole oats
1/2 cup pepitas (pumpkin seeds)
1 cup slivered almonds
2 tablespoons sorghum syrup
2 tablespoons coconut oil
1/2 cup dried cranberries
1/2 cup unsweetened coconut chips
1/2 cup popped sorghum (popped according to package directions)
Directions
Heat oven to 200 F. Spread sorghum on jelly roll pan. Place in oven 1 hour, turning every 15 minutes. Remove from oven and transfer to large mixing bowl. Stir in oats, pepitas and almonds.
Raise oven temperature to 300 F.
In 1-quart sauce pan, heat sorghum syrup and coconut oil until oil melts. Blend well. Pour liquid mixture over dry ingredients; stir to blend well. Spread evenly on jelly roll pan. Bake 30 minutes, turning every 10 minutes.
Remove from oven and stir in cranberries, coconut chips and popped sorghum. Allow to cool. Break apart. Store in airtight container.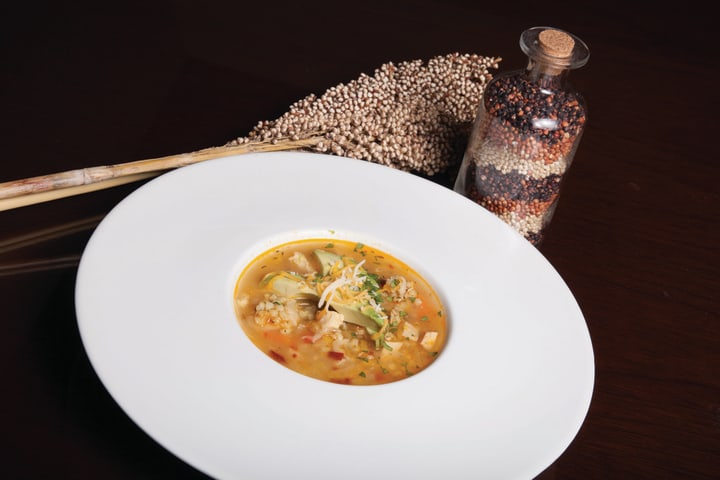 Recipe for Chicken, Leek and Sorghum Soup
Recipe developed by Fiona Green of Keller, Texas
Ingredients
7 cups chicken stock
1 cup whole grain sorghum
1 tablespoon olive oil
1 leek, thinly sliced
2/3 pound chicken, cubed
1 medium carrot, sliced
1/2 red pepper, sliced
1 tomato, chopped
2 chipotle chili peppers in Adobo sauce, chopped
salt and pepper to taste
2 avocados, sliced
4 tablespoons grated cheddar cheese (optional)
1/4 cup cilantro, chopped
Directions
In medium pot bring chicken stock to boil. Add sorghum, reduce heat and simmer.
Heat olive oil in frying pan, add leek and cook until translucent. Remove from heat and add to stock. Add chicken cubes to frying pan and saute until cooked through. Remove from heat and add to stock along with carrot, red pepper, tomato, peppers and salt and pepper. Simmer for approximately 1 hour. Sorghum grain should be soft. Remove soup from heat and allow to cool a few minutes.
Ladle into bowls and top with avocado, cheese and cilantro.
DISCOVER MORE GOOD ADVICE!

Learn more at: https://medium.com/good-advice-publishing