Kartoffelpuffer w/ Apple Sauce
You don't have to be in Germany to enjoy this awesome treat.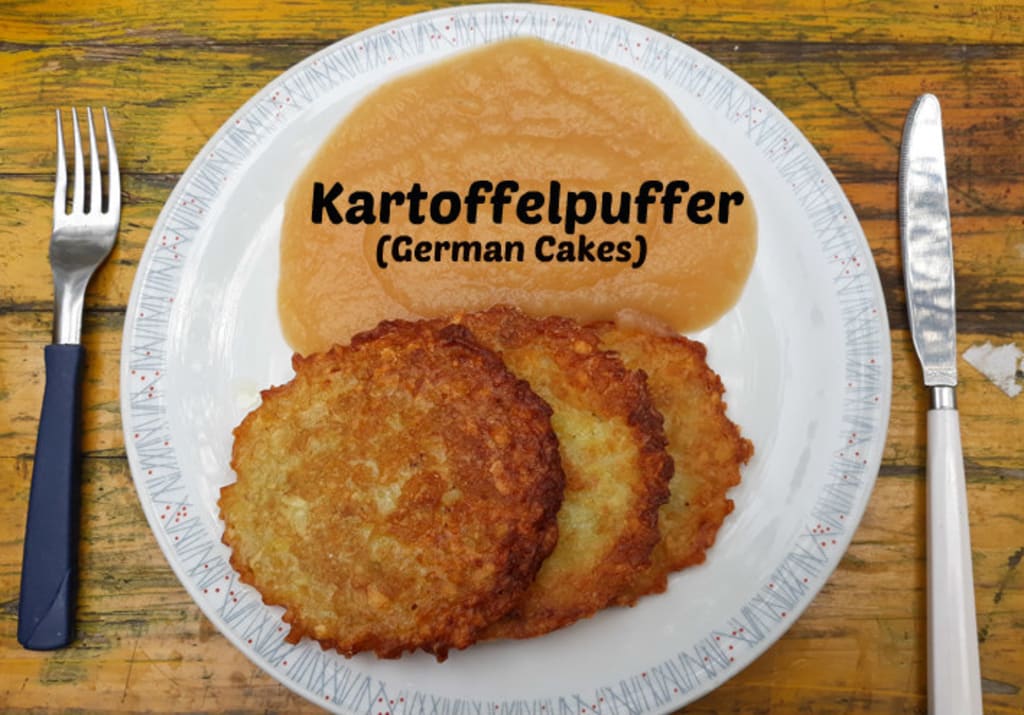 You don't have to be in Germany to enjoy this awesome treat. Believe it or not, it's pretty rare here in America. Not many people know about this little treasure. I'm not one to keep recipes to myself, I like to share the goodness and allow other people to enjoy it as well.
I have found various recipes on the internet for these, but this is the traditional version handed down by my grandfather.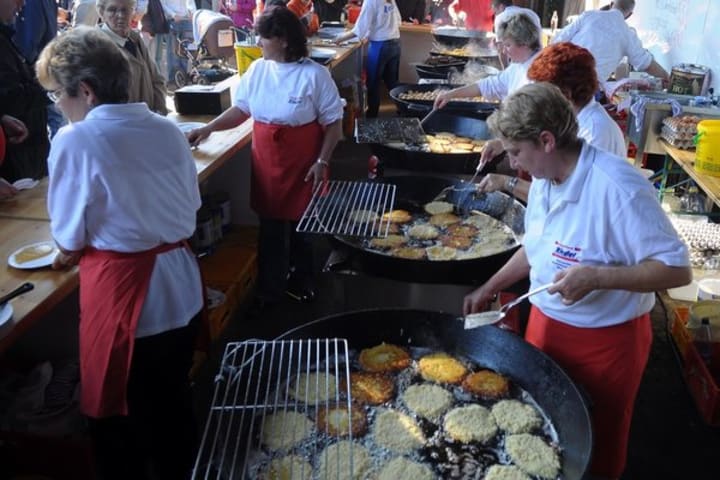 German Cakes (Kartoffelpuffer) are a rather special dish in the homeland of Germany. You'll find them being served around the holidays, at festivals and special gatherings. I for one make them year around, it kinda makes any old boring day a little bit special.
Because they're considered special, you'll be surprised to know just how easy and cheap that they are to make. It actually costs less than $10.00 to serve a heaping helping of German Cakes. They're traditionally served with apple sauce, bacon and pumpernickel bread.
My grandparents are German, so having Kartoffelpuffer was a common treat at their house. My grandpa was always the head chef when it came to preparing these. His recipe carried on to my mother and then to me. Now I'm happy to be sharing this family tradition with you. My grandpa had this all up in his head, so there was never a written recipe.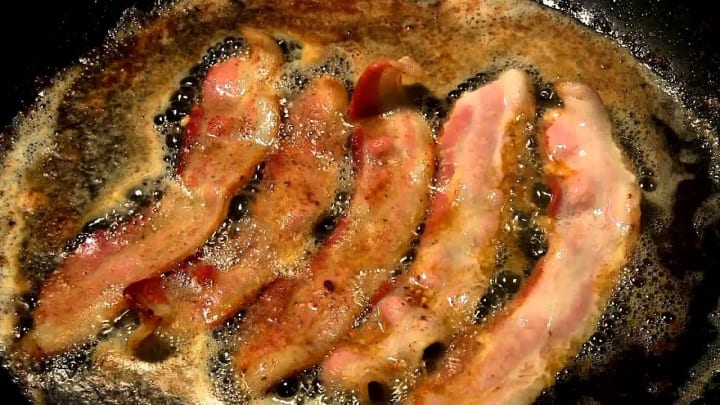 The first thing you'll need to do is to fry up your bacon. You'll need to use plain ol' pork bacon, none of that imitation turkey stuff! Although Kartoffelpuffer may not be the healthiest treat, it's so "verrrry" good.
Once the bacon is all crispy and done, drain it and sit it to the side. Don't empty your grease though, because you'll be using it again in just a moment.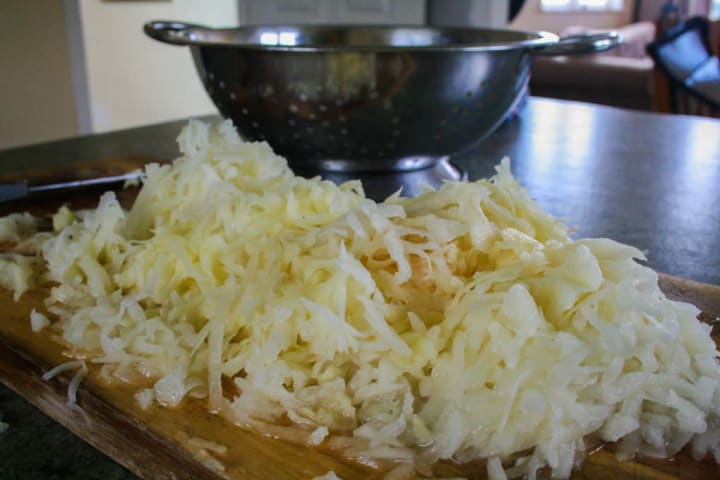 For you're shredded potatoes you can either make them from scratch or cheat a little bit like me. I go to the grocery store and grab a bag of frozen, shredded hash browns. My grandpa would frown upon this, but honestly, nobody can tell the difference.
Dump them in a large mixing bowl and toss in some diced onions (as many or as few as you like). Salt and pepper to taste. Mix in a cup of flour and 2 eggs and mix it all up really good. I use my hands to mix because it's just easier. Your mixture should be thick and stiff. If it's watery, toss in some more flour. You can also be creative and make this your own by adding peppers or any other veggie that you like. By tradition, they're only prepared with onions.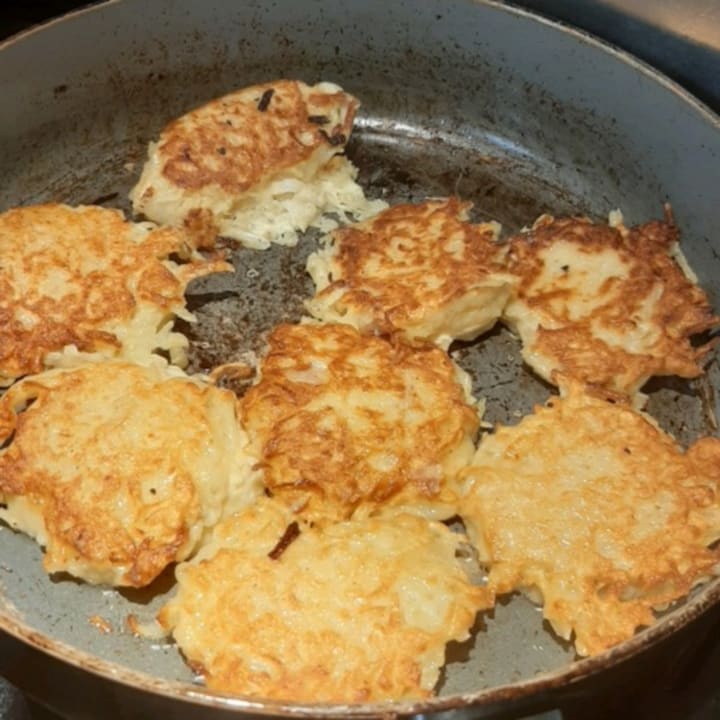 Using an ice cream scooper, start dropping your hash brown mixture into the hot bacon grease. Be sure not to make the scoops too big or they'll be hard to flip and they just don't turn out right. Once they're golden brown, carefully flip them over and allow the other side to get nice and crispy.
You want the outside to be golden and crispy but the inside should be soft and delicate.
My family likes shredded cheese on top (although this is not traditional) so if you're using cheese, now's the time to cover the top with the cheese of your choice.
German Cakes should be served right out of the pan, the hotter they are, the better they taste! Add some apple sauce and bacon to the plate and you have yourself some traditionally "oh so good" Kartoffelpuffer. You can thank me by liking and sharing this post and / or clicking the little heart at the bottom ;)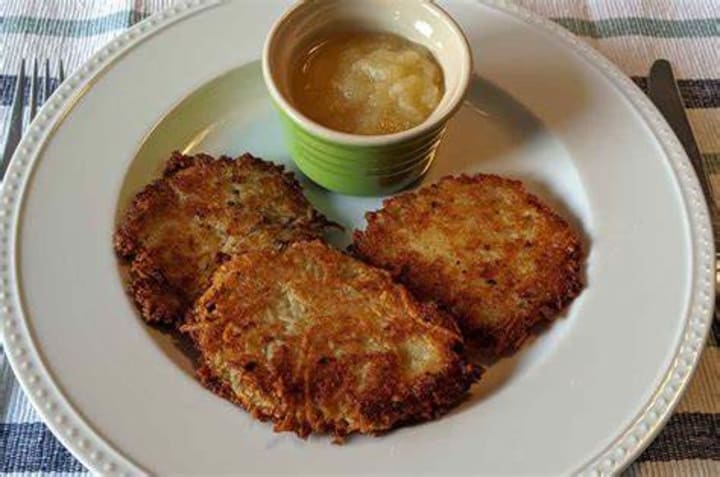 Reibekuchen are German potato fritters, also known as Kartoffelpuffer They are common in many areas of Germany, the name "Reibekuchen" being characteristic to the Rheinland area. Reibekuchen is served with apple sauce, bacon and pumpernickel bread. They are often sold at street fairs and markets, such as Christmas markets in Germany. As Riefkuukskes they are also considered to be a local dish in neighboring Gelderland, The Netherlands.
In honor of my grandfather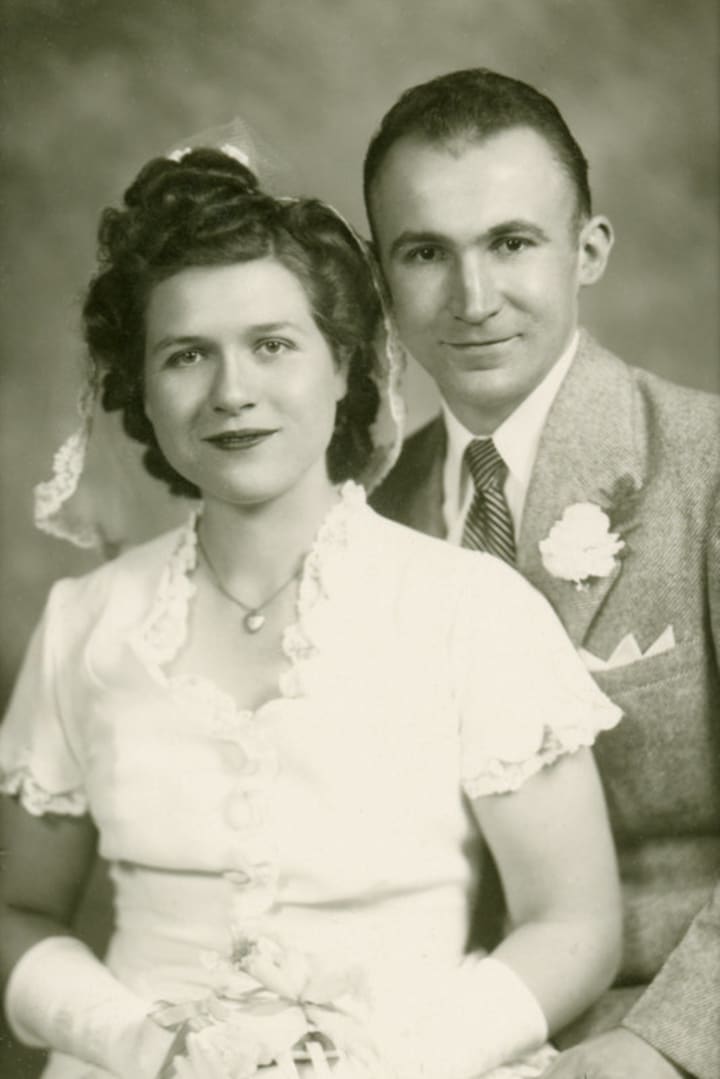 recipe
About the author
🖤 Visit My Website🖤Visit My Book Store🖤
"There is no greater agony than bearing an untold story inside you."
― Maya Angelou
❤️Feel free to leave a heart and subscribe!
💲Tips mean the world but are never expected or necessary!
Reader insights
Be the first to share your insights about this piece.
Add your insights