Judging a Restaurant
by a dish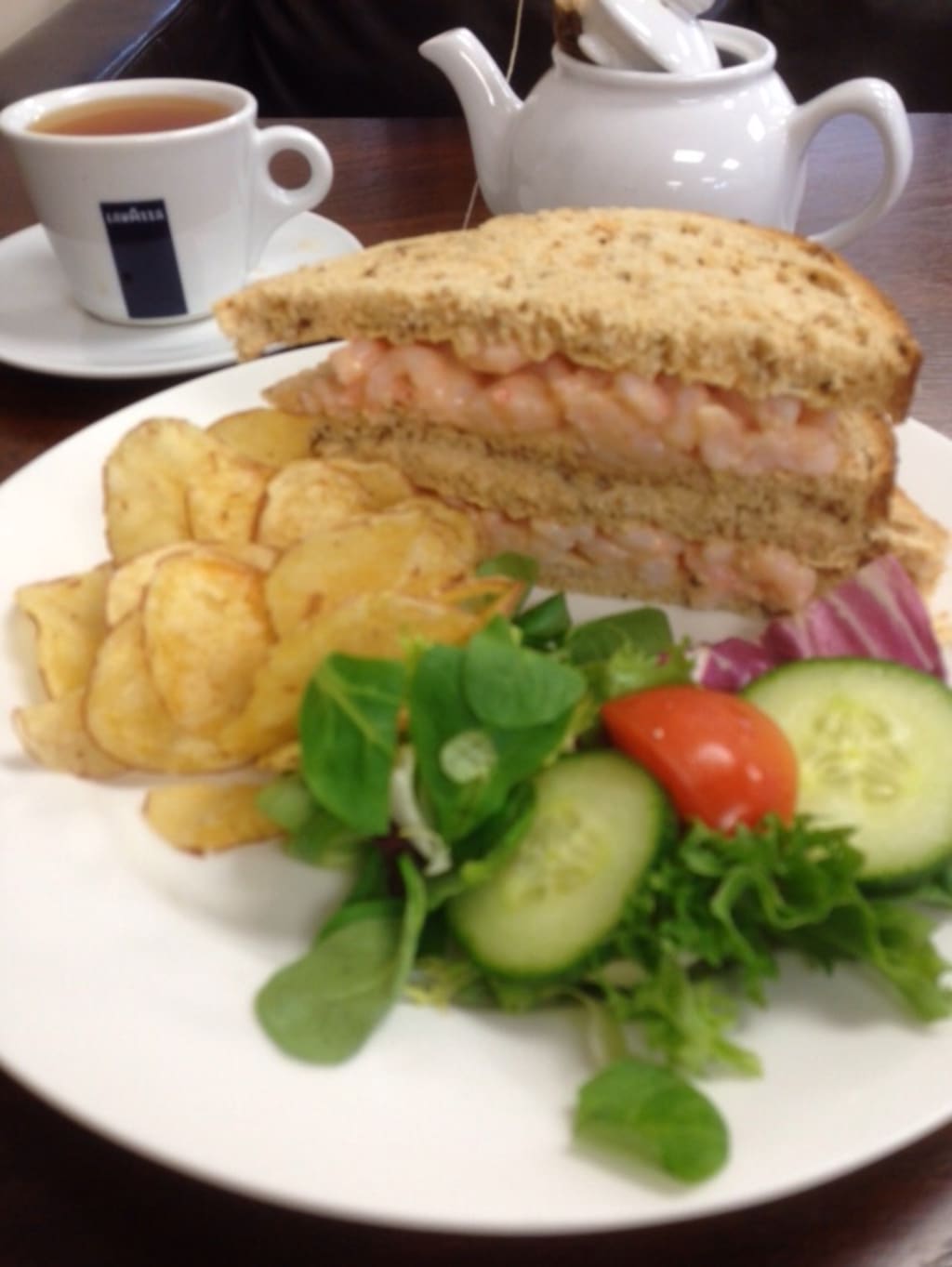 Today my children fancied chips and curry sauce, a bit unusual for a Sunday but I thought I would indulge them especially since my Northern hubby loves a good haddock and chips from a proper chippy. So after quite a long google search trying to find a good sit down fish and chips restaurant open on a Sunday – there we were tucking in to crispy battered fish with good ole soggy chips and a pot of luscious curry sauce.
Go back in time a few months to a conversation about poppadum's and I was told from a couple that if they ever go in to an Indian Restaurant and are served stale or even day old pop's they walk out – I'm usually to hungry to walk out.
Then go back to last year when I was told by an Asian couple that they judge a good Thai by its Tom Yum soup, while another couple I was teaching the other month judge good Indians by the dhal they serve.
So back to the future with us sitting in the fish and chip shop and I noticed my hubby's mushy peas were tinned.
We then decided to rate all good chippy's on whether or not they made mushy peas the proper way like the ones on Norwich Market.
Although Hubby did said – there isn't many places that do fresh down here – meaning the South!
BUT of course if they did – it would be the 'Plaice to Choose'
So – to find out if a Restaurant or Café is the best place to be we could all ask a simple question on reservation, or peep in to their kitchens, or ask before you sit down or even enquire while pondering over the menu.
Why would we do this – well if an establishment can get a main item right, you know the rest will follow. Life's too short to waste the chance of a tasty meal – cats won't eat just anything, but we seem to have to sometimes and then we get a bill for the pleasure!
I mean if a Breakfast café deep fries sausages, you know they'll be serving vinegary ketchup, over cooked greasy battery eggs, cheap fatty thin bacon with the white oozing out, crappy beans and old boiled dried out mushrooms possibly with a tinned tomato on the side and if you're lucky you'll get a slice of bread with tasteless margarine spread all over it and a brewed builder's tea with milk that's been left out all morning next to the water heater.
One simply goes with the other – if an establishment has love for its ingredients and understands how to execute a dish properly they do it all right because they care, because quite possibly it matters to them where they get there produce from, they respect the ingredient, they have pride in getting the best results and they have the professionalism to deliver the best to its customers ever time.
Signature dishes to look out for –
Signature dishes will be formatted in the following format.
The Restaurant
The Dish
Why
Indian
Poppadum's – deep fried fresh
Stale poppadum's means they like to prepare as much to order as possible, meaning everything will be reheated and convenient for them.
Thai
Tom Yum Soup – fresh, spicy and fragrant
The main soup of Thailand, should be made with a good tasting rich stock, generous fillings and the right balance of flavour.
Chinese
Spring Roll – freshly made in house, generous filling
Bought in spring rolls only mean everything else will be bought in – if they made spring roll fresh your on to a winner.
Fish N Chips
Mushy Peas – slow cooked dried green peas, nicely seasoned
Tinned peas – means they well might buy in their batter in, not clean the oil out regularly and even use a cheaper potato.
Breakfast Cafe
Ketchup – thick and good quality like Heinz
If they are using vinegary runny stuff – you know they'll take short cuts on the rest.
Builders Lunch Cafe
Gravy
A good gravy is made from a good stock, meat juices and more – packet granules don't cut the mustard with me – expect tinned vegetables and over cooked tough meat.
Japanese
Tempura – battered anything
I've never been to a bad Japanese. They always seem to have pride in what they serve, but a good tempura is made with spring water - care is taken in its frying to make for a fresh, crispy, crunchy bite.
Portuguese
Nata – egg custard
Flaky layered fresh crisp pasty, with a creamy fresh 'cream patisserie' like custard – always made that day.
Carvery / Sunday Roast
The roast beef – if it's a rib!
Fresh Yorkshires
If a Sunday Roast restaurant is serving Rib or sirloin beef you know you're on to a winner – topside is often served over cooked and tough. Yorkshire puddings have to be fresh – chefs who can't make a yorkie can't cook a good joint.
Asian Buffets
Watery sauces and curry's
Have a good look around – if the sauces and curries have been watered down, there doing everything on the cheap – including flavour and certainly quality.
Spanish / Tapas
Paella / meatballs
If there is a waiting time of 20 minutes – all good, if it arrives at your table in minutes – it's been frozen or made ahead and reheated – that's almost a criminal offence. Meatballs should be made in house – tinned meatballs should be reserved for a bunker.
Italian
? (what do you think)
In Italy I'd judge it on the mozzarella. Home-made pasta is always a safe bet. Along with a tasty, thick, well-seasoned tomato sauce.
Sandwich Take-away
Sell by dates –
Coronation Chicken
If they are making them fresh to order – no problem. If you're picking them of the shelf and they were made the day before – leave immediately and don't pass go. If they are offering coronation chicken – I love em already, if the curry powder is cooked out and fresh home-cooked chicken used – its amazing, stay forever.
Pizza
Home-made dough / wood fired oven
Both things go hand in hand for an amazing pizza at an establishment who cares.
Mexican
Home-made Guacamole
If your guac is brought in expect the ping.
When alarm bells start to ring – of course there are other indicators that tell you, you might want to run (not literally).
Like hearing the constant ping of the microwave.
When they ask you 'do you want that heated up' – it might be because its stale!
When the chef runs out of the restaurant, gets on his bike and cycles up the road - this actually happened to me, he'd run out of burgers so headed off to the local Cost Cutters for some more - - - believe me I ran that day. IT was quite funny – my son saw him go off with his little chef's hat on, so I asked the waitress where he was going – she openly admitted it. I said – 'Cancel the drinks, cancel the order' she was shocked that we weren't hanging around for a frozen burger – ALARM BELLS.
Anyway - - I'm not advocating running out of restaurants, or not paying the bill – just a few checks to make sure you make the right choice, trip advisor does a good job, I know people who won't go for a meal unless they've checked its rating first – I must admit I'm getting more and more like that – after all I'm more like a cat than a dog and I'd rather be like a cat that got the cream than a dog sitting in the corner with a smelly slipper.