Instant Pot
Adventures with My New Cookware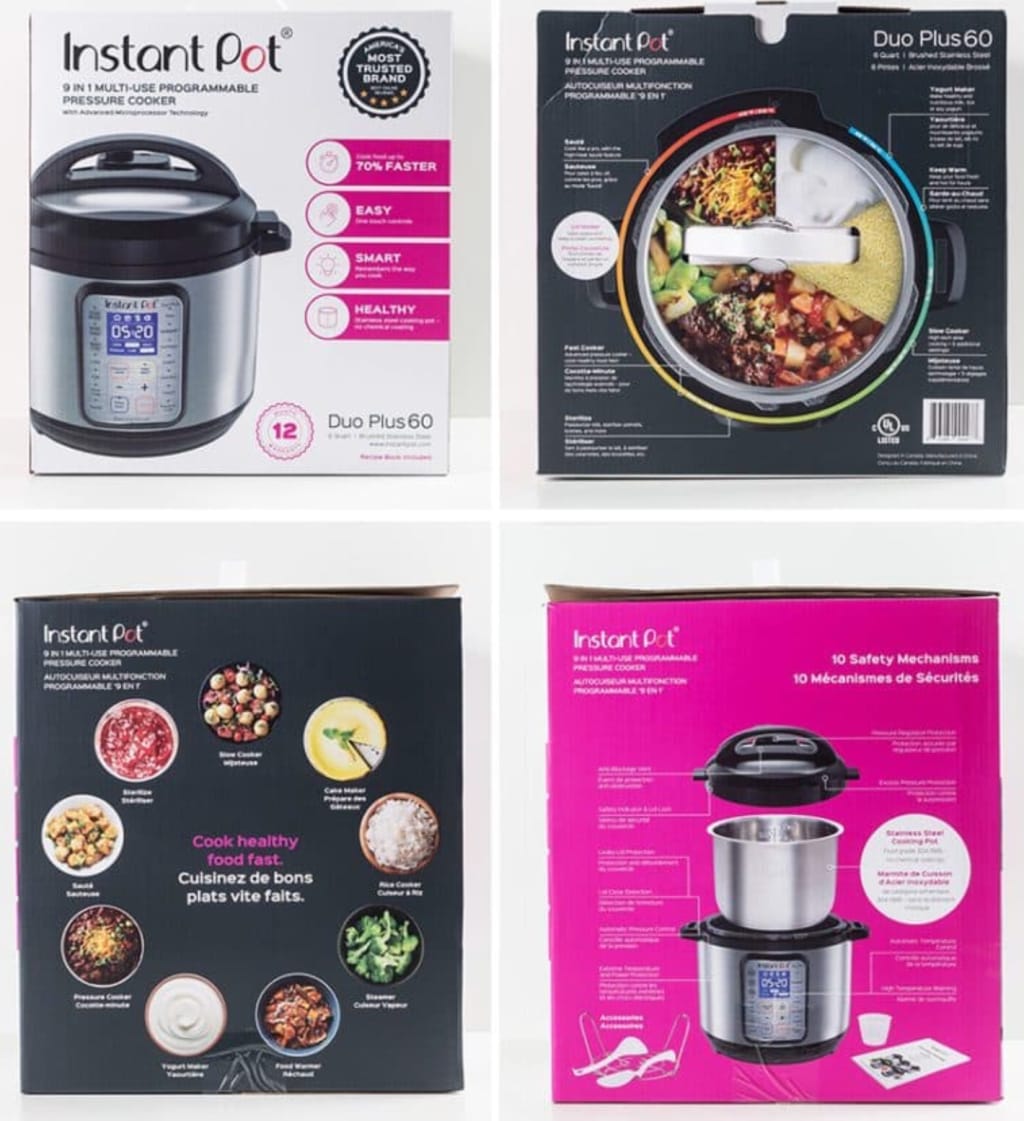 Gathered with my family around the Christmas tree I unwrap a beast of a box to reveal an Instant Pot. What the heck is an Instant Pot? Sure I cook but I don't follow cooking trends or have any fancy equipment. Heck, I don't even have a blender.
Next to me, I hear my sister-in-law, whom is very excited about the Instant Pot that she had just unwrapped. Apparently, she's done research on them and they're the bees knees. After some advice from my mom and sister-in-law, I'm sold, but I'm not about to start using the Instant pot without some kind of preparation.
I go online and research as much as I can about them, even joining a Facebook group devoted to sharing knowledge on the device as well as recipes. The one thing that stood out to me on all of the portals I visited on the topic was how apprehensive people were about using the Instant Pot. Many didn't know where to start and some had even left the device boxed up for several months before using it because they were to scared to try it. I'm not sure why someone would be scared of a Instant Pot. Yes, many wonderful things can be made with it and that can make it hard to decide where to start, but when it comes to cooking I will always cook what I feel like eating.
The manual of the Instant Pot is very straightforward, it highlights what all of the buttons can be used for and what symbols might appear as you are using the pot. The manual does suggest doing an initial run of heating water in the pot to familiarize oneself with the buttons of the pot. As this initial test is optional I did not do it as I thought it was somewhat wasteful and I prefer to learn as I go anyway.
For my initial meal to try in the Instant Pot, I decided on rice. I generally make a pot of rice that I will then pack in my lunch for the work week so having a quicker way to do this would be fantastic. I measured out the rice according to the package of rice and poured it into my pot, next I added my Christmas leftovers. I set the pot to rice mode which after pressurization took 12 minutes to cook. Call me impressed. Just over 12 minutes to make a delicious pot of rice mixed with ham, zucchini and corn.
Now, as much as I do love rice, I wanted to make sure this gadget was more than essentially as giant rice cooker. For my next meal I decided to make some soup after all it is winter and I am Canadian. I put together a quick potato soup recipe and set my Instant Pot to the soup mode. Ten minutes later a deliciously creamy potato soup was ready to eat.
Safe to say I love my new Instant Pot. There are some things that I will never do with it such as make yogurt. Honestly, it seems like a lot of work just to make a pot of yogurt.
Of course I'm also learning as I go, just yesterday I tried making a cake but forgot to shut the seal valve which left the cake doughy, but now I know to always check that the valve is in the right position.
The great thing about the Instant Pot is the community of people that are there to help with their stories and recipes. As I said previously, I joined a Facebook community where a group of people are there to support each other while learning how to use their new kitchenware.
I'm excited to learn more about my Instant Pot and keep trying more and more recipes for it.