I wanted to make an upside-down peach pie but I ended up with an upside-down lemon pie
A lemon pie as sweet as a peach pie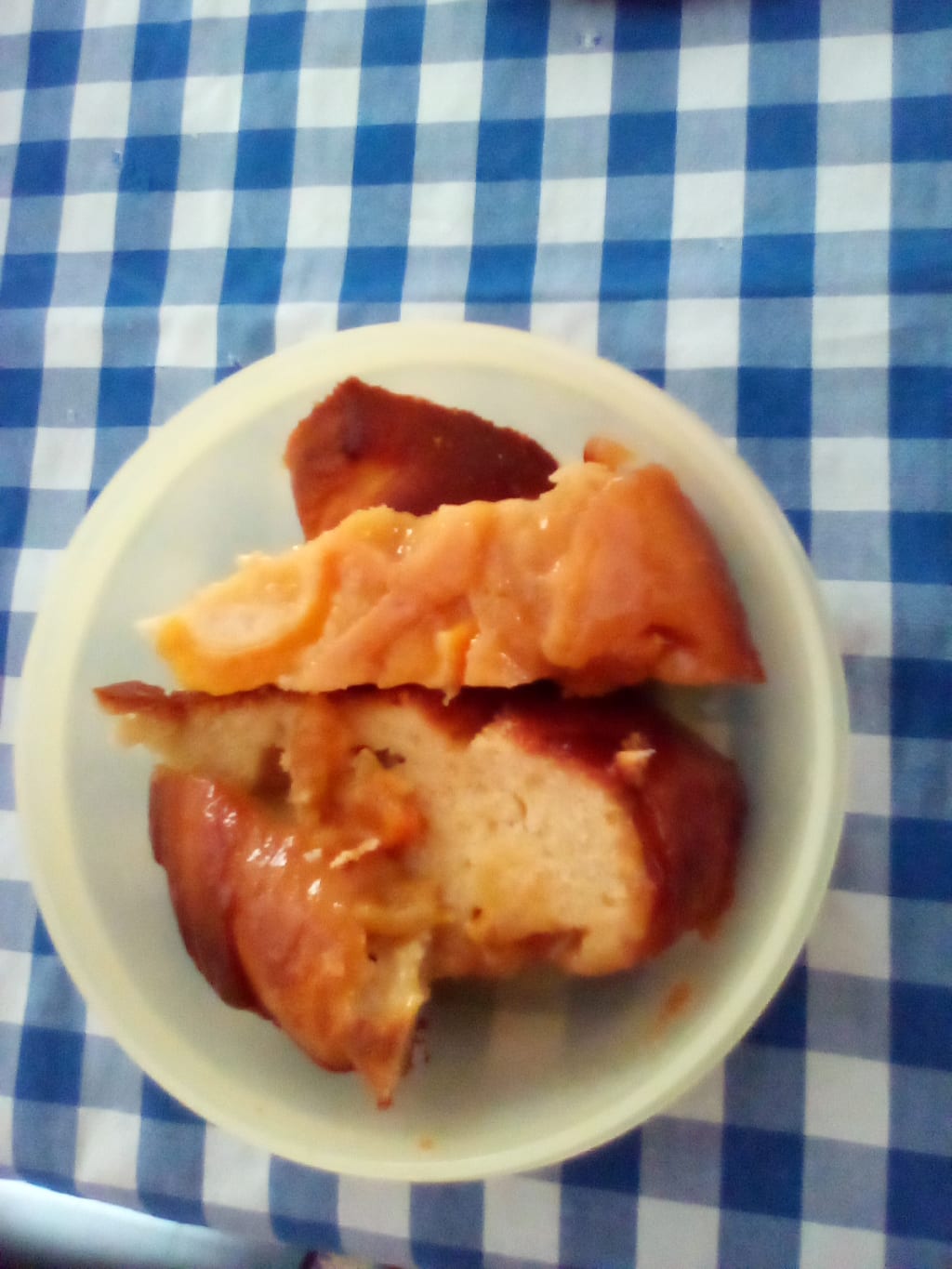 A photo of was left of my lemon pie!
Ingredients
(I use cups and teaspons, instead of grams and milliliters)
3 cups of white flour
Less than a cup of olive oil
2 teaspoons of baking powder
1 ½ cup of sugar
4 eggs
1 vanillin capsule
About 2 cups of yogurt (preferably strained)
Lemons (about a kilo or a bit over two pounds, or as many as you can fit into the tray)
½ cup of brown sugar
Baking time
(preheated oven)
175°C – 50-55 minutes
Actually, my original intention was to make an upside-down peach pie. However, since I had already bought more lemons than I needed for everyday cooking, and I was afraid that some of them would go bad in the fridge, if I didn't use them within a couple of days, I decided to include them in the ingredients of an upside-down pie, instead of peaches.
In this way, I could also save the money that I would have to pay for buying more fruits, i.e. peaches, while I avoided throwing down the drain the money that I had paid for buying those extra lemons.
I got my inspiration from a TV cooking show on a Saturday morning, during which, a popular Greek chef prepared an upside-down peach pie. I thought that this would be a great idea, if I tried to make this pie myself, since there are plenty of peaches available in my local area.
There is a link to the video included in the "Sources and further reading" section, in the end of this article.
Strangely enough, however, and due to the fact that I had already bought more lemons than I actually needed, I decided to use them to make a lemon pie.
First of all, I used a 9.5-inch (24cm) diameter round baking tray. I thought of using a rectangular baking tray, because I had rectangular parchment paper to lay on it, but the chef's instructions were clear in using a round tray. Therefore, I used a round tray, which should be deep enough, in order to avoid syrup coming out of the tray. This is what happened to me, because I used a rather shallow baking tray, and in the end, the oven smelt burned vanilla and syrup all over. I could have used another pan to place the baking tray in it, so that, even if syrup came out of the tray, to fall into the pan, and not on the surface of the oven. However, in this way, the pie may not be baked well inside.
So, I spread the brown sugar gently and uniformly over the parchment paper.
After that, I washed the lemons and cut them in quite thick slices, and removed the seeds. Then, I spread them side by side in concentric circles over the brown sugar.
Then, I broke the eggs and beat them with a whisk in a container.
Next, I added the yogurt and started whisking it with the eggs. I liked using yogurtbecause it is a natural and healthy ingredient. It is better to use strained yogurt, because it gives a thicker texture.
After that, I added the olive oil. In general, I've noticed that butter, rather than olive oil, is used in similar recipes that are available online. In this particular recipe, however, I believe that it would be too much to use butter, on top of using yogurt.
On the next step, I added the white sugar, and whisked it with the other ingredients to give a uniform mass.
I added the content of the vanillin capsule, and the baking powder to the mixture, and whisked it a bit more.
After that, I added the flour. I used plain white flour, according to the chef's instructions. Some people would probably prefer to use wholemeal flour, since it is generally thought to be a healthier choice. However, I believe that it wouldn't have the same results as white flour, in terms of how the pie would look in the end. Once you have added the flour, you will notice that it becomes difficult to whisk the mixture. Therefore, I would recommend using a solid whisk, otherwise it may bend.
After all the ingredients were thoroughly mixed, I poured the mixture over the lemon slices.
I baked the pie in my preheated oven at 175°C for about 50-55 minutes.
When I took it out of the oven, it smelled delicious, and I hoped it would taste as good.
I let the pie cool down, and then I put a large plate on top of it, turned the tray around, and let the pie fell on the plate. Then, I took off the parchment paper, and the caramelized lemons were revealed. It was a really beautiful upside-down lemon pie that made you want to eat it.
Enjoy!
Sources and further reading:
Best spinach pie recipes to taste
Upside-down peach pie (video in Greek)
Upside-down lemon meringue pie
recipe
Hi,
I have written articles for various websites, such as Helium, Hubpages, Medium, and many more.
Currently, I work as a translator. I have studied Tourism Management at college.
See you around on Vocal Media!
Receive stories by George Gkoutzouvalos in

your feed