How to Do a Great BBQ
The weather is getting better. Socialising outside is becoming more frequent, and eating and drinking outside is becoming the thing to do this summer.
So why would you pass up the opportunity to spend some time outside with your mates with some excellent food and drink? Exactly. So, here's how you can host the perfect barbeque.
Get the Right Grill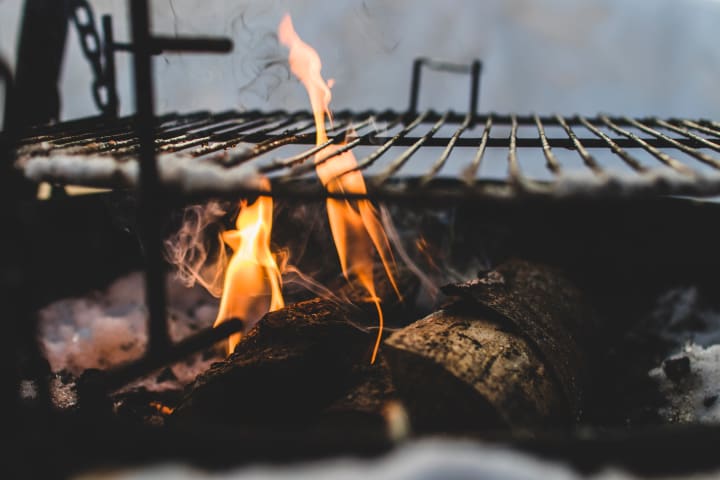 Sure you could grab a couple of disposable barbeques, but is that really great for the environment? Not really. And is it the best type of barbeque you could use? Probably not. If you have a bit of a budget and really want to impress, then you could go out and buy the biggest, brashest cooking behemoth going. It would certainly wow, but it'd surely take a bit hit to your bank account. Thanks to sites such as Promo Codes For, you can get discounts on a whole host of things, including barbequing and kitchen equipment from retailers such as Argos, John Lewis and Debenhams.
But it's not just the grill you need to focus on. If you want people to enjoy themselves in the sun, you'll need a clean, tidy garden and somewhere for them to sit. So, it might be time to get that lawnmower out if you haven't already and to check on your weathered patio furniture to see if it's fine to go, needs a lick of paint, or straight up needs replacing. Now that you've got all that sorted, it's time to focus on the important bit: the food. So, what should you get?
The Basics: Burgers and Dogs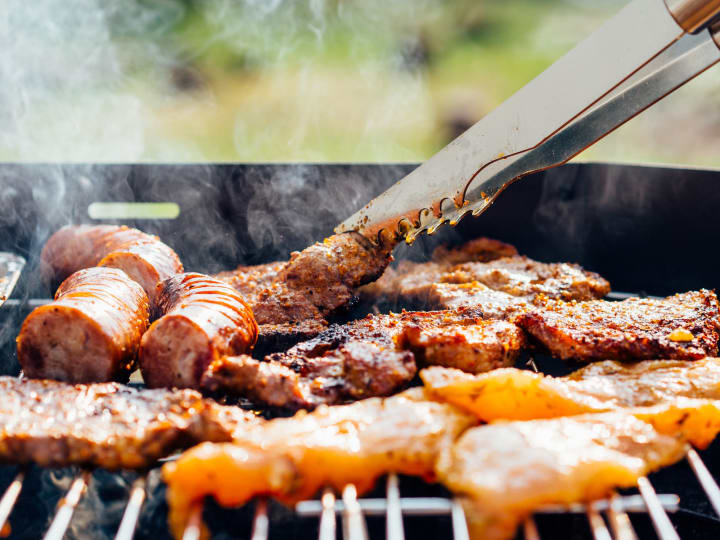 Before you get all fancy, relying on the staples is a solid start. The similarities between residential housing and million pound mansions are that they both need firm foundations from the start, and a barbeque is no different. So what are the basics? Well, you can never go wrong with burgers and sausages in buns. For extra oomph, look for the burgers with herbs and the cumberland sausages when shopping. To go with your burgers, it's always a good idea to include cheese squares, and for the sausages? Fried onions. You would probably want to serve them with a range of salads and sauces, so for the salad think a big bowl mixed leaf and some smaller dishes of cherry tomatoes and cucumber sticks. For the sauces, there are so many to name, but if you make sure you have ketchup, mayo, brown sauce, BBQ sauce and salad cream, then you're likely to have few enemies. If you want to make the perfect BBQ burger, shouty chef Gordon Ramsey has the lowdown.
Also, whilst a barbeque is traditionally a big celebration of cooked meats, the rise of vegetarianism and veganism means you'll probably have to cater for their tastes too. Vegetarian sausages and burgers are a popular choice for vegetarians, and for vegans, falafel burgers are a good shout.

Be Adventurous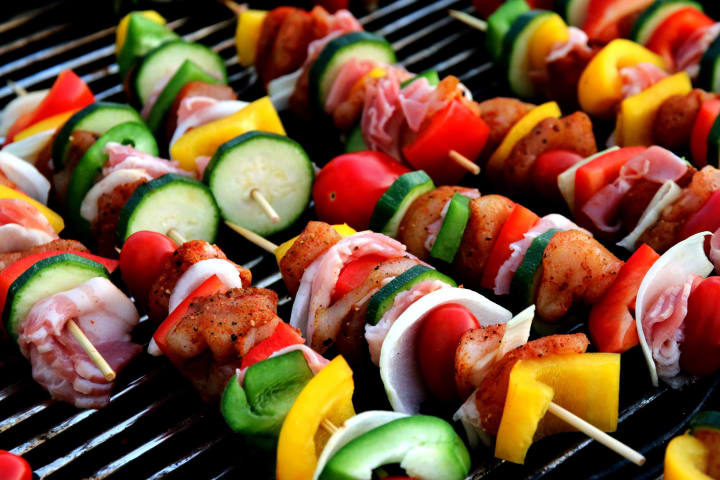 If you're proficient in barbeques though, you might want to consider pushing the boat out somewhat. You can quite easily make something that's easy to put together quite beautiful. Skewer kebabs are a great way of doing this and customising it to your taste. Delish have a great article on the sheer range of skewer kebabs you could try.
Fish is something that can be neglected when it comes to the barbeque grill, but why don't you try to go all Australian with some shrimps on the barbie (that's prawns on a barbeque in proper English)? Alternatively, you could try barbequing salmon through this Jamie Oliver recipe.
Drink!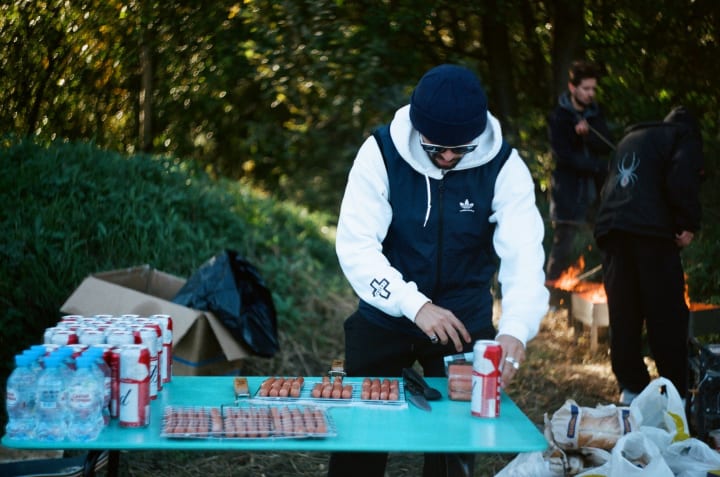 What's a barbeque without a good supply of refreshing beverages? Well, not very good is the answer. There isn't anything better than an ice-cold drink on a warm summer's day to help wash down your third hot dog of the day. There are plenty of options out there to suit you; a chilled soft drink with ice is always a safe bet, but if you want to go down the alcoholic route, there are some good options. Fruit ciders are pretty much synonymous with summer, and there are an ever-increasing number to choose from. If you're more of a spirits kind of person, then a gin is favourable this time of year, and that's best mixed with tonic water, a slice of lime, and a couple of rocks.
So if you are planning a BBQ this summer, hopefully these tips will help it to go off without a hitch, leaving all of your guests happy. And if the thought of hosting your own barbeque has only just crossed your mind, then why not give it a go?