Foods to Avoid During Summer
Read on for some tips for a healthy body this summer.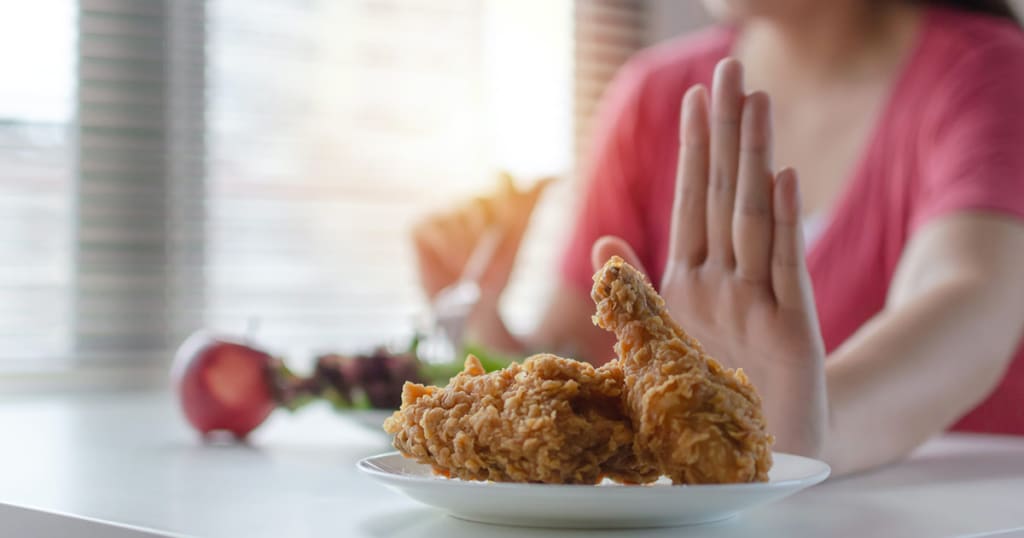 Summer is finally here, and there's no better feeling than being comfortable in your own skin and confident in your body while catching some rays. Whether you're basking in beach vibes, hitting the trails, or putting in time at the gym, strong and healthy is the goal when working toward your ideal "summer body." In order to feel fabulously fit, you want to be sure to avoid foods that make you feel bloated, bulky, and sluggish. Instead, opt for fuel that boosts your energy and nourishes your best physique. Read on for some tips for a healthy body this summer.
Tip #1: Keep it lean and mean when it comes to protein
Instead of chowing down on meat picks high in artery-clogging, unhealthy fats, reach for grilled and steamed chicken, fish, and lean cuts of beef. Other smart picks that pack a protein punch include peanut butter, nuts, hummus, cheese, and avocados. Think healthy fats! You'll have more energy to hit that workout instead of hitting the snooze button during yet another lazy, summer nap (hey, we get it--those are pretty amazing).
Tip #2 Chill out on the ice cream
Serving up scoops of your favorite ice cream flavor is certainly tempting, but don't hit the tub of Rocky Road too much. Try frozen yogurt, popsicles, and sorbet flavors made from real, fresh fruit. Nix the extra sugar and avoid the inevitable energy crash after the initial sugar buzz subsides. In addition to your usual ice cream suspects, milkshakes are another dairy delight that are no friend to your waistline. Milkshakes are often packed with whipped cream, ice cream, chocolate, and other sugary toppings.
Tip #3 Bye bye, bloating beer and bottled cocktails!
Nothing says summer like an ice-cold beer on a hot day. Instead of chugging lots of empty calories found in filling, regular beers, choose lite beer alternatives, and drink sparingly. Bottled cocktails are also super tempting to sip as your lounge by the pool. With the light taste, it can be easy to quickly down more than your fair share. Beware having too many, though, because they are packed with sugar. Paired with the sun, your energy will be zapped in no time, and you'll become dehydrated. This is the perfect recipe for mindless munching on lots of high-calorie foods. Be sure to also drink plenty of water to keep your body hydrated and your skin glowing.
Tip #4 Fast food fail
When you're hitting the road for a much-deserved vacation, grabbing fast food can be the most convenient (and cheapest) solution to cure your hunger blues. Fast food makes you feel bloated and sluggish, making exercise after partaking in fried, over-processed foods more unlikely in favor of loafing on the couch. If time is tricky for you, why not give a meal delivery service a try? Fitness Kitchen LA is an affordable, downright delectable choice that provides you with restaurant-quality flavor, minus the unhealthy consequences. This health-conscious company serves up clean foods in two sizes--"trim" and "maintain." Trim helps you when you're trying to shed fat, and "maintain" makes it easy to stay the course you're on. Choose one or mix it up by trying dishes in both categories. Nutritious, delicious dishes delivered right to your door? Sounds like the perfect way to meal plan without all the hassle. Each week, a new menu offers tons of yummy choices that won't ruin your summer healthy eating goals.
Tip #5 Pizza my heart--and belly
Pizza is a fan favorite all year-round, and is often a top pick for summer gatherings. Despite the delicious taste, most pizzas contain tons of sodium and grease that will bloat your belly and leave you with eater's remorse in no time flat. Pizzas baked on a cauliflower crust are better options.
Tip #6 Potato Salad Snafu
Potato salad is the perfect pairing to backyard summer barbeques. Unfortunately, this scrumptious side dish is also usually loaded with fattening mayonnaise. If you're chilling and grilling, reach for fresh veggies dipped in hummus, or fresh summer salads, to pair with your lean, grilled goodies.
Tip #7 Do-nut overdo it
It probably comes as no surprise to you that donuts are not the smartest choice when you're trying to slim your waistline in search of a flat, summer-ready stomach. That's because this popular vacation-time breakfast pick is loaded with sugar, not to mention being fried. Fried foods are never wise when trying to focus on your fitness.
Tip #8 Energy Drink Pitfalls
When you want to keep going all day and night, squeezing all of the summer fun out of every day, energy drinks can seem like a good idea at first. Before you pop that top, think about the possible ramifications that fizzy buzz can have on your well-being. Energy drinks will dehydrate you, actually draining your energy, making you less likely to get moving and more likely to be constipated with a bloated belly. Stick to water and foods that give you a natural energy kick!
Tip #9 Chip and Dip Slip
Munching on tons of salty, greasy chips is one of the quickest ways to add inches to your waist. Dunking them in cheesy, fattening dip only doubles the calories. Grabbing a handful--more than once--is addictive as well. It's hard to stop after just one! If you must do the dip, grab veggie slices and dip them into hummus or fresh salsa.
Whatever your goals are for reaching your best summer self, remember that it's normal and healthy to occasionally indulge in your cravings. Consistently denying yourself particular foods will only backfire when you end up obsessing--and probably binging--on them. Moderation is key!
Do you have difficulty keeping your healthy diet balanced? Check out Fitness Kitchen and let them do the heavy lifting. Made from scratch, bold, and never boring food done right. Modern meal planning has never been so easy or tasted so good!