Flavors From Around the World That'll Excite Your Taste Buds
From Italian pasta to Bulgarian red sauce
Did someone say international cuisine?
Count me in!
One of my favorite things to do when I'm abroad is tasting the various local dishes each country has to offer. When it's not possible for me to travel (thank you Coronavirus), I make sure to visit the international restaurants that are available in my country.
A couple of days ago, I was in an Italian restaurant eating a delicious pizza and an equally delicious tiramisu whereas prior to that, I was eating a Lahmacun (kinda a pizza with meat) and some manti ( mini ravioli) at a Turkish restaurant.
But you know, because sometimes there's a lack of time and some others there's a lack of money, I also cook some of my favorite international dishes at home.
So, let me walk you through some of the most delicious dishes I've discovered while traveling abroad. All of them are quick and easy to make (I hate spending hours in the kitchen just so I can cook one meal) and don't include expensive ingredients (because you don't need a fortune to eat well).
#1. Italy- Garlic Parmesan Pasta
Italian is my all-time favorite cuisine; I've been to Italy twice and looking forward to going a third time. All I ate there was pretty much pasta, pizza and various salads. Both times. Everything was delicious, but a certain pasta dish did manage to catch my attention:
Garlic parmesan pasta.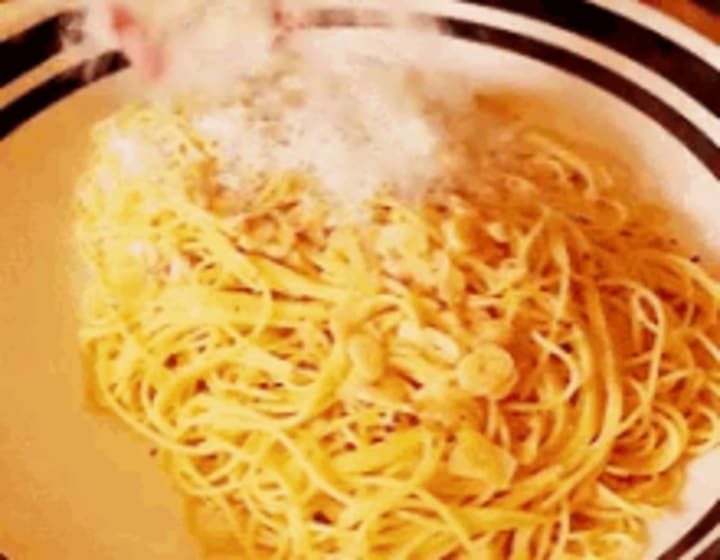 This dish includes my three most favorite ingredients: pasta, parmesan, and garlic. I've been making it regularly, since it's easy, quick, and extremely tasty.
Here's how you can make it:
Ingredients for 2 servings:
1 tablespoon unsalted butter
2 cloves minced garlic
1 cup water or chicken broth
1/2 cup milk
1/8 grated parmesan cheese (or you can add more, depending on your taste)
salt & pepper to taste
pasta of your choice
How to prepare:
In a large pan, heat the unsalted butter, add the minced garlic, and cook until fragrant.
Add water (or chicken broth), milk, and pasta. Season with salt & pepper.
When the pot starts boiling, reduce heat and simmer until pasta is cooked through.
Add parmesan, and serve.
Enjoy!
Tip: If you see at the time of boiling that the mixture is too thick, you can add more water/broth until you reach the desired consistency.
#2. Spain - Churros
Spain is another country I've visited twice and would gladly visit again. The Spanish cuisine has a variety of extraordinary flavors and dishes to offer, but my favorite dish is a dessert, churros.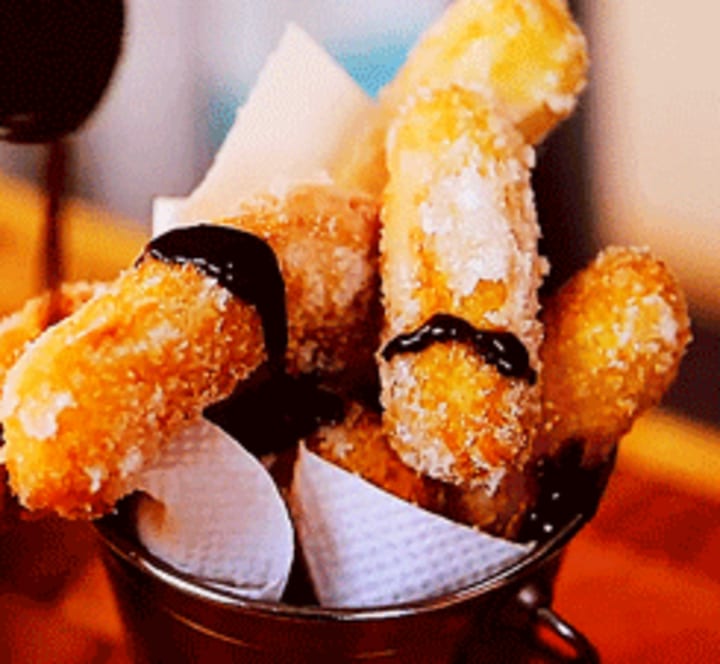 Churros are so popular that, when I was in Spain, I saw people standing in huge lines in order to taste them. It doesn't surprise me, since they're delicious - and thankfully, very easy to make!
Here's how you can make them:
Ingredients for 4 servings:
1 cup water
½ cup white sugar, or to taste + 2 tablespoons for topping
1 cup all-purpose flour
2 tablespoons white sugar
1/3 teaspoon salt
2 tablespoons vegetable oil
1 teaspoon ground cinnamon
How to prepare:
In a small pan combine water, 2 tablespoons sugar, salt, and 2 tablespoons vegetable oil. Bring to a boil and remove from heat.
Stir in flour until the mixture forms a ball.
In a deep pot, heat oil for frying to 375 degrees F (190 degrees C). Pipe 5- to 6-inch strips of dough into the hot oil using a pastry bag and fry until golden.
Let them drain on paper towels.
Combine 1/2 cup sugar and cinnamon and roll the churros in the mixture. Alternatively, you can roll them in a chocolate mixture (or any other mixture of your taste!)
Enjoy!
#3. Slovakia- Bryndzové Halušky (Dumplings with Sheep's Cheese)
Bryndzové Halušky, translated as dumplings with sheep's cheese) is Slovakia's national dish and one that I first devoured a couple of years ago when I visited the country's capital. Creamy, tasty, and unique, this dish got stuck in my head, and can't help but share it with you!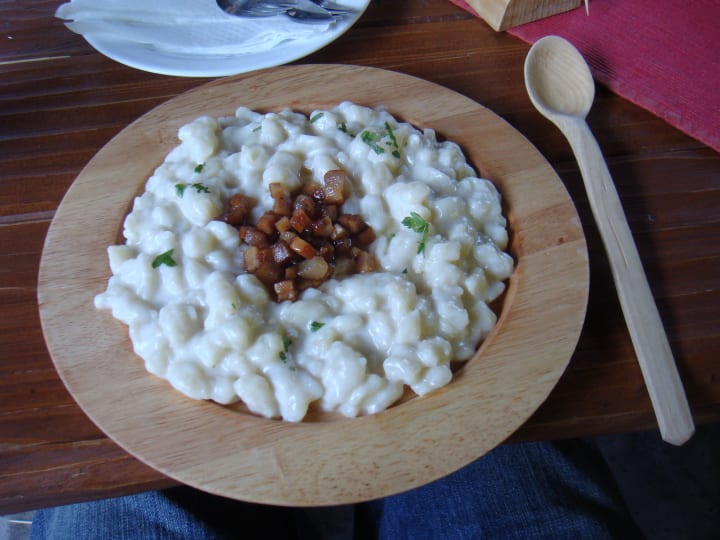 Here's how you can make it:
Ingredients for 2 servings:
2 medium potatoes
1 cup flour
1 tablespoon salt
150 grams bacon (block)
1/2 tablespoon vegetable oil
125 grams bryndza or other soft cheese like feta, or cottage cheese
How to prepare:
Grate the potatoes and place them in a bowl.
Mix flour & salt with potatoes until you get a thick dough. If the dough doesn't stick to your spatula you can add a few more tablespoons of flour until it does.
Chop your bacon into small cubes and fry in 1/2 Tablespoon oil on low heat until it gets crispy.
Bring a large pot of water to a boil and add some salt.
Put your dough on a cutting board and cut small dumplings (about 1 x 2 cm). Then add them into the boiling water.
Cook the dumplings until they float to the top and have changed color. Strain out with a slotted spoon, and place into a strainer to drain. Repeat the boiling process until all the batter is cooked.
Once all dumplings are cooked, let them drain for 2-3 minutes.
Transfer to a large bowl and mix with the cheese until they are evenly coated. If you like it extra creamy, mix in some whipping or heavy cream.
Top with the fried bacon.
Enjoy!
#4. Russia- Blini (Pancakes)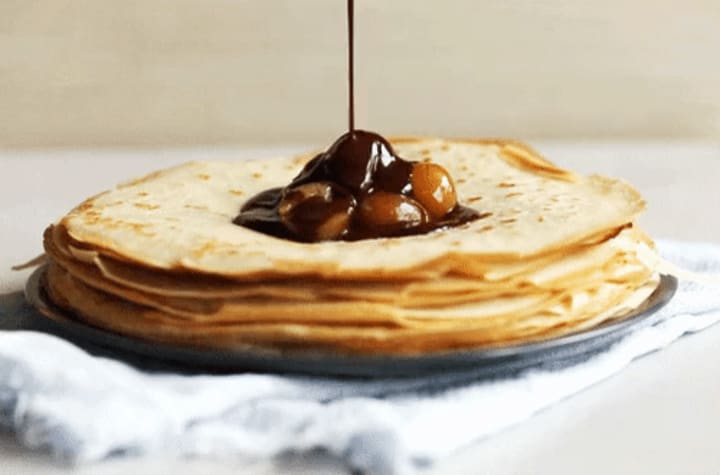 I'm half Russian, so growing up I had the chance to taste Russian cuisine. It includes some pretty original (and some pretty weird) dishes, but I have to admit that you either hate it or love it - there's no in-between!
I chose to share with you a dish I've been making since a very young age that's super easy and affordable and is guaranteed to be appreciated by everyone: Blini (translated as pancakes).
The difference between traditional (American) pancakes and blinis is that the latter are always very thin (kinda like French crepes) and are usually served with sour cream and caviar, or salmon. I have a sweet tooth, so I always add some chocolate, jam, or honey on top of them.
Fun fact: In Russia, there's a special holiday, Maslenitsa, which is celebrated every year one week before the start of spring, and Russians eat blini...for the whole week.
Here's how you can make them:
Ingredients for 4 servings:
2/3 cup all-purpose flour
1/2 teaspoon salt
1/3 teaspoon baking powder
1/2 cup milk
1 large egg
1 tablespoon melted unsalted butter
Unsalted butter for cooking
How to prepare:
In a medium bowl, combine flour, salt, and baking powder.
Whisk milk, egg, and melted butter together in a separate bowl. Then, mix into the flour mixture until the batter is fully combined.
Heat 1 tablespoon of butter in a skillet over medium-low heat. Add 1 tablespoon of batter at a time and cook until bubbles start to form on top of the batter (approximately 2-3 minutes).
Flip and continue cooking until brown, about 1 minute more. Repeat with the remaining batter.
Lay your blini on a plate lined with a paper towel to help soak up excess butter.
Enjoy!
#5. Bulgaria - Lyutenitsa (Red Sauce With Tomatoes and Red Peppers)
Bulgaria was the last country I got to visit before Covid struck, so it holds a special place in my heart. Although Bulgarian cuisine has a lot of flavors to offer, what stood out for me, was one of their traditional side dishes, lyutenitsa.
Lyutenitsa makes an excellent sauce for different kinds of meats as well as a great spread you can put on bread and have an excellent side dish.
Here's how you can make it:
Ingredients:
0,5 kg tomatoes
0,5 kg red peppers
200 gr aubergine (eggplant)
1/8 onion
15 ml oil (any oil is good)
1 bunch of fresh parsley
salt
sugar
How to prepare:
Wash peppers and tomatoes. Bake the peppers and aubergine on a stove or grill, then transfer to a large bowl and let them cool off.
Peel them and remove their stems and seeds.
Boil carrots and onion until softened.
Blend onion, eggplant, and carrots in a food processor.
Bring a large pot of water to a boil.
Add tomatoes and boil for 1 minute. Take them out and rinse with cold water.
Peel tomatoes and roughly chop.
In a large pot, combine tomatoes, carrots, onion and eggplant, salt, sugar, oil, and peppers. Cook over low heat for 1 hour, until thick. (the density should be ideal, when, while stirring, the lyutenitsa doesn't move to close the trace on the bottom of the pot).
Remove from heat and let it cool.
Fill jars with lyutenitsa. Close tight.
Enjoy! (Keep in the fridge for up to 10 days.)
~.~.~.~.~.~.~.~.~.~.~.~.~.~.~.~.~.~.~.~.~.~.~.~.~.~.~.~.~.~
That's it! I hope you enjoyed getting to know about these international dishes and got inspired to try making them on your own! Trust me - you'll love them!
About the Creator
Words have power.
I write about relationships, psychology, personal development, and books.
https://linktr.ee/margpan
Reader insights
Be the first to share your insights about this piece.
Add your insights