Summer Palate
Fever
Big drank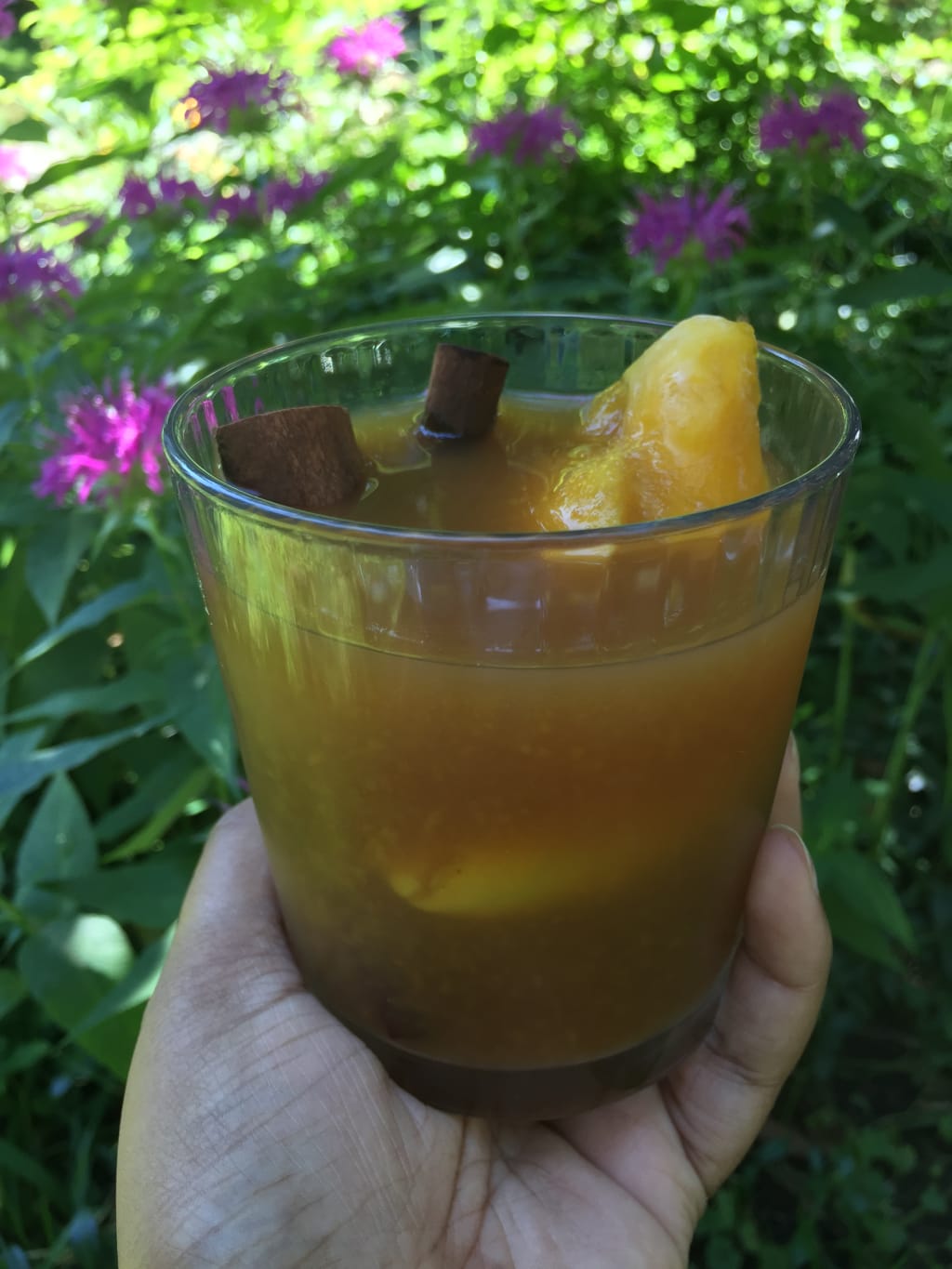 You will need:
tea soaked mango, frozen
mango iced tea
(for syrup)
4 cinnamon sticks
1 1/3 cups sugar
2 cups water
makes 4 servings
Remember last time when I said we would save the tea-soaked mango and freeze it to use for another recipe? Here we are. I think with a lot of fruits, we know what to expect when it comes to combinations. It's oppressive. Strawberry usually means it's with banana or kiwi. Pomegranate is usually with blueberry, raspberry and lime, etc. Why do we go along with that? We pigeonhole ourselves into thinking in one flavor profile, and it seems like whenever Big Beverage comes up with a "new" flavor combination there's some kind of underlying motive involved. Life's too short to be so rigid with flavors. Taste is one of life's few simple pleasures.
I'm not going to go on a rant, but I do want to address some issues I usually have with food blogs/recipes. I hate when recipes call for an ingredient or component, and require that you make it from scratch, but then after creating the dish you're just stuck with like, a ton of leftover shit. I try my best not to waste anything, so each week on here there will be a repeat of a specific ingredient or base. I don't think there's anything wrong with that. It encourages a little experimentation on your part and mine. I want to stress that this blog isn't just about beverages, it's about experimentation and having fun. I don't care if that sounds corny. I really mean it. Life is too short to drink something that tastes like shit. I came up with this drink listening to Megan Thee Stallion's "Fever" and looking in the fridge and cabinets for an idea. This is where I would normally say "hot girl shit," but the brands ruined the phrase for me, so I will not.
For the sake of not repeating myself and wasting the time of anyone who read the previous recipe, I will link my instructions for the mango iced tea here. Use the same iced tea. Again, do not sweeten it. You don't need it. We're going to put a cinnamon simple syrup in it anyway. After removing the mangoes and putting them in the freezer, let the iced tea get to room temperature. We're using the tea soaked mangoes as ice cubes for a couple of reasons. Firstly, I really hate using plain ice in special drinks. One of the worst beverage experiences is taking a sip of a watered down drink. It's fucking hot outside (97* here today), so obviously ice is going to melt. Why would I put myself through turmoil by watering down my drink. Let's skip that.
It's syrup time. It took me a few tries to get this syrup right. I do NOT have a lot of syrup-making experience, but it's something I'm working on. People say it's easy, but I don't find it to be. I think the steps are simple, but it's one of those things you can fuck up in an instant. I finally got it right when I used slightly less sugar and an extra cinnamon stick. I brought two cups of water to a boil with the four cinnamon sticks in the water. I added the sugar once it reached that boiling point, stirred it all together until the sugar dissolved (I used cane sugar but refined also works), let that simmer for about 12 to 13 minutes uncovered. I then removed the cinnamon sticks and set off to the side to use as garnish. I let the syrup cool for about an hour.
To serve, I chose to stir the syrup into my glass instead of into the whole pitcher. This is truly a trial and error type of thing, and I didn't want to commit to one specific sweetness or cinnamon level. If you choose to add syrup to the whole pitcher, I recommend putting the syrup into the pitcher while the tea is still warm or room temperature (before refrigerating the tea). It can get messy adding syrup to a drink once the drink itself is already cold, and I would recommend not doing that. I put a large slice of tea soaked frozen mango into the glass, scooped some cinnamon syrup into it, poured the tea over it, and stirred with the cinnamon stick.
Real Hot Girl shit!!!
(sorry)