Eat Play Stay Spain - A Story of Tapas Part 2 - Jamón Serrano or Jamón Iberico?
Jamón Serrano or Jamón Iberico?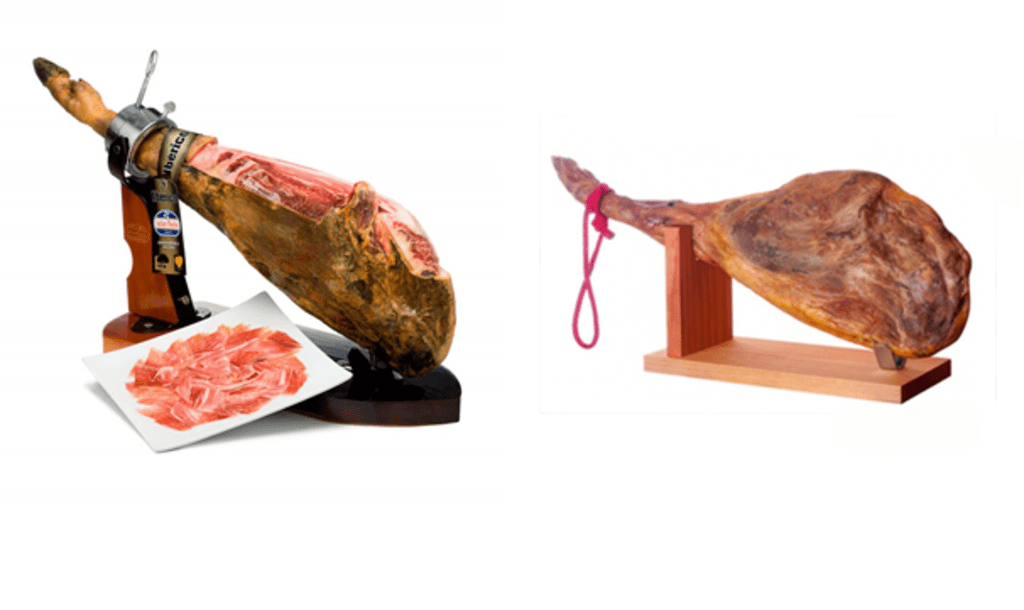 All Tapas bars and restaurants in Spain and across the globe will have Jamón Serrano or Jamón Iberico on the menu but how many of us know the difference between the two of them? What we do know is that there is sometimes nothing nicer than a plate of this culinary symbol of Spanish culture with some Manchego cheese, a bowl of olives and a good glass of Rioja. There is nothing more tempting when walking past a deli, butchers or market in Spain and seeing the displays of Jamón hanging above the counters in vast quantities, showing not just how popular these dry cured sweet yet salty meats are in restaurants but also in the homes of the Spanish people. So what is the difference?

First of all there are different categories of Jamón Serrano and Jamón Ibérico as well as a range of subcategories. How the Jamón is categorised is based on the pig from where the meat came from, what the animal ate and also the curing process. Interestingly the curing process of preserving the pork meat in salt can be traced back to the Romans on the Iberian Peninsula, Spaniards consume on average one ham per year per person and Spain is the largest producer in the world of cured hams.
Jamón Serrano

Jamón Serrano comes from the meat of white pigs, usually the Landrace breed that are fed mainly on cereal grains. The pork is cured in sea salt and the curing process can be anything from 12 - 24 months. The meat is a rich red colour and there is some marbling throughout the meat and is slightly firmer than Jamón Ibérico. There are different gradings of Jamón Serrano that are based on the length of time the meat has been cured. A Bodega or Curado label indicates that the ham has been cured for 12 - 14 months, a Reserva for 14 - 16 months, a Gran Reserva for 18 months and if you see a label with Anejo the this ham has had a curing time of 18 - 24 months.
Jamón Ibérico

Jamón Ibérico is more expensive than Jamón Serrano. Jamón Ibérico comes from the meat of the Iberian Pig, also known as the pata negra or black-foot pig. There are three types of Jamón Ibérico one is the meat from the Cerdo Ibérico, an animal that is from Southwestern Spain and also Southwestern Portugal and are fed again mostly on cereals, some are free range which means they will also have fresh herbs in their diet. The pigs used to produce Jamón de Recebo, another category of Jamón Ibérico have been fed on a mixture of cereal and also acorns. Jamón Ibérico de Bellota is the finest of all and this meat comes from pigs that freely roam the meadows of the Dehesa. A Dehesa is a cultural and agroforestry landscape found in southern and central Spain and also southern Portugal, and is the natural habitat for the Iberian pig. The trees are oak and cork and Bellota in English is quite simply acorn and the animals are encouraged to eat the Bellotas as part of their diets. The meat is cured for 24 to 48 months and is a warm red colour with a distinct and strong ham flavour. So the choice and also preference is yours Jamón Ibérico or Jamón Serrano? Eaten on their own as a tapa they are delicious and equally as good as an ingredient in a a tapa recipe. A firm favourite on any tapas menu... Why not try this easy recipe for Jamón Ibérico or Jamón Serrano with Goats cheese and Fresh Figs below and add them to your table next time you want a real taste of España...
Roasted Figs with Goats Cheese and Serrano Ham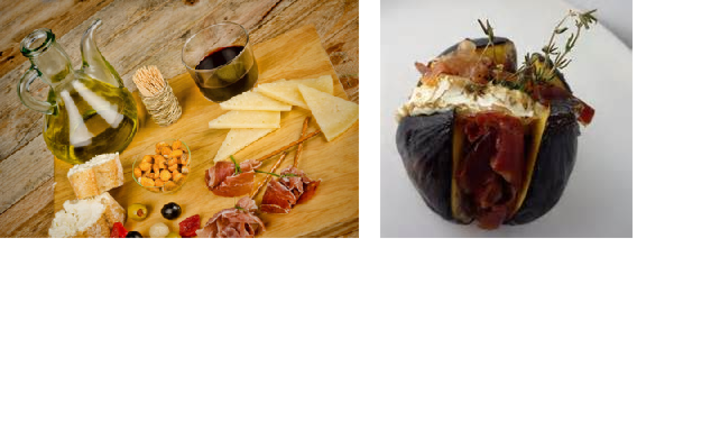 Ingredients
12 fresh figs
Goats cheese - preferrably a Spanish goats cheese for that extra authentity and a true taste of Spain
12 slices of Jamón Ibérico or Jamón Serrano
3 sprigs fresh thyme
2 tablespoons toasted almonds
Black pepper for seasoning
Honey
1. Preheat the oven to 375F or 200C.
2. Remove the stems of the figs and then make a criss cross on top of the fruit, be careful to not cut all the way down to prevent the figs falling apart.
3. Once cut gently open them up slightly and place a folded slice of your chosen Jamón inside with a small cube of cheese on top. Arrange the Jamón so that some is poking through the cheese and the fig to make them look even more appetizing
4. Place on a lined baking tray and place some of the thyme in them and finally season with black pepper.
5. Bake in the oven for 8 - 10 minutes so that the cheese has melted, the fruit softened and the Jamón has slightly browned.
6. Once plated sprinkle with the toasted almonds, drizzle with the honey and serve
Is your mouth watering?...
Don't forget to read the other articles in the Eat Play Stay Spain series 'A Story of Tapas' to find out some interesting facts along the way for great conversation as you recreate 'Eat Spain' at home for your friends and family... After all Tapas are a wonderful way to dine and perfect for a very sociable evening...