Crock-Pot Venison Roast with Onion Gravy
Effortless and delicious.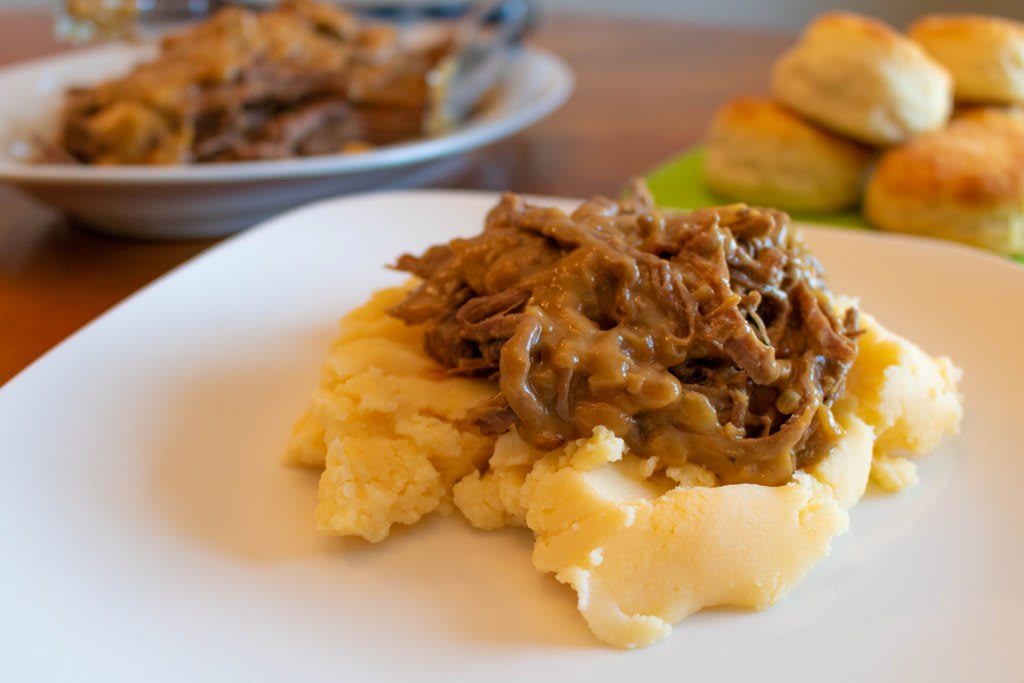 Crock-Pot Venison Roast with Onion Gravy by Amanda Payne
Crock-Pot Venison Roast with Onion Gravy is a venison roast cooked in a crock-pot and then flooded with delicious brown onion gravy. This is great served with mashed potatoes or rice and some freshly baked biscuits.
Prep Time: 24 Hours
Cook Time: 7 Hours
Serves: 8
Serving Size: 1/8 of Crock-Pot Venison Roast with Onion Gravy (about 1 cup of roast and a few tablespoons of onion gravy)
Calories: 283
Fat: 12 g
Carbohydrates: 2 g
If you are on a diet and nutrition information is important, remember to recalculate the nutritional information provided above if you make any changes to the recipe. MyFitnessPal is a free resource for calculating nutritional information, but a pencil and paper are fine too.
Mississippi Venison Pot Roast Recipe
Ingredients:
Roast
3 pounds of venison roast
1.5 cups of Diet Sprite
1/2 teaspoon of salt
1/2 teaspoon of black pepper
Gravy
1/3 cup butter
1 onion, diced
2.5 tablespoons of all-purpose flour
1/2 teaspoon of salt
1.5 cups of beef broth
1.5 tablespoons of milk
Getting It Done:
Sprinkle venison with salt and black pepper and place it in a Ziploc bag.
Fill the bag with Sprite. Squeeze the air from the bag and seal it.
Let it soak for at least 24 hours.
Pour the contents of the bag into a crock-pot and cook on low for about 7 hours.
When the venison is close to being done, start making the gravy.
In a frying pan on medium-high heat, melt the butter.
Add diced onion and salt and cook until softened, about 4-5 minutes.
Stir in the flour and cook for another minute.
Add the broth, stir well, and cook until thickened to your desire. This should take between 3-10 minutes. Then add milk and remove from heat.
Remove the roast from the crock-pot, leaving the liquids in the crock-pot.
Place the venison roast in a large dish. Pull it apart using tongs or forks.
Pour the onion gravy over the venison roast or in a gravy bowl and serve.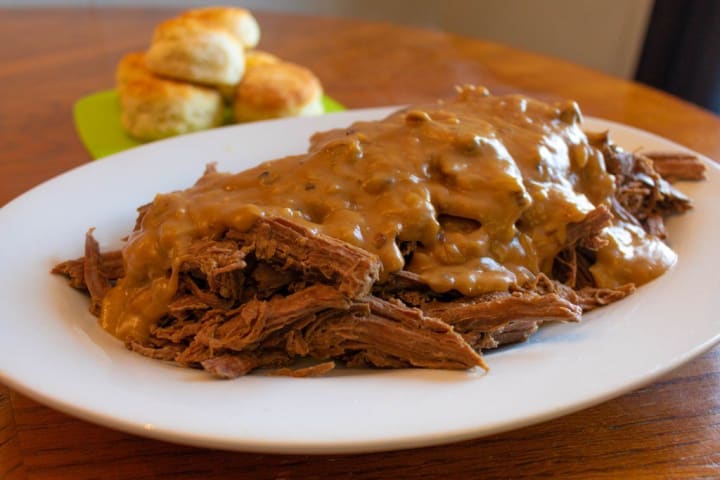 You might need to add more broth to help thin the onion gravy if it becomes too thick. If it is too rich, you can add more milk.
For the roast, you can use any cut of venison that you prefer. If you don't have venison, that's ok. You can make this recipe using beef instead.
Store leftovers in a freezer-safe container or bag and serve later. Freeze the venison without the gravy. To thaw, remove the container from the freezer and place it in the refrigerator to defrost naturally. Then make fresh gravy and heat the roast in a pot or the microwave when ready to serve.
Sharing is caring. Please share my recipe if you enjoy it. I appreciate your support very much.
Would you like more delicious venison recipes? Take a look at my Heavenly Tenderloin Bites or my Venison Sausage Gravy and Biscuits recipe below.
Or maybe you'd like something without venison. Check out my Super Easy Ham and Potato Casserole recipe.
Maybe you have a sweet tooth and need something sweet. Try my No-Bake Oatmeal Candy recipe.
This Crock-Pot Venison Roast with Onion Gravy recipe was originally published at deerrecipes.online. I am the owner of that recipe website. I am in the process of moving all of my recipes to Vocal.Media. Please bear with me during this transfer. I appreciate my readers more than I can express.
Check out my author profile on Vocal.Media if you are looking for more recipes. Please consider subscribing to me, Amanda Payne. It's free! I will be posting many more recipes in the future.
Likes, pledges, and tips are welcomed and appreciated but not necessary. You can also find me on Pinterest and Rumble.