Classic French Food Is Not Dead
Go to Brasserie Zedel in London. Go hungry & go now.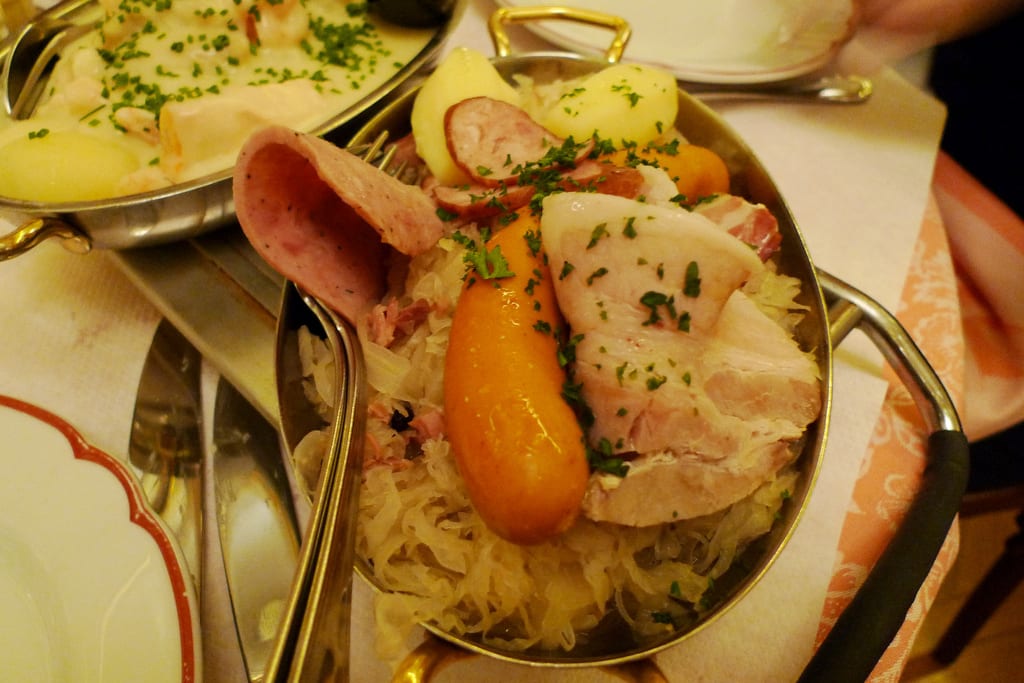 A choucroute with far more pork than sanity and good taste would recommend. 
I have a small postcard of Renoir's 'Le déjeuner des canotiers' in my room. It's not the real thing, but it's an authentic symbol of something very French, a sense of indulgence that can be had by any and all: the luxury improved by the absence of frippery.
This is the case at Zédel: an Art Deco brasserie with the required excellent, simple and affordable food, efficient service and the soundtrack of cutlery and atmosphere that should be a given in a true brasserie. Oh, and there's a cabaret and bar just opposite.
A good restaurant is one that does not make you feel conscious about dining alone. Walking in without novel or newspaper on my first visit, I was led to a table and drinks orders taken quickly. Dropping by to book a table for two in the afternoon 6 weeks later, we were told that there was nothing available until half eight, although we were welcome to come in earlier and see if a table was available. Seeing as spending time in one of the world's great cities is no hardship, it was an easy choice to amble around Golden Square and explore some of the quieter bits of the Smoke. An hour and a half before the original booking time, there was no issue being led to a table. Bread and a carafe of water are supplied quickly by faultless staff who know the menu inside out and can recommend suitable wines that, as in France, can be ordered by the pichet.
More proof that this is an authentic brasserie is all over the menu: delicious, simple food like celery remoulade or carrot salad in the starters, classic cuisses de grenouille, escargots and choucroutes, and the crucial trinity of plats du jour, formule and prix fixe. The prix fixe doesn't change all that often (I had it in early July and it was the same mid-August) but still well worth a go. The celeri remoulade had the bite that comes from celeriac that hasn't been smashed to a fibrous near-puree, with a brisk dressing and appreciably twee (but very French) finely chopped parsley garnish. With the slightly chewy, thin crust bread and exquisite butter it's an excellent choice.
Steak haché came next, the centre wonderfully rosy, as if the whole thing was some bovine strawberry creme chocolate. Served with frites in a pewter pot and a peppercorn sauce with a base of demiglace, not cream, it was both a robust main and the perfect excuse to finish my bread, cleaning the Zédel monogram on the plate of all the wonderful sauce. The onglets are equally as good - slashed for tenderness, served with an immensely heartening, very classical sauce of shallot and red wine, and served again with the wonderful frites.
The service throughout the meal was consistently superb, combining brasserie-style table relays and waistcoat-over-apron with a pleasant and amiable approach to patrons. Side dishes are very reasonable and well worth exploration; the green salad was as light and crisp as one should be, the pink peppercorns in the dressing being a nice touch. The kitchen's Provençal courgettes came with an excellent tomato sauce, alive with garlic and reminding one Frenchman of the ratatouille back home. A Meteor and Corbières stand nicely with these, and although the prices are slightly closer to London standard, they're still more than acceptable when you remember where you are.
It is enough of a recommendation to say that we had 120 miles to cover after leaving Zédel, but still chose to stay and do the dessert menu justice. Again, it's populated by brasserie classics like iles flottantes, mousse au chocolat and tarte au citron. I went for an iced passionfruit soufflé; fruity, light and frivolous enough to end a meal in the opulence of the dining room. The café gourmand is indispensable after your meal, if only for the miniature Opéra with gold leaf and hazelnut financiers that are tiny, burnished amber jewels of visitandine.
There are many brasseries in France that wouldn't equal the service or food here. You don't even notice you're underground as the room is so large and well-lit. The only downside of Zédel is that you're not near a train station, as the age of streamlined steam and romance ooze from every Gothic feature: no matter, the menus are a masterpiece of Art Deco print. Go, go soon, and go again.