Brunch Recipes to Make at Home
The best brunches are the ones you can eat in your pajamas. These recipes are perfect for a lazy Sunday or brunch party with friends.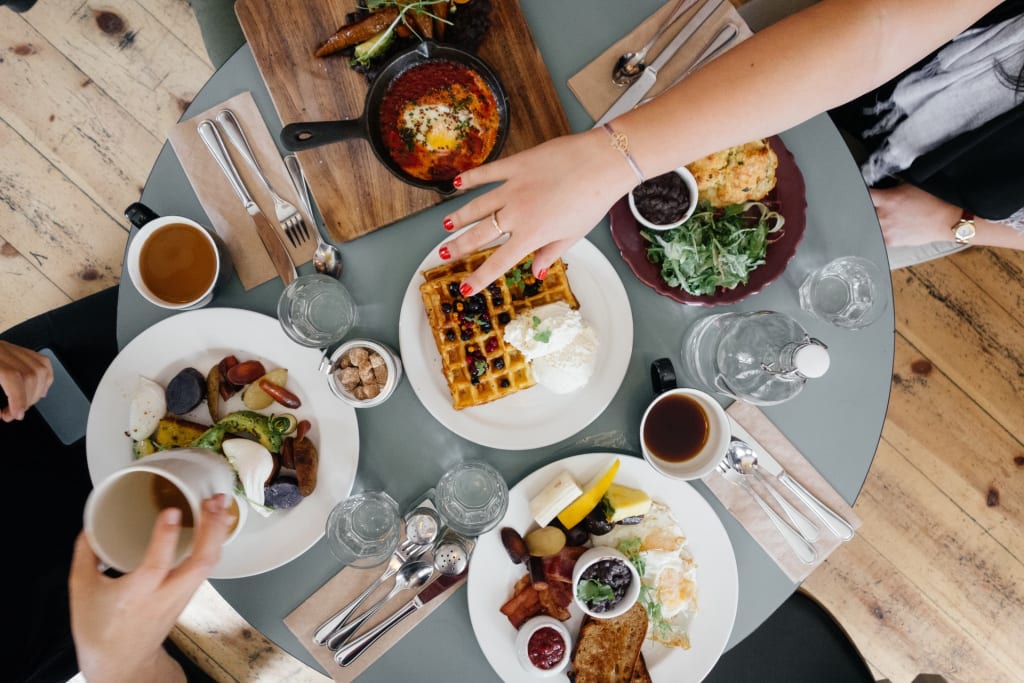 Ali Inay
On a weekend morning, all I want to do is stay in bed. When I'm wrapped up in my covers, the last thing I want to do is brush my hair and put on real clothes. If I can stay in the house for the whole day, I will. Going out to brunch is all the rage, but it is so hard to leave the comfort of your home early in the morning. Instead, try some of these recipes and have a gourmet brunch without leaving the house.
California Breakfast Skillet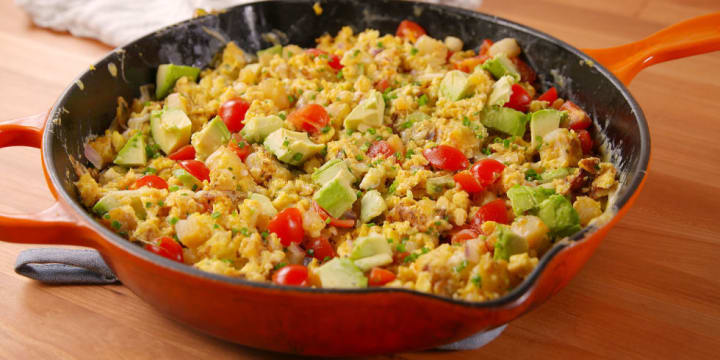 This skillet combines all your favorites: cheesy eggs, potatoes, fresh tomatoes, and avocados. And it's big enough to share! This savory dish will leave you stuffed.
Ingredients:
2 tbsp. extra-virgin olive oil
3 russet potatoes, peeled and cubed
1/3 c. water
1/2 tsp. garlic powder
1/2 tsp. smoked paprika
10 large eggs
1/4 c. whole milk
1/4 c. red onion, chopped finely
1 c. Shredded Monterey Jack cheese
1 c. chopped cherry tomatoes
2 tbsp. finely chopped chives (plus more for garnish)
1 avocado, chopped
Corn tortillas, warmed, for serving
Directions:
Heat olive oil in a large skillet, and add potatoes on medium heat. Pour water into the skillet and cover with a lid. Cook the potatoes for about 15-20 minutes or until the potatoes are tender.
Whisk milk and eggs together separately. When the potatoes are done, take off the lid and move them to one side. Add combined milk and eggs to skillet along with red onions. Let that sit for about a minute.
Drag the eggs with a spatula so that they scramble. When they are almost fully set, mix them with the potatoes.
Add cherry tomatoes, cheese, and chives, and toss. Add salt and pepper then remove from heat. Put avocados and chives on top and place in tortillas.
Strawberry Bread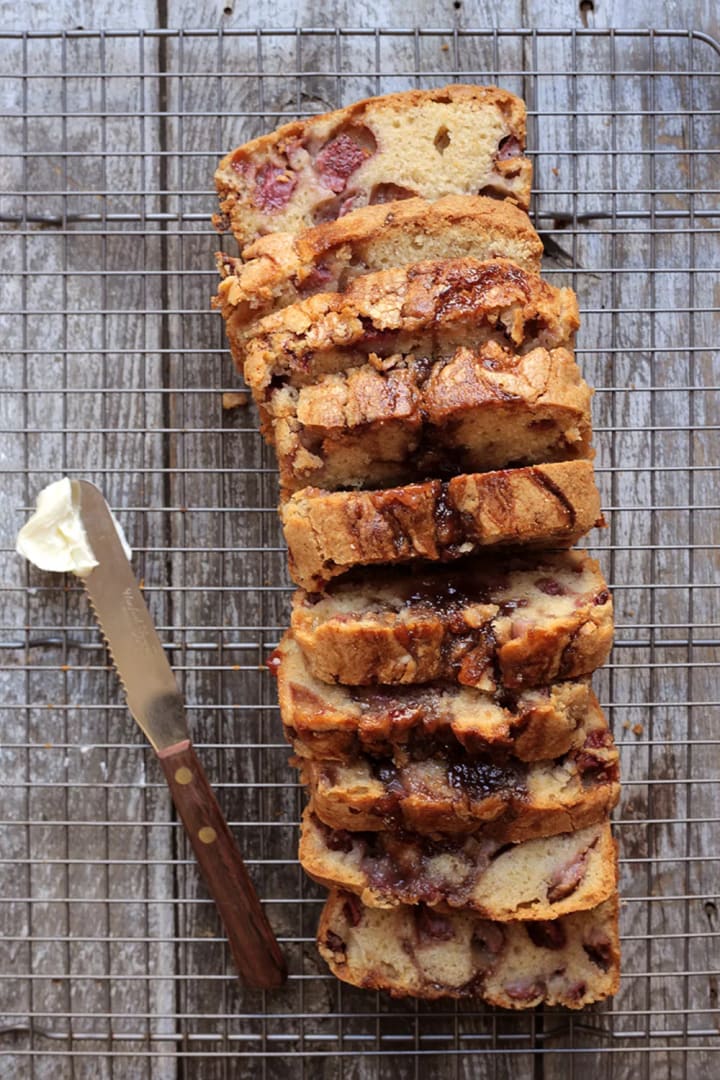 This strawberry bread is incredibly easy to make and tasty to eat. You can even substitute most other seasonal fruits for the strawberries if that's what you prefer. It's the perfect brunch recipe for a lazy day.
Ingredients:
Unsalted butter, to grease pans
3 cups flour, plus more for dusting
1 tsp. baking powder
1 tsp. ground cinnamon
1⁄2 tsp. kosher salt
2 cups sugar
1 1⁄4 cups canola oil
4 eggs
4 cups roughly chopped strawberries
1⁄2 cup strawberry jam (optional)
Directions:
Preheat the oven to 350°F. Then grease two loaf pans with butter. Coat them with a thin layer of flour and set aside. Whisk baking powder, cinnamon, flour, and salt together in a large bowl.
Take a different bowl and whisk together sugar, oil, and eggs. Combine the wet ingredients with the dry ingredients and stir until they are lightly mixed. Stir the strawberries in and pour the batter into the two pans. If you use the jam, spread ¼ cup over each loaf and swirl it into the batter using a knife. Bake for about an hour, or until golden brown. Allow the loaves to cool for 30 minutes and serve.
Blueberry Greek Yogurt Pancakes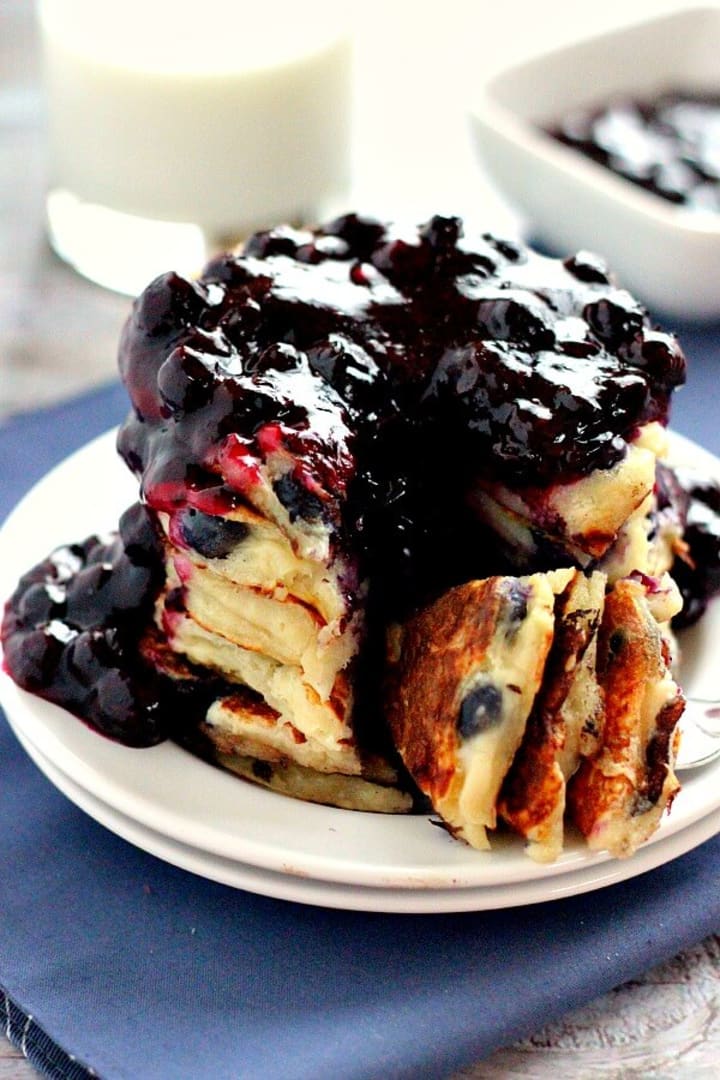 These fluffy pancakes are filled with protein and delicious blueberries. The best part of these is the sweet and gooey blueberry sauce, which you can even put on other foods. You won't be able to get enough!
Ingredients:
PANCAKES
2 cups all-purpose flour
2 teaspoons baking powder
1 teaspoon baking soda
1 teaspoon salt
2 cups vanilla Greek yogurt
1 egg
1 cup milk
1 cup blueberries
2 tablespoons butter or oil
BLUEBERRY SAUCE
1/2 cup cold water
1 tablespoon corn starch
1/4 cup white sugar
2 cups fresh blueberries
Directions:
First, melt butter (or heat oil) in a large griddle pan. Then combine the flour, baking soda, baking powder, and salt in a large bowl to set aside. Whisk the egg, yogurt, and milk together in a medium-sized bowl, and then add the wet ingredients into the dry ingredients. Stir until combined. and fold in the blueberries.
Once the griddle is hot, pour a quarter of the pancake mixture onto it. When the edges start to bubble, gently flip the pancake over and leave it for an additional minute or two. Repeat with the rest of the batter.
To prepare the blueberry sauce, mix water, cornstarch, and sugar in a medium-sized pot. Add in the blueberries once the ingredients are combined. Bring the mixture to a boil, stirring occasionally. When the mixture is thick and the blueberries are practically bursting, remove from heat.
Pour sauce over the pancakes and serve.
Goat Cheese Avocado Toast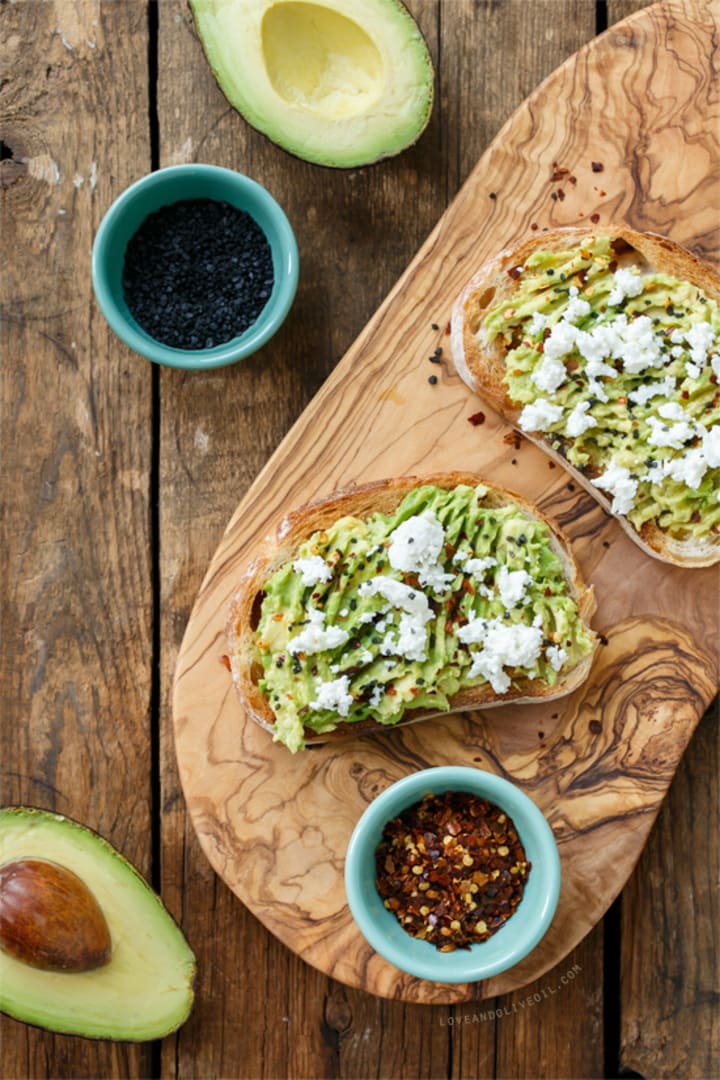 This toast is very easy to make and it's perfect to eat on the go. This brunch recipe takes just five minutes to put together if you have all the ingredients. The tasty goat cheese, avocado, and red pepper flakes make for a perfect set of contrasting flavors. And who doesn't love toast? You'll be sure to make this recipe all the time.
Ingredients:
4 slices crusty bread
a ripe avocado
1/4 cup goat cheese
extra virgin olive oil
red pepper flakes
sea salt or black lava
Directions:
Put the bread in a toaster until it is crispy and golden brown. Take the avocado and smash it with a fork, and then spread it on the slices of bread. Crumble goat cheese and sprinkle it on. Drizzle olive oil on top and then add sea salt and pepper flakes to taste. Enjoy.
Chocolate Waffles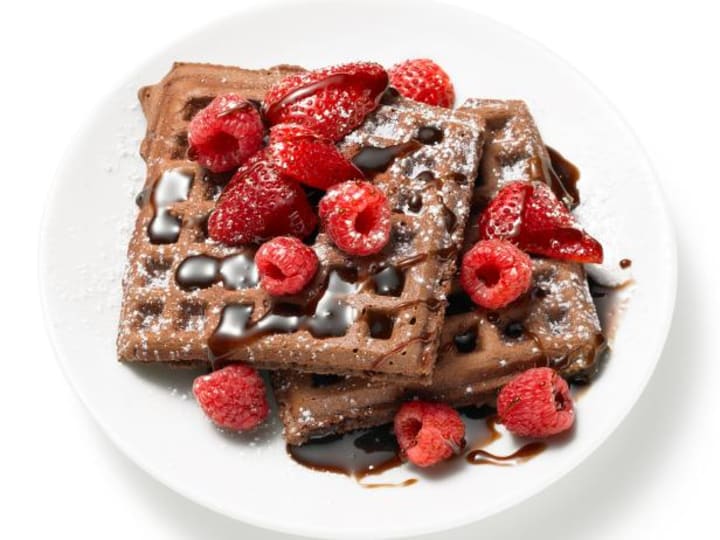 These chocolate waffles will blow your mind. They are gooey and delicious and will satisfy all your chocolate cravings. You'll want this dish every day of the week. What could be better than chocolate for breakfast?
Ingredients:
3 tablespoons vegetable shortening
2 cups all-purpose flour
1 tablespoon baking powder
1/4 teaspoon salt
3 tablespoons sugar
3 large eggs
1 cup milk
1/2 cup chocolate syrup, plus extra for topping
1/2 teaspoon vanilla extract
Cooking spray
Confectioners' sugar and/or berries, to top
Directions:
Preheat the oven to 250°F. In a small saucepan, combine butter and shortening and melt together, then remove from heat. In a large bowl, whisk together baking powder, salt, flour, and sugar.
In a separate bowl, whisk the milk, eggs, chocolate syrup, and vanilla. Add the liquid ingredients to the dry ingredients and mix until combined. The batter should have some lumps in it. Once this is done, whisk in the butter and shortening mixture.
Heat up a waffle iron and coat it with cooking spray. Pour some of the batter into the waffle iron but leave about an inch of space to the edge. This should be about a 1/3 cup or a 1/2 cup. Cook in the waffle iron. Place the waffle on a baking sheet and put it in the oven so it stays warm. Do this with the rest of the batter as well.
Place the waffles on plates. Top with confectioner's sugar, berries, and drizzle with chocolate syrup. Enjoy.
About the Creator
When she's not interning, Maddie loves eating food, going to the beach, and looking at pictures of dogs wearing people clothes.
Reader insights
Be the first to share your insights about this piece.
Add your insights