Brown Butter Cookies
So simple, so delicious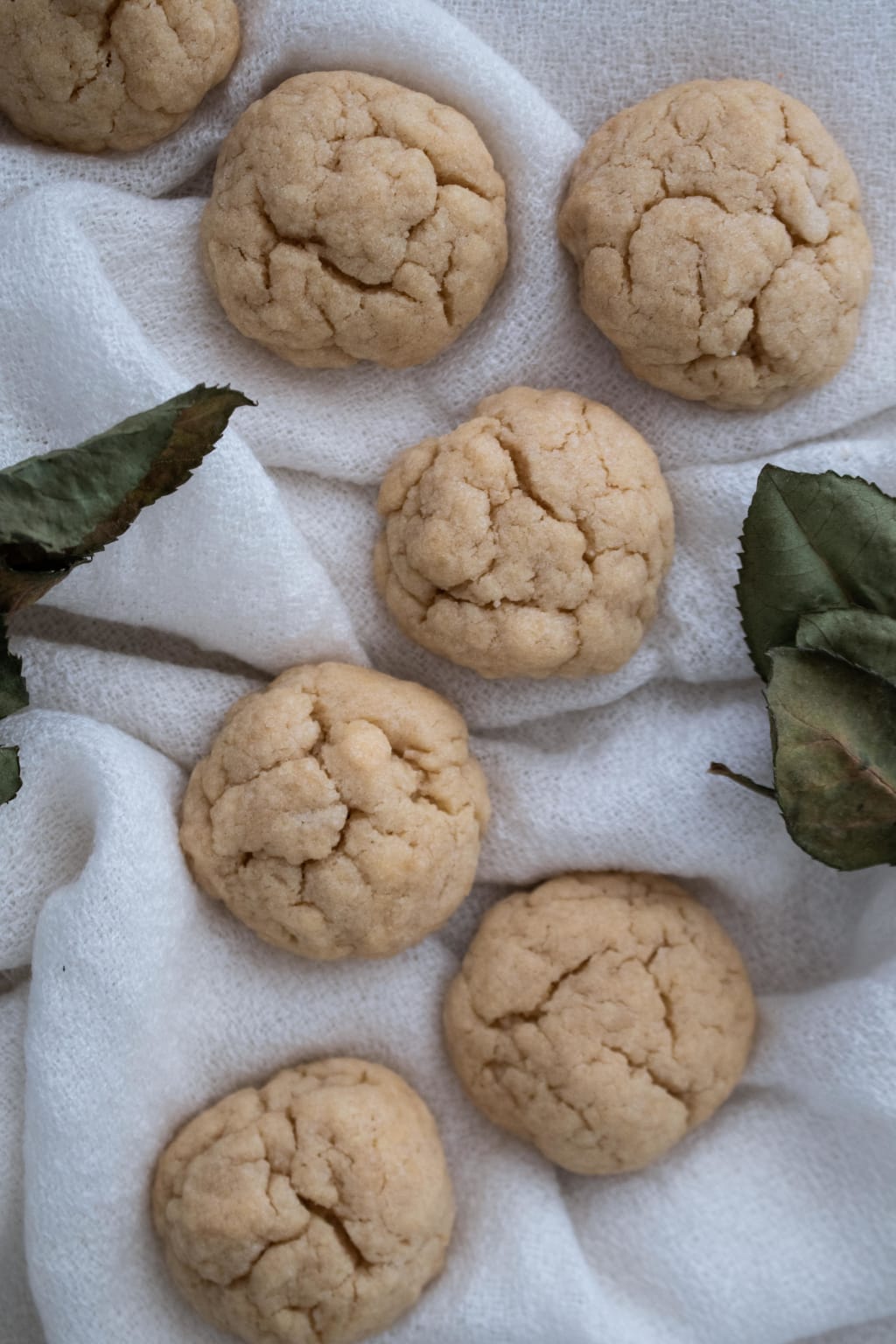 Who would've thought they could improve butter? Brown butter has been all the rage lately and for good reason!
I wanted to create a recipe that showcases the brown butter flavor with minimal distractions. So, I took the chocolate chips and all that jazz out of the cookies and put the brown butter in. We're left with a celebration of the caramelly, nutty, delicious flavor of brown butter and it's wonderful!
As always, I encourage you to use my recipe as a starting point for your creativity. I love making up my own recipes and trying new things, so you might notice that my recipes aren't always the most polished. But that's the most fun way to cook in my opinion. This recipe would be a great one to add whatever mix-ins you like. I do, however, recommend making them one time as they are first to experience the full brown butter effect.
NOTE: Don't be intimidated if you've never made brown butter before. It's not as hard as you may have been led to believe.
Without further ado, let's get cooking!
Let's start with the brown butter:
1. Take one stick of butter and cut it into tablespoons (eight pieces). You probably want to use refrigerated butter so it's easier to cut into pieces.
2. Place your butter in a pan and turn your stove to medium heat.
NOTE: The one and only Tasty taught me a helpful trick: use a light-colored pan to make it easier to see the color of the butter.
3. The butter will begin to melt. Start stirring. Here's a hint: You're not gonna stop stirring until it's done. Plan accordingly.
4. The butter will melt completely and begin to bubble. Keep stirring.
5. After a minute or two (or maybe a little longer), you will start to notice the butter darkening in color. Keep stirring.
6. Stir until the butter has reached a nice golden-brown color. Then remove from heat. Pour the brown butter into a heat-safe container, such as a glass tupperware or ceramic bowl.
7. Stir an ice cube into the brown butter. The butter has lost some water during its time on the stove, so the ice cube adds some water back in while also cooling it down.
Now onto the cookies:
INGREDIENTS:
2 cups of flour
1 cup of brown sugar
1 tsp of baking powder
1 tbsp of salt
8 tbsp of brown butter (made previously)
1 large egg
1 tbsp of vanilla extract
DIRECTIONS:
Preheat the oven to 350˚.
Combine the flour, sugar, baking powder, and salt in a bowl. Stir until combined. I recommend stirring with a wooden spoon.
Next, add the brown butter, egg, and vanilla extract. Get stirring!
NOTE: Stay away from the electric mixer, the dough is too dry.
Stir until the dough sticks together. It may take a couple of minutes.
NOTE: I highly recommend indulging in just a little bit of the cookie dough! Especially if you've never experienced the taste of brown butter before, you will be blown away by the caramelly, nutty, toffee taste.
Use a spoon to form dough into balls and place on an ungreased cookie sheet.
Bake for 12-15 minutes, then remove and let cool.
ENJOY!
Now, all that's left to do is enjoy your delicious brown butter cookies. I think they're the perfect thing to make if you're a brown butter beginner. After this, you may find yourself making brown butter more often. It's truly magical, and I hope you enjoy it as much as I do!
Thanks so much for baking with me. If you enjoyed this recipe, please consider leaving a tip below or sharing on social media to support the creation of future recipes!
~Bon appetite~