Herb Crusted Bread
Make it a little bit fancy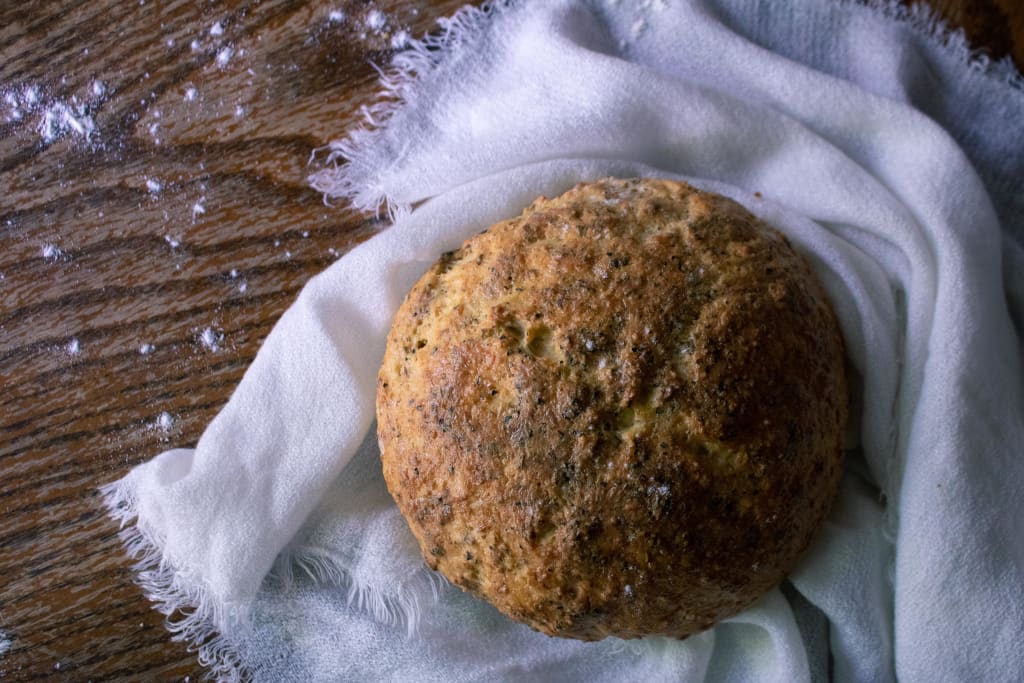 We've all been learning how to make bread during quarantine. I'm not sure why this trend began but I'm here for it! I started off my bread journey making classic white bread, and then I started experimenting with some flavors. This herb-crusted bread is my favorite rendition yet! It's super simple, but the spices on top add a nice pop of flavor. I'll add some of my notes along with the recipe, and, as always, I encourage you to use this recipe as a guide and not a rulebook. Feel free to add your own flavors, take out some of my ingredients, get creative. Just be sure to make it a little bit fancy! Now, without further ado, here is the recipe.
For the bread:
1/2 cup of water
1 packet of yeast (about 2 tsp)
1 tsp of sugar
4 cups of flour
1 tbsp of more sugar or honey
1 tbsp of butter
1 tsp of salt
For the brush:
1 tbsp of butter, melted
1 egg, whisked
2 tbsp of Italian spices (or your choice of herbs)
1/4 cup of parmesan cheese
1 dash of garlic powder
Directions:
Pour 1/4 cup of water into a bowl (half of the total water used for the recipe). Make sure the water is lukewarm or warm. Mix in the packet of yeast and the sugar into the water. Let sit for 10-15 minutes, until slightly foamy.
Add flour, butter, salt, the rest of the sugar or the honey, and the rest of the water. At this point, I find it easiest to take a wooden spoon and stir before kneading. Stir until the water and flour start to combine.
Now it's time to get your hands dirty! Knead with your hands to thoroughly combine all ingredients.
You can add more water or more flour if needed.
Form the dough into a ball inside the bowl. Cover with cloth or plastic and let rise for about an hour.
Alright, you've got an hour to kill. Here's a podcast rec.
One hour and one podcast later, your dough should have risen to about twice its original size. Feel free to leave it a little longer if you want it to rise more.
Take the dough out of the bowl and place it on your pan. You should be able to leave it in the same shape, maybe flattening it slightly.
NOTE: I really wanted to get a nice crust on my bread. That's something that I've been struggling to achieve, which I can blame partly on my oven. Anyway, I researched ways to get a golden-brown crust and incorporated some of the strategies.
Before starting on your brush topping, preheat your oven to 400˚. One strategy for getting a better crust on your bread is to humidify your oven. You can achieve this by filling a pan with water and placing it inside the oven. Just make sure there are no plastic handles!
Time to make the brush. Melt the butter for about ten seconds in the microwave. It does not have to be completely liquid. Next, crack an egg into the bowl and whisk heavily. Make sure the mixture is smooth.
Add in the parmesan cheese, spices, and garlic. Stir until well combined.
Brush the mixture on top heavily. Make sure you coat the whole surface.
NOTE: If you don't have a brush, you can use a spoon for this step.
Cut a cross on into the top of the bread, then pop it into the oven. Pull up your podcast again, because the bread is gonna bake for 27-30 minutes.
Half a podcast later, your bread will be ready to go! Enjoy your fancy bread. If you like this recipe, please consider leaving a tip below or sharing on social media to support the creation of future recipes!
~Bon appetite~