Breakfast in Bed is the Best Way to the Heart
Make this Valentine's Day one for Breakfast in Bed. Three Brunch recipes that will win their heart, even if you have no idea how to cook.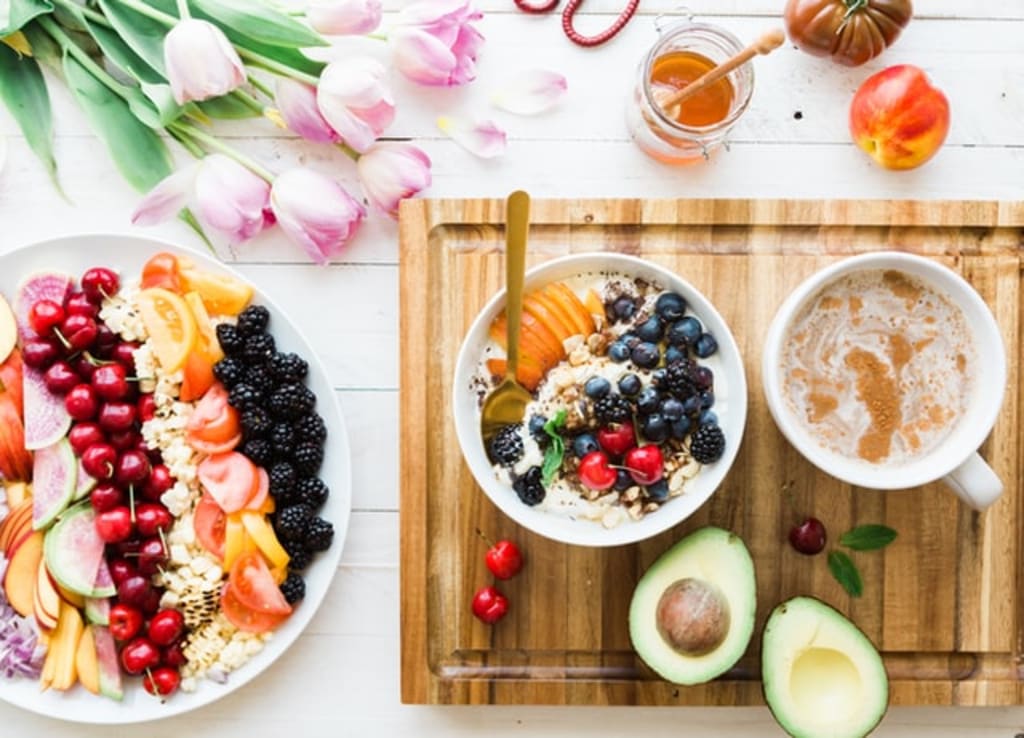 Photo by Brooke Lark on Unsplash
There's no better way to get to someone's heart than with a meal cooked with love. This year, let's leave the fancy Valentine's Day dinners, roses, and chocolates in the past.
(I mean, do we really have a choice?)
Instead, let's get in the mood with a simple breakfast in bed that will steal anyone's heart.
You don't need to be a master chef, I got you. These recipes are simple, easy, and quick, so you can spend more time with the one you love and less time washing dishes.
For Those Who Fear the Fire
If you are completely culinary challenged, this recipe is perfect for you. There is zero-cooking required. But trust me, you are sure to impress with this simple bowl that will satisfy your lover's heart and stomach.
Berry Simple Acai Bowl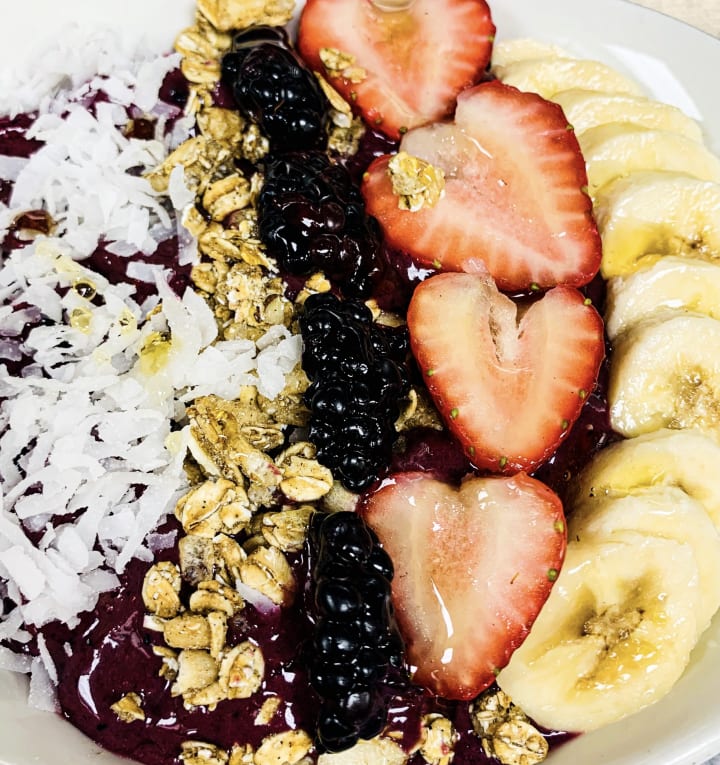 This smoothie bowl is surprisingly simple and requires zero cooking what-so-ever. It does require a (preferably) high-speed blender, like this one, but if you just have a regular blender, we can make that work too.
For the acai, you can buy this in the freezer section of most grocery stores. Or if your local store doesn't sell it, you can Amazon-prime this powder which has all the benefits as frozen. Once you have your ingredients, you're only minutes away from blending up a delicious Valentine's day treat that is sure to wow the one you love.
Recommendations: Buy your ingredients in advance. I like to buy my bananas a couple of days before I know I'm going to use them. I buy them on the greener side and let them ripen and get really spotty. This is a sign the natural sugars are developing and you won't have to add any added sugar.
When you're bananas are nice and spotted, peel and cut them into chunks and put them in a zip-lock bag. Put them in the freezer and you're done with the majority of your prep work!
Ingredients for the base:
¼ cup almond milk
½ cup frozen bananas
1 package of unsweetened frozen acai**
½ cup frozen mixed berries
**If using the powder, sub-1-2 tablespoons of the powder. My suggestion is to start with 1 tablespoon and taste, Acai can be very strong and too much can be overpowering.
Directions:
In your blender, pour almond milk into the base first.
(This is a critical step to reaching a thick sorbet-like treat, without it ending up like a regular smoothie. Reserve additional almond milk to the side in case you need more.)
Next, add in this order: frozen bananas, mixed berries, and acai.
Put the top on the blender and begin blending on the lowest setting.
As the liquid is able to pull all the ingredients into the blade, slowly start to increase the speed.
It's handy to have a rubber spatula nearby, in case the ingredients start getting stuck in the blade, you can slowly turn off the blender, scrape down the sides of the base, and move the ingredients around to get things moving again.
You may have to do this several times unless you have a tamper - which is a stick-like tool that goes into the top of the blender and allows you to push around the ingredients while still on.
The key to a thick smoothie bowl is to use as little liquid as possible. You may need to add a touch more, but by keeping the blender on low and periodically moving the ingredients with your spatula, it will come together.
Ok, hard work is over. Now for the fun.
Once your smoothie base is thick and pureed, it's time to create your Instagram masterpiece.
Ingredients for toppings:
Be like a kid in an ice cream store allowed to get any and all the toppings they love. My personal favorite is strawberries, bananas, granola, and shredded coconut. But anything goes here, it's your creation!
Other suggestions are a spoonful of peanut or almond butter, yogurt, fresh kiwi, pineapple, or mango, pumpkin seeds, or any nuts, and finish it off with a drizzle of honey.
You do you. The important part here is the presentation. Don't just throw all the toppings onto the bowl and serve it. Valentine's Day is about love after all. Show your partner the care and attention to detail you put into your delicious gift to them.
The Cherry On Top: If you live somewhere like me on the East Coast, you may think a smoothie bowl in the middle of winter is crazy. But it's a part of the Valentine's Day plan. It may be a frozen breakfast, but reward the effort with extra cuddles under the covers to warm things back up.
A Stovetop Shashuka For the Slightly Adventurous Cook
Ok if the thought of whipping up a frozen bowl does nothing to warm your heart, then this dish definitely will. Chopping and cooking will be required, but minimal skills are needed to make a satisfying stovetop Shakshuka.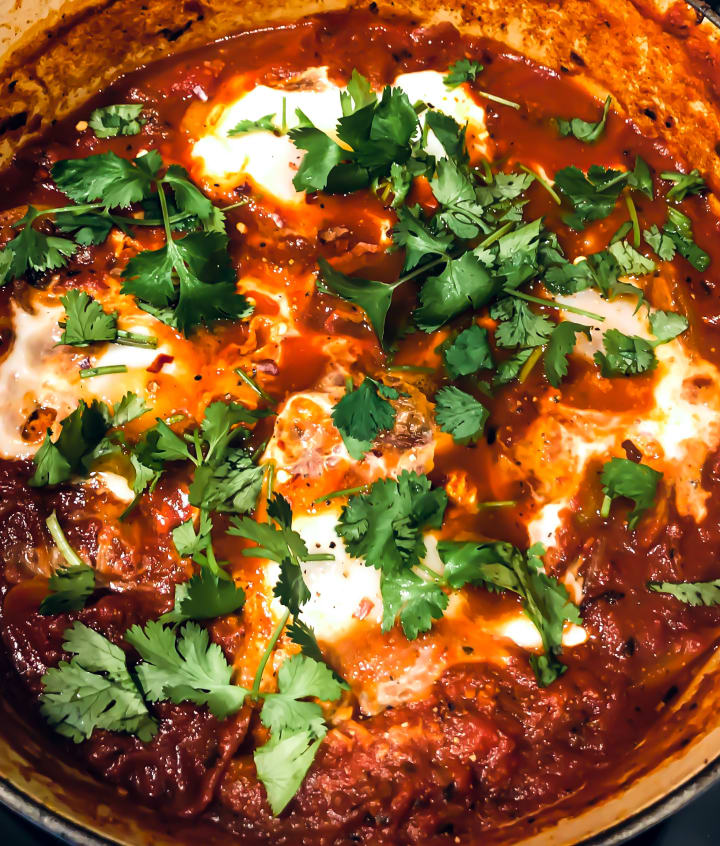 What is Shakshuka you ask?
It's a North African dish that is a brunch, dinner, or any time favorite. Poached eggs nestled in a spicy, rich tomato broth. A one-pot meal that minimizes cleanup but delivers maximum flavor. You don't need expert cooking skills to make this dish come together quickly.
You will need a large skillet with a lid, a stovetop, a cutting board, and a sharp knife.
Ingredients:
2 tablespoons olive oil
1 large onion, thinly sliced
1 large red pepper, seeded and sliced
2 heads of garlic, crushed
1 teaspoon ground cumin
1 teaspoon smoked paprika
1 teaspoon dried oregano
¼ teaspoon crushed red chili flakes
1 - 28 ounce can whole plum tomatoes
1 teaspoon salt
6 large eggs
Cilantro, chopped to serve
Directions:
Heat oil in a large skillet over medium heat.
Add onions and peppers and cook until the onions turn translucent and are beginning to brown, about 15 minutes.
Add spices: cumin, paprika, chili flakes, oregano, and salt, and cook for 1 minute until fragrant.
Add garlic and stir carefully to ensure it doesn't burn**
Add tomatoes and stir together
Simmer until tomatoes have thickened and have a pasta sauce-like consistency, about 10 minutes
Remove from heat and make 6 tiny wholes to crack each egg into. Crack the egg first into a bowl, to avoid getting any shells into the sauce, and gently lower into the whole without breaking the yolk.
Place back on the heat and lower to get a gentle simmer and cover with a lid.
Cook until the whites of the egg are just set but the yolks are still runny, 10-12 minutes.
Turn off heat. Sprinkle with cilantro and grab some crusty bread and chow down.
Be extra: Crumbled feta makes a great addition to this dish when serving. You can also add more hot sauce, avocado, any kind of herbs you desire to serve this dish.
**I always cook garlic very carefully, making sure not to burn. Burnt garlic turns bitter and will change the flavor of the dish.
Because We All Need Something Sweet
You can't have Valentine's Day without something sweet. This one-bowl Lemon Olive Oil Cake will have your loved one swooning over your talent. Packed with flavor from fresh lemon zest, fruity olive oil, and toasted slivered almonds, it's a guaranteed win. This cake is moist, rich, and has just the right amount of sweetness to get you in the mood.
Before you start:
You need a medium mixing bowl and a round cake pan. If you don't have a cake pan, you could make this in a loaf pan or even on a sheet tray like my ultimate fudge brownie recipe. But note, the cooking time will change.
Also, you'll want to toast and cool your almonds in advance. Preheat your oven to 350 degrees, line a sheet tray with parchment and bake for 5-10 minutes. Watch these carefully, because they will burn fast!
You will also need a Microplane or zester for your citrus. I love this Microplane and use it every day.
Ingredients:
4 large eggs
1 cups sugar
¾ cup extra virgin olive oil
2-½ cup all-purpose flour
1 teaspoon baking powder
½ teaspoon salt
½ cup toasted slivered almond, reserve 2 tablespoons aside
Zest from 2 lemons
¼ cup yogurt
Directions:
Preheat oven to 350 degrees
In a mixing bowl, crack and whisk eggs together.
Add olive oil and whisk together until emulsified.
Add sugar and bring together until well combined.
Add flour, one cup at a time, and gently fold together without over-mixing.
Add baking powder, salt, toasted almonds, lemon zest, and yogurt and fold until just comes together.
Spray cake pan with cooking spray and pour batter evenly into to pan and top with reserved almonds.
Place in the center of the oven and cook for 30-40 minutes until done**
Remove from oven, cool, slice, and serve with fresh berries, yogurt, or on its own.
**The best way to tell if your baked goods are cooked through, is using a toothpick find the thickest part, usually in the center, and stick the toothpick straight down. If the toothpick comes out clean, the center is cooked. If batter holds on to the toothpick, you need to cook your cake longer. Baking times vary depending on the personal oven and elements, so I always check 30 minutes in with this method, and if it's not quite done, check about every 10 minutes after that.
Now you have three simple Valentine's Day brunch ideas that don't require you to be a master chef to impress your loved one. There's no better way than showing the one you love how much you care about them than cooking something from the heart.
And if you're flying solo this Valentine's Day, don't worry, these can easily be made for one, with the ultimate leftovers to savor in.